In our last post, we highlighted the activities we did on a couple's weekend in San Diego and we wanted to write a bit more about the walking tour we did because it was wonderful.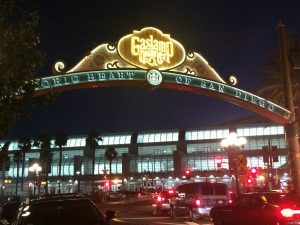 One of our favorite ways to explore a city, especially on a time crunch, is with guided walking tours. San Diego delivered with SoDiego Tours' "Brothels, Bites, and Booze: San Diego Gaslamp Tour." This tour was awesome and such a great value. We were both expecting toothpick samples of food but it was enough for a light meal! I would classify the portions as enough for a light meal instead of a full meal as I've done tours with six to seven stops that really filled me up. I'd recommend just finding a late happy hour after the tour or head back to one of the stops to try an appetizer and different cocktail to round out the night.
We had four stops at really fun restaurants along the way and three expertly paired cocktails or beers. Our favorite stops included Meze Grille, where we got the fantastic Greek quesadilla paired with a craft cocktail. It was an excellent first impression of what this tour had in store as it was simply melt in your mouth good and we had ample time to enjoy it as our guide continued sharing the history of the Gaslamp Quarter.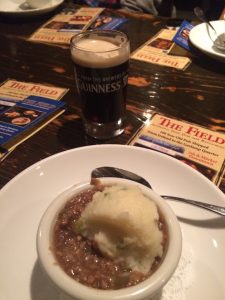 Another favorite was The Field, a 100-year old pub shipped from Ireland, where we had a beer with mini shepherd pies. One of the coolest things about the pub is that it was shipped piece by piece to San Diego and reconstructed to have that authentic look and feel. With dark wooden interiors and closely clustered tables, it really felt like we left San Diego and entered a pub in Ireland.
We also stopped at an oyster and seafood restaurant that served clam chowder and a mixed cocktail. Our last stop was at a cupcake shop, so no accompanying drink but the cupcakes were delicious.
Our tour guide was nice, knowledgeable, and on top of everything. She made sure we had enough time to enjoy our food and drinks, could hear her in the restaurants or over the city noise as we walked to our next destination, and was a great presenter.
The stories were engaging and fun and seemed like information we wouldn't have gotten on a normal San Diego walking tour. The tour was focused around the Gaslamp Quarter and some of San Diego's scandalous past. It starts with the Quarter's founding as a port town district and some of the colorful patrons that frequented it and some of the wealthy women that called it home. Understand what life was like here in the Gold Rush era and this area's particular popularity as a red light district.
Overall, it was an excellent walking food tour where we learned about a historic district of San Diego and got to try a variety of restaurants.
Next time we're in town, we might have to check out the Vino! Vino! Little Italy Wine Stroll to learn more about San Diego's Little Italy and sample nine wines accompanied by some light Italian specialties.
Like the post? Share it now!