With the warm weather and abundance of fresh, flavorful fruits in season, it's hard to pass up on a fruit-based dessert – especially when you're running around Europe! Find out what fruity desserts to be indulging in this summer as you explore different countries in Europe and even how to recreate the dessert recipe at home!
Check out our top picks for fruit desserts in Europe!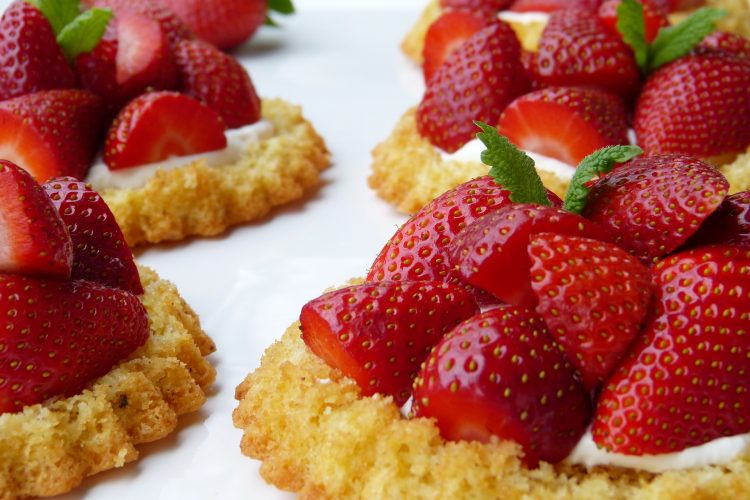 Fruit tart, Britain
I had my first taste of fruit tart at like 6 a.m. in the Amsterdam airport and I'm glad I did as I've been hooked ever since. With a crumbly, buttery pastry shell, custard cream, and topped with fruit, it's the perfect summer dessert! While the custard tart originated from Britain, many other European countries have adopted these sweet cup-like desserts and you can easily find them all over Europe.
Make it at home:
Eton Mess, Britain
Another British dessert that shouldn't be missed is eton mess! This whipped dessert has the tart flavors of strawberries and the tasty flavors of meringue and whipped cream, all the ingredients are mixed up in a serving dish.
How to make it at home:
Trifle, Britain
As long as Rachel Green isn't in the kitchen, your trifle in the United Kingdom will be light, fruity, and delicious! This dessert is comprised of custard, fruit, sponge cake, jelly or jam, and whipped cream – all arranged in layers so you get a taste of all the harmonious flavors at the same time.
How to make it at home:

Berliner Pfannkuchen, Germany
If you can't get enough doughnuts (or you're a cop, just kidding) try a Berliner pfannkuchen, a traditional pastry found in Germany. This dessert uses yeast dough that's fried and then filled with jam or marmalade, and finally topped with sugar.
Make it at home:
Cherry strudel, Hungary or Austria
This dessert, associated with the former Austro-Hungarian Empire, is a fantastic dessert if you love flaky pastry and jammy cherries. Take your strudel to the next level by serving it with vanilla ice cream.
Make it at home:
Peches Melba, France
While there's no shortage of amazing, yummy desserts in France, an authentic option is the peach melba! Made with the fresh flavors of peaches, a raspberry sauce, and vanilla ice cream. This dish was named for the soprano singer, Nellie Melba, and was actually first debuted at the Savoy Hotel in London by French chef Auguste Escoffier in the 1890s.
How to make it at home:
Tarte tatin, France
Another decadent choice in France (and a national dish) is the tarte tatin. Enjoy caramelized apples, soaking in butter and sugar, and then baked into a tarte. This light yet flavorful dessert is great for a picnic in the park or as a quick snack as you stroll the streets.
How to make it at home:

Linzer torte, Austria
Opt for a classic with a linzer torte, similar to our fruit pies with a lattice crust on top and a delicious, jammy fruit filling. Named for the city of Linz in Austria, this dessert is mostly served around the holidays but there's definitely no wrong time of year to indulge in this tasty torte.
How to make it at home:
Breskvice, Croatia
Translated to "little peaches," these cookies are similar to macarons in a way as they're peach-shaped cookies with a filling of dark rum, peach jam (sometimes apricot), and crushed walnuts. The final touch is dipping the cookie in a peach liqueur, yum! These cookies are popular wedding treats, but there's no reason you shouldn't indulge when you have the opportunity.
Make it at home:
Chasing the Donkey breskvice recipe
Belgian waffles, Belgium
On a trip in Europe back in 2008, we had a little stopover in Brussels for some waffles – which were enjoyed as we took in Manneken Pis and all his glory; to be fair, they had him dressed in a cute little suit.
But if you're channeling your inner Leslie Knope and could eat waffles at any time, you can't pass up the chance to have an authentic Belgian waffle, especially when it's covered with fresh fruit and drizzled with divine chocolate. I opted for bananas and chocolate and my sister went with strawberries and chocolate and they were equally good.
Make it at home:
What are your favorite fruity desserts around Europe? Tel us in the comments below!
Like the post? Share it now!