Wanting to go walking in a winter wonderland? How about one that's also filled with goodies and piping hot food and drink?
With the most wonderful time of the year upon us it's the perfect time to visit some of the most popular and jolly Christmas markets in Europe! Stroll hand-in-hand with a loved one under the twinkling lights, among the Christmas trees, and sip some mulled cider or wine as you spread Christmas cheer. You might also want to bring a few bucks for ice skating as many markets also have ice rinks and skate rentals.
Christmas markets aren't just worth visiting for the freshly baked treats and hot drinks, but you can also find some one-of-a-kind souvenirs and locally-made gifts for loved ones back home. Santa will have nothing on the gifts you're putting under the tree!
It's beginning to look a lot like Christmas so you might want to head off to one of these merry Christmas markets in Europe to get in the holiday spirit. Come on, it's lovely weather for a trip to the market with you.
14 magical European Christmas markets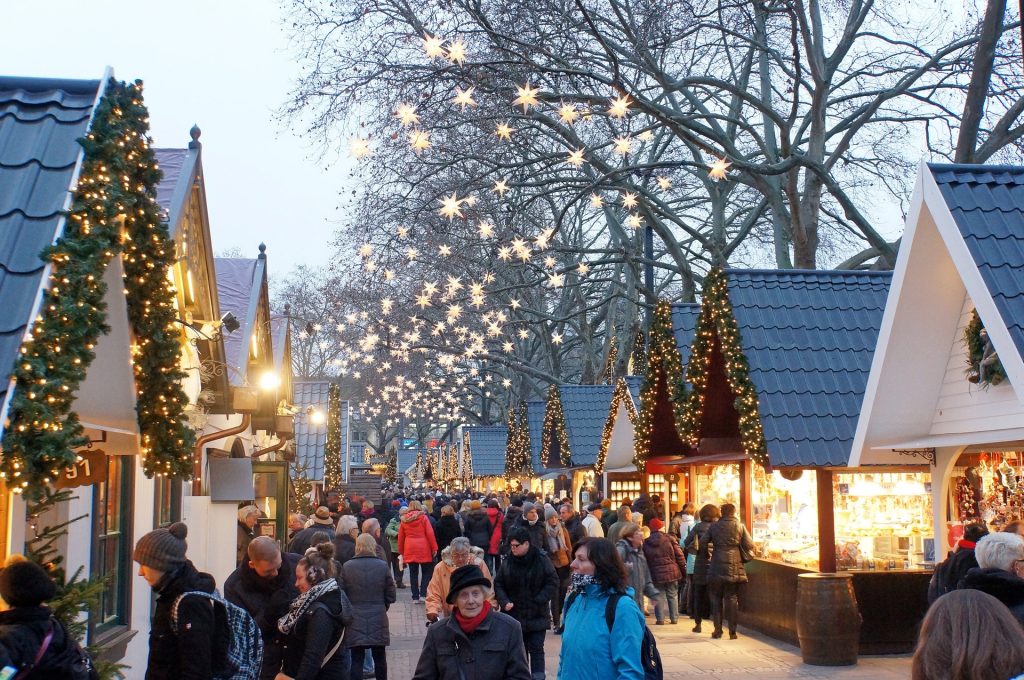 1. Zagreb, Croatia
Zagreb's Christmas celebrations generally top the list of the best places for Christmas in Europe and with its ice skating rinks, food and shopping stalls, ice sculptures, Nativity scenes, live concerts, and pop-up bars, it's easy to see why! Christmas takes over the entire city, not just one square, and there's an endless list of things to do to celebrate the holiday or prepare for it.
Whether you take part in "fuliranje" (fooling around) or hopping aboard the tram with Santa and his elves, or stick to more traditional celebrations with good food and drink, you'll be in good spirits during the holiday season in Zagreb!
Holiday events in Zagreb typically run from November 30 to January 7.
2. Tallinn, Estonia
Head to Town Hall Square in Tallinn for an amazing Christmas market experience. View the impressive Christmas tree in front of town hall, a tradition dating back to 1441, and get there in time to see Santa arrive in the city in his reindeer-led sleigh! Stock up on some unique gifts and goodies before eating to your heart's content on classic dishes like sausages and sauerkraut and washing it all down with some hot mulled wine.
Holiday events in Tallinn typically run from November 15 to January 7.
3. Prague, Czechia
Prague is already a magical destination but made even more delightful at Christmas with the oldest Christmas market in Old Town Square and the unique shopping opportunities at Wenceslas Square. As you shop you can snack on a trdelnik, a traditional Christmas treat made with pastry, cinnamon, and sugar, and sip mulled wine. Prague also invites you to come ice skating – and maybe just to keep moving as it does get quite chilly here in the winter.
Holiday events in Prague typically run from November 30 to January 6.
4. Munich, Germany
Take in the 100-ft. Christmas tree in Marienplatz and gorge on sausages, potato pancakes, and then indulge with some gingerbread when celebrating Christmas in Munich. Be on the lookout for the Christmas tram to get your food and spiced wine between shopping the stalls to pick up fun souvenirs from Germany.
Holiday events in Munich typically run from November 27 to December 24.
5. Copenhagen, Denmark
Enjoy yuletide in Copenhagen's brightly-lit Tivoli Gardens. There are more than four miles of fairy lights hung in decorative patterns in the park and as you walk along the lighted pathways, dine on some donuts with black currant jam and mulled wine, but maybe do your carousel ride beforehand. You can also get some Christmas shopping done here or head back into town for more traditional handicrafts. If you're lucky enough to visit on Christmas or New Year's Eve, be sure to stay for the fireworks show!
Holiday events in Copenhagen run from November 16 to January 5.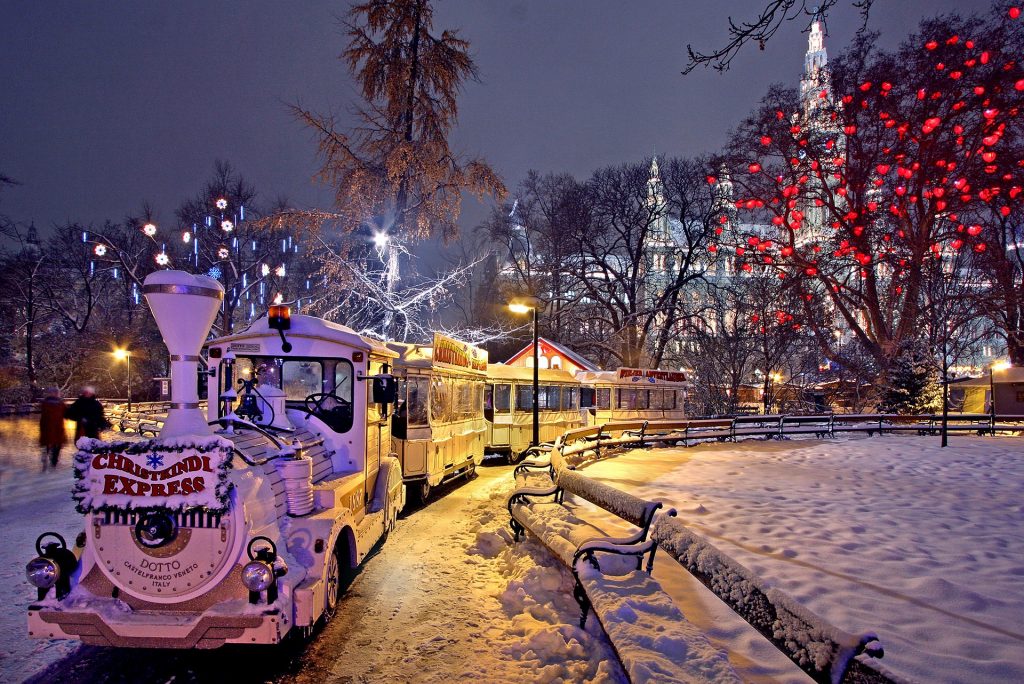 6. Vienna, Austria
Vienna's Christkindlmarkt is well-known for its fun shopping and cool gifts, but also for the market's abundance of good food and Christmas punch. Come and hear the live choirs, go ice skating, or take a ride on a ferris wheel or merry-go-round. Vienna prefers to keep its celebrations traditional instead of ushering in a fake Santa Claus or selling poorly made toys in the market.
Holiday events in Vienna run from November 15 to December 26.
7. Salzburg, Austria
The Austrians sure know how to celebrate Christmas properly! The Christkindlmarkt in Salzburg is famous for its sing-alongs, live music, mulled wine, roasted chestnuts, gingerbread, and traditional market stands and shopping stalls. It's even touted as one of Europe's oldest Christmas markets! Salzburg is also home to one of the largest Advent calendars at the Schloss Hellbrunn as well as a living Nativity scene. It's the perfect mix of medieval history and bright twinkling lights during the holiday season.
Holiday events in Salzburg typically run from November 21 to December 26.
8. Strasbourg, France
If you can't find the perfect present in Strasbourg I don't think you'll ever find it. With more than 300 market stalls offering hand-crafted goods and gifts, there's no better place for Christmas shopping than the Christmas markets in Strasbourg. Admire the fairy lights, enjoy some ice skating, listen to carols, and marvel at the Great Christmas Tree during your time here. The Strasbourg Christmas markets are said to be the oldest in France, dating back to the 1500s. Save some room for some Alsatian bredele or yummy cookies to fuel you up for your shopping adventure in the market.
Holiday events in Strasbourg run from November 22 to December 30.
9. Amsterdam, The Netherlands
Discover Amsterdam's winter paradise with snow mazes, tons of shopping, and even pop into the Christmas cinema for a screening of a holiday movie! Amsterdam makes sure there's plenty of things to do during the holiday season, like ice skating near the I Amsterdam sign or listening to Christmas carols. You'll also want to check out the Amsterdam Light Festival to feel the warm glow of the holiday season!
Holiday events in Amsterdam run all through December.
10. Budapest, Hungary
Visit St. Stephen's Basilica to celebrate Advent in Budapest with shopping stalls, an ice skating rink, and folk dancing with live music. The markets have more than 150 stalls so you can get a great gift for your family back home as well as dine on some traditional Hungarian dishes, like chimney cake, and drink mulled wine.
Holiday events in Budapest run from November 22 to January 1.
11. Stockholm, Sweden
For the best Christmas celebrations in Stockholm, head to the open-air Skansen museum and find sugared almonds, bread, and hot drinks to add some sweetness to your yuletide festivities. During the weekends you'll want to catch a performance of the Christmas tree ring-dance and check out the period-appropriate decorated farmsteads and historic homes. You can even make your own Christmas decorations in the workshop! Skansen also has a small zoo on the property where you might just spot some reindeer.
Holiday events in Stockholm run from November 30 to December 22.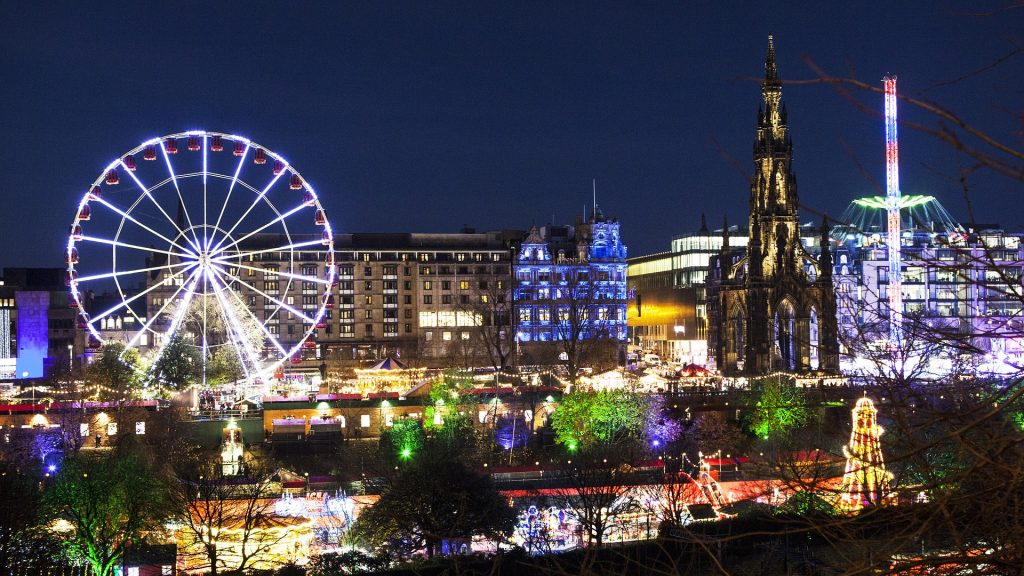 12. Edinburgh, Scotland
Experience Santa Land in East Princes St. Gardens with a ride on the Edinburgh Eye, getting lost in the Christmas tree maze, or sending the kids on a train ride. Pick up a Tartan Christmas ornament and treat yourself to sugary sweets like cinnamon cakes and candies as you take a stroll under the bright Christmas lights.
Holiday events in Edinburgh run from November 16 to January 4.
13. London, England
Discover the Winter Wonderland in Hyde Park, view the gigantic Christmas tree in Trafalgar Square, or go ice skating at Somerset House to get in the holiday spirit in London. Hyde Park's Winter Wonderland is where you'll want to go for a more traditional market feel with shops, a skating rink, a Ferris wheel, caroling, and a toboggan slide. If you believe that the best way to spread Christmas cheer is by singing loud for all to hear, be sure to head to the Royal Albert Hall for some carol sing-alongs!
Holiday events in London take place from November 21 to January 5.
14. Barcelona, Spain
Celebrate Fira de Santa Llucia in Barcelona where you can shop for Nativity scenes and traditional Catalan creations at this large market, home to more than 300 stalls. This market is a bit different as they don't have the typical Germanic influence with sausages or mulled wine but there is the caga tio, a Christmas piñata that offers up candy and small gifts when broken.
Holiday events in Barcelona run from late November to Christmas Eve.
Where's your favorite Christmas market in Europe? Tell us in the comments below or on Facebook!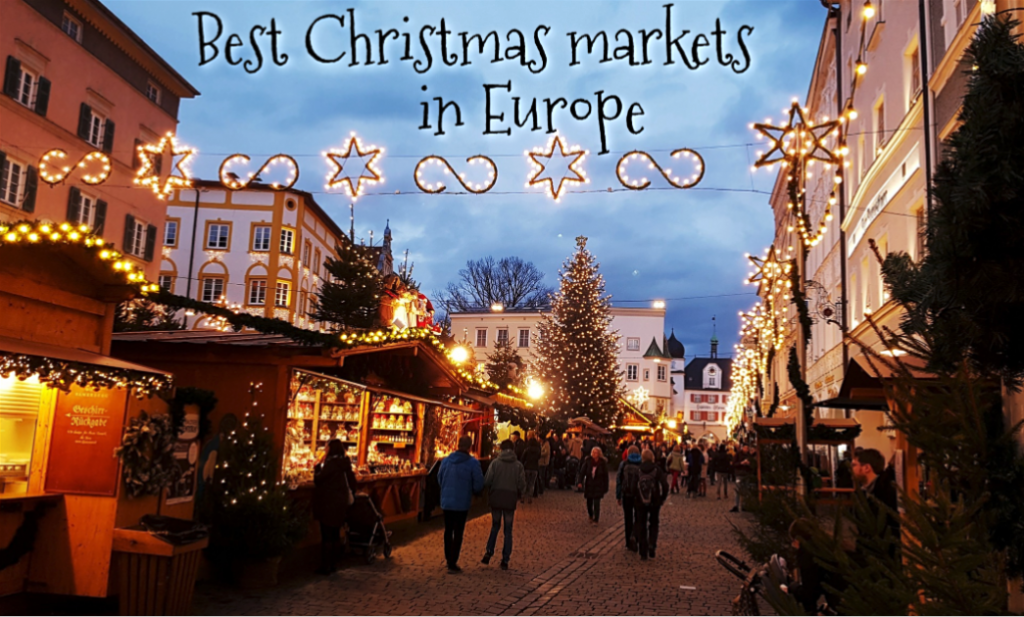 Like the post? Share it now!