It's time to deck the halls with boughs of holly, go caroling out in the snow, and rock around the Christmas tree! The holiday season is fully upon us and Christmas is right around the corner.
While every store you've ever given your email address to is trying to tell you why all of your loved ones should get something from their shop, sometimes you want to get a bit more specific with your gift giving!
While 2020 was a rough year for all of us, it especially hit the travel industry and many travelers had to cancel their plans in the spring and summer. Rick and I had to cancel a big Europe trip and while we knew it was the right thing to do with the seriousness of COVID-19, it still wasn't a fun choice to cancel. Like other travelers, we've been fortunate that we pushed our trip to 2021, which is closer than ever now, but this year for Christmas, we're looking for ways to support the travel industry!
If you have friends or family that love traveling and jet setting across the globe, you might want to check out these gift ideas to keep them traveling in 2021!
Top 15 holiday gifts for travelers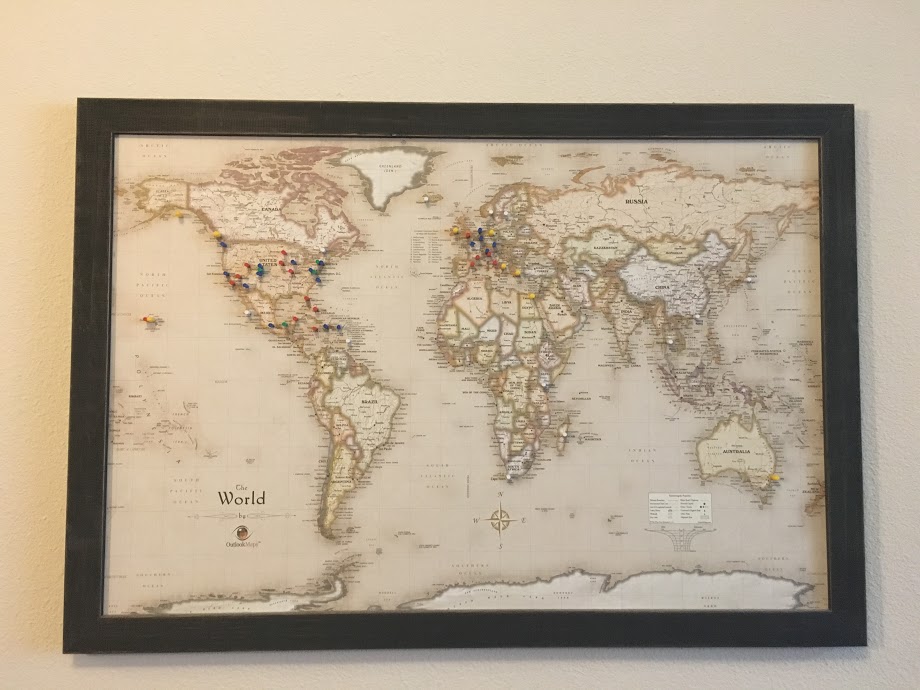 1. Scratch-off maps/magnet board
Inspire your travel-minded friends and family to continue to plan trips and create bucket lists for new destinations with a scratch-off map or magnet board! The scratch-off maps are a bit more colorful and artistic, but the magnet board can be used to both denote places the travelers have been and where they plan to go to in the future.
2. Location-specific art
Does your favorite traveler have a favorite destination? Get some custom-made art for them of their favorite place with a framed piece of art! I've seen some cool city maps or skylines with iconic buildings that would look cool at any traveler's home base.
3. Bucket list journal
Though this year threw a wrench into travel plans that doesn't mean travelers can't continue to plan and research future trips. A bucket list journal is a great place for travelers to jot down ideas of what they want to do, where they want to stay, travel tips, and hotel research.
An alternative to this is just a plain journal for the travelers to write detailed notes about their trip – they may even want to start their own blog or memoir about their experiences thanks to their great note taking!
4. Travel books
From writers like Bill Bryson to Elizabeth Gilbert, there are some excellent travel-themed books out there to help other travelers discover new destinations or inspire them to visit an unexpected destination. Books are also great as they give the traveler something to read on the flight over!
Another bookish gift is that of guidebooks, like Rick Steves' books. I love flipping through his guides to London, Barcelona, Rome, and so on to find out where we should eat as well as get some good advice on the best way to plan our day and what we need to see and we can skip.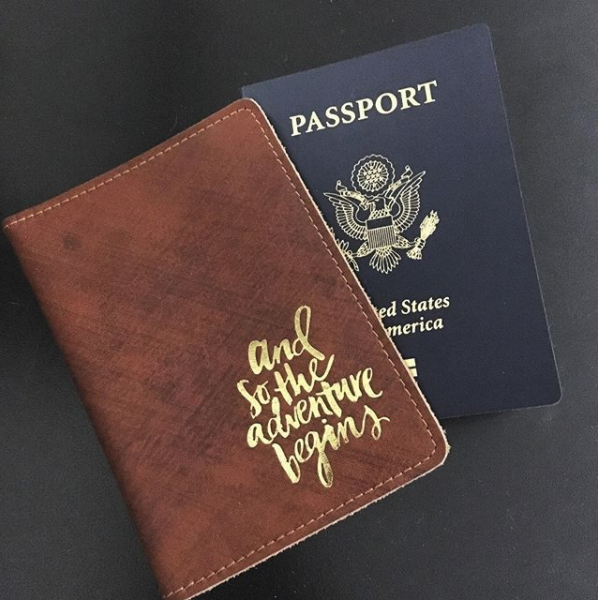 5. Passport holder
Help them on their travels with a personalized passport holder that can also hold cash, credit cards, and other travel documents for an easy time through security.
6. Phone wallet
I love my phone wallet! It holds my iPhone, credit cards, ID, and room key easily and in a nice, compact size. It's a great alternative to carrying around a purse and yet it keeps everything organized. I always take mine when we cruise or visit resorts.
7. Luggage organizers
From packing cubes to cord organizers, anything to keep a suitcase more manageable is a good idea in my book! Recently I've been researching technology organizers that can keep my charging cords, adapters, and battery packs together but not in a tangle.
8. Travel bag/backpack
Rick's a backpack person, I'm a purse person. We all travel a bit differently but we all generally want a personal item with us on the plane or on a train to hold our phone, tablet, and books or magazines for something to do while we get from point A to point B. Baggallini and Travelon are both well-respected travel brands that make quality purses and bags.
9. Water bottle with filter
Make it easy for travelers to enjoy safe water no matter the source with a water bottle with a built-in filter. While it's not as travel-friendly as a collapsible water bottle, it's definitely a good gift for travelers that like to rough it outdoors or spend a lot of time camping and on hiking trails.
10. Eco-friendly travel supplies
Help your traveling friends and family reduce, reuse, and recycle by gifting them with eco-friendly travel supplies, like toothpaste tabs, reusable travel-sized bottles for soaps and lotions, or shampoo bars. If you've got a friend going to a resort or on a cruise, a metal straw would also be a great gift if they need a straw for their tropical cocktails!
11. Travel-sized exercise equipment
For travelers that like to stay fit even while away from home you might want to get them resistance bands that can easily fit their luggage, a jump rope, core sliders, or a fanny pack with a built-in water bottle holder so they can carry their hotel room key, phone, and water on their outdoor run. If they need more variety with their workout, try the FitDeck cards that illustrate different moves and exercises from bodyweight training, yoga, and core.
12. Gift cards
I am a big believer that gift cards are an excellent gift! The receiver can choose how and when they'll use it and you know they'll love what they use it for – it's a win-win all around. Help them prepare for a trip with a gift card to Amazon or a luggage retailer, or go location-specific with a sightseeing tour gift certificate, or help them get there with an Airbnb gift card or card for a certain airline.
13. Language learning classes
If your favorite traveler has expressed an interest in learning a new language for a future trip, help them with this new skill by gifting them with a year of access to Rosetta Stone! Before they go on their trip they can offer you a sincere grazie, gracias, or merci!
14. Subscription service
Bring the world to their front door with a fun travel-themed subscription service, like Atlas Coffee Club that delivers coffee from around the world, or go for a food or wine-themed option if your budget allows. If your traveler loves showing off their makeup skills, an Ipsy subscription might be a perfect fit as they'll get travel-sized makeup each month as well as discover new brands.
15. International SIM card
Finally, make it easy for them to stay in touch during their travels with an international SIM card! Before changing to Google Fi for his cell service, Rick used to get international SIM cards so we could call and text if we needed to while overseas.
What's a travel gift you've received in the past that you absolutely loved? Tell us about it in the comments below or on Facebook!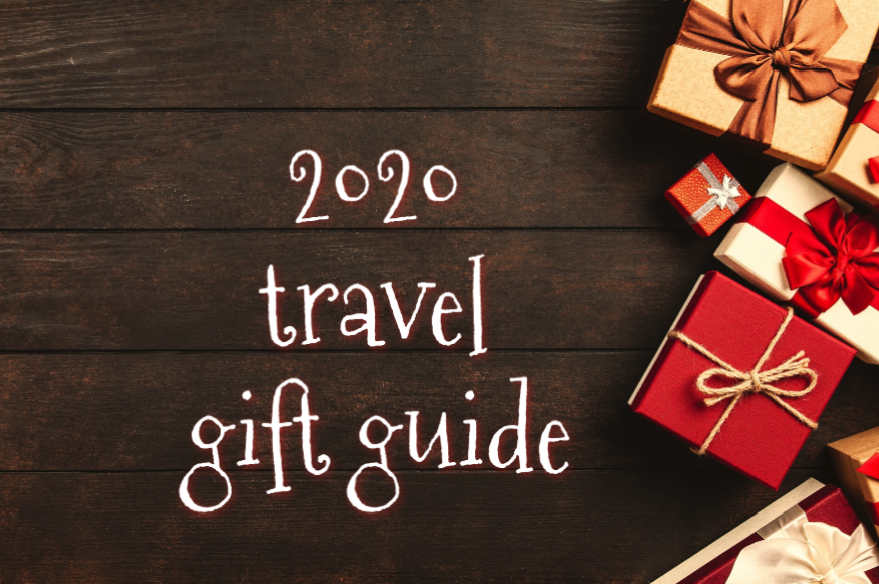 Like the post? Share it now!