While Rick and I obviously travel frequently together sometimes our vacation time doesn't always align. Luckily my sister and I are well-matched in our wanderlust! And, even more fortunately for me, she was able to get away and join me on a quick weekend in San Francisco – one of our favorite travel destinations.
We were able to sneak away to the Bay Area at the end of February and we were blessed with gorgeous weather as we explored parts of the city we hadn't been to on previous getaways to San Francisco, as well as indulge in plenty of California wine and amazing cuisine.
I truly appreciate my sister traveling with me on our weekend in San Francisco and being up for our own California adventure.
Though our time was limited to an evening on Friday, a full day on Saturday, and a half-day on Sunday, we definitely packed a lot in in our time in the city on this sisters' getaway.
If you're thinking of traveling with a sibling or close friend to San Francisco for a fun weekend away, maybe our travel itinerary can help inspire you!
Friday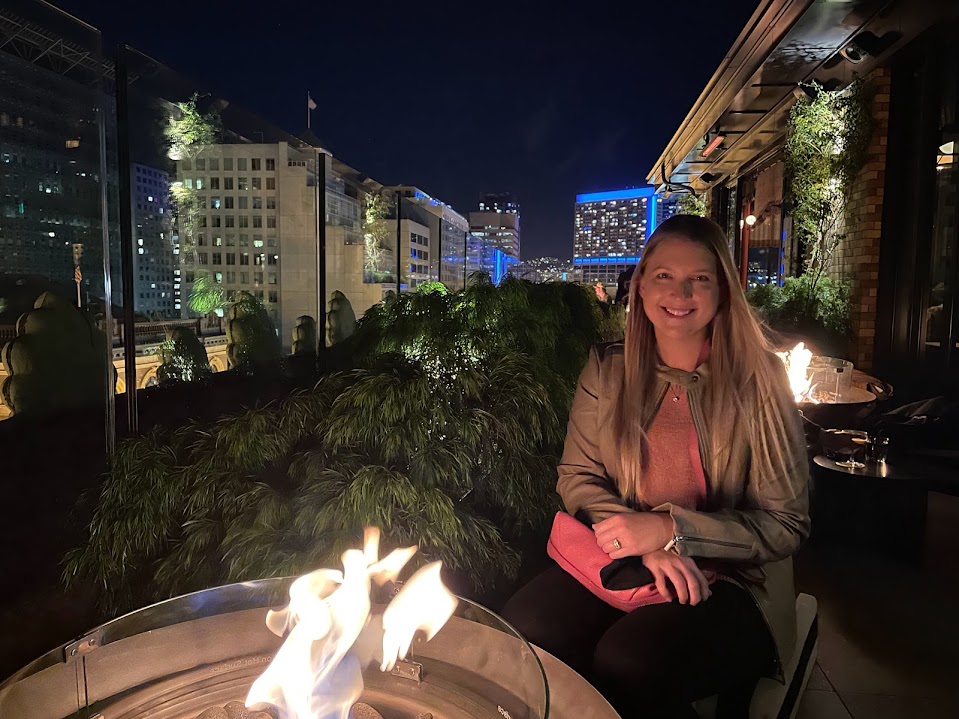 Drinks at Charmaine's
We arrived in San Francisco about 7:30 p.m. and got to our hotel at 8:30 which worked great as we had time to freshen up, charge our phones, and head over to Charmaine's at the Proper Hotel for some drinks with fun views of the city. We got a great table outside and had our own private fire pit.
I started with the Kissin' in the California Sun cocktail which was fruity, cold, and delicious! Even though it was late we snacked on the cheese plate, pork belly, and then finished the night off strong with some wine and their chocolate cake with banana ice cream. It was a sweet way to start our getaway in San Francisco.
Like most restaurants and bars we visited, Charmaine's is checking vaccination cards and IDs prior to allowing entry, so bring your card and identification with you!
Saturday
Seafood frittata

Flight of beignets
Breakfast
We started off our first full day in San Francisco with breakfast at Brenda's French Soul Food. And oh, my god, it was so good and filling to fuel us up for our day of walking. Props to my sister as she is very good at sussing out quality eateries and finding amazing places for us to eat and drink at.
We started with a flight of beignets, including: Crawfish, apple, Ghirardelli chocolate, and plain. Like a fool, I saved my chocolate and apple for last to end on a sweet treat but I was so full by the end of breakfast that I ate probably 25% of both of those amazing flavors. I paired my breakfast with a cafe au lait and then ordered the daily special which was a seafood frittata covered in a pound of cheese, potato hash, and a biscuit with strawberry jam.
Let's just say it was a good thing I ended up clocking in about 37,000 steps on Saturday to work off all that amazing food!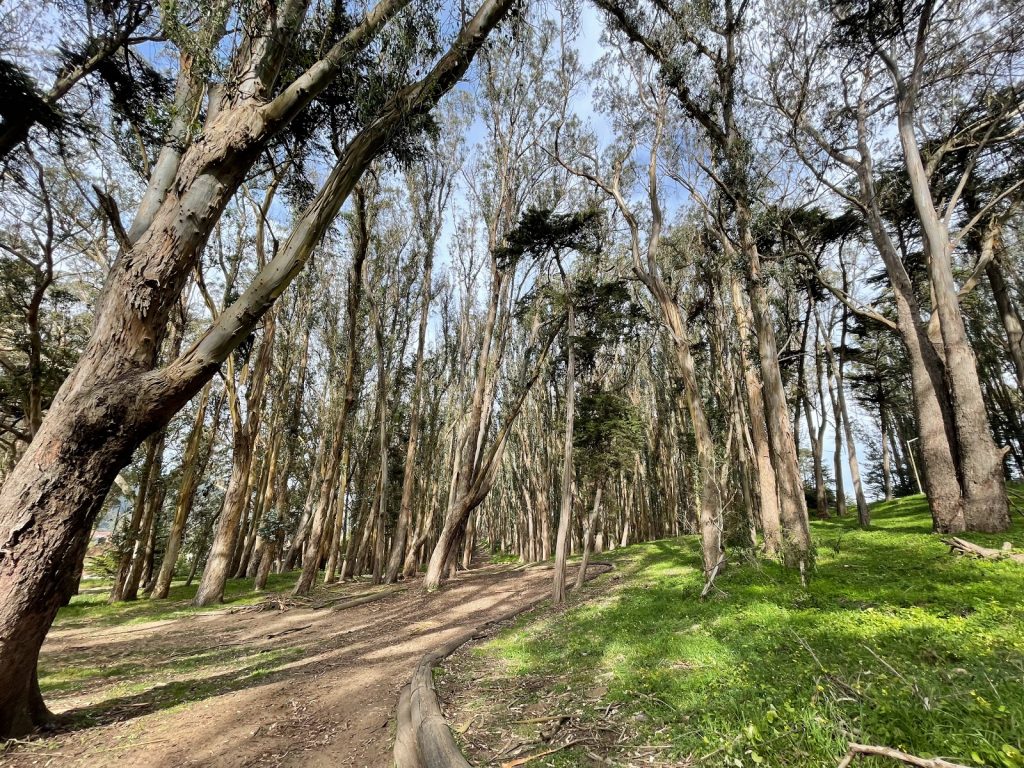 The Presidio of San Francisco
We made our way to the Presidio to see parts of the park we hadn't been to before and explored the Woodline and the Lover's Lane trail.
The Woodline was really neat and peaceful and reminded me of seeing the redwoods just outside of the city. It's a beautiful nature trail within the Presidio and worth a visit to feel lost in nature but still in a cosmopolitan area.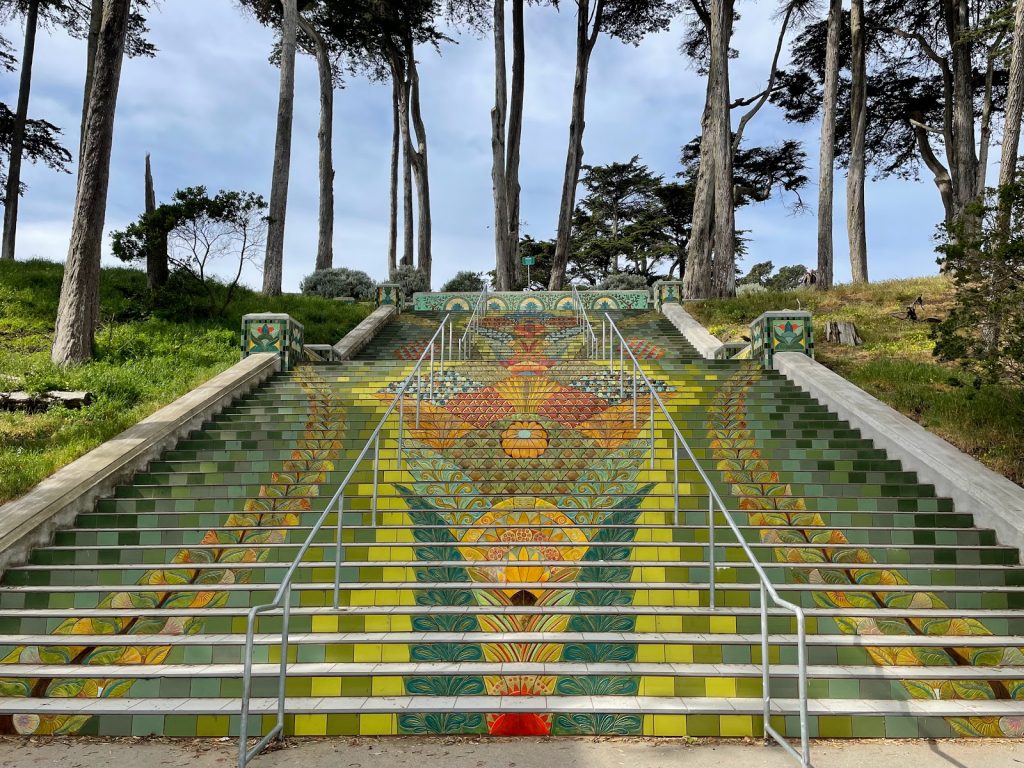 Lincoln Park Steps
The Presidio is walkable but we still had a lot of things on our San Francisco travel itinerary so we opted to catch a ride share and get dropped off at the Lincoln Park Steps to make our way to Baker Beach and back toward the city and the Golden Gate Bridge.
We had impeccable timing as we got a great view of the steps without people and snapped a few pictures before walking up to the Lands End Trail Eagles Point to get some pics of the Golden Gate Bridge from that viewpoint.
Looking back on those pictures it's crazy to think that we walked all that way, but again, we clocked in almost 40k steps that day so maybe not so crazy after all!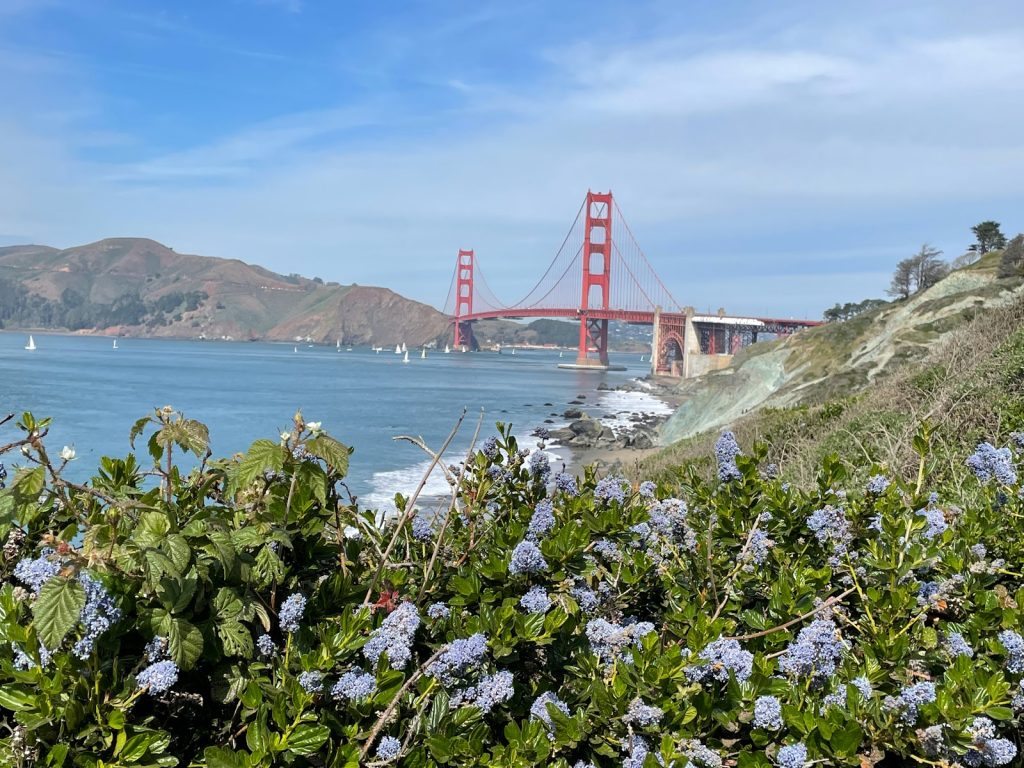 Baker Beach & trails
After checking out Lands End a bit more we made our way down to Baker Beach to watch the fishermen do their thing, attempt to soak up the sun, and enjoy the view as the Golden Gate Bridge got closer and closer.
We found ourselves taking the Batteries to Bluffs Trail to the Golden Gate Overlook in The Presidio and it was a very pleasant walk/hike. We were not dressed for athletic activities and were able to do it so don't feel you can't explore the beach or the trails in regular everyday wear.
After that it was time to start imbibing some amazing California wine!
Scopo Divino
We took a ride share over to Scopo Divino to sample some sparkling roses, tasty whites, and full-bodied reds. We got there around 2:30 so we could only have wine as the kitchen was closed until happy hour started at 3.
Once happy hour kicked off we also got to enjoy some live music with our wine tasting. It was a cute, cozy wine bar and had some interesting wines on the menu. But, we couldn't drink too much here as we had another bar on our itinerary.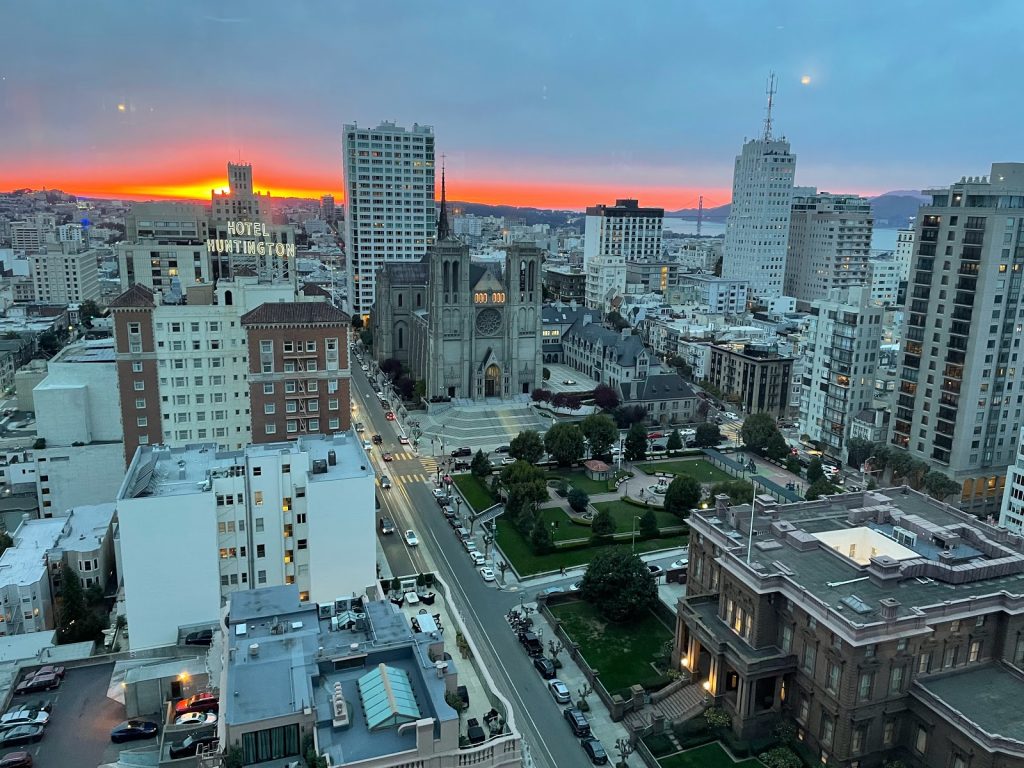 Top of the Mark
Next up was another spot known for its incredible views over San Francisco: the Top of the Mark. The sky lounge is situated on the 19th floor of the Mark Hopkins San Francisco hotel and the views truly were impressive.
My sister continued her enjoyment of California wine while I opted for a little pick-me-up with an espresso martini. We also went for the fig and prosciutto flatbread, which was the perfect light snack after our walking adventure through the city. We got there right when it opened at 4:30 so we were able to snag a great window seat and stayed to catch a gorgeous sunset falling behind the city's skyline.
Dinner in Chinatown
After watching the sun disappear it was time to head off to Chinatown for some dim sum, seafood fried rice, and green tea ice cream.
San Francisco ghost tour
We couldn't linger over dinner for too long as we had also booked a ghost tour that night that started at 8 p.m. in Union Square. The 90-minute tour covered about a mile in Nob Hill and shared some spooky stories about the city's haunted buildings, hotels, and public plazas.
Check out the full review of the San Francisco ghost tour!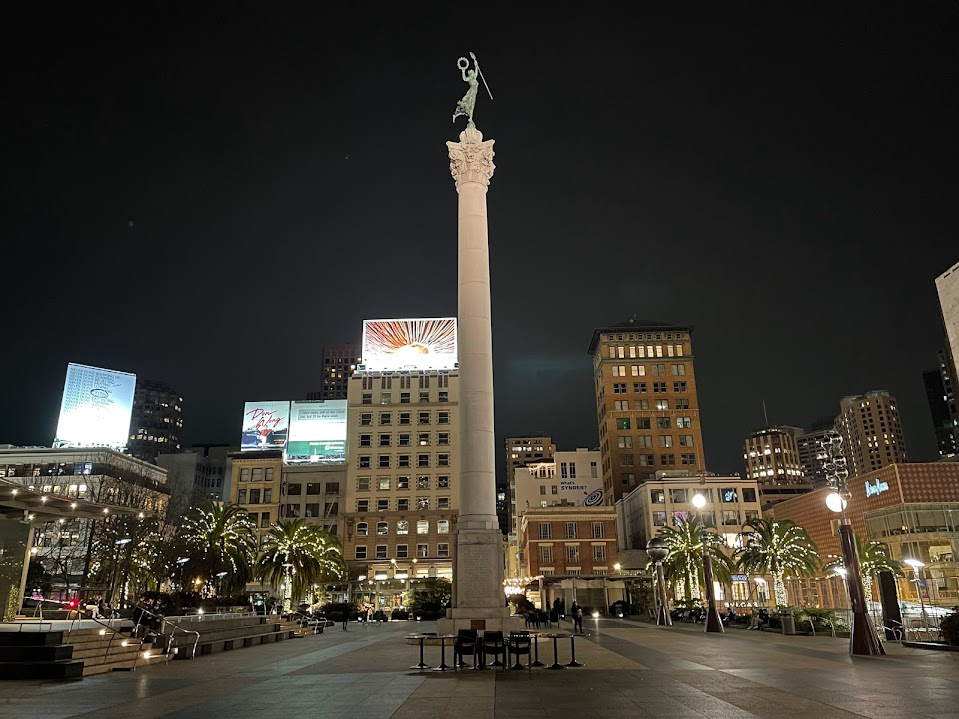 Sunday
We kicked Sunday off with a quick workout at our hotel as we knew we wouldn't get as many steps in this day with our flight home later in the afternoon.
Breakfast at Early to Rise
After making room for some good food, we were off to Early to Rise for breakfast sandwiches and doughnuts! We split the lox sandwich on a plain bagel and each got a doughnut with bourbon caramel sauce. The food was great and the service was fast as you order at the counter and grab a table outside.
Wine at the Ferry Building
After breakfast we made our way to the Ferry Building to continue sampling some regional wines at the Ferry Plaza Wine Merchant. They do have a location inside the Ferry Building, but they also have a popup patio outside and since it was another sunny day we opted to sit outside to drink our Napa Valley red.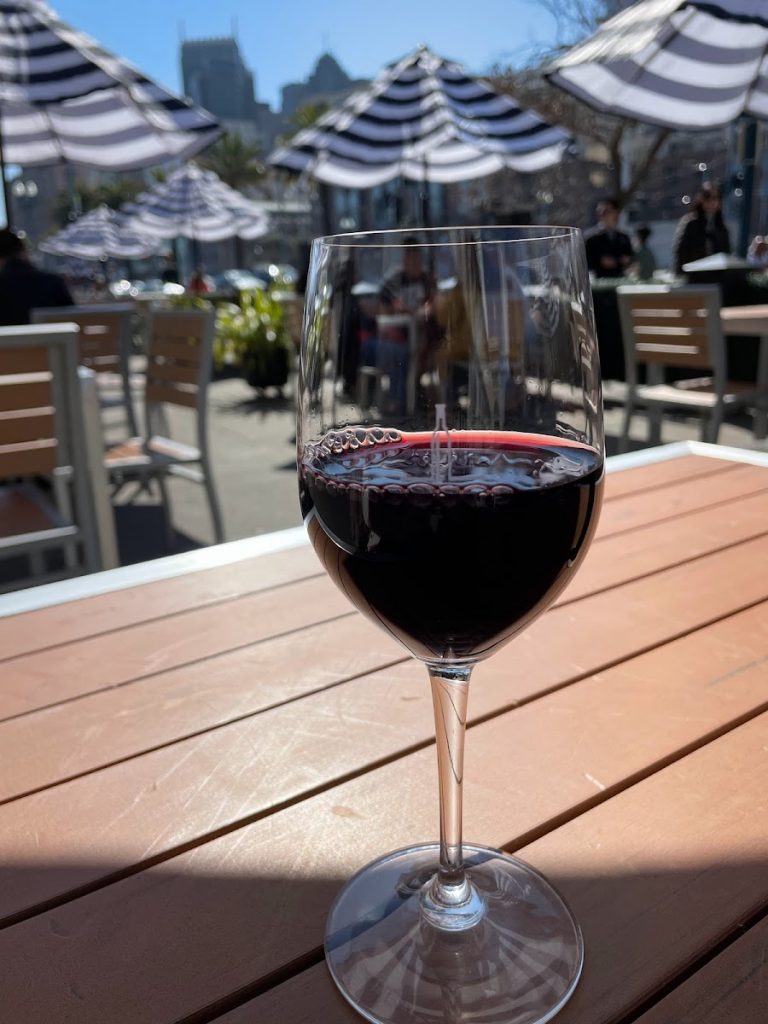 Good Vibrations Antique Vibrator Museum
For a slight change of pace in our San Francisco sightseeing, we went a bit off the beaten path and checked out the free Antique Vibrator Museum at Good Vibrations.
The museum is at the back of a Good Vibrations location and is small enough to be done in about 30 minutes or so. It does offer a unique look at the history of vibrators and how they started out as a health and beauty tool and transformed into the toy they are known as today.
Ghirardelli
Finally, we couldn't leave San Francisco without having some Ghirardelli chocolate! Luckily, there was a shop near our hotel so we could leave our bags, treat ourselves to some amazing ice cream sundaes with hot fudge and salted caramel and then be off to the airport for our flight home.
Even though our time was short in San Francisco, it was still an amazing getaway and I'm thrilled I was able to get back to the city and fall in love with it all over again. They say you leave your heart in San Francisco, but I prefer to think I just carry San Francisco with me in my heart.
Have you done a quick weekend getaway with a sibling to San Francisco? If so, tell me what you did with your time in the city in the comments below!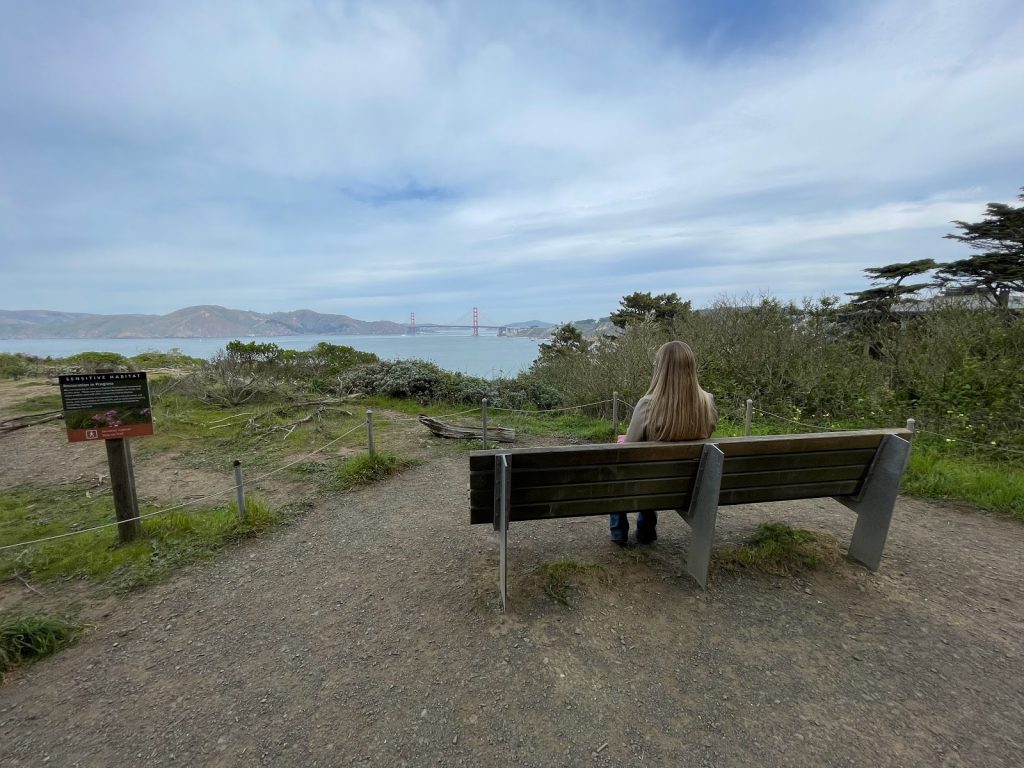 Like the post? Share it now!