My personal item is pretty much stuffed to the brim to make the most of the space I'm allowed when flying. But that doesn't mean I'm packing it unwisely.
I've become a pro at packing my purse for flights so I have all the entertainment I need and snacks to keep me full on the flight, as well as easy access to important things like my daily medications, IDs, and phone.
When it comes time to pack my day bag for an upcoming flight, I make sure to include these important items to make travel less stressful on myself.
Make the most of your personal item by packing these six essentials every time you fly.
6 things to pack in your personal item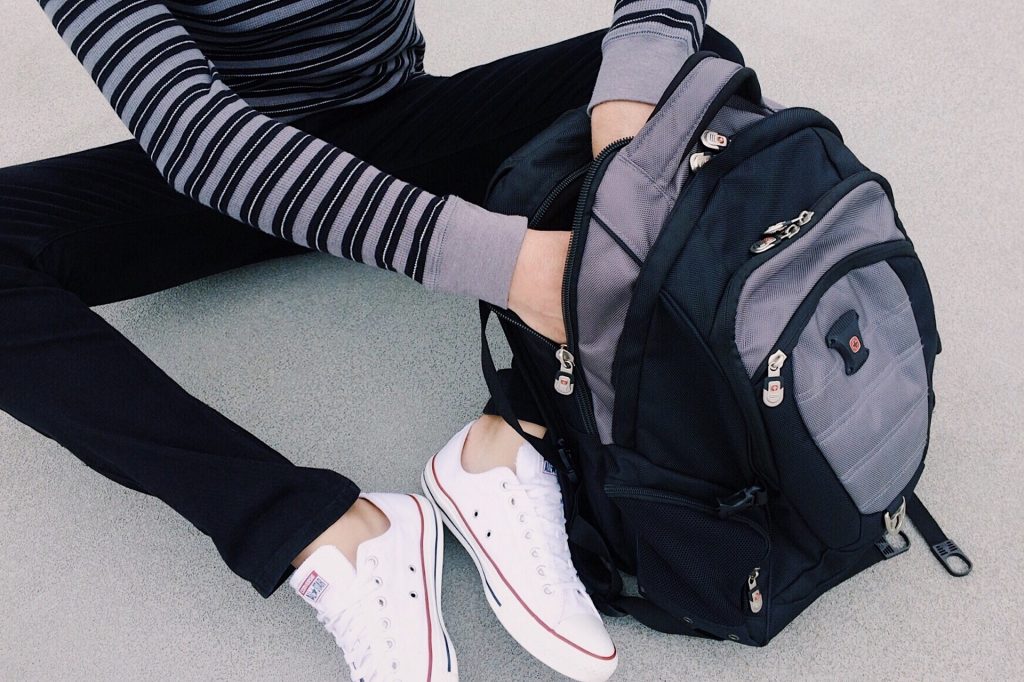 1. IDs and copies of travel documents
Be sure to have a wallet with your driver's license or passport, copies of your travel itinerary and reservation confirmations, and some cash or credit cards handy in your personal item.
2. Entertainment
I overpack when it comes to things to do on the plane, but at least I'm never bored – though half the time I'm asleep as soon as I'm buckled into my seat.
Pack a book, magazine, iPad, your phone, and some headphones for options of ways to keep yourself entertained during the flight. I also always have a notebook and pen in my bag, and Rick tends to pack a deck of playing cards in his personal item.
3. Chargers
I always keep my phone charger in my purse or backpack so I can charge my phone at the airport if I need to since Apple thinks having a battery that lasts all day is useless. I used to pack my cable away and then panicked once when my iPhone battery was draining at a ridiculous rate.
Rick throws a battery pack/portable charger in his backpack as well just in case we can't find an outlet or need to charge up during the flight.
4. Medications and personal essentials
Have daily medications you need to take with you? Keep them on you instead of packed in your suitcase in case you get separated from your checked luggage. You might also want to pack some allergy and pain relief, and maybe some Pepto or Tums in case something you eat at the airport doesn't agree with you.
Other personal essentials include lip balm, eye drops, tissues, and some gum or mints for fresh breath – or popping your ears – as you land. I also pack a foldable travel hairbrush, hair ties, and compact mirror in my bag.
I also make sure to save room for my glasses and sunglasses in my personal item so i don't have to dig those out when we catch our Lyft at the airport.
5. Water and snacks
Flying is dehydrating and it's important to drink plenty of water. For weekend getaways I'll bring my empty Nalgene through security and fill it up at the airport, and for longer trips I'll pack my collapsible water bottle for easier packing.
With most airlines charging you for every little thing these days it's hard to find an airline that still serves free snacks (what up, Southwest Airlines!), so plan ahead and pack a little snack to tide you over on a long flight – like trail mix or jerky.
If you bring fresh fruit, try to eat it right away before it starts going bad or gets squished in your bag. You could also get some hot food to bring on the plane with you, but be aware that that smell will linger in the cabin.
6. Change of clothes
Toss some underwear, leggings/pants, and a t-shirt into a packing cube to have on hand in case your luggage decides to go to a different airport than your destination. We always do this for cruises and throw a swimsuit in there so we can pass the time at the pool while we wait for access to our cabin.
If you're going somewhere tropical, you might also want to attach a pair of sandals to your bag with a carabiner, or get a bag with a shoe pocket or separator.
Make the most of your space by putting heavier items at the bottom, standing up items like your iPad, books, and notebook, and angling the weight inward toward your back if you have a backpack and toward your ribs if you have a purse.
Use pockets wisely to store a hairbrush, chapstick, headphones, phone, medications, and keys and to save yourself from having to dig through a bunch of stuff to find what you're after once you're in your assigned seat. You may even want to use a bag that has a zippered interior pocket to store your personal identification and travel itineraries.
Have any personal item packing tips? Share them with us in the comments below or over on Twitter!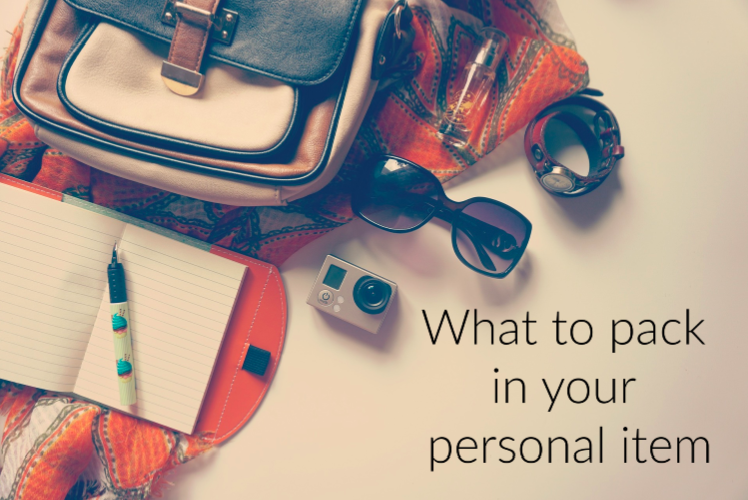 Like the post? Share it now!