We follow a lot of fellow travel bloggers on social media and one thing we see continually popping up is other bloggers asking for advice on how to figure out what to write or staying motivated to keep up on their schedule of posts.
Well, one way we address this common blogger problem is by creating editorial calendars.
I have a background in communications, marketing, and PR and am used to requesting editorial calendars from magazines and big publishers to see what content or topics their publication is covering each month to make sure print ads or advertorials fit correctly with the rest of the edition.
So, why not apply that same principle to travel blogging?
An editorial calendar is simply a calendar, spreadsheet, or document that organizes your content and strategy. It will take some upfront work, but saves you loads of time later when you already have a lineup of content ideas that are ready to be created and published. 
How to create your travel blog's editorial calendar in 5 steps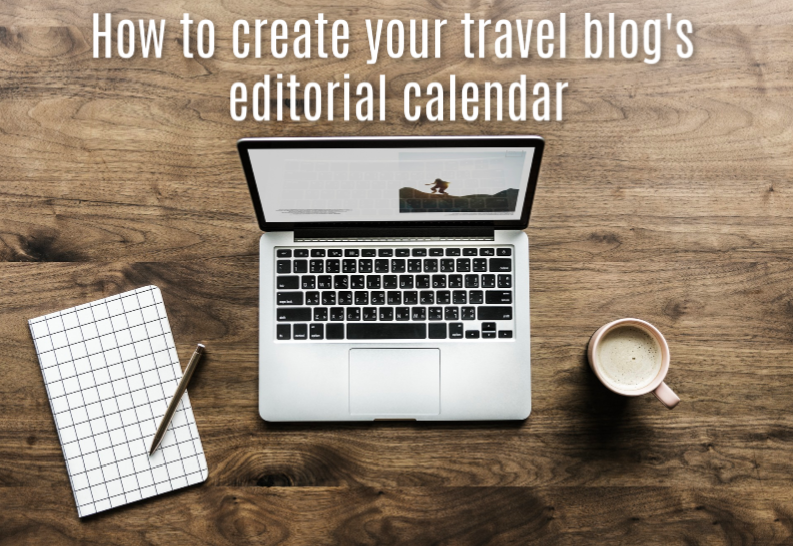 1. Identify your goals for your blog
What are you hoping to achieve with your blog? Are you writing just to share your travel experiences and travel tips or are you running ads on your site to make money from your blog? 
Depending on what you want to do with your blog, it'll change your editorial calendar. 
If you're driving revenue from your posts, you'll want to make sure you have a healthy mix of evergreen content, like what to do in X destination and what to pack for this place, as well as timely content. Since your blog is focused on a steady stream of incoming traffic, you need to provide quality content for those efforts and mix up what you're posting about on a frequent basis. 
2. Create a list of holidays, events, trips or destinations you want to cover
Going to France in June? You might want to save space in July's section for posts about your trip. Highlighting the best places to spend Christmas in? Might want to plan to publish that in October or November to get ahead of the curve.
Start jotting down ideas of things you know you want to write about in the next six to twelve months to save space for those important pieces. Chances are you'll also think of similar topics to build out that month's calendar. 
3. Generate topics
Now that you've listed out things you for sure want to cover it's time to fill in the gaps.
Destination guides
Event/festival information
How-tos (packing tips, transportation tips, planning tips)
Travel tips and tricks
Reviews
Top 10s
4. Build your calendar
There are free tools out there you can use to build your calendar, like Trello or free spreadsheet downloads, but I honestly just use a Google Sheet for our calendar. I have columns for:
Publish date
Blog title
Blog category
Keywords
Scheduled
Live
Google URL builder tracking
Promotions (has it been shared on Facebook, Twitter, Instagram, and Pinterest?)
I start filling in as much as I can and at least assigning a blog topic to a publish date. At Back to the Passport, we publish every Monday and Thursday and you'll want to set a schedule for your blog to keep up the consistency of your posts.  
I do ours a year in advance but start with three-month increments so you have some flexibility. Your blog's editorial calendar is meant to help you, not hinder you. Use it as a guide and swap  out topics as needed, but at least you know you'll have some idea ready to run with. 
5. Brainstorm keywords
Start building out a list of generic keywords that relate to your blog, your blog's brand, and what you'll be posting about. You'll also do a second set when you pick topics for each publish date. You can generate your own list by thinking of related terms or doing a Google search for those keywords and seeing what other terms other bloggers are using, or jump down to related searches to see what keywords Google thinks are similar. 
I hope these travel blogging tips help keep you focused and on schedule with your great content!
How do you keep track of all the different topics you want to write about? Tell me in the comments below or over on Twitter!
Like the post? Share it now!