Many people think about romance and beautiful couples strolling the streets when they think of Paris and it's easy to have a love affair with Paris – especially when it's between you and what's on your plate!
Paris is a wonderful destination for elegant dining and exquisite dishes. You'd have to stay for a few weeks to indulge in all of the creative cuisine available throughout the city but if you're looking for the must-eat foods in Paris as you explore this foodie city, here are some of our favorites!
Breakfast, light bites, and appetizers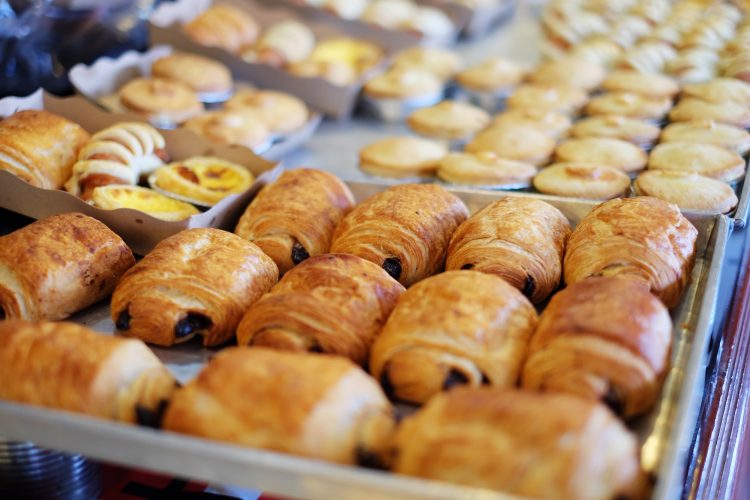 Croissant or pain au chocolat
Is there anything more delicious than a flaky, buttery croissant or one that's filled with chocolate? (That's rhetorical – read the rest of the post before you answer!) Start your day off right, or treat yourself with something yummy in the afternoon, with a freshly baked croissant or pain au chocolat.
Baguette
Another carby option is a baguette that's crusty on the outside and soft and chewy on the inside. Eat the baguette plain or make a ham and cheese sandwich – you really can't go wrong with whatever you add, or don't add, to your baguette in Paris.
Cheese platter
Fromage is a Parisian staple and for good reason. With tons of variety, from crumbly with a cheesy aroma to soft and stinky (don't knock stinky cheese until you've had it), there are plenty of options for cheese in Paris. Sample a variety with a cheese platter or visit a local shop and ask for help finding something new but related to something you know you already like. Many fromager shops are happy to let you sample to get an idea of what you like and don't like or you can ask them to pair it specifically with other items – perhaps a baguette? –  or wine you're taking along for a picnic in the park.
Foie gras
A Parisian delicacy, foie gras is duck liver that comes from a duck that's been purposefully fattened. Think of it like meat butter – it's soft and has a meaty taste. You can either eat it straight or it can be served with accompaniments like bread for spreading. I feel like foie gras is similar to oysters, not in the taste, but that you either really like it or you're ambivalent, but foie gras is worth trying.
Frog legs
Another delicacy in Paris that you should at least try once. It kind of looks just like chicken when it's served and can be fried or sauteed. I'd recommend maybe trying fried as your introduction to frogs' legs.
French onion soup
I just had to include it! It's funny, I used to hate, hate, hate the smell of French onion soup as a kid and my sister and I basically made our mom stop making it if we were home. Then I had it as an adult and it wasn't half bad. The broth is flavorful, the onions soft, and the cheese nice and melty.
Mains and entrees to enjoy in Paris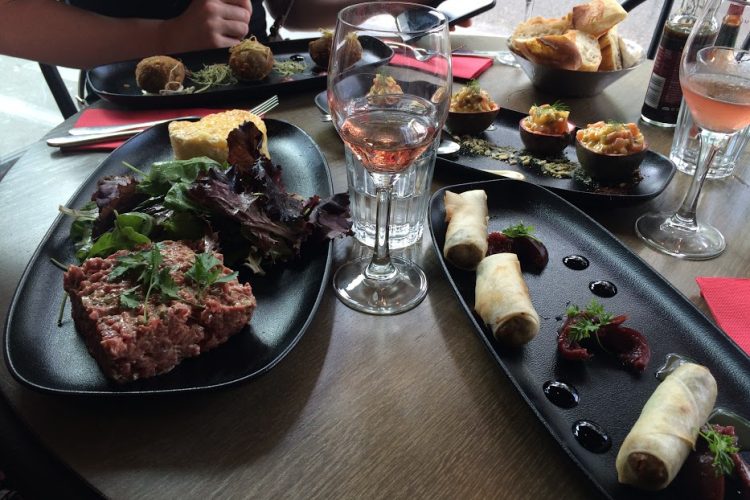 Steak tartare
After my second trip to Paris, I fell in love with steak tartare. The texture and flavor is amazing – I don't even need the accompaniments, just give me a fork and I'll be fine. The dish is comprised of raw ground beef, onions, capers, pepper, chef-picked seasonings, and Worcestershire sauce. I've had tartare that's already mixed in the raw egg yolk into the meat and ones that have it sitting on top of the dish. Live a little and try tartare next time you're in Paris.
Steak frites
Another option for steak, cooked this time, is steak frites. It's a popular dish that's available on many bistro menus and is easy to order if you're in the mood for steak and French fries. The portions are just right for this meat and potatoes dish and won't leave you feeling heavy after your meal.
Duck
If you skipped the foie gras then you have to at least try roasted duck breast or any other type of duck-based dish, like duck confit. Duck is a popular dish is Paris and many other regions of France and should be ordered at some point on your Paris adventure.
Escargot
Yup, snails. You're going to eat snails in Paris. Most are served with a garlic butter sauce or another savory sauce that can help distract you from the fact that you're eating snails. But like Pringles, once you pop, you just can't stop.
Coq au Vin
Coq au Vin is another French specialty, not exclusive to Paris but definitely something you'll want to order while you're there. This dish, which is like a stew, is comprised of chicken that's been braised in a Burgundy wine-based sauce and served with mushrooms, lardons, and often garlic.
Croque-monsieur or madame
Upgrade your grilled cheese by ordering a croque-monsieur or madame in Paris. This grilled ham and cheese sandwich is available at many restaurants and makes a great choice for lunch. What separates a monsieur from a madame? A madame comes with a fried egg on top.
Crepe
Crepes are fun as you can get savory ones or sweet ones.
You should get both! Start with a savory option packed with meats, cheese, and veggies – I recommend mushrooms, bacon, and cheese – and then get a classic Nutella crepe for the road!
Decadent desserts to dine on in Paris
Let's be honest, this is the real list we're all looking for when it comes to finding out what to eat in Paris: The desserts!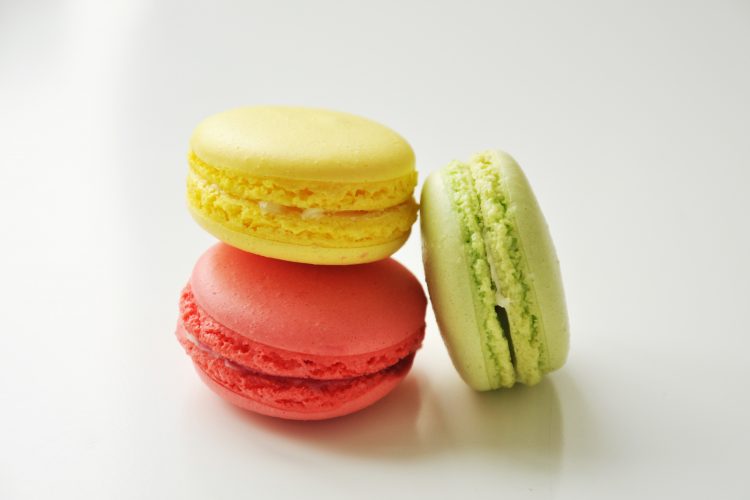 Macaron
Not only are these little dessert sandwiches adorable and come in the colors of the rainbow, but they're also light and sweet. Made with a meringue-like shell and filled with buttercream, jam, or ganache, you can barely take 10 steps in Paris without finding a confectionery that makes these delightful little desserts. Pistachio, strawberry, salted caramel, and chocolate are my top picks for macaron flavors!
Chocolate
If you're looking for the perfect souvenir from Paris, you can't go wrong with bringing home a delicious bar of creamy chocolate home with you – after taste testing a variety of course. Chocolatiers are found all across Paris and France and some even specialize in caramels, too. There's nothing like ending your night in Paris with a fabulous piece (or nine) of chocolate.
Hot chocolate
The best cup of hot chocolate I've ever had was at a hotel in Paris – served with breakfast. It was creamy, rich, and I couldn't get enough. As a city that's known for its divine chocolate, it only makes sense that melting it down with frothy milk can only improve it.
I've seen so many other travel bloggers recommend Angelina's hot chocolate and getting a cup from there is definitely on my list for things to do in Paris on my next visit.
Eclairs
These thin, oblong-pastries are dough filled with cream and covered with a chocolate icing. Eclairs are similar to our long Johns, but not fried and the dough is a choux dough – like you'd find with a profiterole.
Meringues
Can't get enough meringue from your macaron? Get these sweet little bites on their own – without the filling. Treat yourself to this dessert that's made with whipped egg whites and sugar.
What are your top picks for food in Paris? Share your favorites in the comments!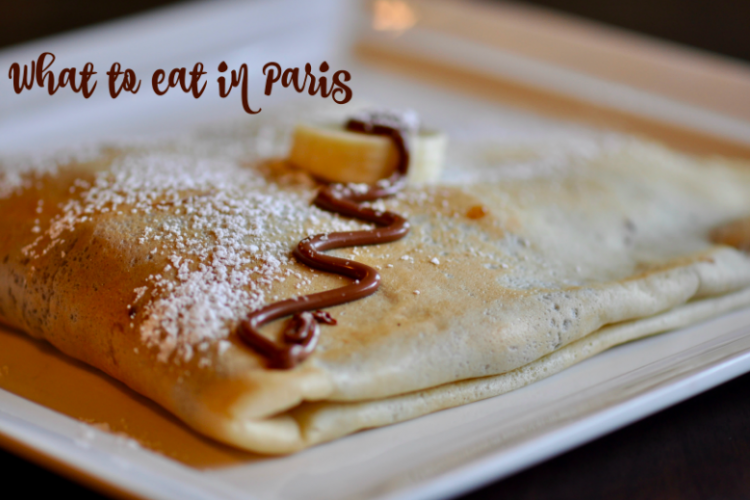 Like the post? Share it now!