Escaping to the beautiful beachfront city of Barcelona? This stunning Catalan city is steeped in culture, history, and beautiful, almost otherworldly architecture thanks to Gaudi's influence. While it's a part of Spain, it does have its own language (Catalonian) though most do speak Spanish, and its own distinctive history and heritage.
Enjoy the popular sites, the best food, and some time for relaxation with this leisurely three-day Barcelona itinerary.
Day 1 in Barcelona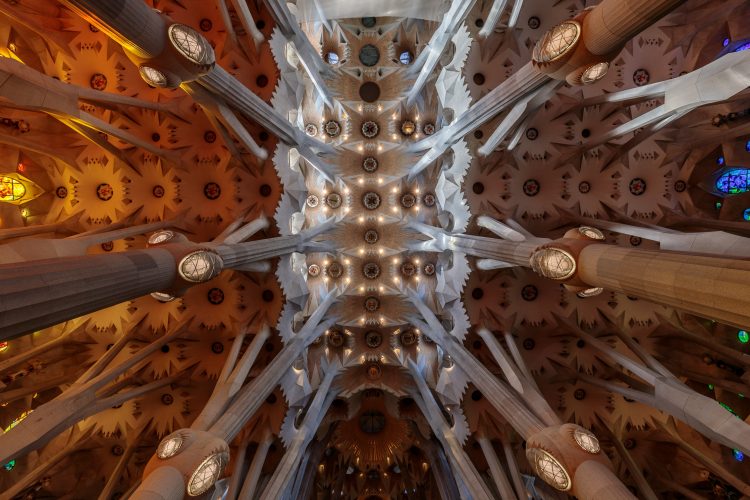 Sagrada Familia
This world-famous cathedral was designed by Antoni Gaudi and construction began in 1882 though it won't be complete until 2026, or that's the expected complete date – it's said that Gaudi knew his client (God) wasn't in a hurry. Though Gaudi will have been gone for about 100 years when she's finished, it's one of the most popular landmarks in Barcelona and will have 18 spires. Right now, she only has eight complete and you can go up some of them for incredible views of the city. Your regular admission does not include a tower visit but you can buy a ticket for it online or at the church.
Take your time exploring and photographing the interior of this unbelievable church with its 150-ft. tall nave, notice that the floorplan is in the shape of a cross (300 ft. long by 200 ft. wide), and get a closer look at the Glory Facade and Passion Facade. The Christian church opens at 9 a.m. and you can buy your tickets online ahead of time.
Be sure to be dressed appropriately, meaning shoulders are covered, no plunging necklines, dresses or skirts come at least to mid-thigh, and you must be wearing shoes. As a place of worship, it's respectful to keep voices low and no eating or drinking is allowed in the church.
Recinte Modernista Sant Pau
At about a 15 – 20-minute walk from Sagrada Familia is the Recinte Modernista Sant Pau, an UNESCO World Heritage Site. Architecture buffs won't want to miss this building and garden area, where construction began in 1905. The former hospital now houses exhibits and pays tribute to Barcelona's innovative people and style.
Casa Batllo
Another great landmark by Gaudi, Casa Batllo is easily recognized as his work with its quirky exterior and popular roof terrace that's shaped like a dragon. The house, now a museum, is open from 9 a.m. to 9 p.m.
During the summer months, head over in the evening for the Magic Nights, where you can enjoy live entertainment by musicians, dancers, and other artistic performers. Your ticket includes two drinks and the concerts last about an hour. Get there around 8 to enjoy some time visiting the house and then grab a seat for the concert at 9 p.m.
Lunch
Head into El Nacional and grab a sandwich and smoothie at La Parada or visit the Taperia for cold or hot tapas or paella. El Nacional has a variety of spaces, including a cocktail bar, beer bar, and wine bar, as well as a market space.
Stroll Passeig de Gracia
After lunch, it's time to stroll Passeig de Gracia. This famous street has a great shopping scene and stunning architecture and was the boulevard to be seen on in the 19th and 20th centuries.
La Pedrera
Also known as Casa Mila, this Gaudi building isn't far from Casa Batllo. See the apartments and roof terrace after taking a delightful walk along Passeig de Gracia. Casa Mila opens at 9 a.m., but also offers an evening tour if you want to save this gem for the end of the day. You can tour this complex and explore the exhibits and learn more about Gaudi and his work. This is an UNESCO World Heritage Site and one of his last civic architectural projects.
Wine bar & tapas
Stop by a wine bar for a quick drink and light bite with some tapas to live like a local in Barcelona before setting off for your evening's entertainment.
Flamenco dinner
Then, it's time for a classic date night in Barcelona with dinner and a show! Though Flamenco doesn't have quite the history in the Catalonia region as it does in the rest of Spain, it's still a great way to spend an evening – listening to excellent music and watching exceptional dance performances.
There are a few options for flamenco shows in Barcelona in some of the popular tourist destinations:
Day 2 in Barcelona
Park Guell
As the name implies, it's a park with stunning gardens and buildings with Gaudi's signature touch and flair. If you think of the first thing that comes to mind when you think Barcelona, this is probably it. Park Guell is the park with the stunning tile work, wavy benches, the dragon, and great views of the city below.
While the park was originally supposed to be a gated community for the wealthy, it's now a park and home to the Hall of 100 Columns (count 'em, there's only 86), a viewing terrace, and the Gaudi House Museum. You do need a ticket to visit the best parts of the park and entry is timed to reduce the number of people in the park – great for photos and enjoying the park.
Placa d'Espanya
Enjoy the plaza's shopping opportunities and fountains. Take a walk along the plaza and view the two Venetian towers in the square and maybe find a spot for a quick bite to eat or something for the road to tide you over until the evening.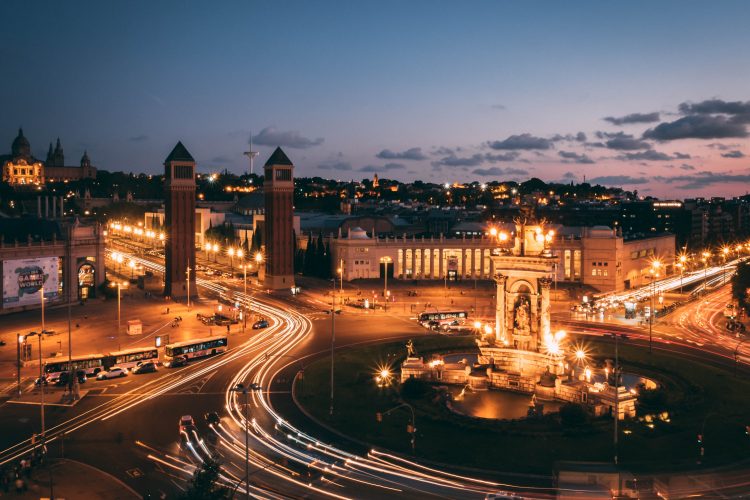 Montjuic Castle
Next, it's time to head up to Montjuic for impressive views of Barcelona and to visit the Montjuic Castle. The fortress was built in 1640 and had the ideal location with panoramic views of the city. The castle has endured many wars, been used as a prison, and changed hands many times but now belongs to the citizens of Barcelona. After exploring the fortress, check out all the other sites at Parc Montjuic or art enthusiasts might wish to visit Museu Nacional d'Art de Catalunya (MNAC).
While there, check out the Magic Fountain (find a great view from the steps in front of the MNAC! Visiting at night is best to see the light show where the 1929 fountain synchronizes with music and lights for a stunning display.
Food tour
Discover the flavors of Barcelona and its wonderful culture with a food tour! While you could taste test your way through the city on your own, why not let an expert guide you on a tour like the Tapas, Taverns, and History Tour or the Evening Tapas and Wine Tasting Tour? Whether you want to see Barcelona like a local and visit its stunning squares and try tapas or sample cava, Spain's champagne, and visit a variety of tapas bars, there's no wrong way to tour the city – especially if tapas are involved.
Day 3 in Barcelona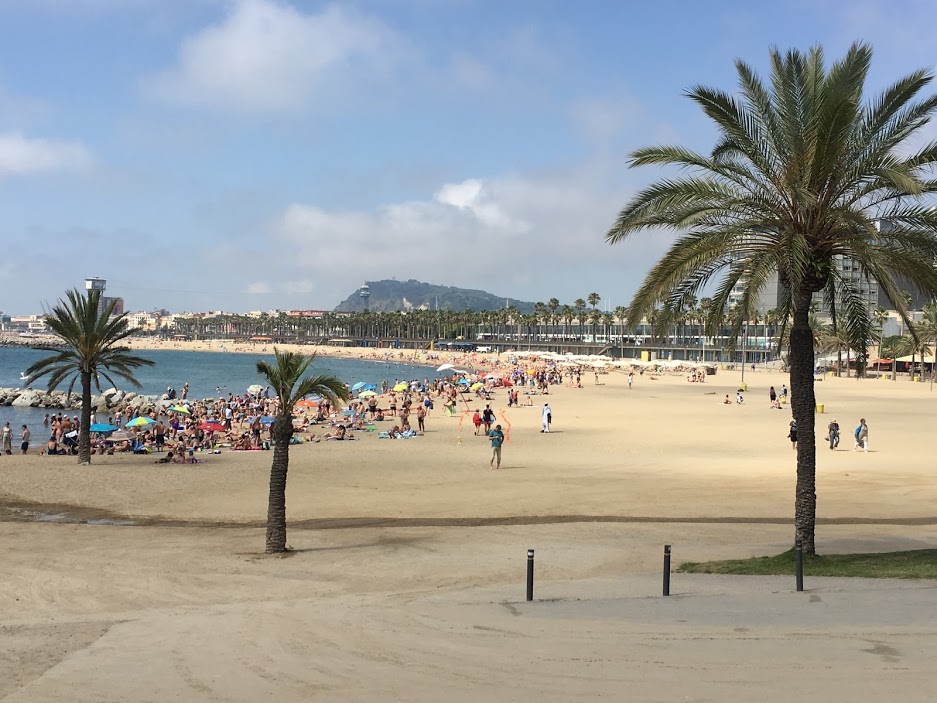 Beach
Start off your morning with a relaxed vibe by grabbing some coffee and pastries to go (might I recommend the churros con chocolate?) and then finding a spot on the beach to sunbathe, swim in the Mediterranean, or people watch.
Barri Gotic
After your easy morning at the beach, change clothes and head out to the Barri Gotic or Gothic Quarter neighborhood. This area is home to the Barcelona History Museum, Picasso Museum, and the 11th century Gothic Cathedral – go to the top for wonderful views of the city! This area is also known not only for its historic past as the birthplace of Barcelona, but also for its current life as a vibrant neighborhood with bars and lively nightlife.
Other famous attractions in this quarter include, the Church Santa Anna, Els Quatre Gats, a hangout destination for Picasso and his friends, Placa Nova, the 14th century Cathedral of Barcelona, and the Jewish Quarter. Take your time to explore this area and its historic sites.
Placa de Catalunya
Think of this square as Barcelona's version of New York's Times Square – a popular destination and meeting place. The square hosts concerts, is a place for peaceful protests and demonstrations, and is a central transportation hub. This is the spot that connects the old city to the new.
Parc de la Ciutadella
On your way to your next decadent destination, take a stroll through Citadel Park! It's one of the first green spaces in the city and at 70 acres, offers great walking trails and a little respite from the hustle and bustle of the city.
Chocolate Museum
Chocolate lovers won't want to pass up the opportunity to visit the Chocolate Museum where you travel back in time to learn about Barcelona's role in this tasty treat's history. Barcelona's location and port city status helped bring chocolate to Europe and for that, we're thankful! It's about €5 to enter and see the neat chocolate displays and statues.
La Rambla
La Rambla is the popular pedestrian boulevard, similar to Paris' Champs-Elysees but with room for walking only. Chances are you'll stroll along the Rambla multiple times during your trip, but you might want to devote some time to strictly enjoying your walk along it. Check out the flower shops, cafes, street performers, and definitely enjoy some people watching here.
La Boqueria
This market selling meat, fish, produce, sweets, and anything else you might need for a fantastic meal in Barcelona has been a shopping destination for the locals since 1200. Stroll by the vendors and make a little picnic lunch with the various fresh items that catch your eye. For better priced goods, go into the market a ways as the vendors near the front pay more for their space and may upcharge their goods to cover this cost.
Saturdays are always popular days to visit the market and it's closed on Sundays and most locals won't visit on Mondays (as they can't be sure the food is fresh). There are tapas bars in the market or a variety of cafes and bars surrounding it if you want table service for your lunch.
Columbus Monument
Built in 1888, this 200-ft. column celebrates Christopher Columbus, who first came to Barcelona in 1493, as well as plays tribute to exploration in general with symbols of navigation, mapmaking, and other adventurers. You can ride an elevator up to a viewing deck for great panoramic views of the city.
Waterfront
End your day's exploration similar to how it started: By the water! You can walk the boardwalk, get some shopping done, or simply watch the boat activity in the harbor.
Wine bar & tapas
After a day of walking, reward yourself by popping into a wine bar and ordering some tapas and wonderful Spanish wine. Treat yourself to some snacks as you'll be dining like a local tonight – meaning late. Since you're close enough to La Rambla, try Pinotxo Bar in the Boqueria or Taverna Basca Irati.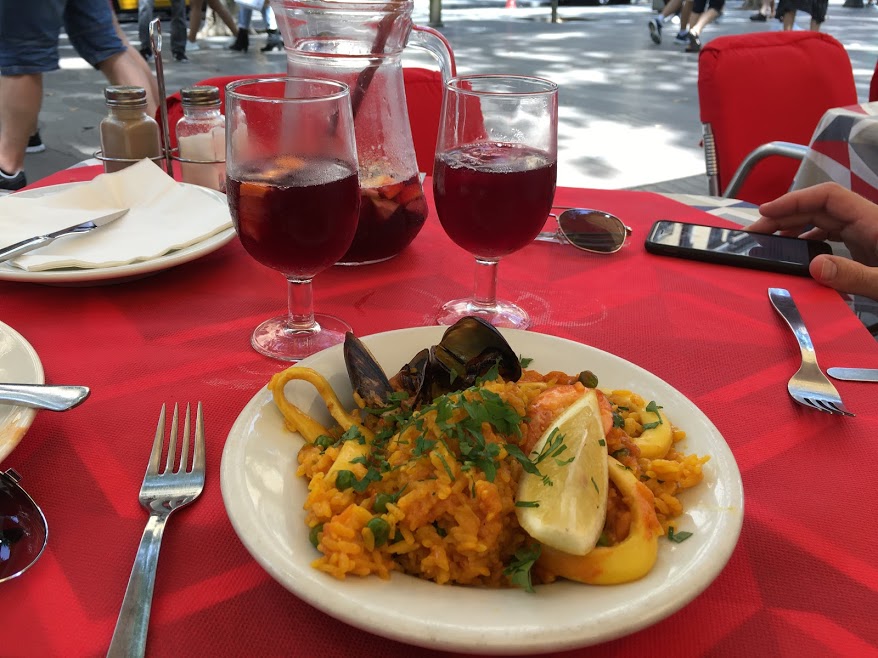 Eat like a local
After sampling a few tapas and savoring a glass or two of wine or beer, it's time for dinner – around 9 p.m. I recommend heading back along La Rambla and heading to Raco del Nuria for the seafood paella, but save room for the Catalan caramelized custard cream.
What else would you recommend for things to do in Barcelona on a relaxing getaway? Tell us in the comments below!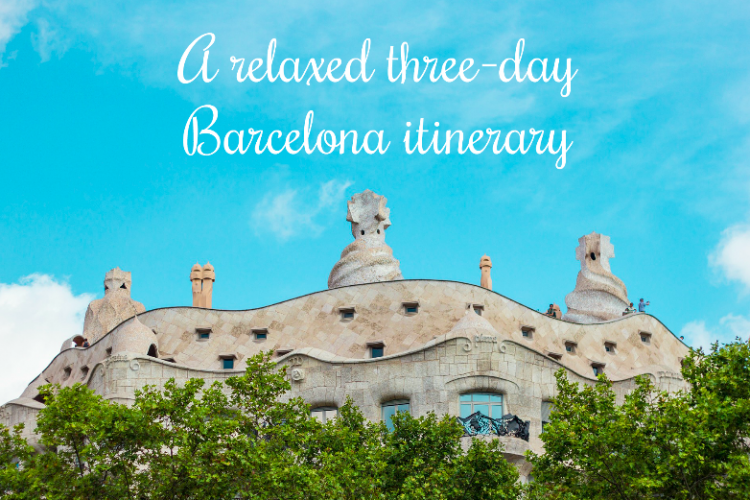 Like the post? Share it now!