Planning to experience la dolce vita in Italy soon? Lucky you! As you get ready to see the historic landmarks, indulge in pasta and pizza, and treat yourself to a life's worth of gelato, one thing that always seems to pop up when people are planning on visiting Italy: Fashion.
Italians tend to be a stylish bunch and if you want to not stick out like a tourist, you might want to be a bit more selective about what you pack for your Italian getaway. If you're trying to figure out what to pack, check out our tips for what to bring and what to wear in Italy!
Actually, let's start with what NOT to wear! Here are a few guidelines for avoiding fashion faux pas in Italy:
Flip-flops are appropriate for the beach, not sightseeing in the city.
Don't wear activewear unless you're hiking or exercising. (I'll be honest, I broke this rule as I wanted to be comfortable on the bus ride into Italy.)
No loud logos: Text on shirts should be understated, as well as logos. Try to stick with solid colors or very minimalistic text. I love the Colorado Avalanche, but I won't be sporting any fan gear or clothing.
Baseball caps or visors: It could be sunny and hot, but nothing shouts, "American!" as fast as a baseball cap.
Now, onto what you should be wearing in Italy, especially if you're visiting in the summer.
Stick to neutrals: Not only will sticking to neutrals, like black, white, beige, and navy, make packing easier as you'll be able to easily put together a variety of outfits by mixing and matching tops and bottoms, but you'll blend in a bit better. Khakis are a good choice for men for light colored pants.
Mens' tops: For men, you can still stick with a neutral palette with light colored or solid t-shirts or get a bit dressy with it with a short-sleeved button down or polo.
Layer up: You can always pair a basic white tee with a cute blazer, light sweater, jewelry, or a scarf to jazz it up. A scarf also comes in handy for covering your shoulders when entering churches and religious buildings. Men can dress up their look with a nice watch or new Italian leather belt!
Pick light, breathable fabrics: It gets hot in the summer and though you can wear shorts (not Daisy Dukes), most Italians will opt for breathable, light fabrics like linen pants.
Get it tailored: Tailored, slim fitting pants or dark skinny jeans are always in style. Have jeans or pants tight to the ankle – basically this isn't the time to bust out the bell bottoms.
Wear comfortable walking shoes: Unless you're used to walking around cobblestone streets in stilettos, don't do it! Halfway through the day you'll probably want to saw off your own feet. Pick comfortable walking sandals (they can still be cute and stylish!) or a nice pair of canvas shoes. If you are bringing a fancy pair of shoes for dinner, stick with kitten heels or even wedges to make it easier for your walk to dinner.
Go long with skirts: Bring a maxi skirt so you don't have to worry about covering your knees with leggings to visit the churches and you can get some natural air conditioning as you walk.
Bring a pair of sunglasses: This classic style staple is a must in the summer! Now, you just have to check the fashion trends to see if bigger is better or if sunglasses are shrinking in size.
It's also important to keep in mind your comfort level and how much you want to pack for your Italy vacation. Dressing up and trying to blend in with the locals can be fun as you travel, but it's also your vacation and you shouldn't stress if you normally go with a more dressed-down approach. Will you ever see these people again? Probably not, so go with whatever makes you most comfortable.
What'd we miss or what fashion advice would you share with a traveler visiting Italy? Tell us in the comments!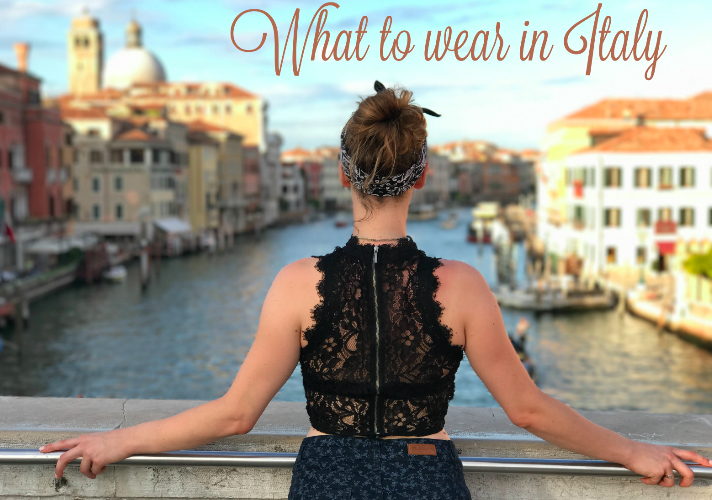 Like the post? Share it now!