Ah, Madrid, the sunny capital of Spain! While we highly recommend planning more than a day here, if you find yourself with a long layover or just want to add a quick overnight trip to the capital as you explore other amazing travel destinations in Spain, it's well worth it.
There are so many things to do during your 24 hours in Madrid, but if you're looking for the must-dos, we've outlined our picks for how to spend a day in Madrid and leave feeling satisfied but still figuring out when you can plan another trip back to explore the Spanish city further.
Without further ado, let's jump into the list of what to do in a day in Madrid to enjoy the highlights, savor the flavors, and experience the city as much as possible with limited time there.
A one-day Madrid travel itinerary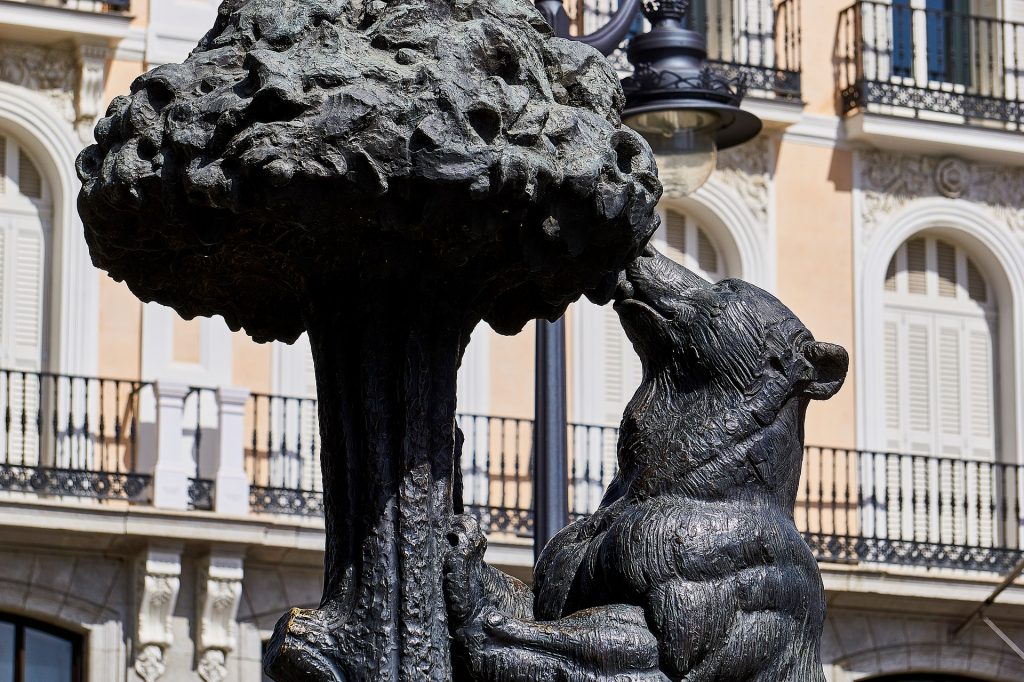 Grab a bite to eat
Start your day off in Madrid by grabbing a traditional Spanish breakfast of toast with tomato and olive oil, and pair it with a cafe con leche to wash it down. There are plenty of cafes to get your breakfast from, but if possible, try to make your way to Puerta del Sol plaza as that's the next stop on your list!
Visit the literal center of Spain
It's a quick stop and you'll also want to check out Puerta del Sol plaza, but here you can find a plaque marking the literal geographical center of Spain, kilometer zero. In this plaza you'll also find the favorite subject for travel photography with the statue of the bear eating from the strawberry tree, the El Oso y el Madrono.
From here, you can take a little stroll down Calle Mayor toward the river to walk by the Teatro Real, Royal Palace (which is no longer an official residence of the royal family), and Almudena Cathedral. If you have enough time in your schedule, you may want to pop inside the Almudena Cathedral as it's gorgeous both inside and out, plus you can head up to the top and get amazing aerial views of Madrid below.
Visit the Prado Museum
It's about a 25-minute walk from the Almudena Cathedral to the Prado Museum. It's home to some of the finest art in the world, especially its Spanish collection including the work of Velazquez and Goya.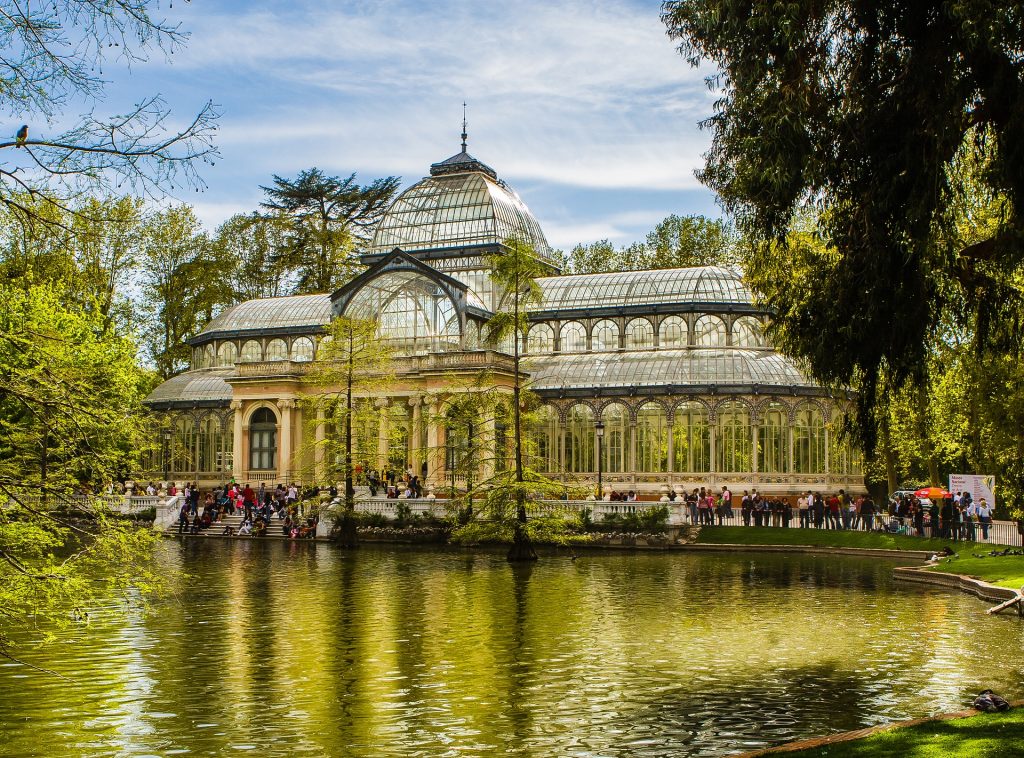 Explore El Retiro Park
After exploring the museum's amazing collection of art, it's time to enjoy the beautiful works of art by nature by wandering around El Retiro Park. Be sure to swing by the Palacio de Cristal to capture some amazing photos before rejoining the crowds of walkers, joggers, or cyclists in this inviting green space in Madrid. 
Have lunch at Mercado de San Miguel
Head off to the San Miguel Market and get some fresh produce to snack on or sit down for freshly made tapas and Spanish wine for lunch, commonly eaten from 2-4 p.m. in Madrid. Rick and I love checking out the local markets to get a real feel for a city and its cuisine and you won't be steered wrong by checking out Madrid's San Miguel Market. You'll also be able to satisfy your sweet tooth as you head back out into Madrid by grabbing a dessert from a stall and taking it to go. 
Find Egypt in Madrid
Walk off your lunch as you head over to the Temple of Debod. This little piece of Ancient Egypt was gifted to Spain in the 1970s but the temple for Amun and Isis dates back to the 2nd century BC. The Temple of Debod is another popular spot for photography in Madrid but worth a quick visit either way. It's especially popular at sunset but worth battling the crowds for the great views. 
Tapas and Flamenco
Start your evening like the locals do with some tapas and wine before attending a flamenco performance. This four-hour food and flamenco tour of Madrid starts at 7:30 p.m., and includes a few stops to try different tapas, Spanish cuisine, and of course some Spanish wine to pair with your food. Then, you'll enjoy a flamenco show complete with dance, music, and singing – a very moving experience. 
Check out the clubs and nightlife
Madrid is well-known for its clubbing and vibrant nightlife, so night owls are very much welcome in the city. Malasana and Chueca are popular districts for bars, music, and dancing. If you just want to stick to cocktails, head over to 1862 Dry Bar, and discover what the mixologists are blending together in a cool mansion setting. Many even recommend keeping the party going until the wee hours of the morning where you might find yourself back at the Temple of Debod to catch a beautiful sunrise during your 24 hours in Madrid.
Did we miss anything from our one-day travel itinerary for Madrid? Tell us your thoughts in the comments below or give us a shout on Twitter!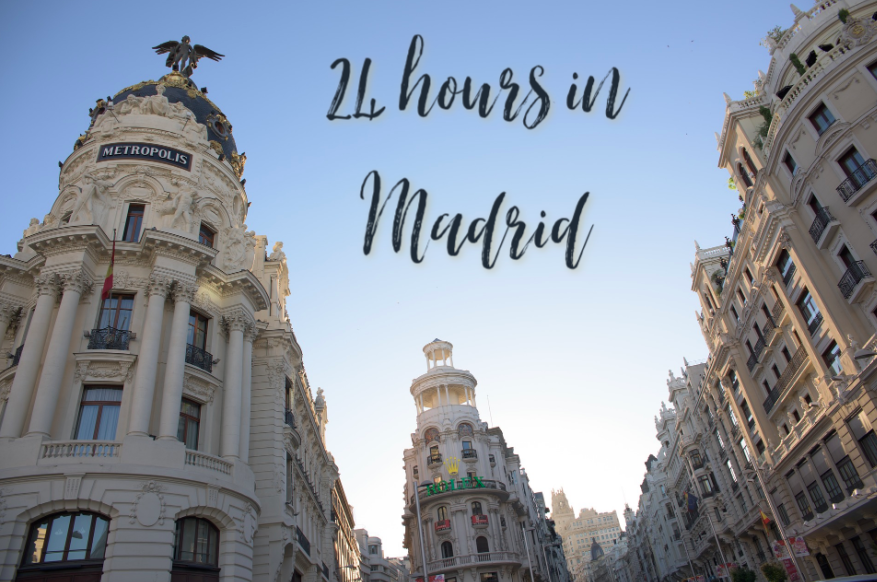 Like the post? Share it now!