One of my favorite things about traveling in Europe is getting to sample its signature drinks – especially when it comes to wine! Sparkling, white, rose, red – I love them all and love sampling new varietals while traveling.
To me, Spanish wine ranks high, right alongside French and Italian wines, and Spain produces about 14% of the world's wine. So, it reasons that they know a thing or two about winemaking and creating the perfect wine to pair with the incredible food you'll find in Spain.
Spain does offer some robust and decadent red wines, but you can also expect to find some exceptional whites, roses, and sparkling wines as you do some wine tasting in Spain! While I'm more partial to their reds, I definitely order a glass or two of Cava when I can.
If you're planning a trip across to Europe and want to know what wines to drink in Spain – we've got our top five picks listed in this blog.
5 Spanish wines you have to try
1. Cava
Looking for Spain's answer to sparkling white wine a la Champagne and Prosecco? Cava is your choice! This dry, light-bodied sparkling wine can either come in white or rose and is a fantastic choice for a hot summer day if you're a little tapped out from sangria.
Cava is mostly produced in Catalonia and often viewed as a dessert wine. It's primarily made from the white wine grapes of Macabeu, Parellada, Xarello, Pinot Noir, and Chardonnay.
Primary flavors:
Yellow apple
Lime
Almond
Chamomile
2. Albariño
In the mood for a white wine but don't want the bubbles? Albariño is a wonderful white wine option while doing some wine tasting in Spain! It's a bit fruity, has a light body, and is high in acidity. It pairs perfectly with seafood and the fresh fish dishes you'll find along the coast. Quick fun fact about the wine, August 1st is Albariño Day!
Primary flavors:
Lemon
Grapefruit
Honeydew
Nectarine
3. Rioja
Affectionately known as the "Bordeaux of Spain," Rioja wine is a savory medium-bodied red made mostly from Tempranillo grapes, though Garnacha, Graciano, and Mazuelo grapes can also be used. The Rioja region is known for its reds but also produces some great whites.
Primary flavors (red):
When it comes to Rioja, you'll see several styles:
Gran Reserva: Aged for five years, two of those in oak
Reserva: Aged for three years, at least one in oak
Crianza: Aged at least two years, at least one in oak
For the optimal pairing, order a Rioja and some manchego cheese – and then save some wine for a chorizo-based dish.
4. Sangria
You knew it would be on the list as sangria is synonymous with Spain! Sangria is a spiked fruit punch made with Rioja, brandy, and fresh fruit muddled in. Most often you'll find oranges, apples, pears, peaches, and even pineapple added to the pitcher. Sangria can range from sweet to dry, depending on the ratios and blend of wine, brandy, and fruit and so it's not always the most consistent beverage choice.
Many cafes and touristy restaurants have their own house sangria blend and it's one of our favorite drinks to pair with paella when we order this famous dish. Since it's chilled and served with ice, this drink is ideal for cooling down after a day exploring Barcelona in the hot summer sun!
5. Priorat
This Spanish red has a medium-full body and is made primarily from Garnacha and Carignan, and sometimes Syrah. Though the winemaking in this region is tough and has a low yield, it's some of Spain's finest wine and also has a D.O.C. (Denominacion de Origen Calificada) seal – the only other stamp of approval is in Rioja, so you know you're drinking quality wine! The wines from this region are complex, silky, and taste of black fruits and berries.
Primary flavors:
Black cherry
Plum
Licorice
Chocolate
What's your favorite wine to drink in Spain? Tell us in the comments below or let us know on Twitter!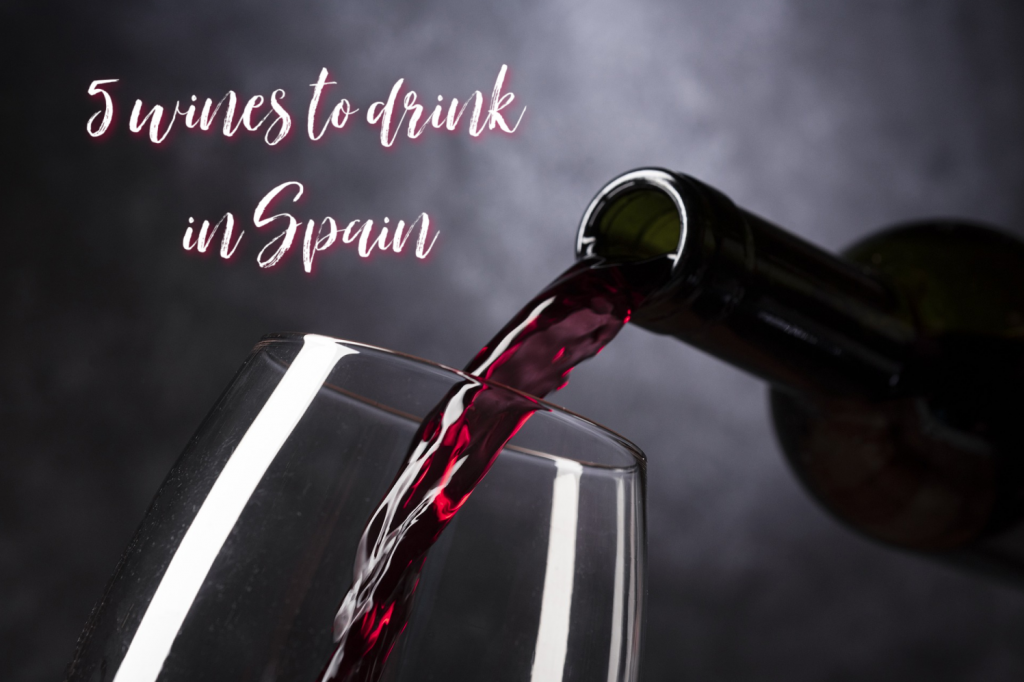 Like the post? Share it now!