Traveling to a new country is always exciting but it can also be daunting when you want to fit in and just enjoy the local culture and customs, part of which involves dining out! And there's no greater dining out experience in Italy than visiting a gelateria (gelato shop) and ordering some gelato!
This tasty gab-and-go treat is perfect year-round and we definitely encourage you to try lots of different flavors from different shops. Most identify themselves as a gelateria or you can hunt down some specialty flavors at a shop proclaiming they serve up gelato artigianale (artisan gelato).
While gelato dates back centuries, the "modern" version of gelato comes from Florence in the form of the fior di latte (flower of milk). Alchemist Cosimo Ruggieri is credited with this flavor and serving it in the court of the Medici family during the Renaissance, and we've been grateful for his contribution ever since.
Now, there's no wrong way to order gelato in Italy, but these tips will help you place your order like a true Italian!
Ordering gelato like an Italian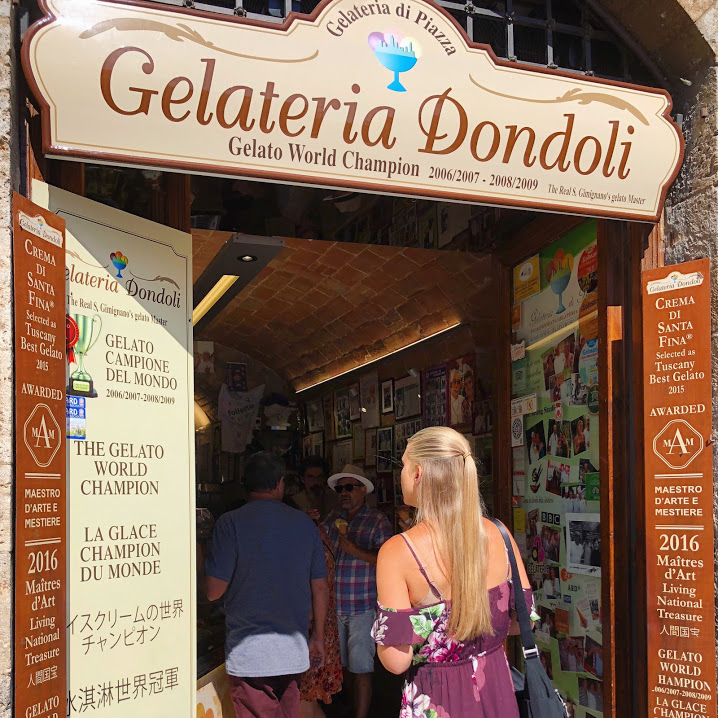 1. Ticket, please
Some gelaterie require you to pay up front and then you'll use your receipt to get your treat so it's a good idea to know how to order your gelato in terms of size (how many flavors) and delivery (cup or cone). When you pay this way, you don't have to know what flavors you want right away you just have to know that you're paying for a certain number of scoops.
Ordering guide:
Piccolo (pee-koh-loh) – small
Medio (meh-dee-oh) – medium
Grande (grahn-day) – large
Cono (koh-noh) – cone
Coppetta (koh-pet-tah) or coppa (koh-pa) – cup
To order a small cone you would say, "vorrei un cono piccolo." If there aren't signs indicating how many scoops come in each size, you could also order like, "vorrei due gusti in una coppetta, per favore," meaning two flavors in a cup, please.
2. What flavor
When it's your turn to order, hand over your receipt and tell them what flavors (i gusti) you want. If you hear, "Quali gusti vorrebbe?" They're asking you what flavors you want.
While there are many, many flavors and colors of gelato available for you to choose from, if you want to go classic and try some signature Italian favorites, you can't go wrong ordering one of the flavors listed below.
Gelato flavor guide:
Amarena: Sour cherry
Bacio: A mix of chocolate and hazelnut
Caffe: Coffee
Cannella: Cinnamon
Cioccolato: Chocolate
Cioccolato fondente: Dark chocolate
Crema: Cream or custard
Dulce de leche: Milk and caramel
Fior di latte: Sweet cream
Fragola: Strawberry
Limone: Lemon
Nocciola: Hazelnut
Panna: cream
Pistacchio: Pistachio
Stracciatella: Chocolate chip
Tiramisu: You guessed it, tiramisu in gelato form
Zabaione: Wine!
3. Devour your gelato
Next they'll hand you your sweet treat, where you say "grazie" and they'll reply with "prego", and it's time to savor every single creamy bite! Until two hours later when you're back ordering another…
Planning to visit Rome or Florence soon? Discover where to go for authentic, delicious gelato in these great Italian cities: Rome or Florence.
What's your favorite flavor of gelato when you visit Italy? Tell us in the comments below or over on Twitter!
Like the post? Share it now!