Whale watching is a magical experience and a definite bucket list activity, but there's something special about winter whale watching as they migrate along the coast in search of warmer waters. Check out our five tips for winter whale watching and get out on the water this season!
1. Know where to go
There are plenty of great destinations for winter whale watching as these beautiful creatures make their way from Alaska down to the warm waters off of Mexico and then back up to the north. The season on the West Coast and Hawaii is generally December to May, with concentrations of whale sightings at the end of December and mid-March. You can also flock to the East Coast for some epic whale sightings in early winter.
Best locations for winter whale watching:
The Hawaiian Islands
San Juan Islands, Washington
Depoe Bay, Oregon
San Diego, California
Monterey Bay, California
Baja California Sur, Mexico
Cape May, New Jersey
Virginia Beach, Virginia
2. Get out on the water
There are many hotels along the West Coast that boast fantastic whale watching right from your hotel room overlooking the ocean, but one of the best ways to see these majestic creatures is by getting out on the water for a whale watching boat tour.
Some tour companies are focused on whale research and eco-tourism, meaning they practice ethical behaviors and many often can identify specific whales or pods. While price is often an important factor when picking the right company, it can definitely be worth it to spend more and benefit whale research.
Since many of these boats are smaller, it's possible to experience motion sickness as you watch the water for whales. Be sure to take any precautions if you're prone to seasickness, and be sure to eat and drink plenty of water before your tour and start taking the medication the night before.
3. Bring the right equipment
Whale watching isn't always comprised of non-stop action and it's fun to just relax and enjoy nature and the incredible views as you keep a watch out for whales. While you're out on the water, make sure you have the right equipment for your tour:
Sunglasses: don't be blinded by the sun glinting off the ocean's surface
Binoculars: get a closeup view of the water when a whale does come above the water
Camera: don't forget to snap some pics of your winter whale watching adventure
Snorkel gear: If you're in Hawaii or down in Mexico and your tour is a combo option, don't forget your swimsuit and snorkel gear!
4. Take your time
A good tip for whale watching is to scan the water's surface slowly, from left to right, and watch for movement or sudden misty sprays or puffs of water. This helps isolate a location that may have whales right below the surface, and as they're moving at about five mph, if you see movement, you'll probably see it again soon as the whales continue swimming.
Too often, we're scared we're going to miss a sighting so we're quickly looking this way and that way and that actually makes it harder to spot whales. Take your time to watch the water and keep your ears open for sudden splashes or fin slaps.
Remember, they're going south in the winter and north in the spring!
5. Dress for the weather
If staying on the mainland, be sure to bring warm layers as it can be 15 to 20 degrees cooler out on the water than it is at shore. Go with wool as it'll keep you warm even if you get splashed or catch some sea spray. Dressing in layers ensures you're warm when it's cold but also gives the flexibility to take layers off as you warm up.
What's your best tip for whale watching? Tell us in the comments below or join the conversation on Twitter!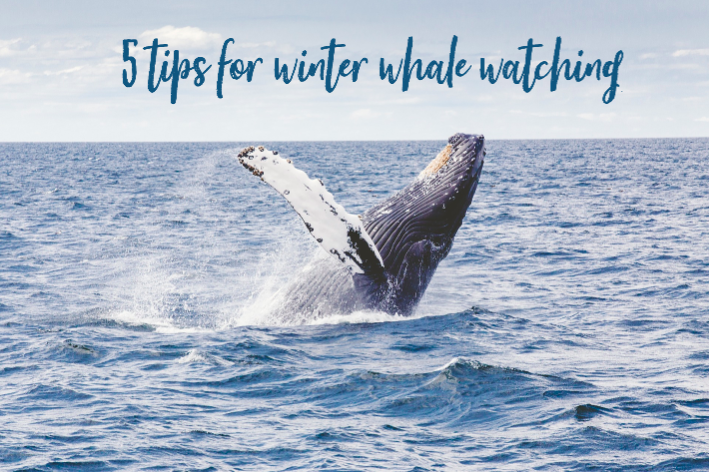 Like the post? Share it now!