Sun, surf, sand, and a tropical drink melting in your hand – sounds great, right? Well, it's all waiting for you down in the Caribbean!
With winter in full swing here in Denver, Rick and I were just counting down the days until our Caribbean cruise and it got me thinking of Caribbean cruise destinations we should look into for an adventure in 2021 – I know, we like to plan ahead, way ahead.
Rick and I have done a few cruises together, though Rick does admit he misses living in Florida when it's time for a cruise as it was so much easier and more affordable when he lived near the main ports, but somehow we manage (please read the sarcasm).
Cruising is a great way to see the Caribbean as you often can stop at several islands or at least several towns on the same island to see more during your vacation.
If you're dreaming of a tropical getaway filled with breathtaking islands, lush rainforests, unbelievable beaches, and plenty of Caribbean flavor, these top 10 cruise destinations might be calling your name for a visit soon. 
Top 10 cruise destinations in the Caribbean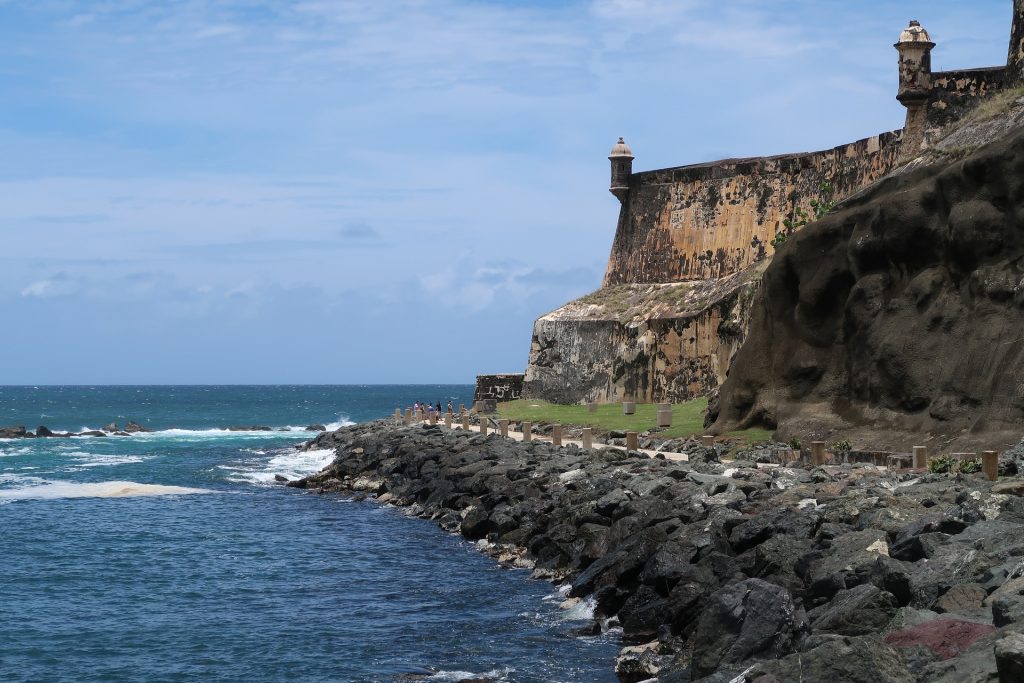 1. San Juan, Puerto Rico
Visit the only tropical rainforest in the US National Park Service, El Yunque, dine on mofongo, and visit the historic Spanish colonial sites of El Morro and Fort San Cristobal when you dock in San Juan.
You'll also want to stop at the Bacardi Distillery for an authentic taste of Puerto Rican rum! San Juan also offers wonderful restaurants, boutique shopping, and amazing beaches, like Vieques. San Juan offers cruisers plenty of things to do to keep them busy on port of call days. 
Be sure to check out our 24 hours in San Juan post for more ideas of things to do!
2. Charlotte Amalie, St. Thomas, US Virgin Islands
The US Virgin Islands (USVI) and St. Thomas in particular are rife with pirate history and culture and while you probably won't find buried treasure, you're sure to find plenty of gems on display in this duty-free shopping destination. Whether you want jewelry, clothing, or island spices and sauces, you'll find it in Charlotte Amalie.
St. Thomas is also a favorite destination for photographers as it offers amazing Caribbean views and stunning beaches next to turquoise water, and the pictures are sure to make all your friends and family back home jealous of your time in paradise. 
3. Nassau, Bahamas
Rick and I have been to Nassau together twice now and I still enjoy visiting the city when we dock for the day. Strolling the streets that are lined with colorful buildings and houses, sampling rum and stocking up on rum cake, and checking out the historic sites like the Queen's Staircase and Fort Fincastle top our Nassau to do list every time we explore the city.
Many cruisers choose to head over to the Atlantis Resort to play in the water park and swim with dolphins. Be ready for the crowds as more than a million travelers cruise to Nassau each year!
Want more information on things to do in Nassau? Check out our post on the top 10 things to do in Nassau!
4. Falmouth, Jamaica
Rick and I love visiting Jamaica but if you want to enjoy a cruise to the Western Caribbean island, chances are good you'll dock in Falmouth. This port of call lets you climb Dunn's River Falls, see the beautiful beaches of Negril, or discover the local flavors by sampling jerk chicken and salt fish. Falmouth is also popular for its Colonial Georgian architecture and sugar plantations. Feel the rhythm, feel the rhyme, get on up, it's Jamaican cruising time!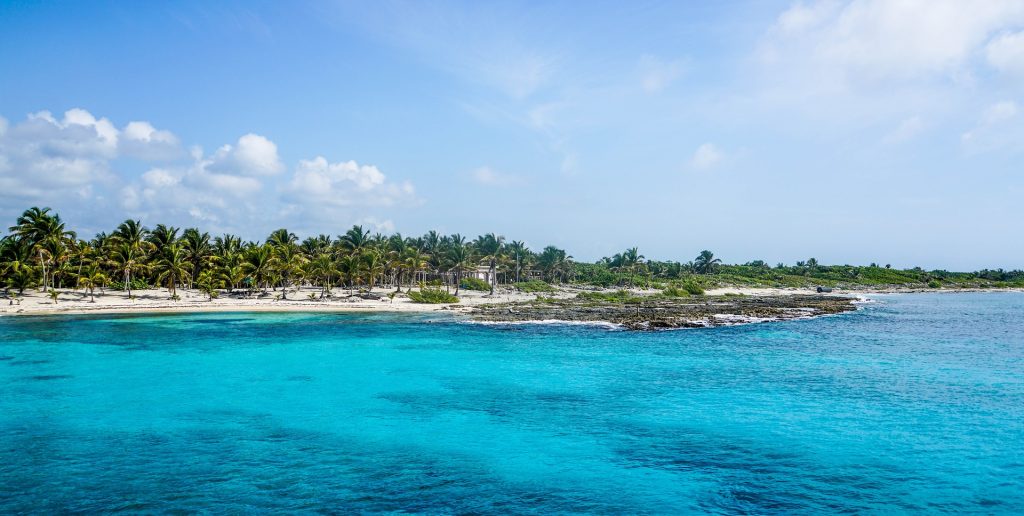 5. Cozumel, Mexico
This popular port of call in Mexico is known for its Mayan ruins and ancient sites, like Tulum, the unique cenotes, and access to great beaches and nature parks. Snorkeling and scuba diving excursions are also quite popular from this Caribbean travel destination. Sample some tequila while on the island, shop the open-air markets, and feel the wonderful mixture of Mexican and Caribbean while docked in Cozumel. 
6. Bridgetown, Barbados
I have to admit, I can only think of Friends when I think of Barbados with Monica and her big hair, but Barbados is a fantastic Caribbean cruise destination as it's home to gorgeous pink and white sand beaches, inviting, sparkling blue waters, and diverse coral reefs. Snorkeling and scuba diving is the thing to do when stopping in Barbados as you can see colorful fish, turtles, and even shipwrecks in Carlisle Bay.
When you're done in the water, it's time for some rum tasting at the Mount Gay Distillery, which has been in operation since 1703 and was popular with pirates – and is still popular with sailers to this day.
7. Philipsburg, St. Maarten
Feel like you've traveled to Europe but still get the benefit of the amazing Caribbean weather! This island is split into two, St. Maarten, the Dutch side, and St. Martin, the French side. You can see Dutch Colonial architecture on one side and then instantly be transported to France.
Philipsburg is on the Dutch side and offers amazing food, great shopping opportunities, historic forts, and a laid-back vibe that welcomes you wonderfully to this gem in the Caribbean. Be sure to snap pictures of the rugged coastline, green hills, and crescent-shaped bays of this fabulous island. 
8. Bassaterre, St. Kitts
Boasting lush rainforests, Colonial-era architecture, historic fort St. Charles and Brimstone Hill Fortress, as well as beautiful beaches, you have to try a cruise to St. Kitts sometime. History buffs and Hamilton fans will love taking a day trip to Nevis to see the birthplace of Alexander Hamilton, as well as relax on secluded beaches. If you're up for an adventure, you can also hike dormant volcanoes and visit waterfalls before settling in for tropical cocktails on the beach in Frigate Bay. 
9. Willemstad, Curaçao
Okay, yes, you can try some Curaçao, the vibrant blue liqueur, while on the island, but please save time for some of the other exciting activities this tropical paradise has to offer!
The Dutch island is also known for its coral reefs, diving and snorkeling sites, beaches, and pastel-colored architecture, perfect for gorgeous photos of your Caribbean cruise. Dine on the beach, see the plantation homes, and visit the national parks of Christoffel Park and Shete Boka National Park. The island is very welcoming and lures you right to its shores. 
10. Oranjestad, Aruba
Affectionately called the "One Happy Island," Aruba is a must-see Caribbean destination. Visit the picture-perfect beaches, like Eagle Beach, Palm Beach, and Mambo Beach, dance the night away with the island's lively nightlife, go snorkeling or scuba diving in the sparkling waters, or find imported Dutch chocolate for a sweet treat in paradise.
Aruba boasts great year-round weather so a sunny day at the beach is practically guaranteed. Seriously, they're located outside the Hurricane Belt and the island has the least rainfall in the Southern Caribbean. If you want a unique tour experience on Aruba be sure to visit the Donkey Sanctuary at Bringamosa. 
Where's your favorite Caribbean cruise destination? Tell us in the comments below or over on Twitter!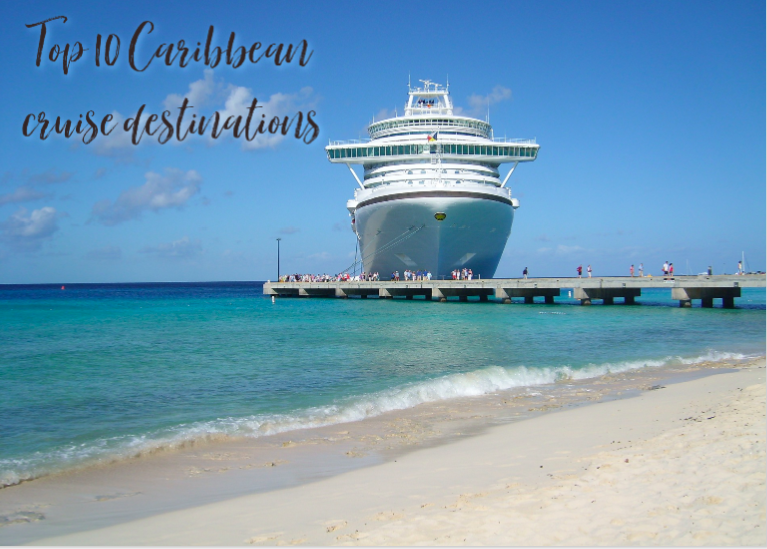 Like the post? Share it now!