Ah, Paris! The City of Lights, love, impeccable fashion, gourmet food, picturesque streets, and towering iconic structures. There's no city quite like Paris. While there's so much to see and so many things to do in Paris, it can be overwhelming to try and tackle it all in one trip.
You can definitely plan an ambitious few days of exploring the city, or you can relax and spend more time with the city's best sights and attractions. Dreaming of a leisurely visit to Paris? Get some inspiration for your trip with the best things to do on a relaxed Paris trip!
A relaxed four-day Paris itinerary
Day 1 in Paris
Start your first day in Paris exploring the Saint-Germain neighborhood and surrounding streets and sights.
Tour Les Catacombes de Paris
OK, so you will have an early start to day one but the rest of the day offers some downtime for relaxation so set that alarm to get to the catacombes on time! You'll want to get there well before it opens as a line can form and you can't waste precious time in Paris standing in line! If you're not the rise and shine type, you could buy tickets online and guarantee a timed entry.
Les Catacombes are the subterranean quarry tunnels lined with skulls and bones and were built in the early 1800s. By the late 1700s, Paris had some issues with its cemeteries becoming overpopulated and improper burials and open graves were leading to citizens becoming unhealthy or even catching diseases from the deceased, and so eventually they had to move the bones out of the cemeteries.
It's believed that about 200 miles of tunnels exist and that they contain about six million skeletal remains of former Parisians. The total walk time is about 45 minutes to an hour, depending on how much time you spend lingering by the placards or listening to your audio guide.
Word to the wise, take a sweater or light jacket as it is cooooold down there!
Stroll through Le Jardin du Luxembourg
After exploring the underground of Paris, head up to to the light and grab a coffee and pastry to go, and enjoy it in Le Jardin du Luxembourg. Built in the early 1600s, these gardens are the perfect spot to hang out and people watch and indulge in a French delight or two.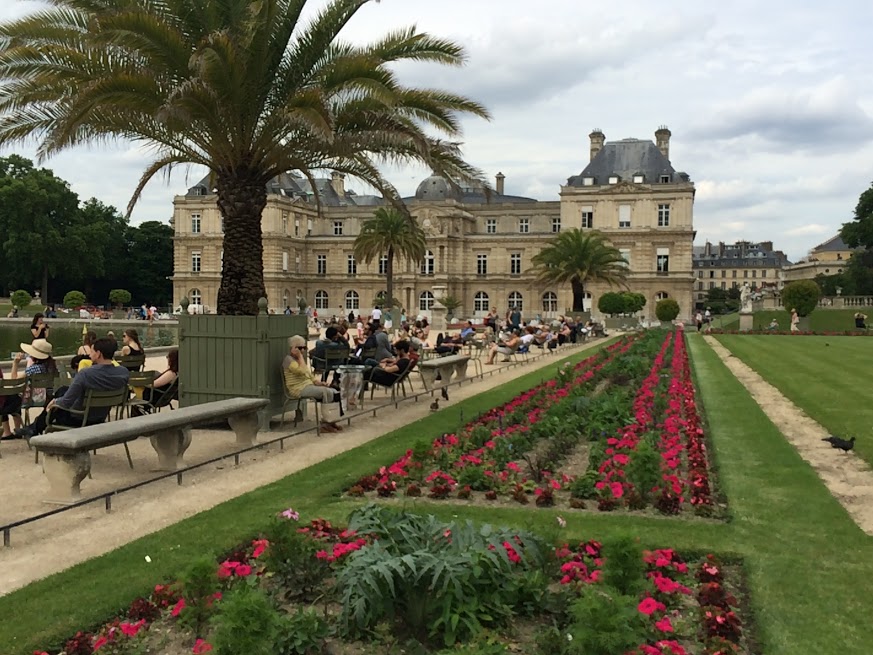 Tour the French and English gardens, the rose gardens, and see the 106 statues scattered throughout the park.
Stop for a bite to eat at Les Papilles
Les Papilles is a popular choice for a lunch in a classic bistro. Treat yourself to old-style duck foie gras and Burgundy snails and a great bottle from the the "cave side," or wine cellar.
Explore Paris' Latin Quarter
After your bistro lunch, head to the Latin Quarter and see the Greek-style Pantheon, tour the Gothic-style Eglise Saint-Severin Saint-Nicolas with its stained glass windows from the 14th century, and spend some time in the Place Saint-Michel. Grab a crepe to snack on as you toss a coin into the fountain and make a wish.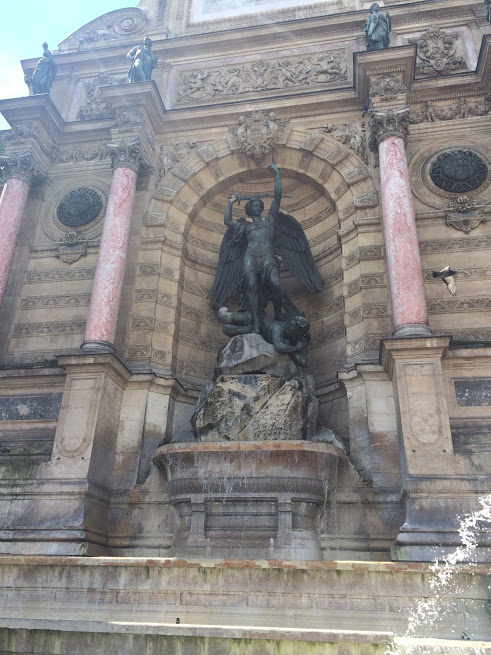 Get some shopping done
This area is home to excellent shops, bookstores, and cafes. Get all your souvenir shopping out of the way so you can focus on the rest of your Paris activities. Rue de la Huchette is a popular street for shopping and while in the neighborhood you should walk the Rue du Chat Qui Peche, where you have to walk single file because the street is so narrow.
Dinner with a view
While in the Latin Quarter, peruse the peniches, the docked boats along the Seine River with cozy restaurants inside. Get a table outside and have dinner with a view of the river, Notre-Dame Cathedral, or the Pont Neuf.
Day 2 in Paris
On day two it's time to explore Le Marais, the oldest neighborhood in Paris, and walk the medieval streets and see the fantastic sights and museums that call it home.
Let's start with the museums in Le Marais:
Musee de la Chasse et de la Nature: Take a self-guided tour of the museum of hunting and nature and check out the exhibits and visiting artists whose works show the relationship between humans and nature.
Musee National Picasso: This Paris museum houses thousands of works and pieces spanning a wide range of forms and mediums done by Picasso.
The Centre Pompidou: This garden and National Museum of Modern Art houses great collections. Take an unaccompanied journey through the art museum or join a guided tour on the first Sunday of every month.
Take in the street art
Need a break from stepping inside Paris' museums but still interested in treating your artistic side? Continue strolling the city and take in some beautiful works of art with Paris' street art! Le Mur Oberkampf is a project that focuses on creating urban art where each piece only lasts a few weeks.
Discover the goodies at Marche des Enfants Rouges
After exploring the museum of your choice, it's time to visit the Marche des Enfants Rouges, the oldest market in Paris and pick up the ingredients for a gourmet lunch. Since 1615, this market has been a go-to and makes for a great authentic Parisian experience – complete with food, what more could you ask for?
Listen to the bells of Notre-Dame
Hear the bells and squint up at the top wondering if Quasimodo, Esmeralda, and poorly-named Phoebus are running around at the top of the Notre-Dame Cathedral. Not a Disney fan? Just me? OK, either way a visit to Notre-Dame is a must-do in Paris! The first stone was laid in 1163 and she's been added onto, worked on, and renovated since then. Her last serious modifications were only in 2004!
Admission is free but lines can get long! You will need to make a reservation if you want to visit the crypt or climb the 422 steps to the top of the tower and take an a gorgeous, panoramic view of Paris. If visiting in July and August, push back your visit if you'll be in Paris on Friday and Saturday nights where you can climb to the top and view the sunset.
Find an authentic spot for dinner
Escape the crowds at Notre-Dame and head down the side streets and find a restaurant for dinner where you can dine on authentic dinner dishes and enjoy a glass of house French wine.
Day 3 in Paris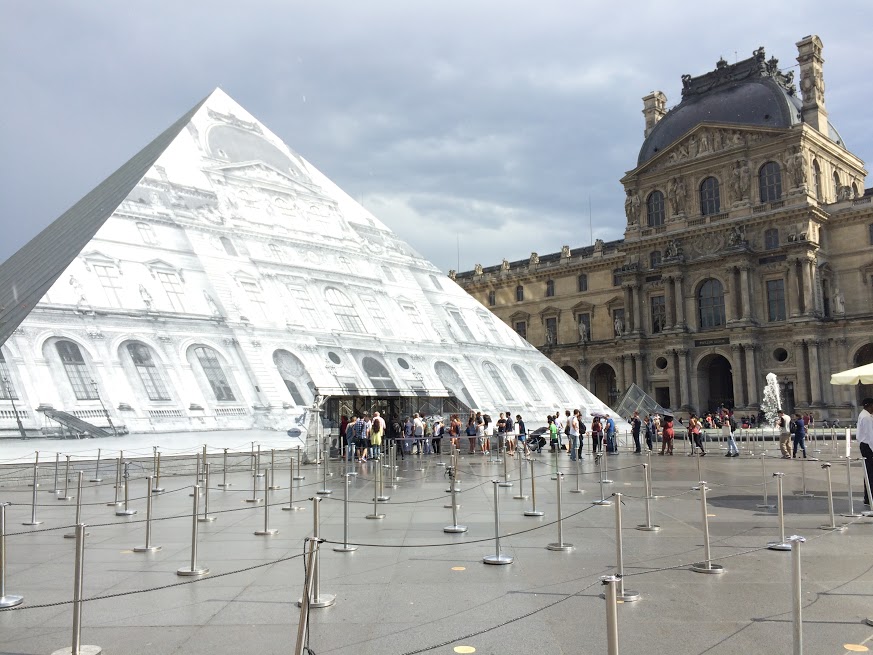 Day three is going to be a little more ambitious as you experience some of the best things to do in Paris!
Visit Musee du Louvre or Musee d'Orsay
Get an early start and beat the crowds at the Louvre to see the Mona Lisa and wonder if she's smiling, is she not smiling, and ask where the fuck are her eyebrows? Just kidding – sort of, home girl has no brows.
Besides the Mona Lisa, there are thousands of pieces to see in the museum – seriously, like almost 35,000 pieces on display. If you spent one minute looking at every piece, it'd take you 64 days to see everything!
Top things to see in the Louvre:
Mona Lisa
The Venus de Milo
The Winged Victory of Samothrace
Psyche Revived by Cupid's Kiss
Sleeping Hermaphroditus
The Lamassu
The Coronation of Napoleon
Louis XIV
Liberty Leading the People
Please note that the Louvre is closed every Tuesday.
If you're not up to battle it out at the Louvre, another fantastic option for a museum visit in Paris to head to the nearby Musee d'Orsay!
Visit the Arc de Triomphe & Stroll Champs-Elysees
After grabbing a bite to eat from a little cafe or taking your food on the go, make your way toward the Arc de Triomphe via Champs-Elysees. Window shop or pick up some more souvenirs as you stroll this famous street.
Trek the 284 stairs to the top of the Arc de Triomphe and enjoy the stunning view. To get to the arc, you'll need to use the underground tunnels as you wouldn't survive trying to run across the main thoroughfare.
The arc was commissioned in 1806 and finished in 1836 to honor Napoleon's victory at Austerlitz. If you don't wish to hike to the top, you can also view the Tomb of the Unknown Soldier or see the rekindling ceremony each evening.
Tour the Eiffel Tower
You cannot visit Paris and miss seeing this landmark! Though it was only supposed to last for 20 years, this 1889 feat of architecture was built for the 1889 Exposition Universelle and to celebrate the 100th anniversary of the French Revolution.
Luckily, the Eiffel Tower was saved and has beckoned visitors from around the globe since. Enjoy seeing the tower sparkle every evening for five minutes, on the hour starting around nightfall and ending at midnight.
Enjoy a comfortable ride to the top and walk around the tower and just savor the incredible views of Paris from this vantage point.
Cruise the Seine River
Round out your evening with a relaxing Seine River cruise and see the City of Lights light up! This is my favorite way to see the Eiffel Tower glittering over the city and see it from a new perspective. Grab a seat on the open-air deck for fabulous views and a nice, cool evening breeze.
You could switch the order of the cruise and visit to the top of the tower, too.
Dinner at Au P'tit Curieux
For dinner, you're off to Au P'tit Curieux! Highly recommended, this restaurant has excellent service, exceptional and creative food, and a fun ambiance. It's about a 20-minute drive to the restaurant but totally worth the taxi fare or you could use Paris' metro system. Wine and dine at this popular Paris restaurant!
Day 4 in Paris
Day four is back to that relaxed vibe where it's time to explore Paris' Montmartre neighborhood! Take the metro to this mesmerizing neighborhood and then find a cute spot for coffee and pastries. Afterward, take some time to stroll the historic streets and just get lost for a bit.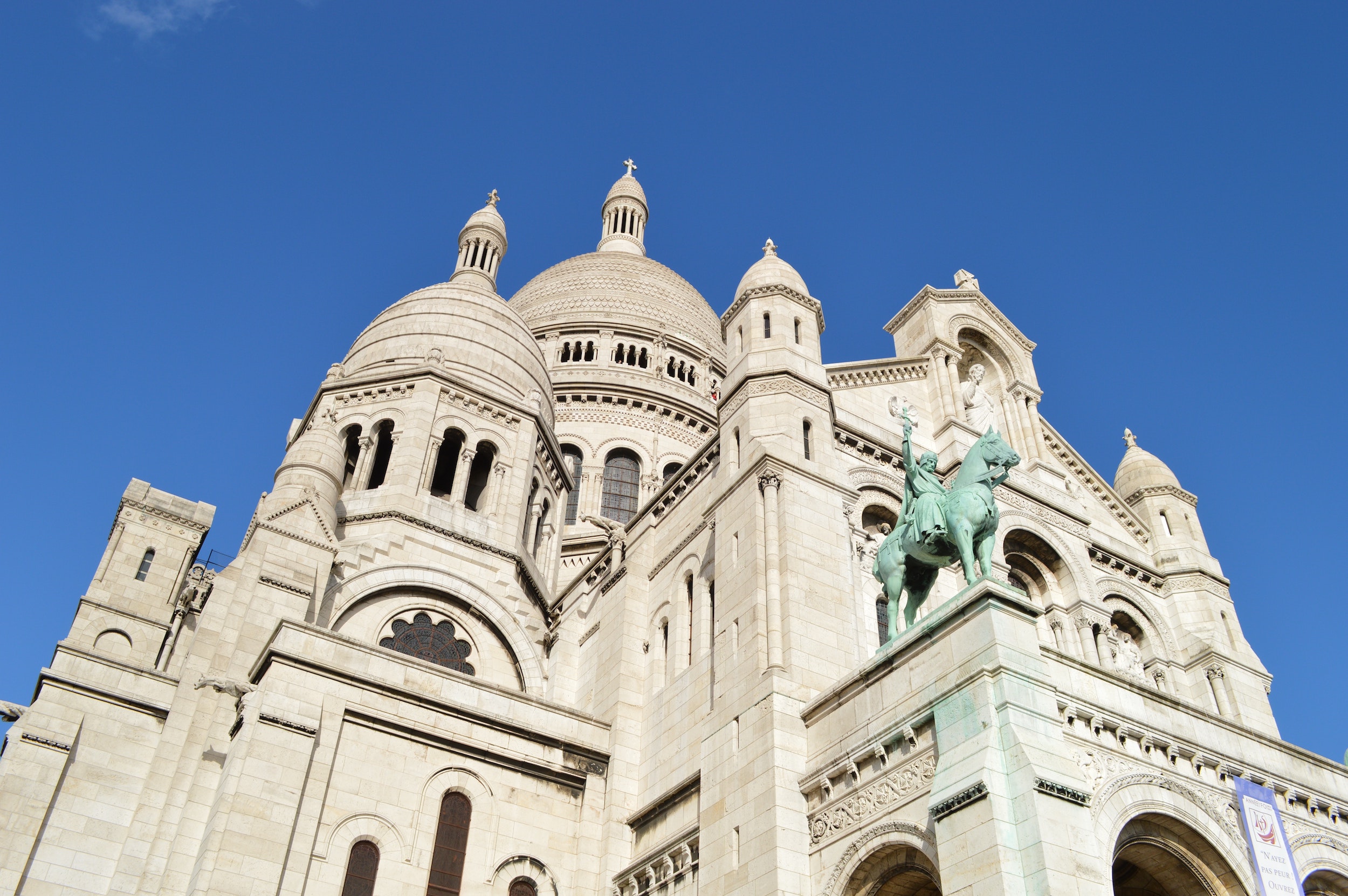 See Sacre-Coeur
Then, head over to Sacre-Coeur. Calling the Montmartre neighborhood home, it's fitting as Montmartre translates to "Mount of Martyrs," the Sacre-Coeur Basilica is a French treasure and stunning work of architecture. The first stone was laid in June 1875, and since then, millions have come to this place of worship. The Basilica is open daily from 6 a.m. to 10:30 p.m. and entry is free. There are no guided tours of Sacre-Coeur, but you can download a free audio guide for your visit.
Investigate Paris' secret vineyard
Want to visit Paris' only working vineyard? Then it's time to check out Clos Montmartre – who grow almost 30 varietals of wine. Unfortunately it can be difficult to arrange a tour of the winery, unless you're visiting in October for Fete des Vendanges – but seeing the winery and knowing it's there can be just as fun. If you're in the mood for wine, stop for a mid-afternoon drink at an intimate cafe.
Indulge in a classic bistro dinner
Head to a cozy French bistro for dinner, something like Au Virage Lepic. Known for their foie gras and selection of typical French dishes and cuisine, many return to Au Virage Lepic for the friendly service and distinctive atmosphere. If you want a traditional French bistro experience in Paris, you've found it!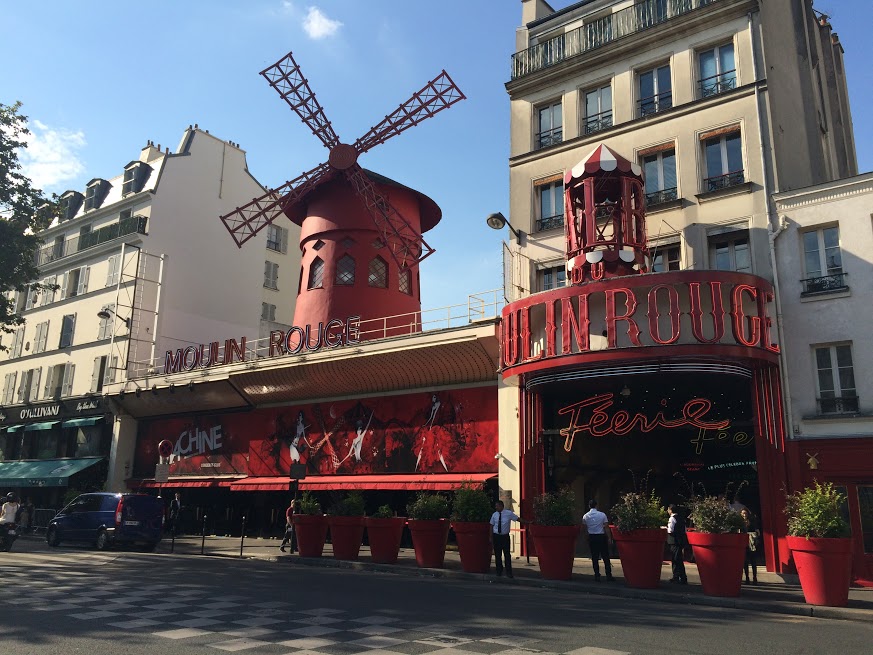 Be amazed at the Moulin Rouge
Because we can, can, can! Unfortunately Ewan McGregor was nowhere to be found at the Moulin Rouge, but the show's performances were so stunning and the songs were so catchy that I kind of forgot about him. Watching a show at the Moulin Rouge is one of my favorite Paris things to do and I recommend it to everyone, unless you're not a fan of theater or stage productions. Your ticket includes a half bottle of champagne to enjoy while your eyes and ears are treated an incredible show of dance, song, acrobatics, and pretty much everything they can think of to include in the story.
Treat yourself to a decadent dessert
After watching the dazzling display at the Moulin Rouge, it's time to end the night on a sweet note with a dessert or light late night snack. Whether you head into a shop for a divine macaron or just grab a sweet crepe to go, you have to treat your sweet tooth while in Paris!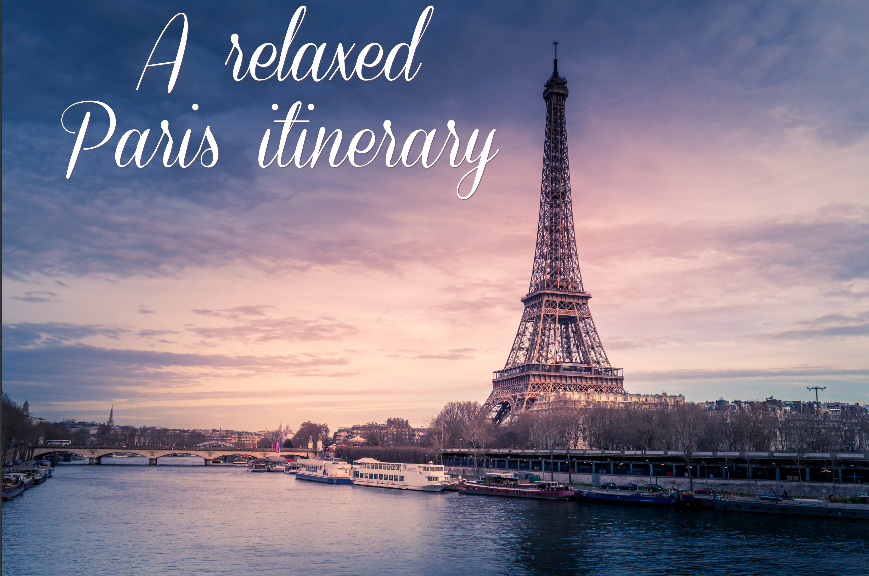 Like the post? Share it now!