Rick and I are going to London to kick-off a big Europe trip this summer and our time there is unfortunately short and we won't have time to explore the city as fully as we should.
Fortunately, I went in summer 2016 with some girlfriends so most of our itinerary is up to him and he mostly wants to tour the city by tasting and drinking our way through it. That's fine by me!
I'm sure we'll sneak some legit sightseeing into our agenda. Even just walking around the city we'll see some famous landmarks and some of the best sites, but there are a few things left on my London bucket list I haven't gotten to yet over my last few trips there. With our few days in London, I'm sure we can easily check these items off while still sticking with Rick's London tour theme of booze and bites.
If we were being ambitious and wanted to see as much as we could in London, this is the three-day itinerary we would follow!
An ambitious three-day London itinerary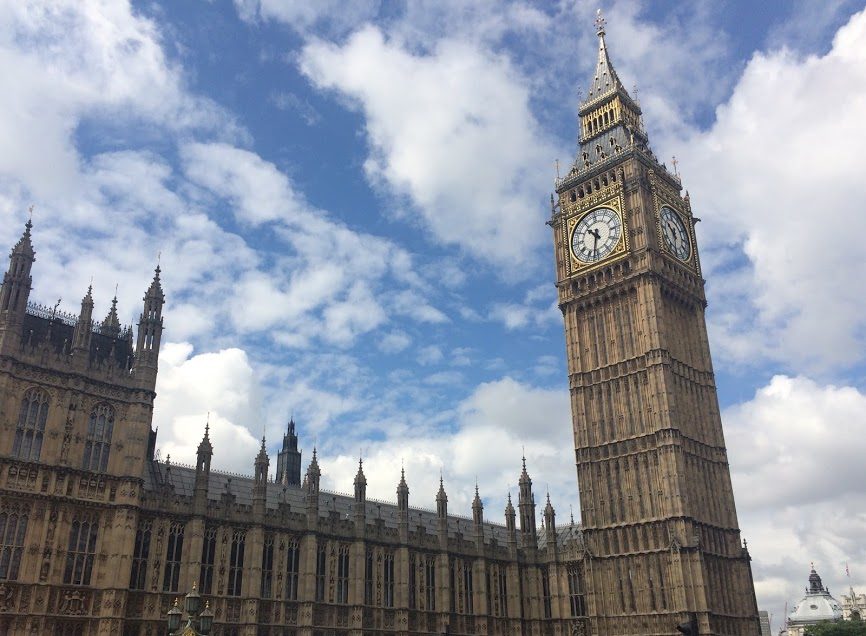 Day 1 in London
Big Ben & Westminster Abbey
Let's dive right in and start with the famous sites and attractions in the city! Start your adventure in London checking out Westminster Abbey and Big Ben and the Houses of Parliament. Grab a coffee to go and snap some photos of these popular tourist sites in the city. Westminster Abbey is the coronation church and has been the site for many royal weddings. Step inside and enjoy the beautiful stained glass and historic artifacts of this gorgeous abbey.
Travel tip: Save £2 by buying your tickets online!
Big Ben stands 315 ft. tall and was completed in 1859, and at that time it was the largest four-faced clock in the world. Really, the tower was renamed to the Elizabeth Tower in 2012 and Big Ben refers to the largest bell of the bunch, but everyone commonly knows this landmark (the tower, the clock, and the bells) as Big Ben.
Buckingham Palace
Next, we're off to visit the royals at Buckingham Palace. Or, at least watch the changing of the guard!  During the summer months, they open the State Rooms to the public for touring for 10 weeks.
The changing of the guard happens daily at 11 a.m. during the summer, as long as the weather cooperates and if you know anything about London, you know chances are good the weather might not be playing nice.
Since the Changing of the Guard is done by the British Army, it's their call if it's canceled or not. Check the army's site for updates on the schedule.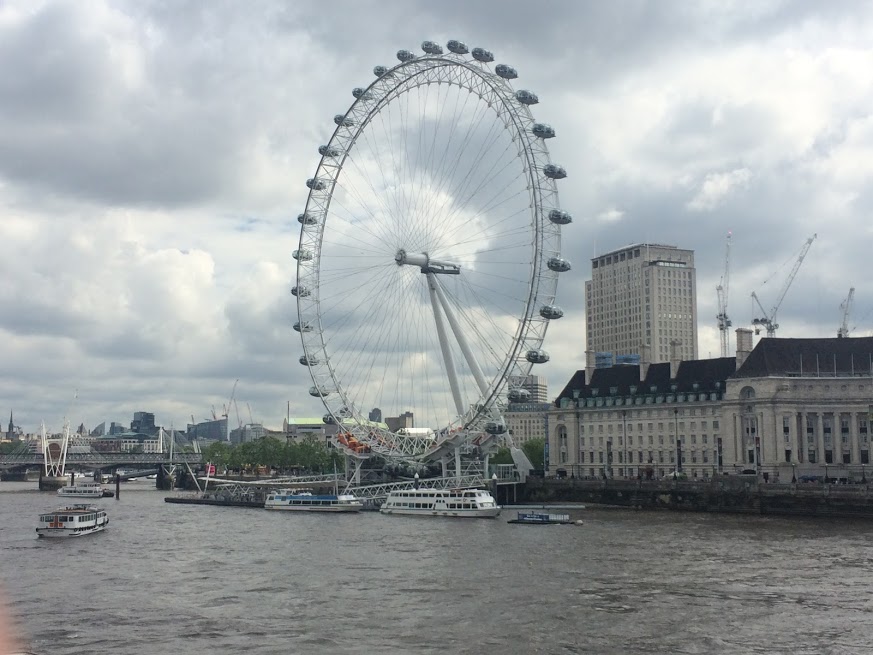 London Eye
Cross the River Thames for a ride on the London Eye. This 30-minute ride offers stunning bird's-eye views of the city! Is it touristy? Oh, yes, but it's worth at least one ride to see the city from a new perspective. You could add a touch of romance with the champagne experience, if it's still running!
Travel tip: Save 10% and skip the line by buying your tickets online!
The London Dungeon
After your ride in the sky, it's time to go in the dark at the London Dungeon. Maybe don't go hungry into Mrs. Lovett's pie shop, avoid Jack the Ripper, see what all the screaming's about in the torture room, and take a spin on some of their rides. The dungeon takes you back into the city's not so pleasant past with live shows and rides. It's thrilling… and chilling.
National Portrait Gallery
If you're not in the mood for the macabre, head back across the river and visit the National Portrait Gallery instead! Admission is free but donations are recommended for your visit.
Trafalgar Square
Next, head to Trafalgar Square to see city life buzz around you and the historic monuments that call the square home. See Nelson's column, the fountains, and the popular lion statues. After exploring the popular spot, both with tourists and locals, catch a cab or start your walk for your afternoon tea!
Tea at Sketch
Take part in this fun, and filling, British tradition with an afternoon tea at Sketch. Known for its pink walls, cute decor, and fun, whimsical flair, Sketch offers a classic afternoon tea or champagne afternoon tea. Seriously, you better like the color pink.
They've also created a special menu for those with dairy, nut, and gluten allergies, but it's not customizable to each allergy. The menus include typical afternoon tea fare, like finger sandwiches, scones, and sweets.
Hyde Park
After tea, work off some of those treats or champagne by taking a walk around Hyde Park. It's the largest of the four Royal Parks and reminds me of Central Park in New York City, how it just exists peacefully right in the city. While you can enjoy a leisurely stroll through the park, another popular option for visiting the park is by taking a horseback riding tour! If you've got time, book a tour and see the park in a different way.
Harrods
After walking off your tea, it's time for some shopping at Harrods! This London institution is a must-see, even if you don't buy anything. Shop the amazing collection of designers, homewares, souvenirs, and food and wine. Find everything you could ever want at the shop, just be sure to check the price tag before you check out!
Notting Hill
Since you're close, you could hop on the tube, make a transfer, and then head to Notting Hill, or ask a friendly cabbie to take you there. Try to snap a photo of Kensington Palace if you take a cab! See the streets that Hugh Grant and Julia Roberts roamed together and take in the sights of the beautiful neighborhood.
Pizza Express
Near the Notting Hill Gate tube entrance is a Pizza Express, a great option for a fast, yet yummy dinner in London. If Becky Bloomwood from the Shopaholic series eats there, that's good enough for me! Another
The Fish House of Notting Hill
Another option in the neighborhood is the Fish House of Notting Hill for an amazing serving of fish and chips. You can't feel more like you're in London than digging into a dinner of fish and chips.
Make your way back to your hotel or Airbnb and work on getting adjusted to the time change!
Day 2 in London
Full English breakfast
Rise and shine, it's breakfast time! Either grab breakfast at your accommodations or head out to find a restaurant serving up a traditional, full English breakfast or fry-up. I don't want to see any beans or toast left behind on that plate!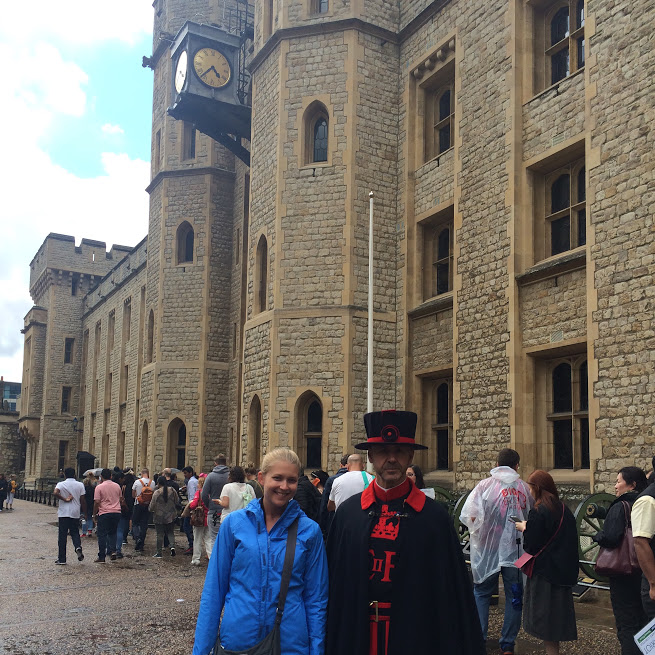 Tower of London
Keep up the historic theme by starting at the Tower of London! Founded in 1066, this fortress, palace, and infamous prison sits intact within the city and makes for a cool juxtaposition of historic and new.
You can definitely explore the Tower and see the major sights like the Torture at the Tower exhibit and Crown Jewels on your own, but if you want the full experience, try to join the queue for a Yeoman Warder guided tour. These are free, but cannot be scheduled in advance and you end up with the group that also wants to take the tour.
A tour with a Beefeater is a popular thing to do in London, especially if you love history and people in legit costumes!
Cross the Tower Bridge
After exploring London's past at the Tower, it's time to cross Tower Bridge! Snap photos along the way and get a fun view of the city high above the river. You could also decide to stop on the bridge and explore the exhibit there. Just make sure to hustle if the alarms start sounding that they're lifting up the bridge!
Borough Market
Visit the legendary food market to pick up some fresh produce or snacks, or find a one-of-a-kind souvenir. You could easily spend a good afternoon checking out the stalls and vendors at Borough Market or if you're lucky time your visit with one of their special events, like cooking demonstrations, workshops, or food festivals.
OK, you probably won't find such a great hat at the market but I'll take any chance I can to add a Friends GIF to a post 🙂 
Tate Modern or Shakespeare's Globe Theater
After grabbing a treat or souvenir, pick between exploring the Tate Modern or Shakespeare's Globe Theater. The Tate Modern offers free admission and you can browse the galleries of modern and contemporary art.
If your artistic side prefers theater productions, check out the Globe Theater and take a tour. See where Shakespeare's work came to life on stage at the Globe in 1599 and learn more about London of that time and his life in the exhibits.
The theater opens at 9:30 a.m. and tours depart every 30 minutes, though summer hours may be limited and the theater may not be open to the public during certain performance rehearsals – it is still a working theater.
Travel tip: Save £2 by buying your tickets for the Globe online!
Millennium Bridge
Cross the Millennium Bridge in the afternoon. Harry Potter fans will recognize this London landmark, though hopefully no Death Eaters are causing any shenanigans this time.
St. Paul's Cathedral
Next up is St. Paul's Cathedral! You will need to purchase a sightseeing ticket, but it includes entry to the cathedral, the galleries, and multimedia guides or a guided tour – depending on availability. This massive cathedral is light and speckled with gold and other historical and religious artifacts.
Sky Garden
Make your way back toward the Tower of London and stop for a happy hour with an amazing view of London at Sky Garden. It'll be a bit pricey but the views alone are worth the cost.
Indian food dinner
Did you know that chicken tikka masala is Britain's national dish? It only makes sense then that you indulge in some delicious Indian food while visiting London!
Jack the Ripper tour
After dinner, it's time to walk through some of London's darker past with a Jack the Ripper tour. Hear about the 1888 serial killer that was never caught and possibly retrace his (or her) footsteps in the East End as you hear about this mysterious individual with a taste for murder.
Day 3 in London
Day three of your London itinerary is a bit more relaxed! After tucking into a great breakfast, hopefully with sausages and tea or coffee if want that extra caffeine kick, you're off to the train station.
King's Cross
Start your day exploring and taking photos of King's Cross. Be sure to get that perfect shot trying to get to the Hogwarts Express at Platform 9 ¾!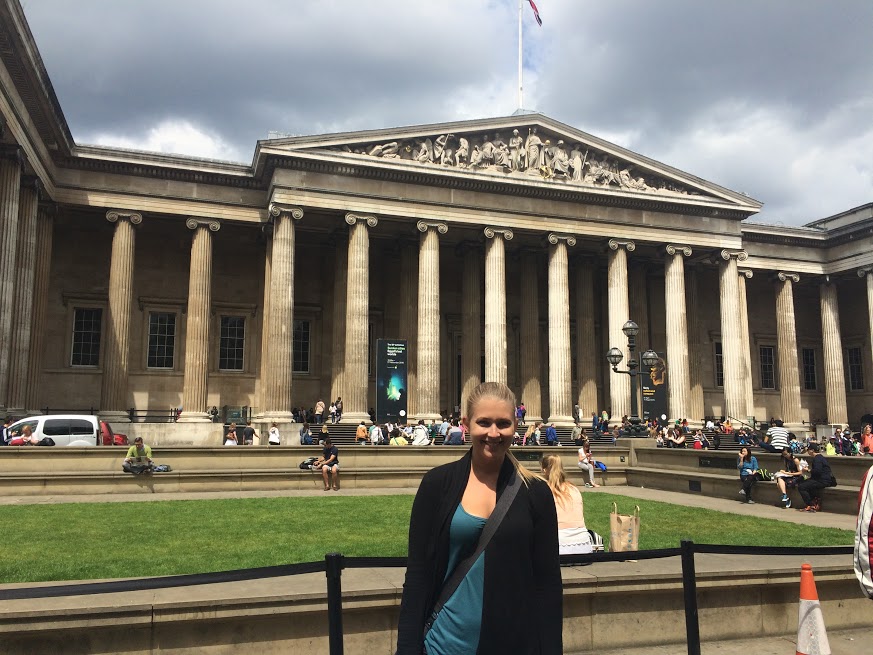 British Museum
Make your way to the British Museum, where unfortunately Evelyn O'Connell is not the curator (The Mummy is like my all-time favorite movie and I almost peed my pants I was so excited to see it in real life). Spend time exploring the impressive Egyptian exhibit, see the real Rosetta Stone, and take in the exceptional pieces of their European collection. The museum is open daily from 10 a.m. to 5:30 p.m. and admission is free!
River Thames cruise
Enjoy a breath of fresh air after your tour of the museum by boarding a boat for a cruise on the Thames. See all the sites you saw over the previous two days but from a different angle. Many of these cruises are just an hour and a half or so and make for a relaxing activity in London. You could opt for a tea cruise if you can't get enough of the afternoon British tradition!
Soho Food & Cocktail Tour
This evening, explore the Soho neighborhood on a walking food and drink tour! Soho was the place to be for the Swinging 60s, theaters, and jazz and has reinvented itself many times over. Explore this neighborhood the best way possible – by eating and drinking at the best restaurants and bars!
The Twilight Soho Food & Cocktail Tour includes food samples, wine and cocktail tastings, and a dedicated tour guide to point out all the historical info along the way. 12 food and drink tastings are included on the trip, so you shouldn't leave hungry or thirsty, but if you do, there's always a pub right 'round the corner to pop into for a pint or two.
What are your must-dos in London? Tell us in the comments below!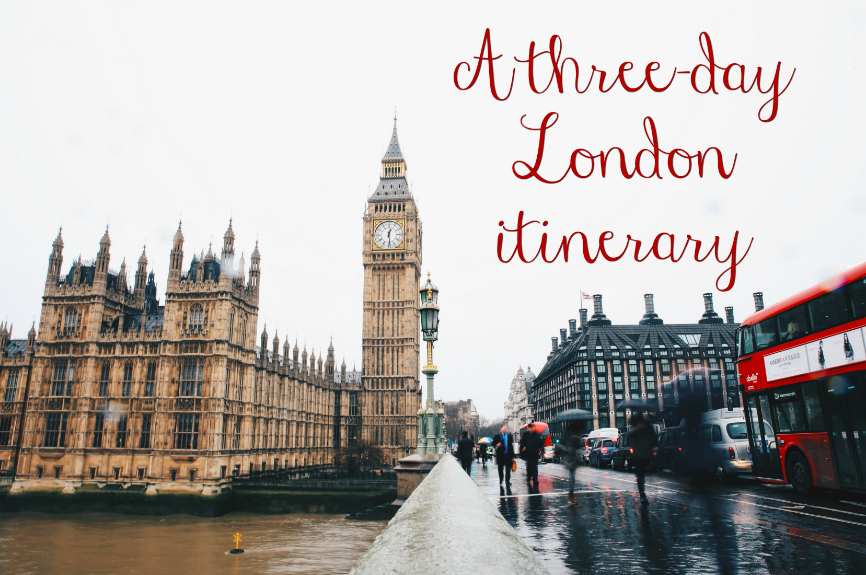 Like the post? Share it now!