Let's be real, one of the best things about traveling to Italy is eating and drinking everything this country has to offer. As the birthplace of pizza and one of the top wine exporters around the world, you know you're in for a treat when you travel to Italy, and especially when you travel to the Eternal City.
Rome isn't just known for its fantastic sightseeing, vast collection of art and historic artifacts, and many, many, many UNESCO World Heritage Sites. Rome is also known as a foodie heaven!
One of Rick's and my favorite things to do when we travel is book a food tour so we can know what foods to go back for seconds for and what foods we can say we tried but don't need to try again (looking at you, fermented shark in Iceland!). While you could easily find the best flavors in the city on your own self-guided food tour of Rome, why not let a professional guide you around so you can visit amazing, authentic food joints while learning about the history of the city as well as asking questions about everyday life in Rome?
If you're planning a Rome getaway and want to taste test the best the city has to offer, consider booking one (or more) of these top-rated food and wine tours in Rome.
Top 9 Rome food and wine tours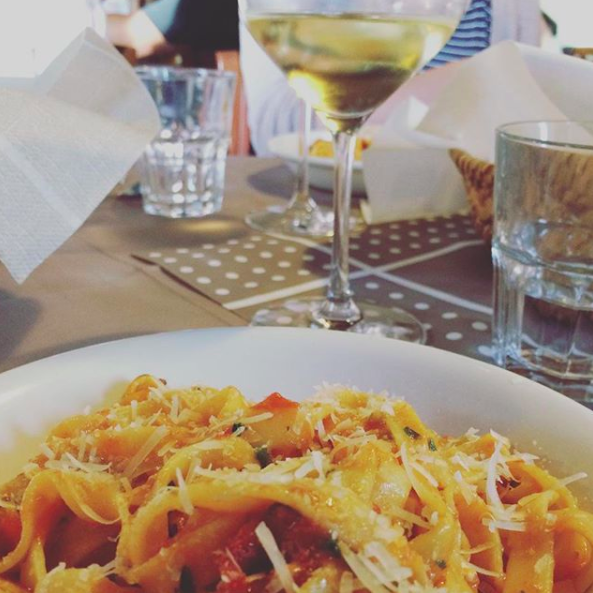 Taste of Testaccio
Eat your way through Rome's foodie neighborhood on the Taste of Testaccio Rome food tour! As you walk through the area and learn about its history, as well as the greater Rome area, you'll sample suppli (a delicious fried risotto ball), prosciutto, and cheese, explore the Testaccio Market, devour some authentic Italian pasta complemented by some Italian wine, introduce your taste buds to Roman craft beer, and of course, indulge in some gelato.
As for sightseeing along the route, you will stop by Rome's Pyramid of Cestius and John Keats' tomb. Your guide will also share information about Rome's culture and local food scene – be sure to ask what else you should taste test during your stay in the city.
Availability: Monday – Saturday, 10:30 a.m.
Time: 4 hours
Cost: €79
Includes: Food and select drink tastings, get three additional drinks for €12 more
Twilight Trastevere
Feel like a local as you explore Rome's Trastevere neighborhood, reminiscent of the Left Bank in Paris, on this evening food tour. This trendy area is the go-to for fun nightlife and where families go to enjoy quality time together. On this tour, you'll be treated to homemade pasta, slow-roasted pork, Rome's street food, a wine tasting in a cellar that dates back to 80 BC, and then round out your evening with a stop at a cookie factory as well as a stop for gelato.
Availability: Monday – Saturday, start time varies by season but generally 5-6:30 p.m.
Time: 4 hours
Cost: €99
Includes: Food and wine samples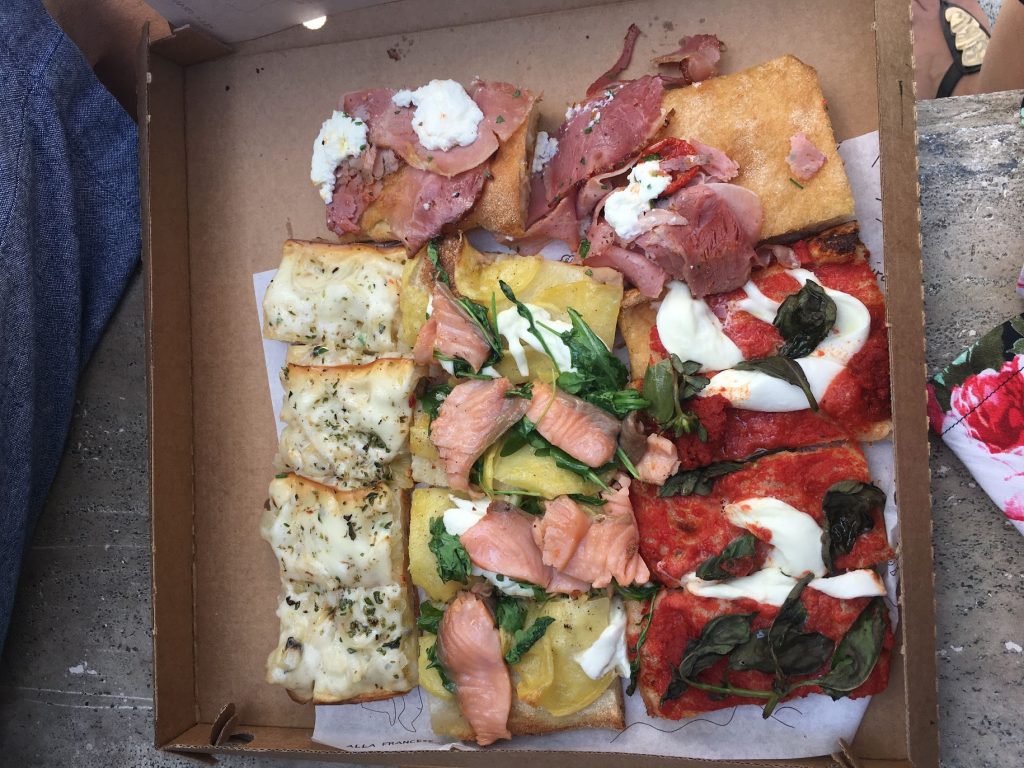 The Roman Food Tour
Explore the Prati neighborhood, near Vatican City, on this four-hour walking food tour of Rome! Come hungry for this tour that starts your day off with a cappuccino and cannolo before diving into the good stuff with a visit to the Pizzarium. Then it's off to a gourmet food shop to sample cheeses, meats, olive oils, and balsamic vinegars, paired with a glass of falangina. After the market, it's time to dig into a plate of pasta and calamari paired with a vermentino wine. Your food tour ends at the popular Fatamorgana gelateria.
Availability: Monday – Saturday, 10:45 a.m.
Time: 4 hours
Cost: €85
Includes: More than 20 food and wine tastings and a bottle of water
Trastevere by sunset
It's the second time exploring Trastevere at twilight has made it on the list and there's obviously a reason! It's an awesome neighborhood that you simply have to visit and treat yourself to some of the amazing dishes and wines being served here, so why not visit at dusk on a food tour? This Trastevere food tour starts at 5 p.m. with a taste of a new, popular street food item: Trapizzino! Then you'll move on to enjoy samples of cheese, prosciutto, and truffles, all paired with some chianti! Don't fill up too fast as you still have pasta, pizza, and wine waiting at your next stop, and then a visit to an artisanal gelateria.
Availability: Monday – Sunday, 5 p.m.
Time: 4 hours
Cost: €95
Includes: More than 20 food and wine tastings and a bottle of water
Jewish Ghetto & Campo de'Fiori by Night
See the city come to life and light up at night on this Jewish Ghetto food tour. Pass by Piazza Navona, Campo de'Fiori, and explore the Jewish Ghetto as you visit seven restaurants and delis for food and drink tastings beyond the traditional pizza and pasta. Sample fried artichokes, fish and vegetable dishes, and a few favorites like cannoli.
Availability: Daily, 6 p.m.
Time: 4 hours
Cost: €89
Includes: 7 food stops and 10 food tastings as well as water and select beers and wine
Group size: 16 people
Gluten-free Food Tour of Rome
Have Celiac Disease or traveling with someone with a gluten sensitivity? There's no reason to miss out on all the fun of a food tour in Rome when you can book a gluten-free foodie adventure! Not only is this tour friendly to those with food restrictions and allergies, it also visits some great sightseeing destinations in Rome, like Piazza Navona and Campo de'Fiori. Dine on prosciutto, regional fish dishes, and even some fried appetizers that are all served from gluten-free menus.
Availability: Daily, 5:30 p.m.
Time: 4 hours
Cost: €98
Includes: All food tastings
Group size: 16 people
Historical Center Rome Food Tour
Learn more about Rome's historic center on this daytime food tour. With your small group and local guide, you'll sample different styles of pizza, fresh suppli, traditional Roman pastas, Italian cheeses paired with Italian wines, and of course some cannoli and gelato to sweeten the deal. Your tour also starts with a well-made cappuccino or espresso to energize you for your tour of Rome.
Availability: Daily, 11 a.m., 5 p.m., and 5:30 p.m.
Time: 3 – 3.5 hours
Cost: €69
Includes: All food tastings at 8 stops and wine, drinks package upgrade available for €13.49
Secret Urban Wine Tour: Rome
Want to go light on the food but go big with the wine? Then the Secret Urban Wine Tour in Rome is the pick for you! Light appetizers will be served as you visit three different enotecas (wine bars), or you could upgrade to the food package if you want a few more carbs to balance out your wine tastings. As you tour the Monti district, you'll sample some of the best wine Italy has to offer, learn about the wine's production, and learn about the vineyards and heritage behind the bottle.

Availability: Monday – Saturday 5:30 p.m.
Time: 2.5 – 3 hours
Cost: €79
Includes: 6 wine tastings and light appetizers
Group size: 8 people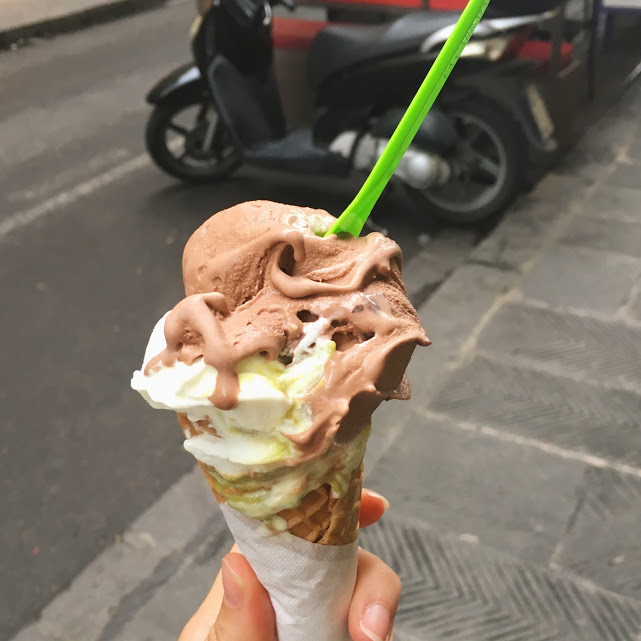 Dessert Tour Rome
After indulging in everything savory and cheesy, it's time to devour all the desserts! This tour was built for those with a strong sweet tooth who just want to find the best cannoli, tiramisu, sfogliatelle, and gelato that Rome has to offer. Discover the sweeter side of Rome on this food tour that's all about the cakes, pastries, and sugary sweets.
Availability: Daily, 2 p.m.
Time: 3 hours
Cost: €78
Includes: All food tastings, bottled water, and coffee or tea
Group size: 16 people
Have you done a food tour in Rome? Tell us about your experience in the comments below or shoot us a link to your favorite Rome food tour on Twitter!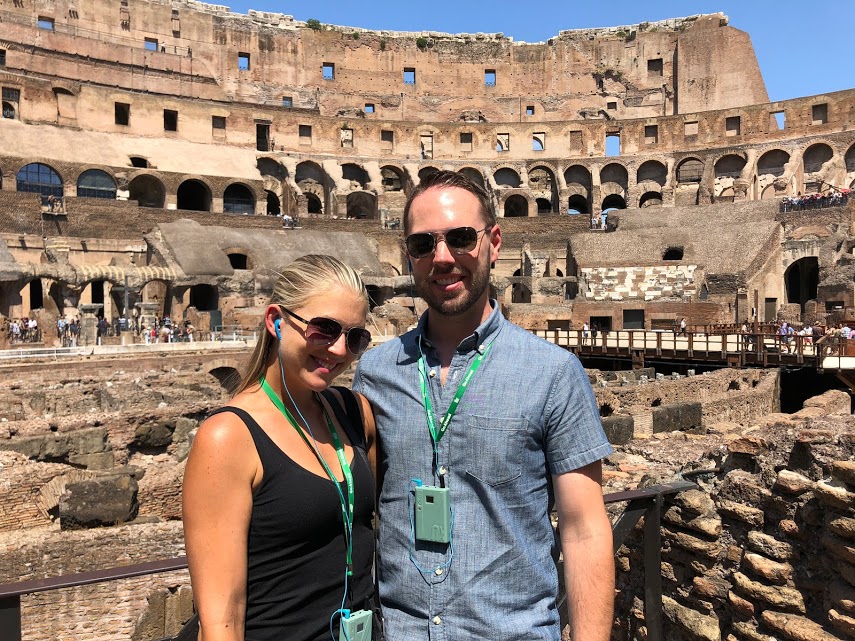 Like the post? Share it now!