Rick and I both have overpacking tendencies when it comes to vacations – though when push comes to shove we can make it work and we've definitely picked up some good packing tips and tricks along the way.
But, one thing I hate packing is shoes. I'll match a cute pair of shoes to a few outfits but then they're either clunky, take up too much space, or I wasted space in my suitcase when I only end up wearing them once on the trip. Enter, Cambiami sandals.
Cambiami (Italian for "change me") had the great idea of making interchangeable sandals – you buy the sole and then can mix and match different straps. The idea is brilliant and the sandals are cute and functional.
If you're thinking of picking up a few sandal and strap combos from Cambiami, check out my review of the shoes first!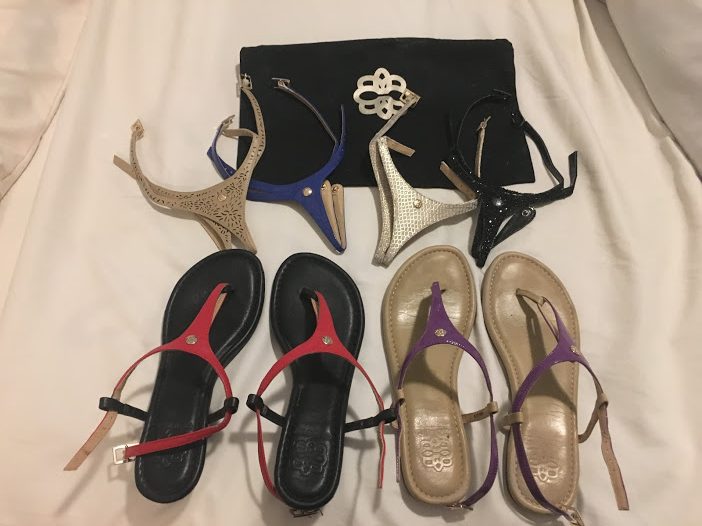 Style
The straps themselves are pretty basic – a T-strap design – but there's a ton of versatility in the color or unique styles (like the snake skin print or crystal embellishments). The sandals themselves come in tan, champagne, black, and cork. I bought a pair of tan soles and black wedges and then a variety of straps to go with them:
Red leather
Blue leather
Purple leather
Champagne snake skin
Tan laser cut (floral design)
Black crystal
The straps worked well with both my tan and black sandals, though I think the majority of the straps pair better with the tan soles. They've got a rainbow of colors to pick from for basic leather straps and their fancier straps are of high quality.
Since the straps are changeable, they aren't attached to the sandal and sometimes it was difficult getting them on as the strap would fall out from the loop on the sandal. If I knew I was going to be in a hurry the next morning, I'd change out the straps at night as getting the clasp part through the loops can take a bit of dexterity. The straps are durable and well-made, though.
Comfort
The soles aren't super thick and these aren't advertised as walking or comfort sandals. For running a few errands or going on a tropical getaway, they work but I had bought them for our big Europe trip and they just didn't work out as well as I'd hoped. After days of walking on the cobblestones, my feet were starting to hurt and missing some extra cushioning.
I will say I plan on packing these for our honeymoon as we'll be at a beachy resort with minimal walking as well as for our upcoming cruise where I want to pack light.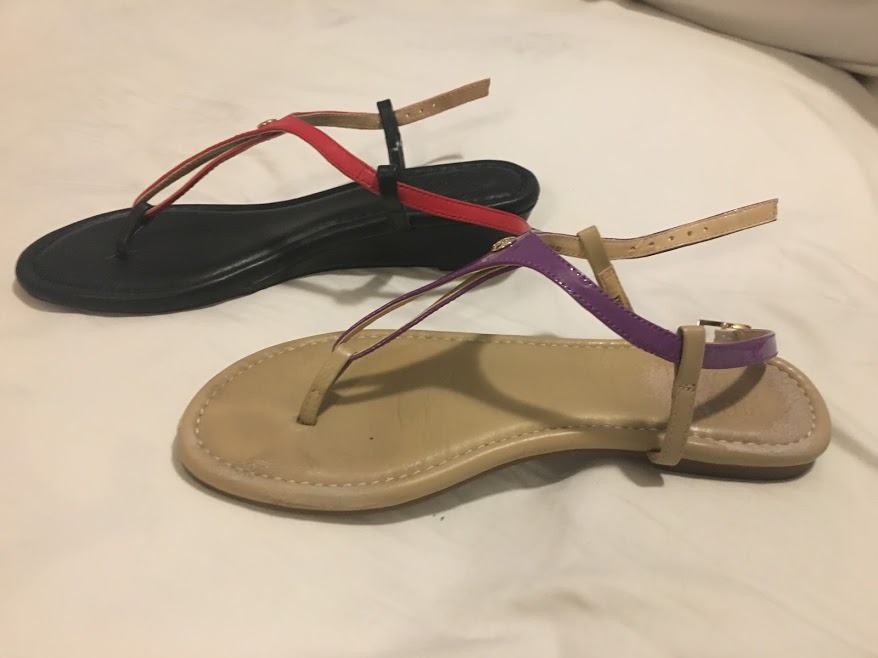 Price
Their sandal sets start at $128 for a pair of sandals and three different strap designs. You can also create your own sandal and buy the soles on their own for $48 or the wedges for $58. Most of the straps are about $30 each but some are in the $20 range and some above $35 – depending on how fancy you want your straps to be.
While the price is a bit higher than I normally go on sandals, I can see the value in them as you are getting multiple sandals at a discounted rate.
Ease in packing
Cambiami sandals come in flats (soles) and wedges. The soles stack nicely and lie flat, making them super easy to pack and then toss in a few different straps to go with them (they even include a little black bag for keeping your straps packed nice and neat). They pack like a dream and definitely meet the goal of being able to pair with a variety of outfits.
Overall thoughts
I love the idea behind Cambiami and they're so easy to throw in my suitcase with a variety of strap styles to match different outfits. They're cute and versatile but for long periods of walking or standing, they do get a bit tough on your feet.
I definitely like wearing them out to a happy hour near our place or can definitely see taking these on beach vacations or getaways that are more relaxing but not sure I'd recommend them for long days of walking around Europe or standing in line for attractions.
Have you tried Cambiami sandals? Let us know what you think on our Facebook Page or in the comments below!
Like the post? Share it now!