When Rick and I were in Iceland, we spent a night at the beginning of our trip and end of our trip  in Reykjavik – and stayed at the same hotel for both nights, the Skuggi Hotel by Keahotels.
This three-star, modern hotel was a great option for our stay as it was centrally located, had included parking, a great breakfast, and a friendly staff. It had an inviting atmosphere and stylish decor – all done in shades of grey with warm lighting accents. 
If you're planning a trip to Iceland soon and looking for a place to stay in Reykjavik, be sure to give Skuggi Hotel by Keahotels a chance and read through our review of the property. 
Also, take a look at our posts on the top 10 things to do in Iceland and how to spend a day in Reykjavik as you plan your getaway in Iceland!
Review of Skuggi Hotel by Keahotels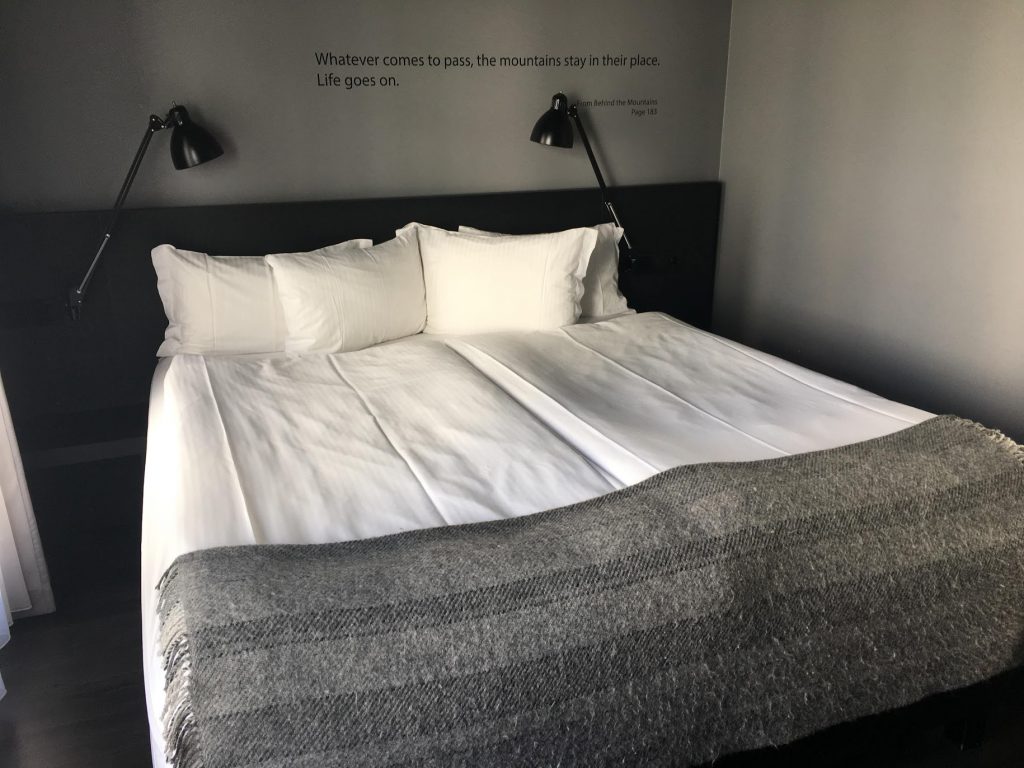 Accommodations
The rooms were the perfect size for a one-night stay and included two double-sized beds, a desk and chair, a hall closet for coats and umbrellas, a full length mirror, and a private bath with a stand-in shower and hair dryer! The rooms were sleek, modern, and the motivational quote above the bed was a nice touch.
The bedding was cozy, the beds comfortable, and I loved that they had hot chocolate available with the coffee and tea in the room. The blackout curtains were wonderful as we were visiting in May and the sun didn't set until close to midnight. 
Amenities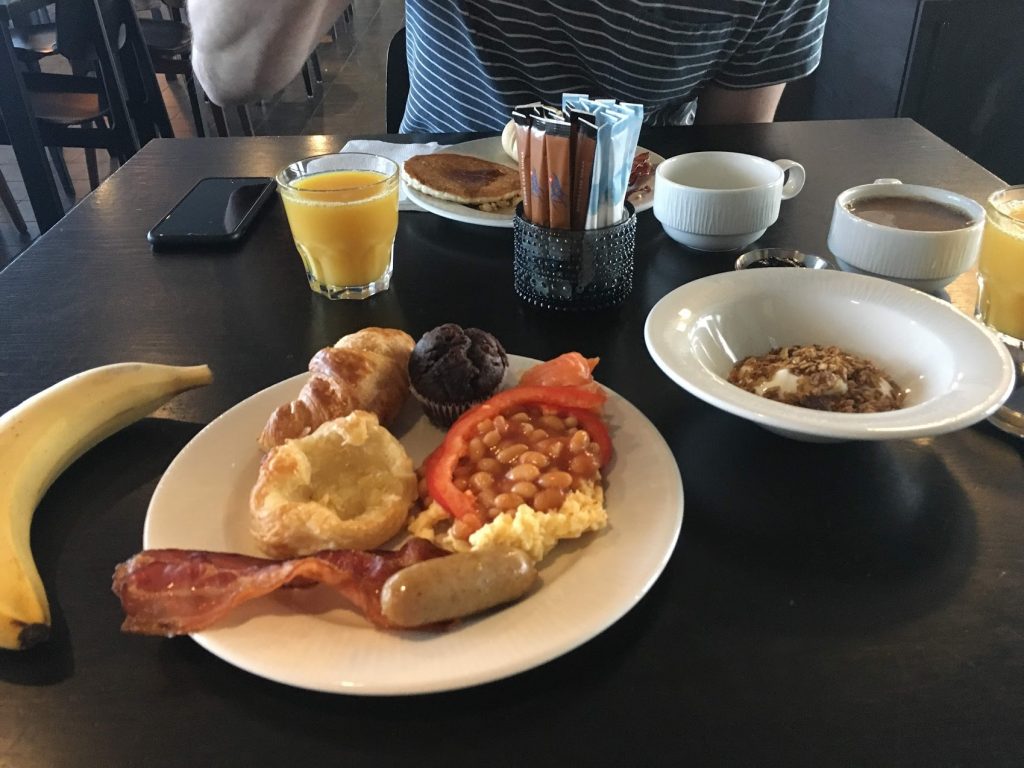 The amenities at this Reykjavik hotel were top-notch and they provided everything we needed for our stay.
Breakfast
The breakfast each morning was fantastic! It was a huge spread of eggs, yogurt, granola, pastries and muffins, breakfast meats like sausages and bacon, fruit, and veggies. They also had carafes of coffee, water, orange juice, apple juice, and options for tea.
It was more than enough food and the staff was on top of it when it came to restocking a dish or clearing away your plates and glasses from your table. 
Bar
The breakfast area had a bar for drinks in the morning, and then adult beverages in the evening. After our food tour, we went back to the hotel and grabbed some beers and enjoyed going through their collection of board and card games, and books. We leafed through a copy of Rick Steves' guide to Iceland as we sat in oversized chairs and enjoyed our big pours of beer.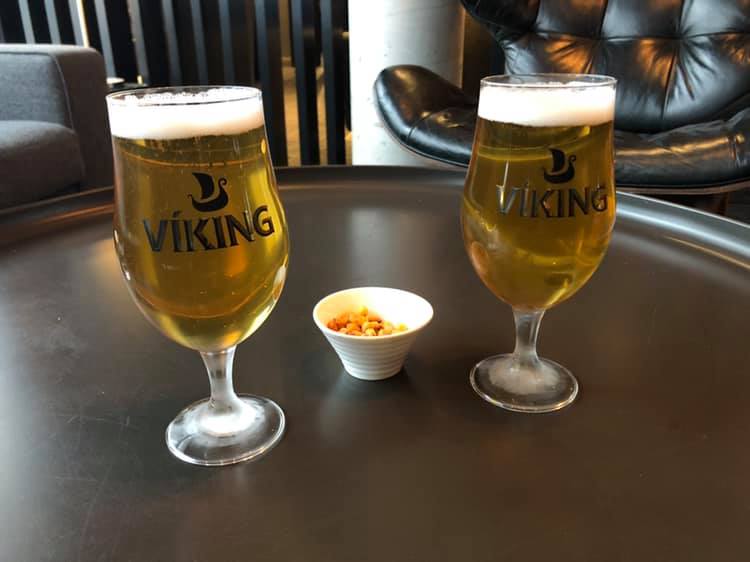 On-site parking
The hotel does have a parking lot, side street parking, and a parking garage – though spaces are limited. We had no trouble in mid-May finding a spot in the underground garage and it was very convenient being able to leave our car there while we explored Reykjavik on foot.
The only con with the parking was the morning we were trying to head back to the airport. The hotel is on a main street, great for finding it and walking back to it at night, not so great trying to cross two lanes of traffic in the morning. If you're on a time crunch, I'd recommend adding another five to ten minutes to get out of the lot on time.
Check-in & customer service
Both times we checked in and checked out were pleasant. The staff was very friendly, always around to help you out, and made the process quick and easy. 
Since we only stayed one night, I can't rate the housekeeping staff, but we did see them in the halls busy at work, so I have no doubt housekeeping was superb too. 
Price
It cost around €170 per night, which we felt was reasonable for the lovely accommodations, the included breakfast, and convenient parking.
Right now, they're advertising rates at around €167 if you prepay, and that includes a complimentary welcome drink at the bar. The rate also includes Wi-Fi, which was decent for our needs of finding where we should go. 
Location
The location of the hotel is ideal for walking in the city. Reykjavik isn't that big to begin with and we could easily leave our car behind and walk to Hallgrimskirkja church, the Harpa Concert Hall, the Icelandic Phallological Museum, and any restaurant or bar we wanted to go to. There were also plenty of souvenir shops right around the corner. 
On the day of our food tour, we took a nice stroll along the waterfront and saw the photogenic Sun Voyager, as the waterfront was less than a five-minute walk from the hotel. 
Skuggi Hotel by Keahotels
Hverfisgata 103
Reykjavik
101
IS
Like the post? Share it now!