Back in my youth (OK, like seven years ago) I loved going to Vegas with my girlfriends to chill by the pool with some cocktails, albeit expensive cocktails, go see some guys take off their clothes perfectly choreographed to music, and finally stumble back to the hotel in the wee hours of the morning. Then the awfulness of late twenties hangovers hit and it was time to change the relationship I had with Vegas.
Now, I love going to Las Vegas with Rick and having a fantastic couples getaway there. We can relax by the pool, see an amazing show, gamble a bit, and treat ourselves to some world-class food without waking up to cotton mouth in the morning. While Vegas is definitely synonymous with a wild and fun time, it's also a great destination for a fun couples' getaway.
There's no shortage of things to do in Las Vegas for any type of traveler, but if you're planning an intimate getaway for two in Sin City, here are some ideas of activities for your trip.
Plan a long weekend in Sin City with our couples' Las Vegas itinerary!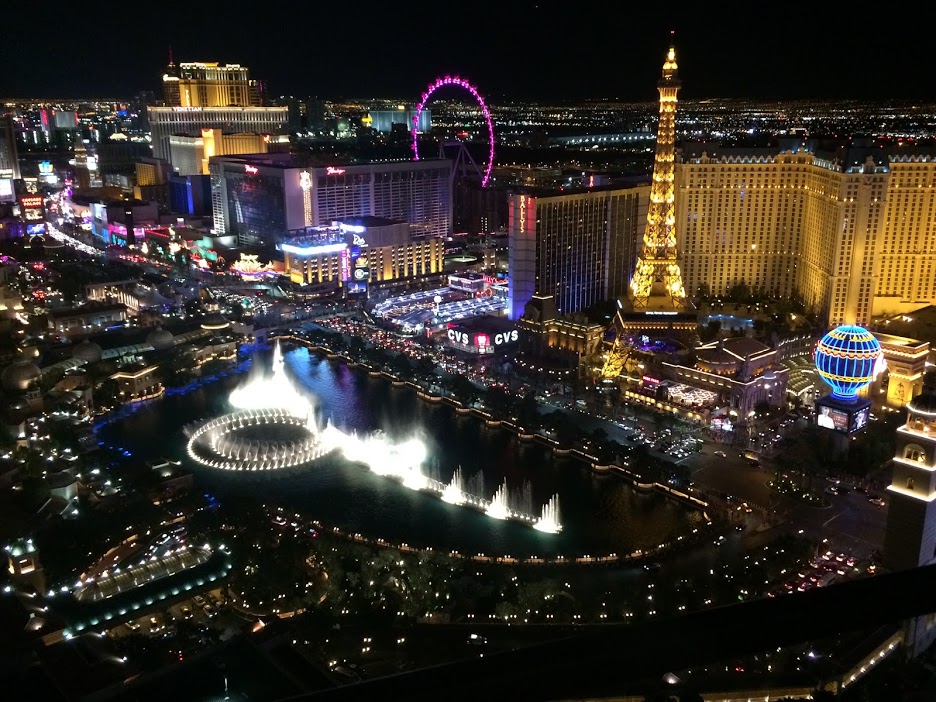 Thursday
Get in Thursday afternoon so you can check-in at your hotel and drop off your bags. Some of our favorite hotels on the Strip include: The Cosmopolitan, the Mirage, and the ARIA. Figure out what part of the Strip you want to be on, whether that's at one end or a more central location, and how much walking you're comfortable with under the hot desert sun.
Thinking of staying at Cosmo? Check out our review of our experience there!
Happy hour
After getting settled, find a spot for happy hour to toast your welcome to Vegas. All the major hotels have a variety of bars or restaurants on-site, making it easy to find somewhere to grab a drink and maybe a light appetizer to share.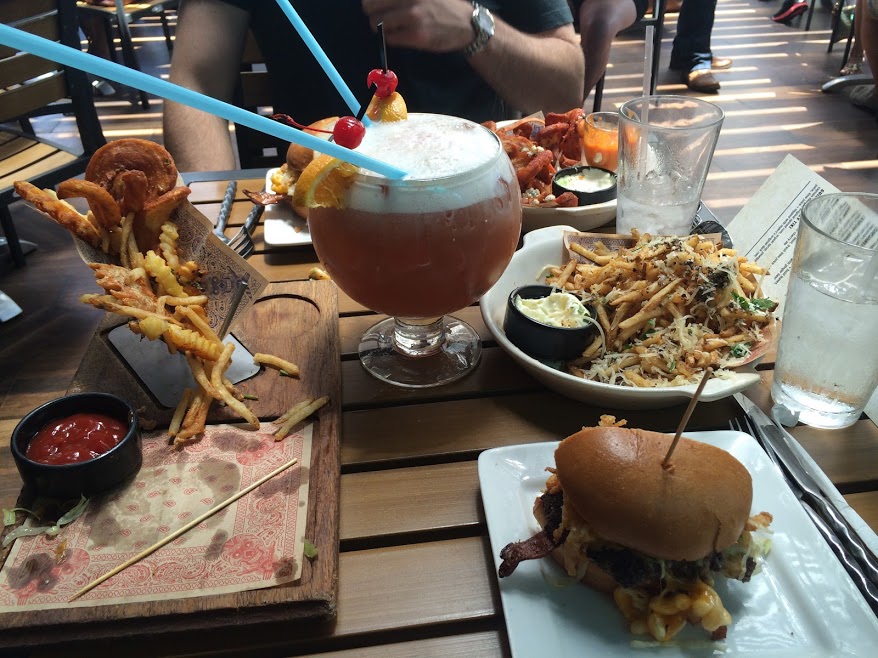 Best happy hour spots in Las Vegas:
Gordon Ramsay Pub & Grill: In Caesars Palace, Monday – Friday from 2 – 5 p.m. Enjoy discounted wines and draft beers, and be sure to split some truffle fries!
Bardot Brasserie: In the Aria, daily from 5 – 7 p.m. Get some steak tartare and sparkling wine to start the weekend off with a classy touch.
Emeril's New Orleans Fish House: In the MGM Grand, daily 2 – 6 p.m. and again from 9:30 p.m. to close. Order discounted house wines or a bottle of beer and dig into some Southern comfort food!
Aureole: In Mandalay Bay, offered all day in the bar and lounge (they open at 5:30 p.m.). Try the hummus or tzatziki, the crispy calamari, and sliders, and take a gamble with their cocktail of the day! They also have beers and sparkling, white, and red wines on the happy hour menu.
Sushi Roku: In the Forum in Caesars, daily from 4 – 6 p.m. (extended to 7 p.m. Sunday – Thursday). Sample the amazing rolls, sashimi, or pair your wine or sake with their yummy doughnut holes.
Tao: At the Venetian, order an appetizer and get a complimentary cocktail from 5 – 6:30 p.m. Same deal goes at Lavo in the Palazzo.
Cabo Wabo Cantina: At Planet Hollywood, get your fill of affordable street tacos from 3 – 6 p.m., Monday through Thursday. Beers and specialty shots are also discounted during happy hour.
Casino
Between drinks and dinner, make your way to the casino to see if you're lucky enough to yell, "Winner, winner, chicken dinner!" With about 40 casinos located along the Las Vegas Strip, finding somewhere to play is pretty easy!
Dinner
There are plenty of fabulous restaurants to choose from in Vegas, whether you want something casual and comforting or something classy and chic.
Best restaurants in Vegas:
Eiffel Tower Restaurant: Head to Paris and enjoy amazing views with your French meal. While you won't be looking out over the Seine or the rues lined with the beautiful French architecture, you will have a good view of the Strip and the fountains when they run.
Hakkasan Restaurant: In the MGM Grand, enjoy Cantonese dishes with some signature cocktails at this restaurant.
Restaurant Guy Savoy: Located in Caesars Palace, this French restaurant has a great view of Las Vegas Blvd. to complement its great food.
Estiatorio Milos: This elegant Greek and seafood restaurant in the Cosmo brings the flavors of the Mediterranean to the table.
Lago: This Italian restaurant in the Bellagio overlooks the fountains and serves up decadent small plates. Lago is also a good option for lunch with a three-course chef's special.
Osteria Costa: Gorge on the flavors of the Amalfi Coast at the Mirage at Osteria Costa. Get a fantastic pasta dish or order a traditional secondo dish.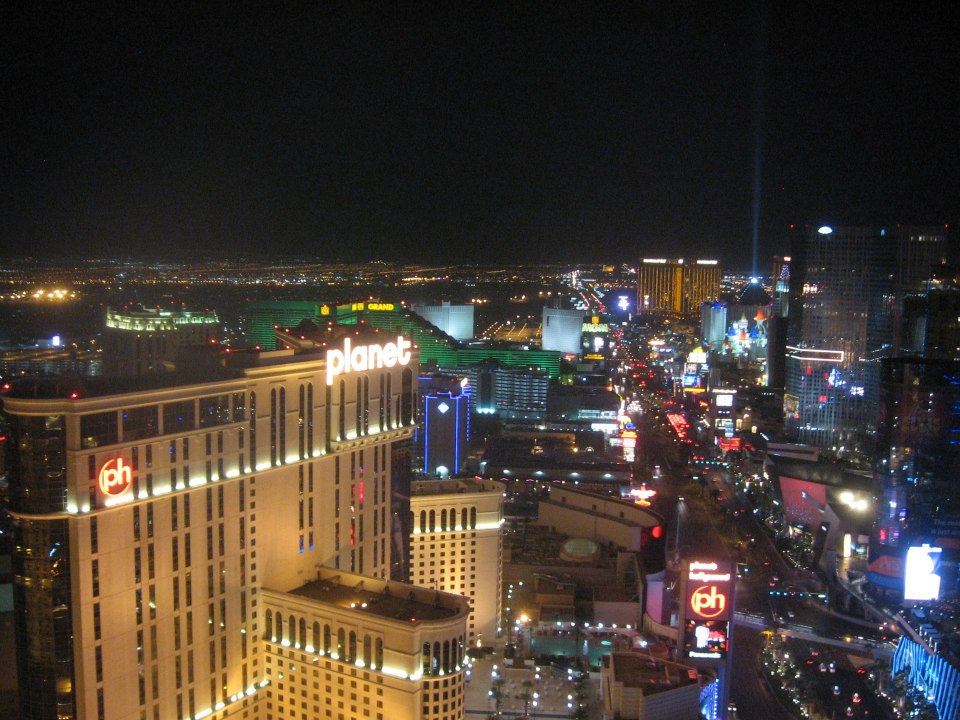 Experience the Paris Eiffel Tower
After dinner, it's off to Paris for a romantic evening of enjoying the view of the dazzling Strip from the viewing deck. It's one of my favorite ways to view the Strip, in all her neon glory, and take in the 360-degree view. And as you stroll through the Paris hotel, you can feel like you're in the City of Lights – the real French one, though.
Bellagio fountain show
Either time your visit up the Eiffel Tower so you can watch the spectacular fountain show from above, or get your feet back on the ground and try to get a front row view for the Bellagio fountain show, running Monday – Friday every half hour from 3 – 8 p.m. and every 15 minutes from 8 p.m. to midnight.
Friday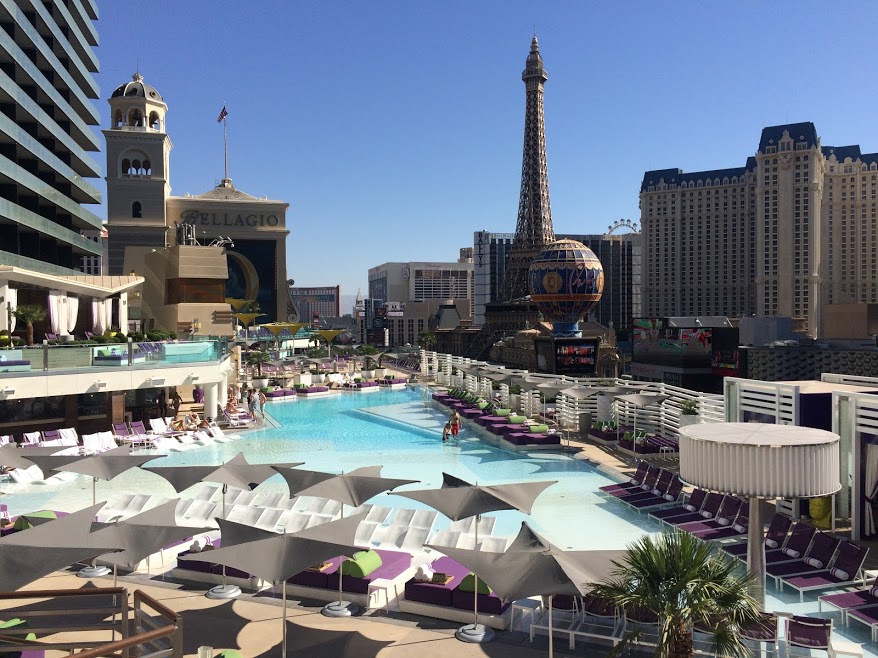 Daybed at the pool
We had such a great experience renting a daybed, that if you can find an affordable or good deal, take it and book a daybed for your day by the pool in Vegas. Ours operated under a food and beverage minimum and with a whole day spent poolside, it wasn't too hard to meet it. It was nice having dedicated servers and a reserved spot to sit.
Dinner
Tonight, head out for another gourmet meal on or off the Strip. You pretty much have to go out of your way to find a bad restaurant in Vegas.
Cirque show
Watch the unbelievable, acrobatic feats of the performers in any cirque show! It seems that almost every hotel has a Cirque du Soleil show, meaning you have plenty of options and variety for your live entertainment. We've seen Zumanity at New York – New York, Mystere at Treasure Island, and The Beatles Love at the Mirage. Some shows are designed for families and some are meant for adults, but all the shows are fantastic and inspire me to go the gym more frequently.
You could also opt to see the more magical side of Vegas by catching Penn & Teller at the Rio, Mat Franco at the LINQ, David Copperfield at the MGM Grand, or Criss Angel at the Luxor.
Dessert
Stop for something sweet to end your night just right. We've enjoyed several tasty treats from Milk Bar in the Cosmo – like their birthday cake cake truffles, the confetti cookie, and some of their soft serve ice cream.
Saturday
Be ready for bigger crowds in the casinos and restaurants today as people are flocking in to Vegas for the weekend.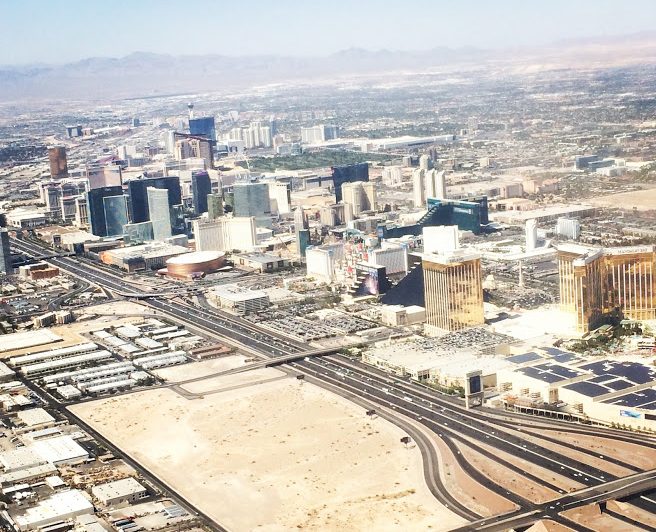 Helicopter tour to the Grand Canyon
Take a scenic helicopter ride to the Grand Canyon from Vegas! Choose either an early morning flight for great views and a quieter side of Vegas or take an afternoon flight that includes a champagne picnic lunch! Most helicopter operators include hotel pick-up and drop-off with your tour rate – making it super easy for a quick day trip to the Grand Canyon from Vegas.
Neon Museum
In the afternoon, head off to the Neon Museum in Las Vegas and walk through Sin City's bright history. The museum also hosts special events like yoga and game tournaments throughout the year in addition to their unique exhibits and collections.
Casino
It's Vegas, so you have to hit another table or play another machine before going to dinner. You never know when Lady Luck will make an appearance.
Dinner
Pick another place for an amazing meal on the Strip, perhaps a bit further from your hotel to get an evening stroll under the bright lights of the city, passing the iconic and famous resorts and attractions.
Fire show at Mirage
As you walk along the Strip at night, be sure to stop by the Mirage and watch the fiery display outside the resort. Similar to the Bellagio, this show is choreographed to music as the lava erupts. Word to the wise, it gets quite hot if you have a front row seat, so unless you want photos of the show, it's OK to stand a bit further back from the Mirage's outside entertainment.
Sunday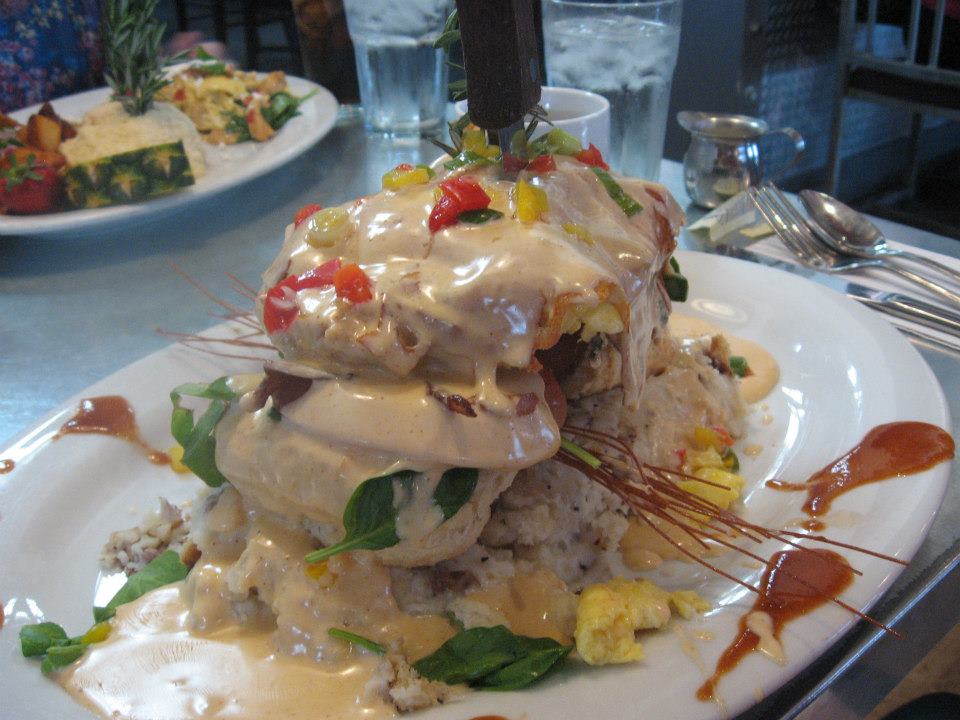 Brunch
Start your day off right with a delicious and supremely filling brunch at Hash House A Go Go! Though they're open 24/7, they're quite popular so you should expect a wait. Whether you choose a breakfast item (like the HH Big O' Pancakes) or a signature dish (go for the stuffed burger or sage fried chicken), you can be sure the portions will be gigantic and yummy.
Pool
Take a cat nap in the sun (or slip into your food coma) poolside with a late morning trip to the pool.
Siegfried & Roy's Secret Garden and Dolphin Habitat
After soaking up some sun, meet some playful dolphins, beautiful white tigers and lions, as well as leopards. Book a fun experience like a VIP tour or trainer for a day experience at the secret garden.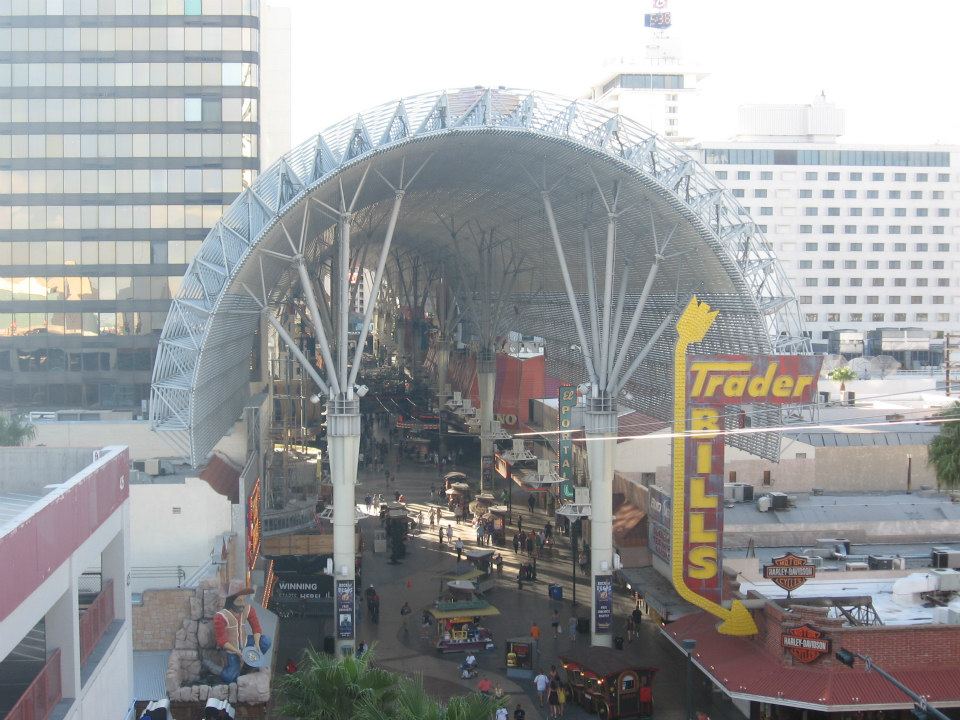 Fremont Street
End your weekend in Las Vegas by paying a visit to where it all started: Fremont Street! Pick up affordable souvenirs, find cheap tables, and find some tasty treats on the street. Stay for the light show at night, and if you're feeling adventurous go big and jump off on the zipline.
Secret Pizza
Head back to the Strip for a late night snack at Secret Pizza inside the Cosmo. Buy by the slice and end your weekend in Vegas with a yummy piece of pizza.
What Vegas activities for couples did we miss in our itinerary? Tell us on our Facebook Page!
Like the post? Share it now!