One of our 2022 goals was to take a quick weekend trip with the credit card points we've racked up and we made it happen this month by sneaking away to New York City for a long weekend to enjoy the Christmas festivities in the Big Apple!
It was a wonderful trip, minus a small panic attack we both had as the Lyft ride into the city was taking a looooot longer than we expected it would. But everything worked out in the end, we just had to haul ass to make our dinner reservation!
I was so excited to get back to NYC as it'd been about seven years since both Rick and I went to New York City, funnily enough we hadn't gone together though! I went in April to visit a friend who was living there and Rick went in June for a work conference. So we wanted to explore the Big Apple together and we both wanted the magical experience of seeing the city all lit up for the holidays.
It was a win-win having the credit card points to cover our hotel and make it a rather affordable weekend getaway.
Here was our long Christmasy weekend in New York City travel itinerary! 
Weekend in New York City around Christmastime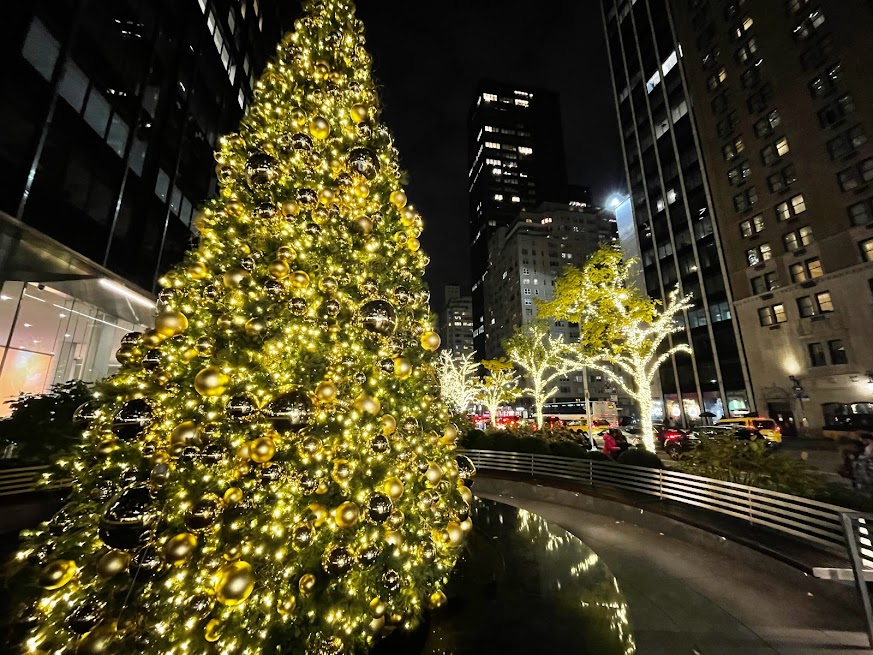 Thursday
We flew out Thursday afternoon and arrived at La Guardia at around 3:30. I'm going to admit, our ride from the airport to our hotel was a bit stressful as we expected it to take about 30-45 minutes and ended up taking closer to two hours. We had about 15 minutes to check in, change, and run off to the restaurant. Thank god we booked a restaurant just a few blocks away!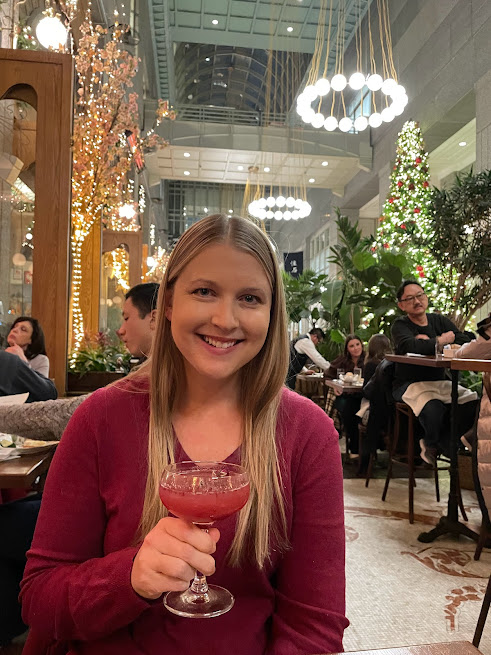 Dinner at Boucherie
That night we went to Boucherie for dinner as I was in the mood for escargot and steak tartare. We had a great dinner and we both ended up ordering duck-based dishes for our entrees but both were great! Rick got duck confit and I got the cassoulet, paired with some great pinot noir. 
The restaurant was packed but it's easy to see why after we sat down and started gorging ourselves on Champagne-based drinks and delicious French food!
Plaza Hotel stop
Home Alone 2: Lost in New York is one of my favorite Christmas movies so we had to stop at the Plaza Hotel, even just to peek inside. We were hoping to stop at the bar for a drink but it was packed and we were on a time crunch to get to Central Park for our next activity. I wish we would have had time to return here for a cocktail or two, but I am glad we at least got to see the inside of it since we saw a lot of it as we explored the park.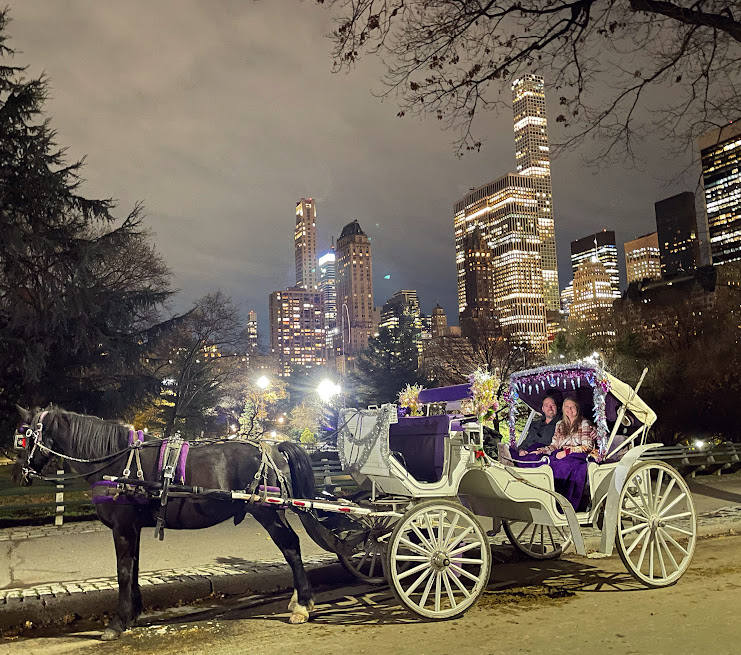 Carriage ride in Central Park & The City
While we didn't go dashing through the snow in a one-horse open sleigh, we did book a romantic holiday lights carriage ride through Central Park and then down 5th Avenue to see the city all lit up for the holidays. 
Was it touristy as hell? Oh yeah, but it was great! Our guide was really great and pointed out all sorts of filming locations in the park, played us some great Christmas songs, and took fantastic photos of us on our trip round the park and down 5th Avenue. 
It was everything I hoped for though I will say dress warm as it does get chilly! Though we were given a blanket to cover our legs!
Christmas tree at Rockefeller Center
Though we saw the Christmas tree at Rockefeller Center on our carriage ride, I wanted a closer look so after our tour we went back to Rockefeller Center to get a closer look at the tree and watch the light show at Saks from ground-level.
We debated ice skating there but it was a bit spendy for something we can always do at home. Though, maybe next time we would shell out the cash and get out on the ice.
Friday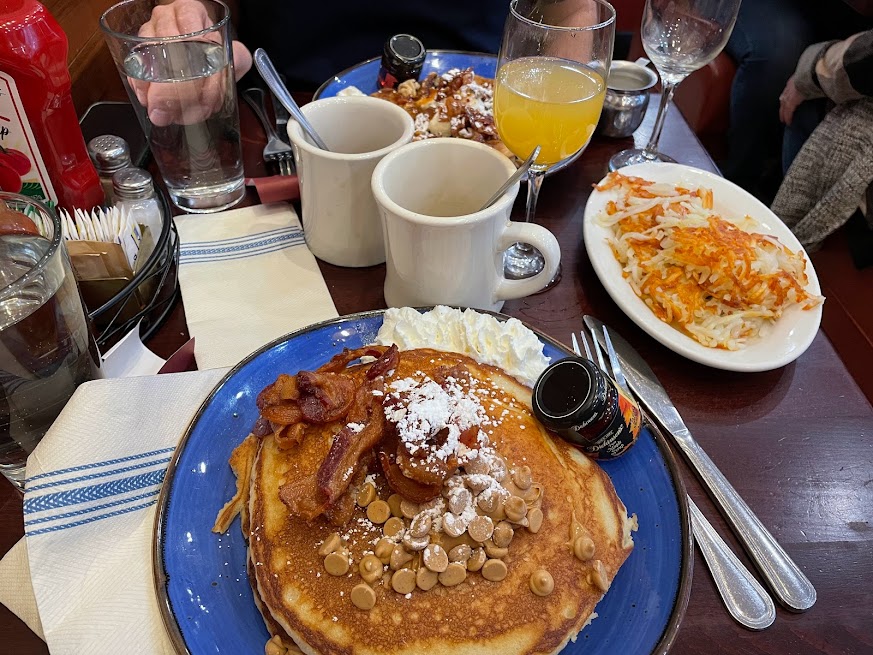 Breakfast at Carnegie Diner & Cafe
We started the morning with breakfast at the popular Carnegie Diner & Cafe. While we didn't get the giant pastrami sandwiches nor the 24 layer chocolate cake, we did get pancakes and waffles and mimosas! 
The food was fantastic, the service super quick, and definitely fueled us up for our long jaunt through Central Park!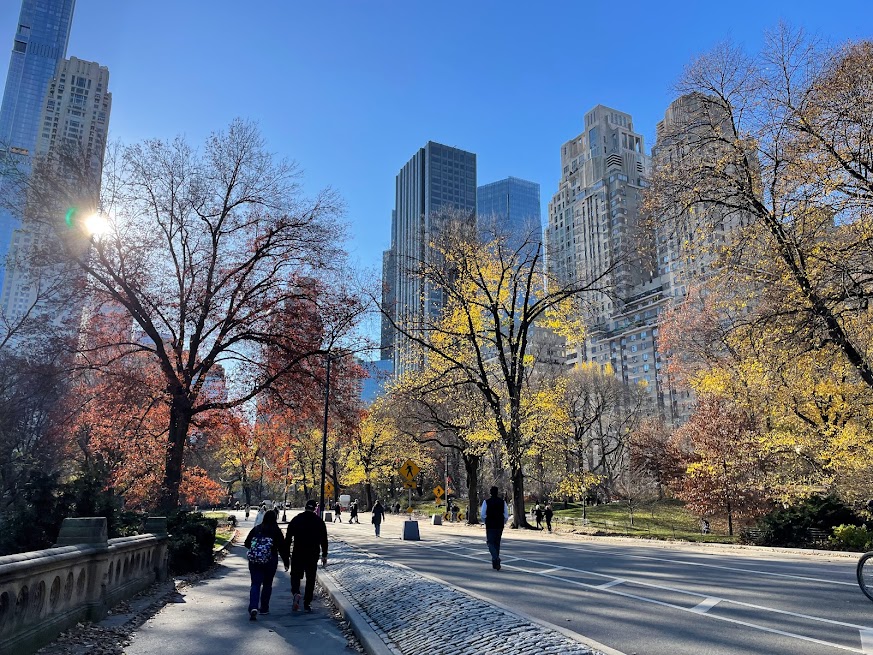 Walk in Central Park
To burn off all that food we ate, we spent our first full day in New York City by taking a little (or long) stroll in the park – Central Park, that is! I was truly blown away by how much it looked like fall still in the park. There were leaves on the ground, golden leaves still on the trees, and it just felt like an interesting mix between fall and Christmas.
We had no other plans for our morning so we were able to simply wander and see what we came across during our walk.
If we had added a bit more time to our exploration of Central Park, we would have added time to visit the Met.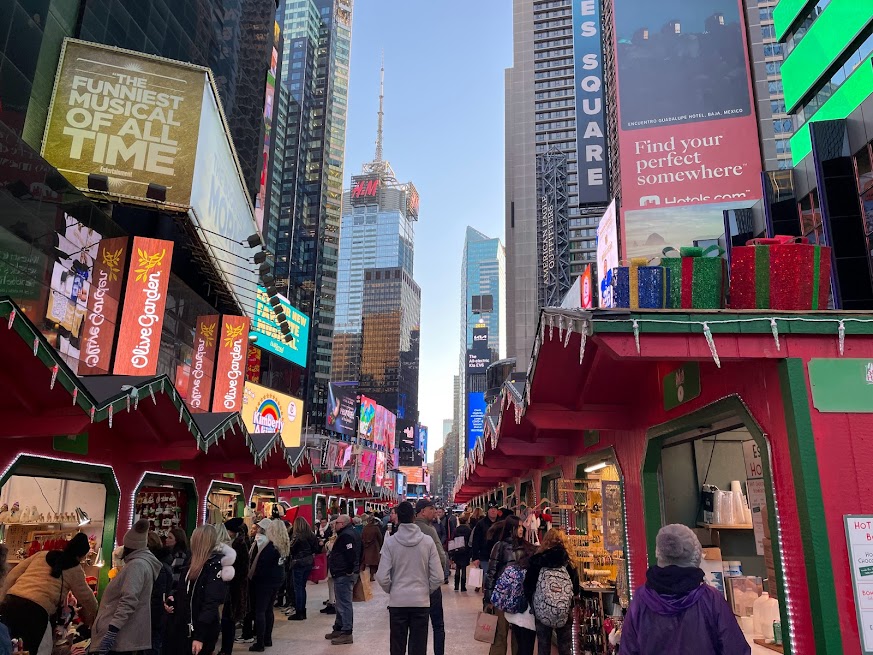 Times Square
Before heading off for dinner we enjoyed the Christmas market and bright lights of Times Square. It wasn't as packed as we expected, though we were there at like 4 p.m. which might have helped thin the crowds. The markets were cute and we checked out the stalls selling ornaments, clothing, and of course delicious-smelling food which we would have sampled if we didn't have early dinner plans.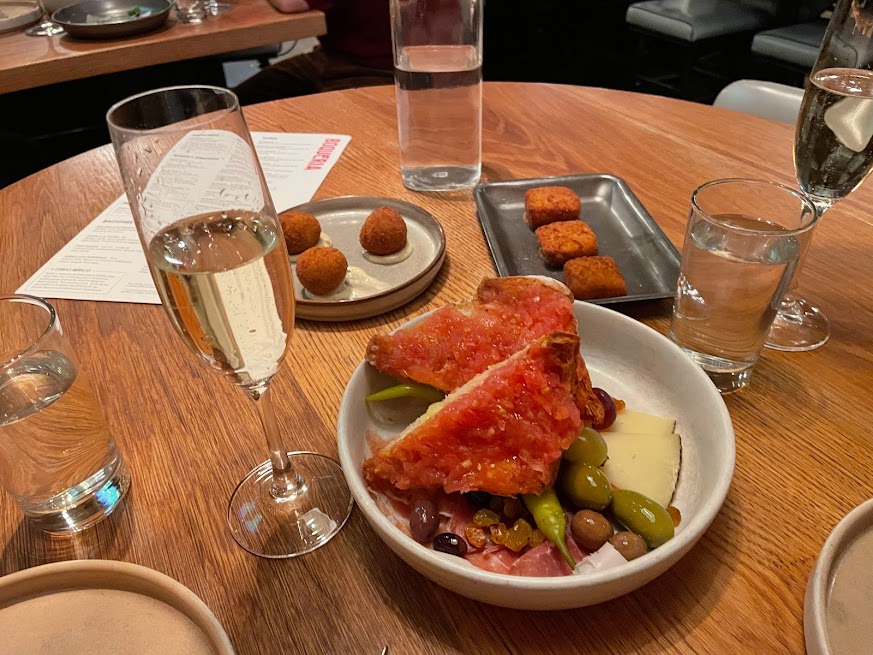 Dinner at Boqueria 
We love, love, love, tapas and Sangria so we made dinner reservations at Boqueria to get our fill before sitting for almost four hours at our Broadway show.
We were lucky that our reservation was early as we timed it with happy hour! We started with some cava before sampling a variety of their sangrias – their traditional red was fabulous but their seasonal apple cider was also amazing – and paired it with a variety of tapas, like pan con tomate, manchego cheese, jamon Iberico, croquettes, and paella.
Everything we had was wonderful and I would return in a heartbeat!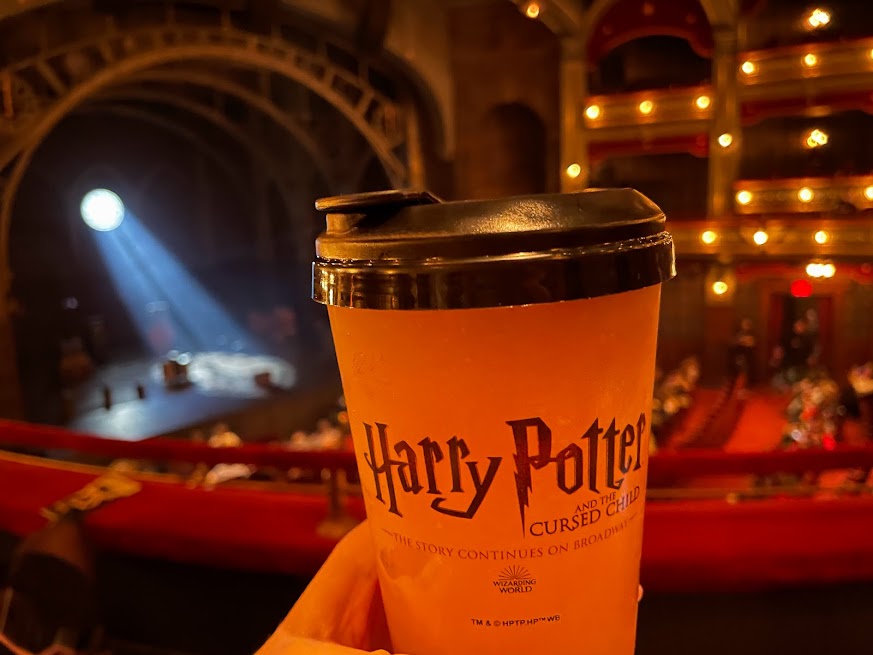 Harry Potter and the Cursed Child
That night we had tickets to Harry Potter and the Cursed Child on Broadway. As a proud Slytherin, we made our way there early to get our cocktails and something from the gift shop. 
The show was great but it is long! It's about three hours and 30 minutes but it was a very nostalgic show, and the special effects were mind-blowing and to put it bluntly, practically magical.
Saturday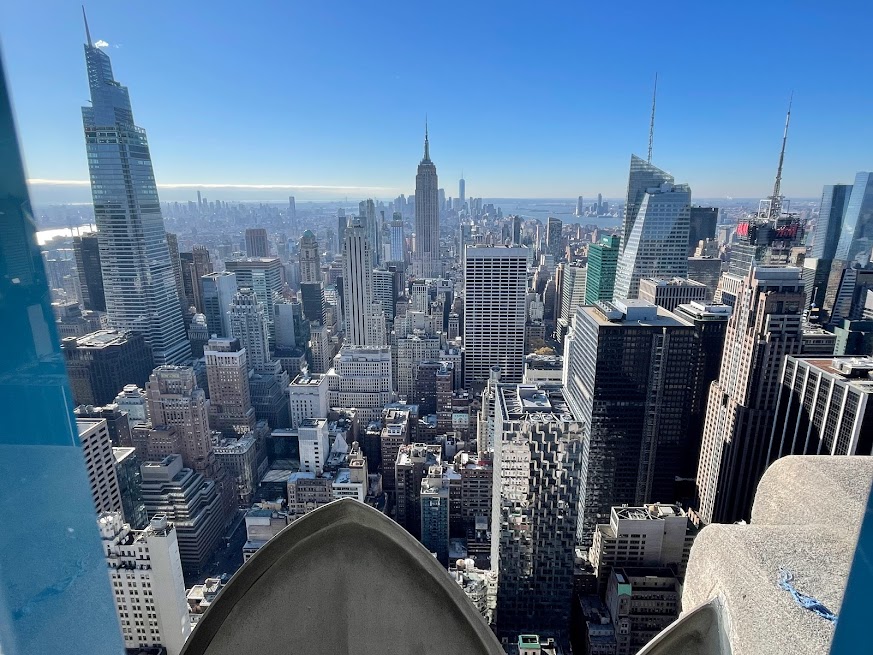 The Observation Deck at Rockefeller Center
On our second full day in New York City, we had express pass tickets to the observation deck at Rockefeller Center. I will definitely recommend this option as the line was crazy-long. We were able to get right up to the top right away!
The view was supremely impressive and I loved seeing the city from that view as last time I was there we didn't have any time to visit an observation deck and I love aerial views of any city I travel to. After taking in the views, it was time to eat!
Pizza & Magnolia Bakery Banana Pudding
Being in NYC, we had to get a few of the iconic foods and so we found a pizza shop near Rockefeller Center and popped in for a few slices and some garlic knots. Funnily enough, Santa came in as well for a quick bite for lunch. Good to know: It was SantaCon in the city during our weekend visit.
We had also stopped at Magnolia Bakery as I love banana pudding and have heard about the banana pudding available here and we opted for their seasonal special that featured red velvet! It was quite tasty and worth the wait.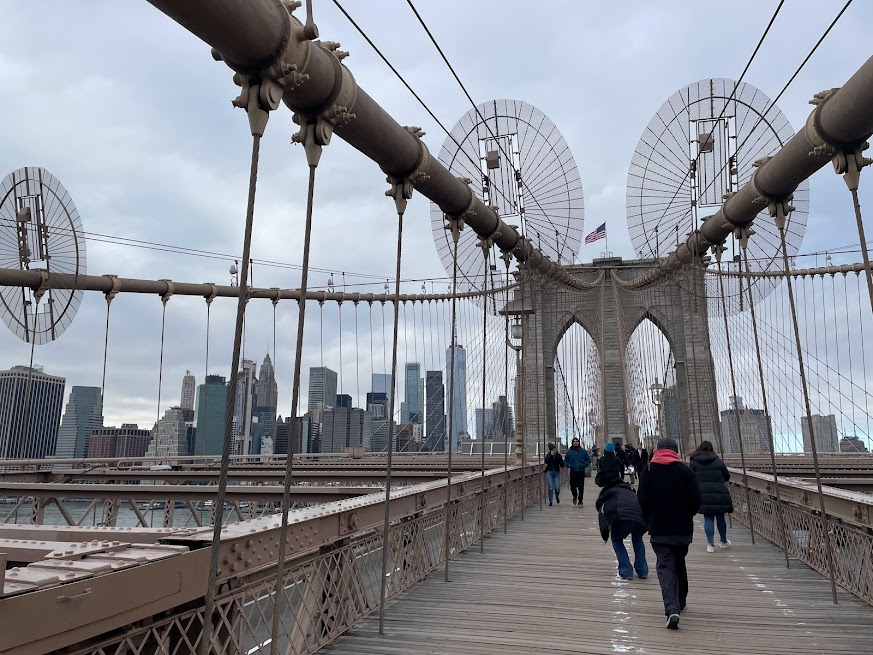 Walk the Brooklyn Bridge
After lunch, we took the subway over to Brooklyn to walk the Brooklyn Bridge back to NYC. This was one thing on my list of must-dos for this trip to New York City and I'm glad we made it happen. It was very easy getting to Brooklyn and there's a stop that practically drops you off at the steps to the bridge.
Wall Street
Once back on the New York City side, we strolled around and just enjoyed the sightseeing we came across on our own. We walked down Wall Street, stopped in front of Trinity Church, saw the bull, and then continued on to Battery Park.
Battery Park
We stopped at Battery Park to see Lady Liberty as we didn't want to visit the island on this trip. I've done it in the past with friends and Rick preferred to spend our time doing other things than riding the ferry out to the islands (Liberty Island and Ellis Island). 
Maybe if we return in the spring, summer, or fall, we'll go pay her a visit!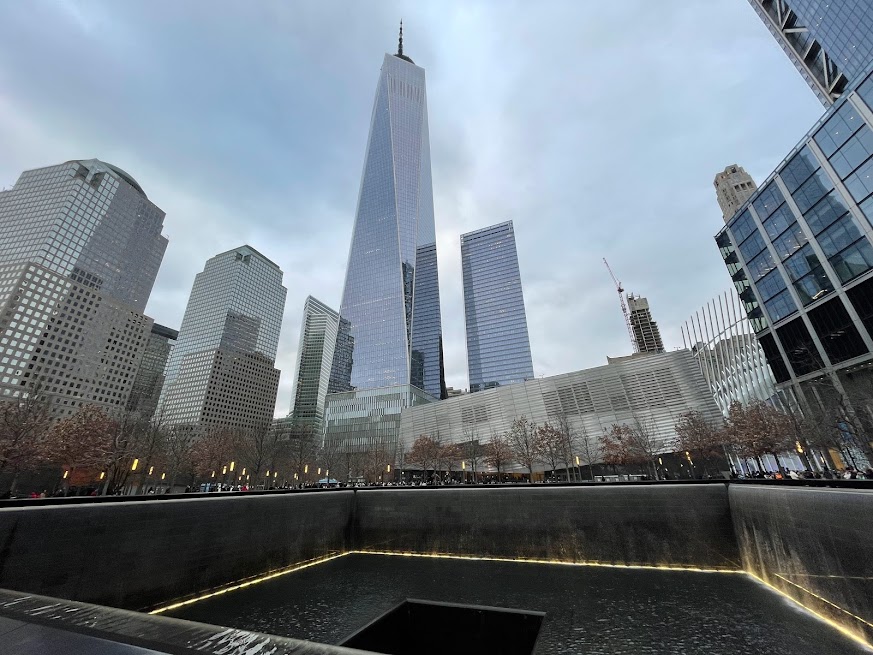 One World Trade Center
We wound our way back into the city and stopped to pay our respects at One World Trade Center. I've done the 9/11 Memorial Museum with my friends but even just standing at the sites of the towers was very sobering.
Dinner at Negril
That evening we met up with some friends that live in the city for dinner at Negril Village, a Jamaican restaurant in Greenwich Village. I was quite excited for this as we love going to Jamaica and had gone for Christmas two years ago. It was a fun way to re-live that trip and dine on some of our favorite dishes.
We brought our own rum as the restaurant was operating on a BYOS (Bring Your Own Spirits), and had it mixed into a rum punch, then started with some cornbread, jerked wings, and then I was so excited to dig into my plate of ackee and saltfish with festival and plantains.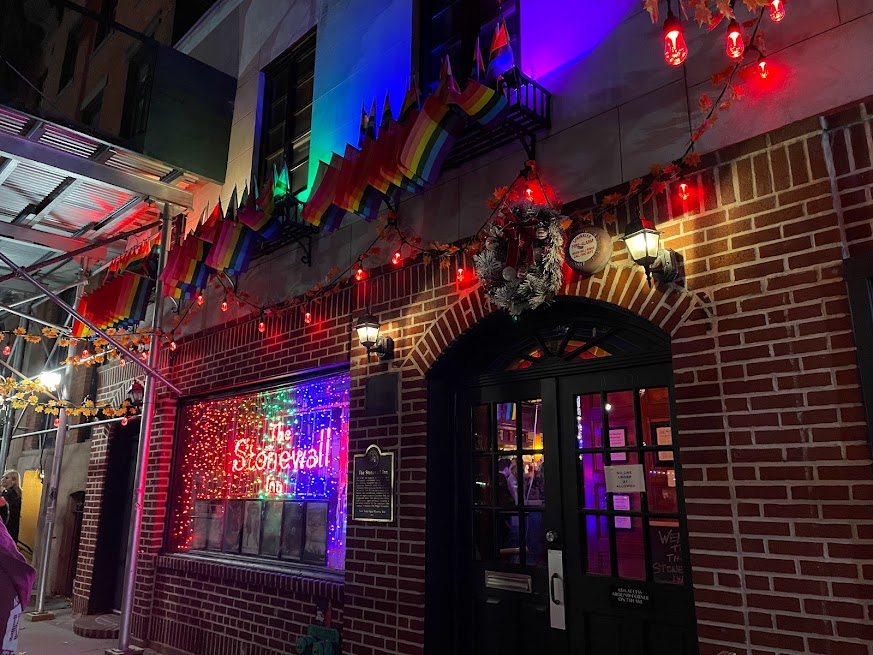 Haunted Pub Crawl in Greenwich Village
After our dinner with friends it was off to hear some spooky stories about the Village on a haunted pub crawl. We stopped at some iconic places, like the Stonewall Inn, and heard about the history of the city, the neighborhood, and a few ghosts who still call it home.
Review of the ghost tour to come!
Sunday
Bagels
We started our last morning with another classic NYC food: Bagels! I opted for a bagel breakfast sandwich and Rick got an everything bagel with cream cheese so we could split them and try different things. We took our bagels to go and soaked up our last views of the city before we had to grab our bags and check out of the hotel.
Finally, it was time to head back to the airport and catch our flight home. 
Overall, it was a magical time in New York City. While it was windy and cold, it wasn't as bad as I was expecting and I feel we got lucky with the weather. I wouldn't hesitate to return to the city in December and I even have a few ideas of things we need to add to our travel itinerary next time we're in New York City!
What should we plan to do next time we find ourselves in New York City, whether it's around Christmas or not? Tell us in the comments below!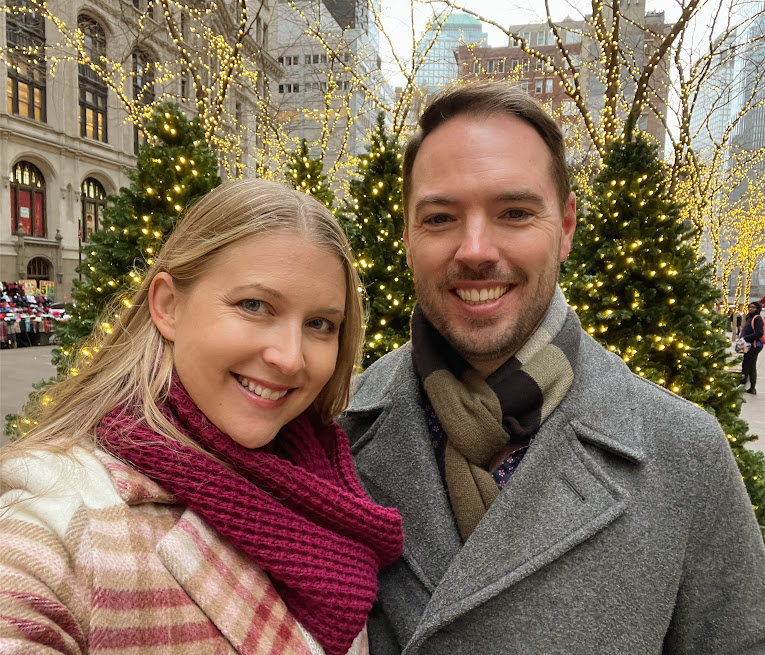 Like the post? Share it now!