When Rick and I were traveling in Barcelona we stayed at the lovely and historic hotel Catalonia Eixample 1864! With a prime location in the Eixample neighborhood and proximity to restaurants and some of the best things to do in Barcelona, it was an excellent choice for our getaway.
We wish we had more time in Barcelona, not just to keep exploring the city but to make use of all the amenities available at the hotel!
If you're planning a trip to Barcelona and looking for accommodations, we highly recommend this hotel for a great stay!
Review of the Catalonia Eixample 1864 hotel in Barcelona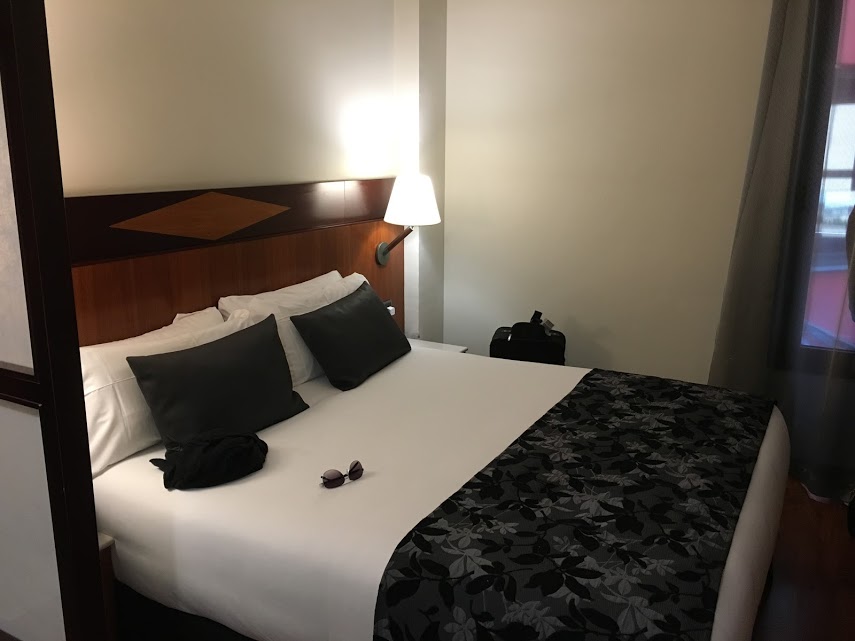 Accommodations
We stayed in one of their double rooms (starting at 116 euro per night on their website) and it was spacious, comfortable, and the bathroom was large enough to accommodate both Rick and I at the same time and was equipped with a tub/shower combo. I also loved the full-length mirror on the closet doors. You can easily connect up with the Wi-Fi, the TV was centered to the bed, and we were never tripping over our suitcases or belongings. The room does include a safe to store passports and valuables as well as a minibar if you bring back anything that needs to be kept cold. The decor was warm and welcoming and this was one of our favorite hotels of the entire trip.
Amenities
The hotel had all the amenities we needed for our stay in the city, including breakfast, a bar, a gym, a pool, and a rooftop lounge with a fantastic view.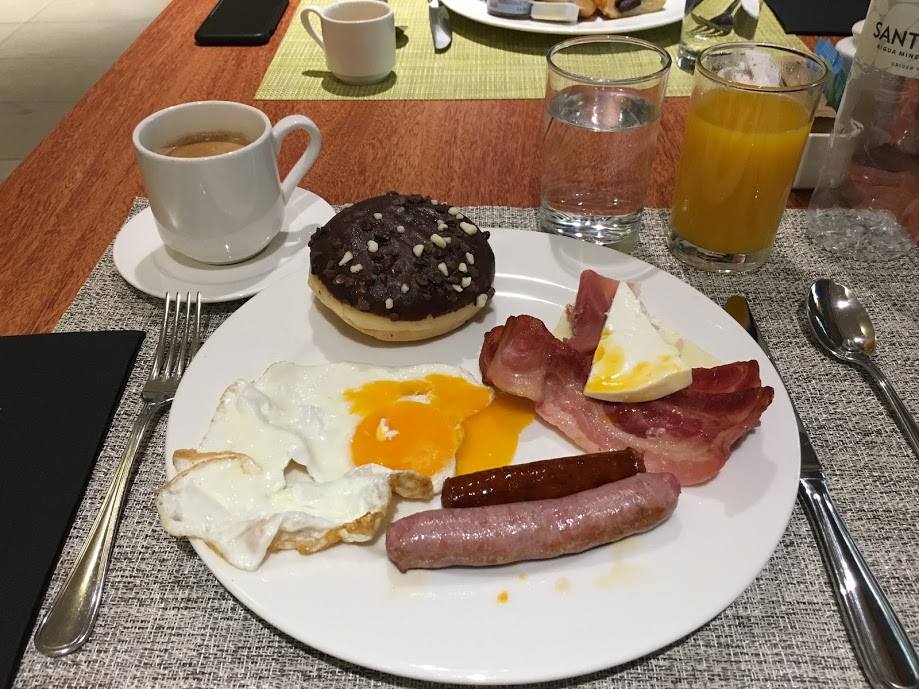 Breakfast
The daily breakfast had a wonderful spread of hot and cold items with fresh, fried eggs, sausages, pancakes, and cold cuts, cheeses, and breads. They also have traditional plates like Catalan tomato bread and Spanish potato tortilla on the menu each day with rotating specialties. They serve a variety of juices, water, and have a few espresso machines for your morning coffee. You simply cannot leave the hotel hungry!
Breakfast is served Monday – Friday from 7 – 10:30 a.m. and on weekends from 7:30 to 11 a.m.
Breakfast is served in the restaurant, buffet-style, and then in the afternoon and evening, the space is a sit-down restaurant, Les Finestres de Lluria Restaurant.
Gym
The hotel does have a gym with a treadmill, elliptical, bike, and free weights. The equipment is older but gets the job done.They also have a mini fridge stocked with cold water and towels to dry off after your workout. The times I went to the gym I was the only person in there.
Bar
The hotel had a nice lobby bar with cozy seating near the large windows and it was a nice spot for a quick glass of sangria before going on our Barcelona sightseeing tour. There was enough seating for the size of the bar and they had a TV and some newspapers available to help you kill time. The drinks are a bit overpriced but quite tasty.
Event space
Barcelona was the first hotel on our big Europe trip so we had a welcome drink in their upstairs event space. The room was large and the service was fantastic as they had a bartender and a big spread of soft drinks, beer, and wine for us.
Pet-friendly
The hotel has a pet policy where you can have one small dog or cat in your room for €10 more per night and a €200 deposit.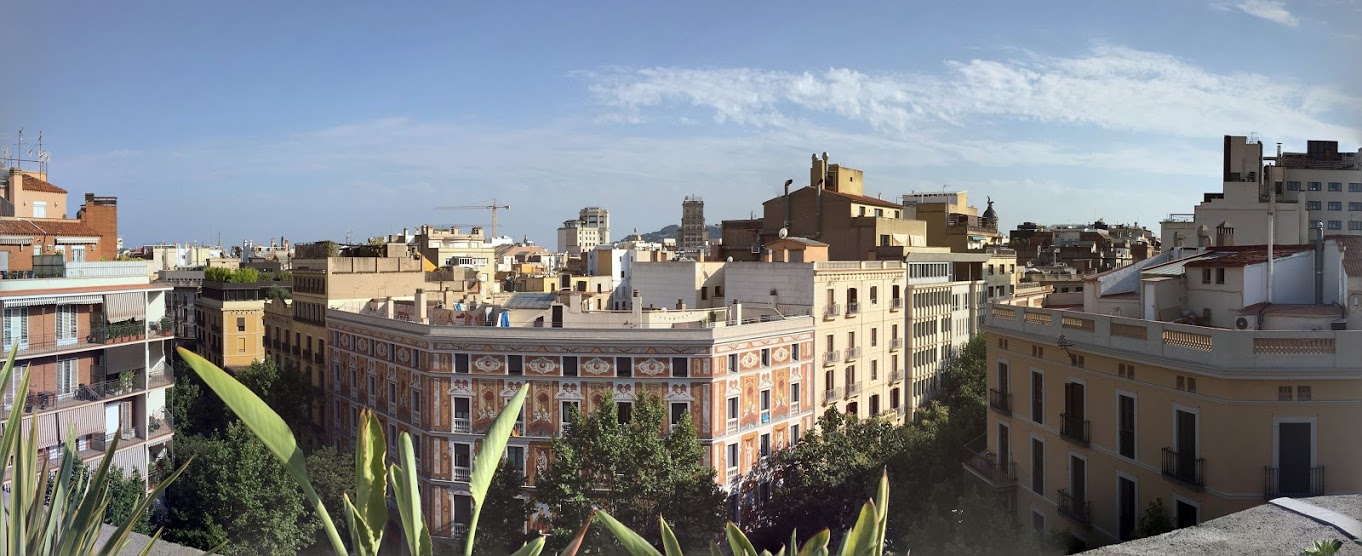 Pool & Rooftop
The pool is located on the roof terrace – perfect for sunbathing and enjoying a panoramic view of the city sprawling out below you. We didn't have enough time to make use of the pool but friends we were traveling with did and said it was nice for an afternoon dip.
On-site parking
There is parking available for guests but you'll need to budget €23 per day for it. We did not use this service during our stay.
Check-in & customer service
All the hotel staff we interacted with were friendly and approachable. Check-in was easy and they pointed us in the right direction of the fastest way to our room. We were in Barcelona over my birthday and a friend asked the reception staff if they could put a bottle of champagne and some balloons in my room – which was a fun surprise when we returned in the evening!
Check-in at Catalonia Eixample 1864 begins at 2 p.m. and check-out is 12 p.m.
Housekeeping
The overall cleanliness of the hotel, its facilities, and rooms was outstanding. Our room was sparkling clean each evening when we returned and all the common areas were spotless.
Price
The room we were in starts at €116 per night (and obviously fluctuates during the year) but for the price and location we thought it was a great value.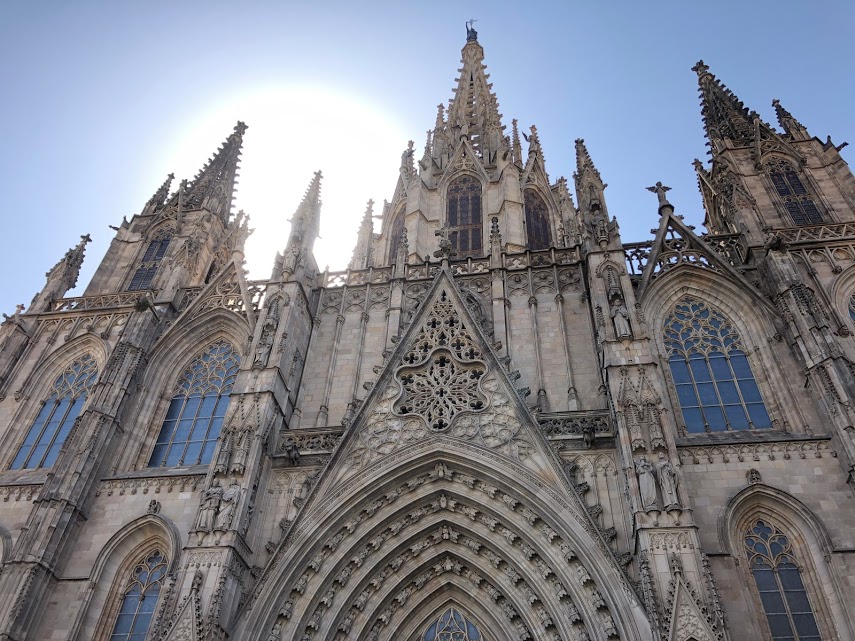 Location
The location of the hotel in the Eixample neighborhood is perfect and close to many things to do in Barcelona! It's right up the street from the Passeig de Gracia station, El Nacional (one of our favorite food halls), the Barcelona Museum, and just a short walk to La Rambla.
We were able to walk out the front door and get to many places of interest in less than a two-mile walk, like Casa Batllo, the Barcelona Cathedral, La Pedrera, the beachfront, Sagrada Familia, and La Rambla! We rarely needed public transportation to get around the city from our hotel, which saved us money, though we probably spent all those savings on tapas and tempranillo later!
As you can tell from our review of Catalonia Eixample 1864, we were thrilled with our stay. The hotel had a prime location in Barcelona, fantastic amenities, and great service. We wouldn't hesitate to book a stay there next time we're in the city.
Is there another Barcelona hotel we have to check out for our next trip? Share your recommendations with us on Twitter!
Like the post? Share it now!