Last time I was in London with some girlfriends, we decided to spice up our first night there with an eerie Jack the Ripper tour. We booked with a tour company that's been doing the tour since 1982 and had a great experience.
Customer service and communication
Booking the tickets was easy and the meeting point instructions were clear. It was an easy spot to find and though we were running late, we easily joined our group for the tour.
Price
Our Jack the Ripper tour was only £10, which was a great deal for the amount of information and experience you get.
Jack the Ripper Tour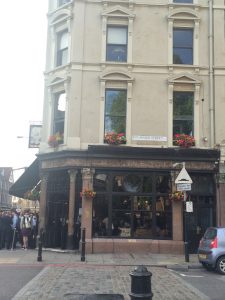 The tour was excellent and provided a lot of history and informational tidbits about the murders in the late 1800s. See where suspects worked, where a sinister message was scrawled, an alley that was probably walked by victims and the killer, and the famous pub of the neighborhood.
Learn more about the victims and what they had in common before meeting a grisly end. If you can stomach it, you can even see a photograph of one of his victims.
Tour guide
Our tour guide, John, was great. He kept a good pace, was loud enough so everyone could hear, and has written several books on Jack the Ripper and really knows the history of the East End well. He was charismatic, welcoming, and funny.
We did see other tour companies out and about during our evening tour and some of them are themed or have the guide dress up in dark, period clothing, but our tour was not that themed. I normally love themed tours and events, but it was nice just being led around by a normal bloke.
Overall, it was a great tour and looked very similar to others we passed as we walked along. For the price, it was a great value and a great way to spend about two hours exploring London's East End and its dark past.
Like the post? Share it now!