Recently I had the chance for a quick getaway to New Orleans and you bet your bottom dollar I took it!
What I knew about New Orleans before going: Vampires! Mardi Gras! History! France!
What I know now about New Orleans: Vampires! Mardi Gras! History! France! Cool city!
I loved my little taste of NOLA (though they could have turned down the humidity just a bit) and can't wait to take Rick back with me. Since it was a solo trip for me of course I booked a ghost tour of the French quarter as soon as I booked my plane ticket.
I found New Orleans Secrets and they offered a very affordable two-hour ghost tour of New Orleans, and with a history dating back to 1718 I couldn't wait to hear about all the ghosts and scary stories of the Crescent City.
The tour did not disappoint and I loved hearing the great mix of the macabre stories and mysteries of the city. If you're looking for a good ghost tour of New Orleans, read my review below to see if this tour is right for you!
Review of New Orleans Secrets' Ghosts of the French Quarter Tour
Booking process
The booking process was easily completed online and I was emailed my confirmation with the meeting location, dates, and any other important information I would need.
Tour guide
Our tour guide, Ty, was fun, personable, and always made sure the group could hear her and her jokes. She welcomed questions and obviously has a lot of pride in her city and sharing its spookier side.
I appreciated the respect she showed to those that cause these hauntings and how she described the different types of hauntings. I know some tour guides would make it campy or exaggerate details but Ty did the stories justice and was a wonderful storyteller.
The New Orleans ghost tour
The two-hour starts at 7:30, making it the perfect way to end your evening! I had time to get dinner and even stop at Cafe du Monde for some yummy beignets and coffee before the tour even started. Once it did, Ty shared a variety of haunted stories as well as just some downright disturbing tales of sinister NOLA residents.
Some of the highlights of the New Orleans ghost tour included:
The sadistic experiments of Madame Lalaurie and subsequent hauntings at the mansion
The ghost dogs licking the fingers of guests at a French Quarter hotel that once acted as war hospital
The devilish acts of the boy ghosts at the Andrew Jackson Hotel
The ghost who just wanted to be invited to the party at Muriel's
The singing ghostly priest who only wanders through the rain or fog
The real vampire factions in New Orleans
The tour blends history and hauntings and the tour has a great route to break up the types of stories and give the haunted stories a bit of a reprieve.
The tour runs rain or shine, and we did get rained on a bit during my tour – so bring an umbrella or jacket if you're worried about the weather.
Group size
This was one of the smaller tours I've done that wasn't a private option. It was me and a family of four going along for the ride. They do note on their website that they keep their groups to 10 guests total and it was fantastic. Ty could give us her full attention and we all had opportunity to ask her questions about our stops, stories, or just questions about New Orleans in general.
There were other ghost tours happening at the same time as ours and the number of people on them was ridiculous! It was about 30 people trying to stay on the sidewalk and listen to one tour guide.
I definitely recommend New Orleans Secrets for their small and manageable group size.
Pace and route
The tour takes place completely in the French Quarter, starting on Saint Ann Street (at a cool vampire shop) and ending in Jackson Square, and spans about two hours. The route is nice and easy to follow as you explore different haunted and historical sites in the city.
We probably walked a mile in total over the two hours and it's an easy pace. We would walk a few blocks to our next stop, listen to the stories of the location, and then walk another few blocks to our next stop, so easy for anyone.
Good to know, there was one bathroom stop about an hour or so into the tour.
Value
The tour was priced at $25 online for a two-hour tour, and I think that was well worth it. I was looking for a ghost and cocktail tour, but any company I found didn't offer them on Sundays, my free night in NOLA. New Orleans Secrets offer this ghost tour every night of the week so it won my business!
Have you been on a ghost tour in New Orleans? Tell me which company you went with and what you liked about them in the comments or on Facebook!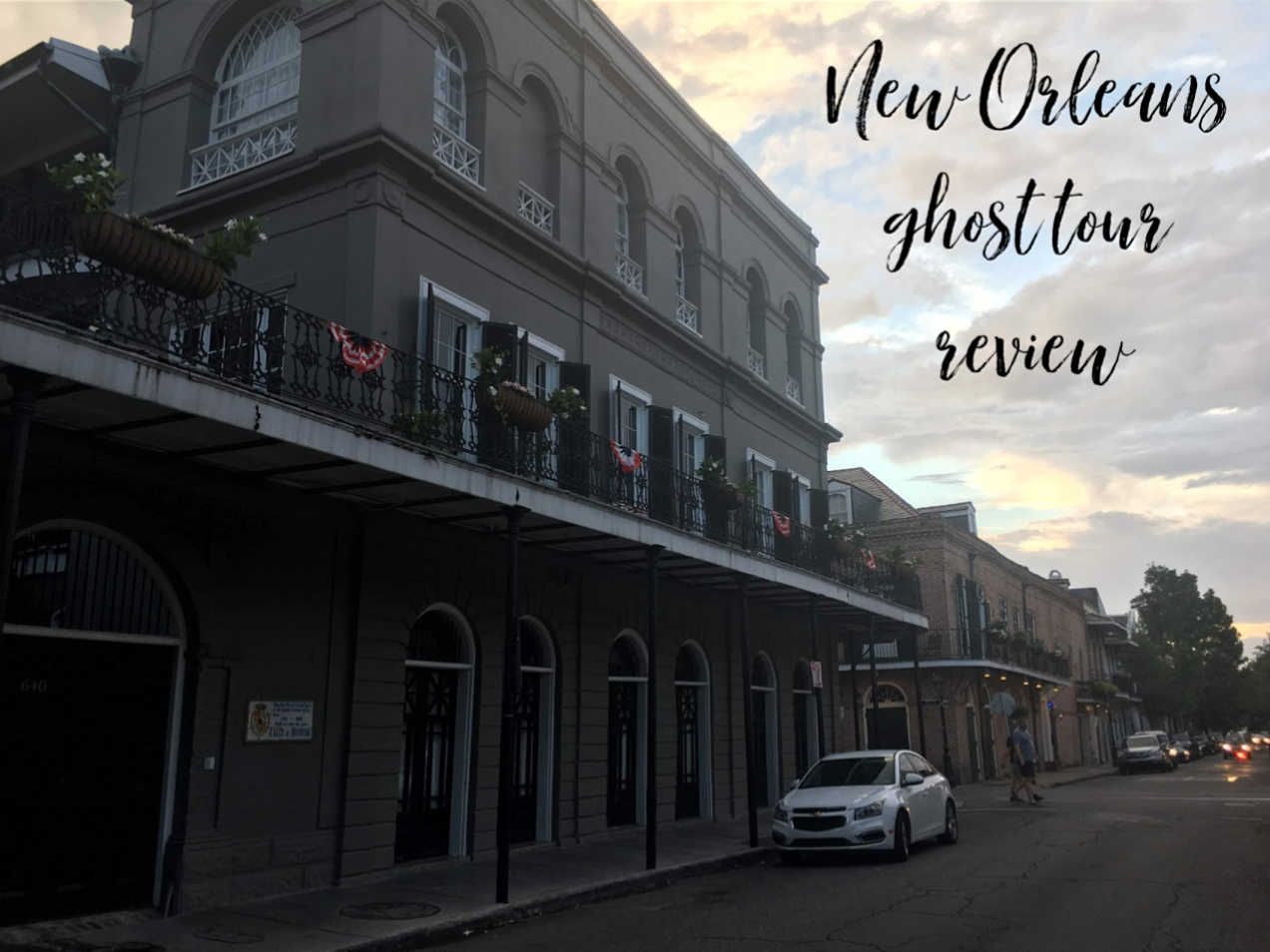 Like the post? Share it now!