Rick and I got married at the end of September and we could not have asked for a more perfect day! This post is going to be a bit different than our normal travel blog posts as we'll be reviewing our Denver area wedding vendors – though great if you're looking to plan a destination wedding in Colorado.
As soon as we started planning our wedding we knew if it was going to be in Colorado, it was going to be up in the mountains. As soon as we decided that, we also choose a fall wedding as the colors would be beyond beautiful that time of year with the bright aspens and fall foliage. I wouldn't change a single thing about our wedding day or who we worked with to make it all happen.
Here's a review of some of our favorite Colorado wedding vendors: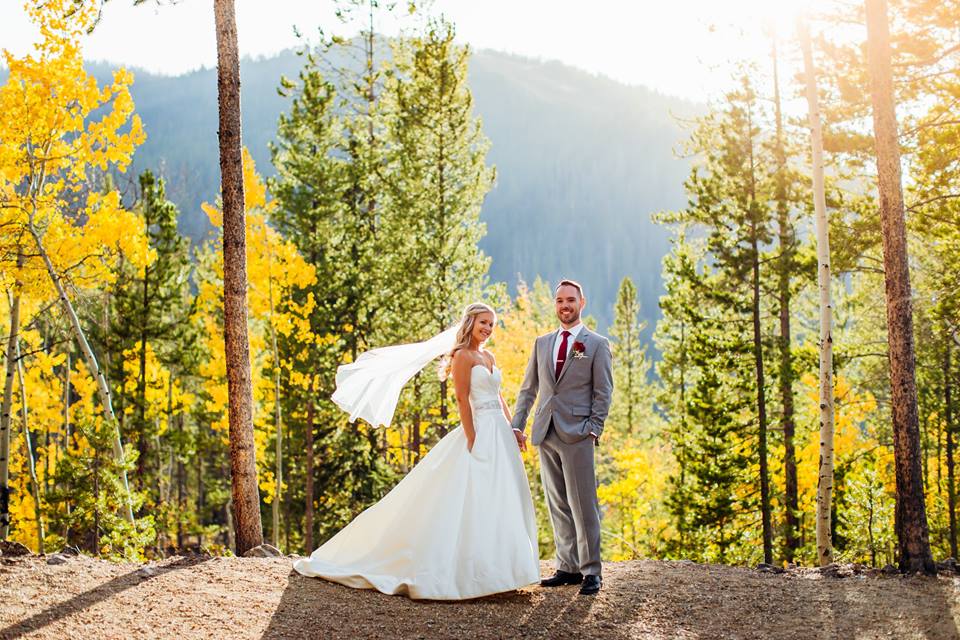 Brilliant Bridal
I bought my dress, veil, and a cute hair piece from Brilliant Bridal in Denver. I had made an appointment with them at a bridal show and scored an extra 25% off anything I bought during my appointment. My shopper, Lauren, was outgoing, helpful, and worked hard to find what I was looking for. She asked for my price range, size, and what kind of style I was going for and asked if she could bring back dresses she felt would be a good fit.
It was a blast trying on the different dresses and her suggestions were fun and she listened well to what I liked and disliked to find the right dress. I ended up with a strapless ball gown that was pretty minimalistic but classic. It was perfect and I bought it right then and there. I was able to get everything I needed – minus shoes as I got those from David's Bridal – for less than $1,000.
Menguin
Rick's groomsmen used Menguin for their suits and it was such an easy process. Rick received some different fabric samples and then picked out what he wanted for the suits and then his guys just had to fill in their sizing and shipping information and Menguin sent their suits out. The guys had time to try their suits on and get anything exchanged in enough time for the wedding. After the wedding, they just had to drop the suits back in the mail and they were done.
Winter Park Mountain Lodge
We started looking at Colorado mountain wedding venues and everything was quickly blowing through our budget – sometimes even for a lunch wedding. We started looking at smaller ski resort towns and checked out options in Winter Park. As soon as I saw the outdoor ceremony site at Winter Park Mountain Lodge, I knew we'd found our venue.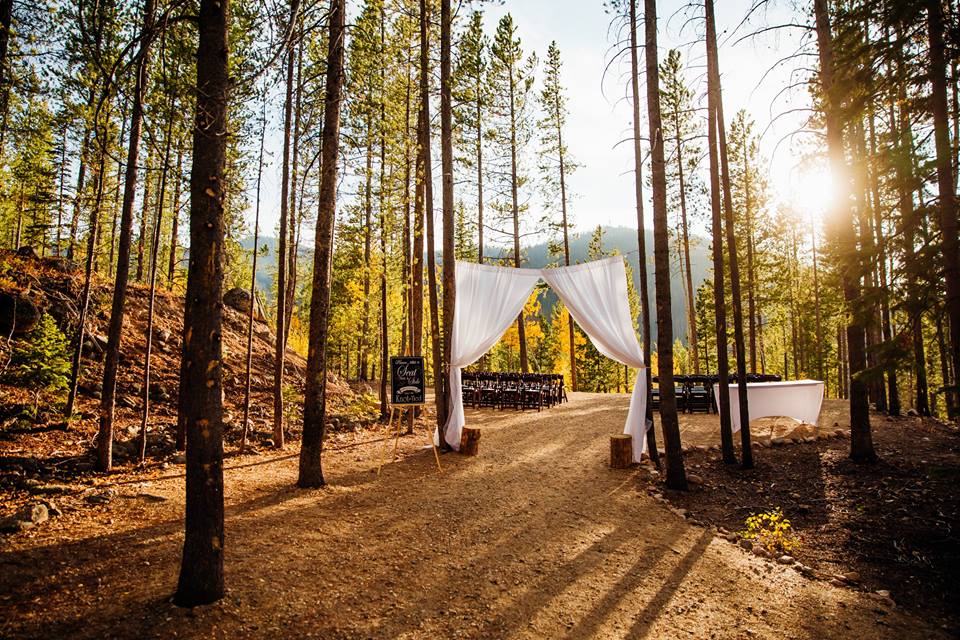 We took a tour of the hotel and met with a wedding coordinator and booked the venue. Funnily enough, we couldn't actually visit the ceremony site as it was still snow-packed. We didn't see it until June when we took Rick's parents up there to show them, about three months after we signed our contract. Even without its stunning outdoor site, we loved having our wedding at a hotel, making it easy on our guests to only have to go to one venue for everything.
The lodge offered a few wedding packages to make planning easier and bundling all the major things we'd need: catering, linens, dance floor, etc. We opted for an open bar during the cocktail hour and reception and they were good about keeping us in the loop of when we were coming close to our budgeted limit. While we were off doing portraits during the cocktail hour, we heard it was a great setup and that our choice of passed around hors d'oeuvres were a hit: mini grilled cheese sandwiches with a tomato bisque shooter and bacon wrapped shrimp stuffed with cheese.
The lodge also has an on-site restaurant and taproom, which we rented for an after party. We provided a nacho bar and then drinks were on our guests. I'm glad we did that as we were able to keep the party going and chat with our friends after dinner and dancing during the reception.
We worked with two different wedding coordinators for our day, and both Kindra and Michelle were awesome to work with. They asked all the right questions, kept us on track of what we needed to sort out and order, and made planning really easy. Michelle was our day-of coordinator and was relaxed, which helped keep us relaxed and was always around. She made sure we knew where we were supposed to be and when and kept everything organized and on time.
Mallory Munson Photography
Similar to picking the hotel, as soon as I saw Mallory's online portfolio I knew she was the one. Her editing style is so vibrant and flawless. We had a consultation with her and chatted about the wedding, us as a couple, and asked some questions about her wedding photography packages. Mallory was friendly, easy to talk to, and simply loves what she does.
We picked an option with her and a second shooter for eight hours of coverage. About a month before the wedding, she sent a questionnaire over to make sure we could let her know of any specific shots we wanted and our timeline of events. On the big day, she was right on time and her energy and excitement is infectious. She does whatever it takes to get the perfect shot and is great at giving directions for posing. Oh, and she was great at working with our little ring bearer, our dog Rocco!
We got our photos and online gallery six weeks after the wedding and just got one of our photos printed on a giant canvas and we can't wait to hang it up. I'm so, so happy we picked Mallory Munson for our wedding photography and every person I've talked to says our photos are gorgeous and I couldn't agree more.
The Dessert Stand
We opted for a cupcake bar for our wedding and fell in love with the huge variety of flavors and styles at the Dessert Stand in Westminster! Our guests were raving about the cupcakes as they truly are delicious. One major reason we picked them, outside of their yummy flavors, was that they offered delivery up to Winter Park and for a very reasonable rate. They brought our cake and cupcakes up to the hotel, put them on the displays, and packed up again at the end of the night. They even boxed up an extra set of cupcakes just for Rick and I so we could have one of every flavor.
Through the Dessert Stand, we ordered a small chocolate salted caramel cake for us to cut at the reception and then we had five different cupcake flavors for our guests for dessert. Our six flavors included:
Breakfast in bed: French toast cupcake with a cheesecake mousse, maple cinnamon frosting, and topped with bacon crumbles
Chocolate indulgence: Chocolate cupcake with chocolate filling and vanilla buttercream frosting
Cookie dough: A vanilla cupcake with chocolate chips and a cookie dough frosting
Gimme s'mores: A chocolate cupcake with marshmallow inside and graham cracker frosting
Red velvet: Red velvet cupcake with a cheesecake mousse inside and cream cheese frosting
PB + C: Chocolate cupcake with a peanut butter mousse filling and frosting
Working with the Dessert Stand was easy and they were communicative every step of the way. Our tasting was easy to organize and the portions of the samples were huge so we got a real taste of the different flavors. We didn't even have to look anywhere else after our tasting and can't wait to buy a little anniversary cake from them next September!
Our wedding on a budget
Weddings are ridiculously expensive and we didn't want to go broke over it, so we looked for ways to cut down the costs. Here are some of our wedding money-saving tips:
We bought numbered stickers and put those on wine bottles as table numbers
For table decor, our wedding package included some tea candles and I bought some fake flower petals online for only $14
My bridal bouquet and bridesmaids bouquets were fake and ordered through Amazon, costing only $250
We had a family member officiate the ceremony and treated him to a nice dinner and gift as a thank you instead of paying more than $500 for an officiant
I also asked my cousin who's a hair stylist to do my wedding hair and she definitely gave me a good discount the day of
Our DJ was another family friend who gave us a discount on his services for the day of the wedding – though we did make sure to give him a big tip
I did my own makeup on our big day, but had invested in quality products. I went to Ulta and told the stylist that I needed good makeup that would photograph well and he pointed me in the direction of a Lancome line
My sister and I went to a bridal show and many vendors we're offering discounts to attendees and I got a special 25% off coupon for the boutique where I bought my dress
We started planning in the off-season, and my dress alterations were 30% off because it wasn't their busy season
I know we were super lucky to have so many talented family members and friends who could help us out, and it's definitely worth pulling out the family tree to see if anyone could help with something related to the wedding and at cost.
Now, we're just waiting for our Jamaican honeymoon to fully settle into our happily ever after!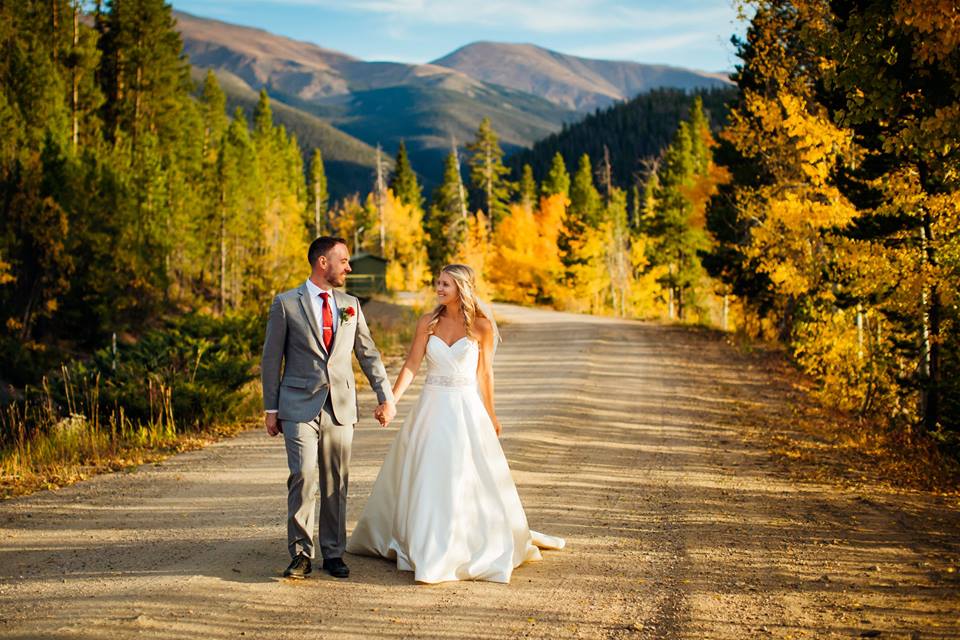 Like the post? Share it now!