Last July Rick and I went to Las Vegas, as we do, but this time we brought friends along for the ride. It was a wonderful time and weekend filled with good friends, good food, and plenty of good drinks.
Then, a few months later I found myself back in Las Vegas with some friends for a girls-only trip. The funny thing is I ended up staying at the same resort for both trips!
Rick and I had decided to check out The Venetian in July as we wanted to try somewhere new and honestly The Cosmo was getting too expensive for a quick, fun weekend away. We enjoyed our stay there so I was totally okay heading back to The Venetian for my return trip.
This review will be compilation review of my experience with Rick and then with friends. The biggest differences between my stays at The Venetian was around the room type. Rick and I stayed in a normal room and then I stayed in a Prestige suite with the girls.
A review of The Venetian in Las Vegas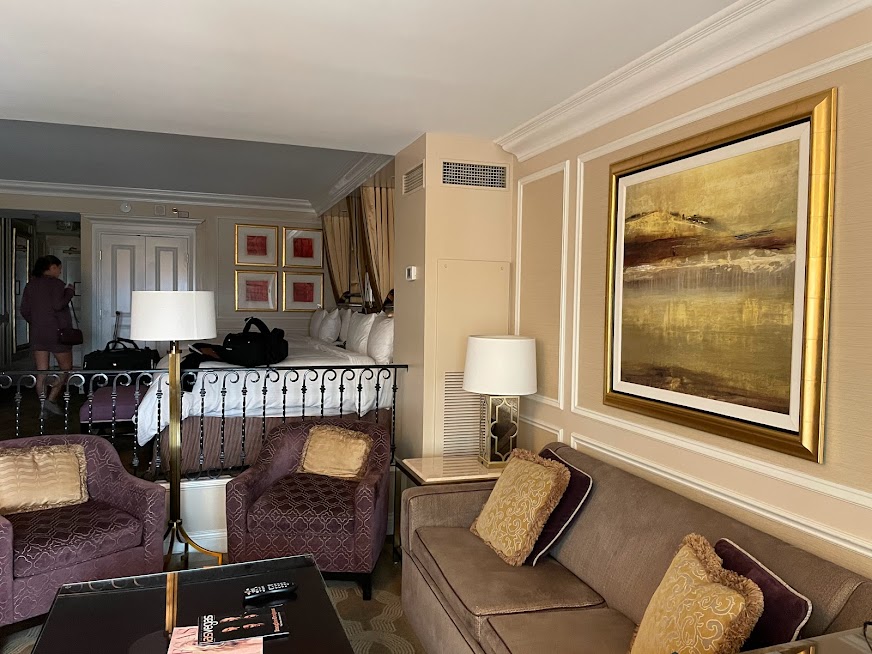 Accommodations
I really like the hotel rooms at The Venetian. The bed is comfy, the sheets real cozy, and the bathrooms are gigantic, leaving plenty of room for getting ready for a night out in Sin City.
Both the room Rick and I stayed in and the Prestige-level room I stayed in with the girls had a sitting room area with a couch, dining table, and big window. Rick's and my room had a King-sized bed and the room I stayed in with the girls featured two Queen-sized beds.
I also appreciate that the rooms are pretty soundproof so it's easy to get a good night's sleep after a night out on the town eating and drinking and gambling.
Amenities
The casino
The casino at the Venetian is decent. It felt a bit smaller than some other resorts we've been to, but it also is spread out so there are like two main casino areas.
Both Rick and I easily found the games we like to play – me with the slot machines as seen above and Rick finding Blackjack and roulette. I even got in on the roulette action and got a pretty lucky streak going and I feel it's all owed to being there!
The servers on the casino floor are great and make their rounds quickly which was greatly appreciated.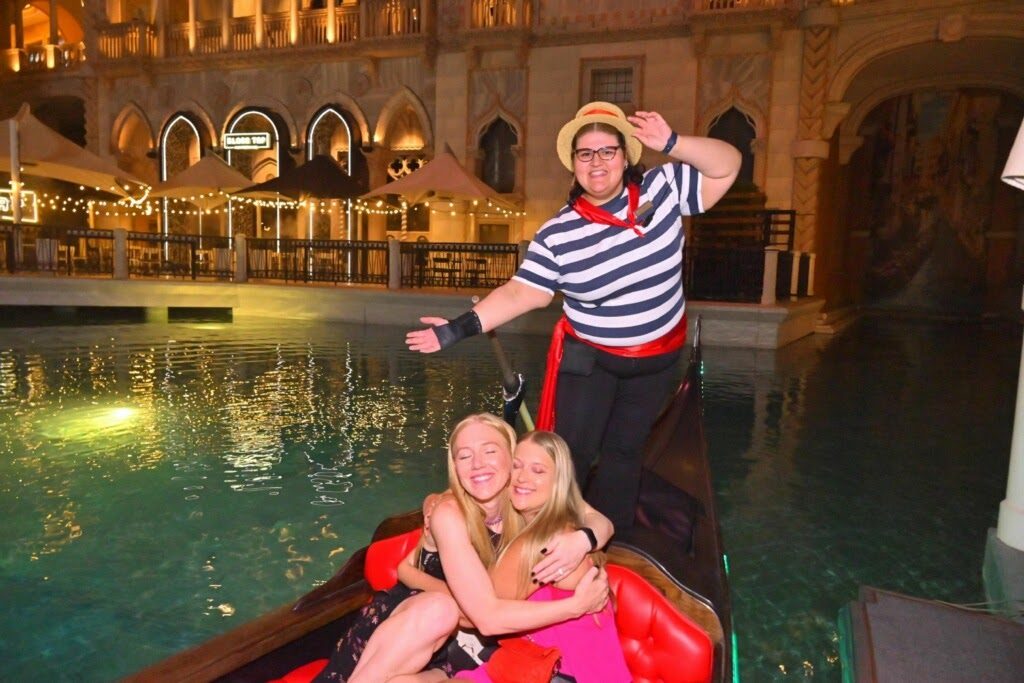 Gondola rides
During Rick's and my trip with another couple, we had a boys' night out and girls' night out and my friend and I went off to Thunder From Down Under and then walked back to the hotel to enjoy a romantic gondola ride together!
Is it cheesy? Yes.
Is it expensive? Yes.
Is it fun? Also yes.
I think our ride was like 15 minutes long and we opted to do ours outdoors instead of inside in the shoppes area. It was cute and our gondolier was very nice and had an amazing singing voice. I hope she gets a record deal sometime soon!
It's an experience that I'm glad I had as I've wanted to do it for a while but it's not something I'd feel compelled to do every single time I stay at The Venetian.
The Prestige Club Lounge
This was a perk I got to enjoy on my girls-only trip as we booked a Prestige suite. The lounge has a wonderful view of the Mirage and the mountains and was a nice place to chill.
The lounge is also great as it serves breakfast and happy hour hors d'oeuvres, along with free drinks during a specified time window in the evening. I think it was like 4-7. We also got a welcome glass of champagne upon check-in for our Prestige-level room.
I will say that check-in was a little slow during both trips. The Prestige room's check-in process happened up in the lounge area, but our check-in for our regular room took forever.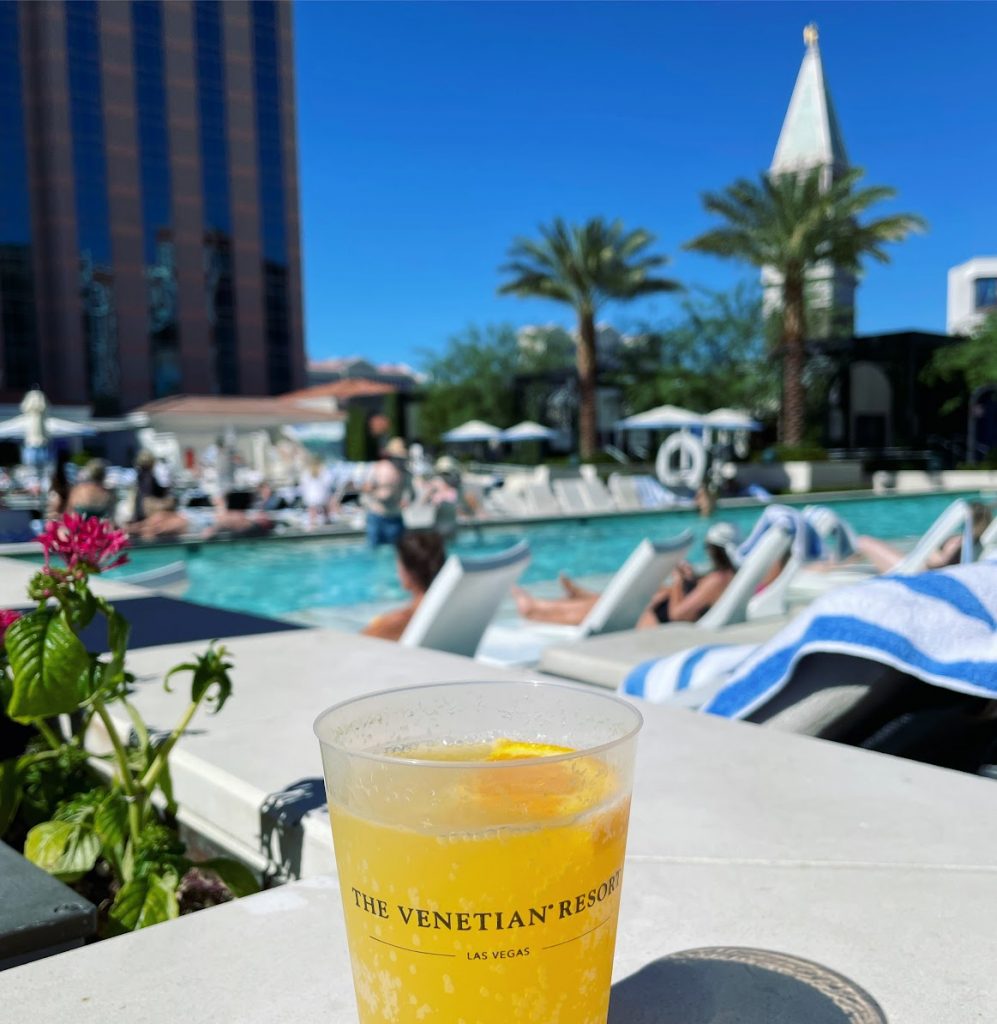 The Pool
I really love the pool at The Venetian.
It's got a chill and relaxed vibe, there are plenty of seats, and great drinks to sip poolside. The hot tub area is also nice and kind of tucked away.
Daybeds at the pool
During Rick's and my trip, we booked a daybed with our friends as we think it's a fantastic way to spend a day poolside in Las Vegas. The daybed at The Venetian was honestly better than the daybed experiences we've had at The Cosmo.
First, they're more affordable. Our food and beverage minimum was closer to $500 than $800 at the Cosmo and the Venetian had curtains so we could enclose our space and keep the pale people in our group safe from the sun. I was the one who moved around to the sunny spots when the sun shifted during the day.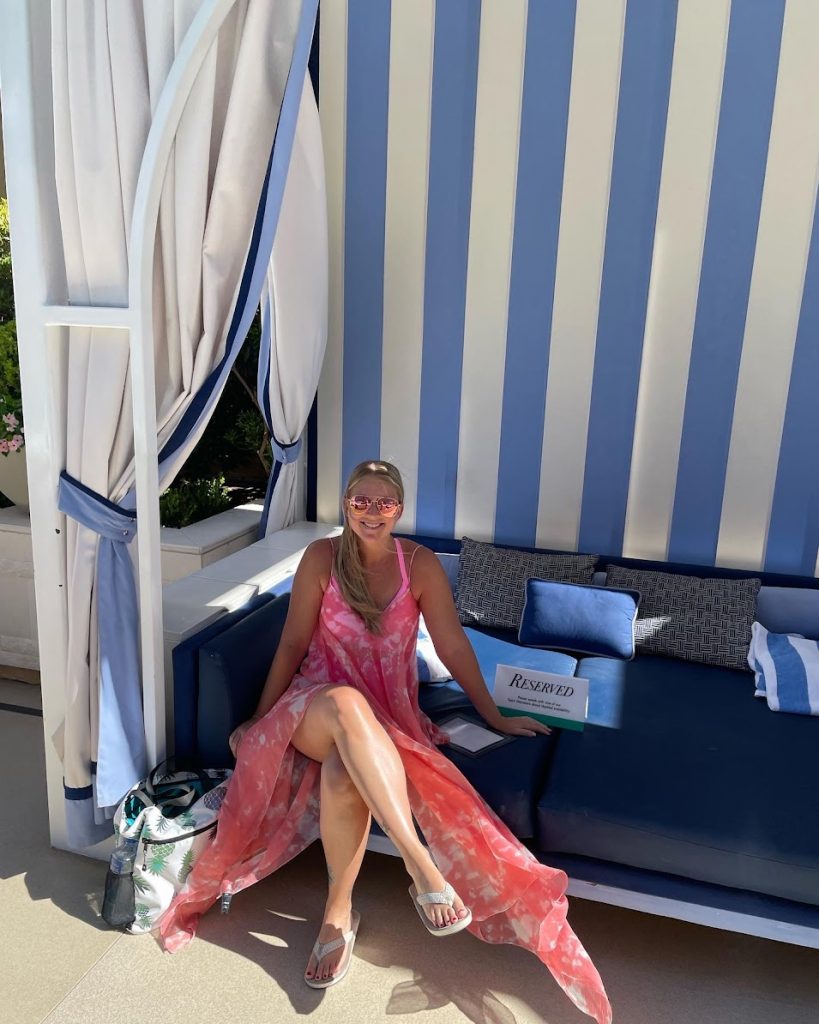 Our server was fantastic and checked in on us regularly and we definitely got our money's worth of drinks – though we probably should have ordered a bit more food. The Venetian's food menu was also more expansive than the one at the Cosmo and had better options, especially for sharing.
Restaurants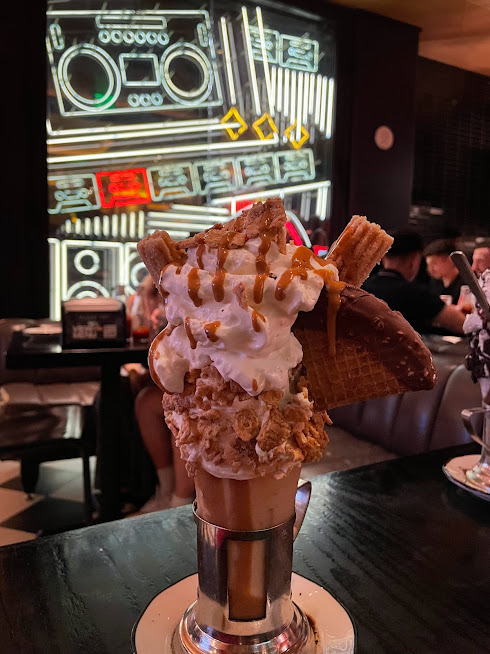 Black Tap Craft Burgers & Beer
I stopped here with my girlfriends for a late night snack, and boy did Black Tap deliver with the gigantic, and of course delicious, milkshakes. We probably should have used our brains and split two among the four of us. Between my chocotaco and churros I didn't need anything else to go with my milkshake that night.
I'm pretty sure I was still feeling my sugar rush on the flight home Sunday afternoon.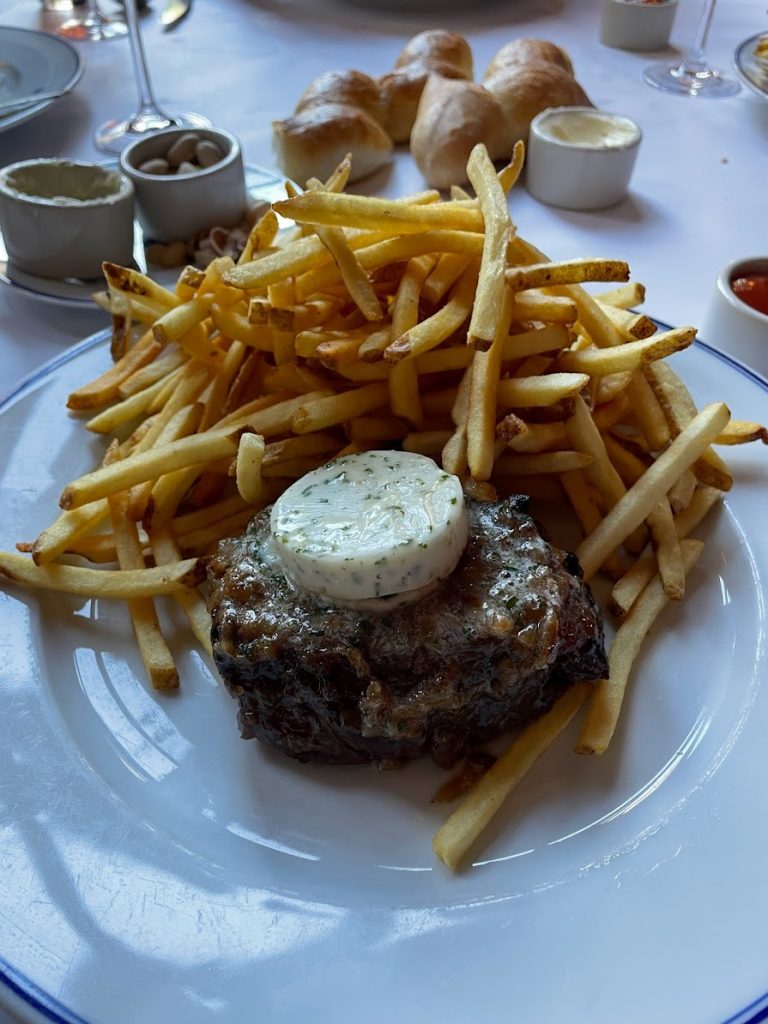 Bouchon
Rick and I went to Bouchon with some friends back in July. At Bouchon, we ordered quite the assortment of starters like escargot, the fromage du jour, and beef tartare. I opted for steak frites for my main and Rick got the croque madame.
Everything we had was amazing! We each had approximately 399 french fries on our plates and even the waiter said he'd never seen anyone finish all the fries.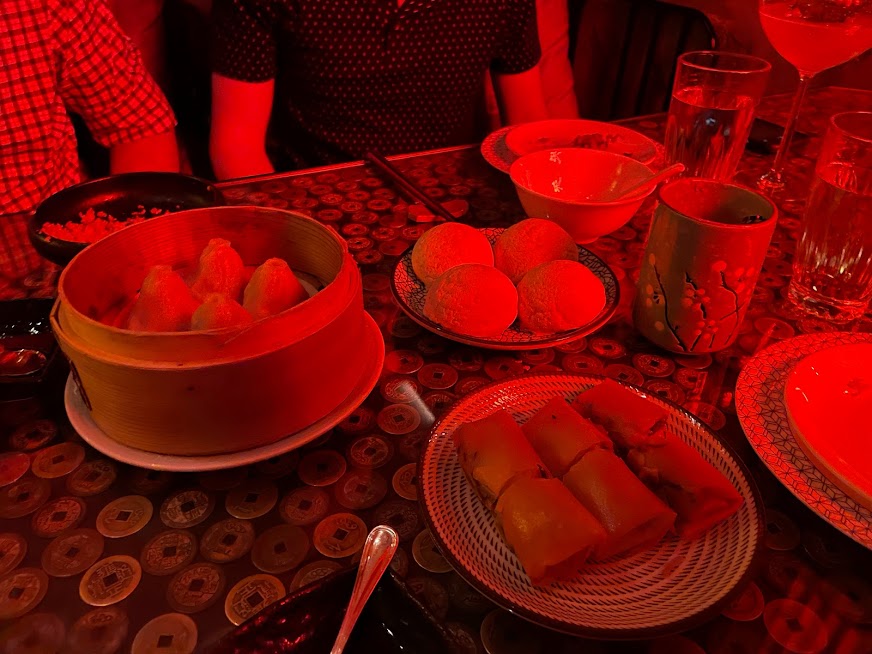 Mott 32
We met up with our friends for dinner at Mott 32. It was good we went there with friends as it was served family-style! We had a few appetizer, like the crispy baby octopus, the traditional pork Shanghainese soup dumplings, and shredded peking duck spring rolls. Then we had a few main dishes, a meat, a vegetable, and noodles. It was a great amount of food and we didn't leave overly-stuffed nor hungry.
I also went back to Mott 32 with my girlfriends as they had a good amount of Vegan-friendly options for one of my friends. Again, I love that it's family-style so you can try a bunch of different stuff and you definitely are not still hungry when you leave.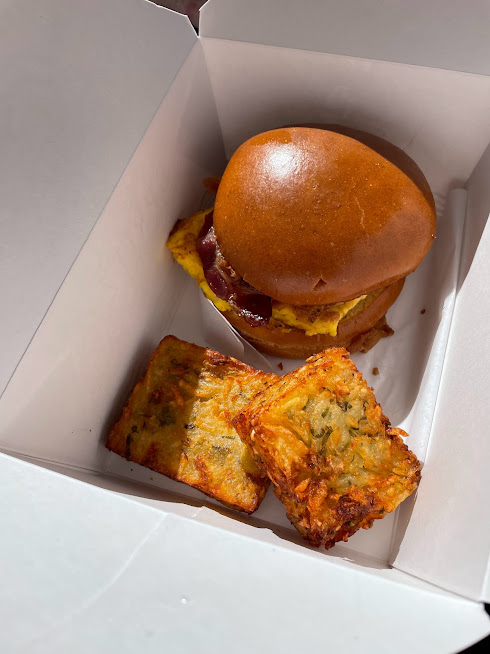 Spritz Restaurant & Bar
The poolside restaurant and bar serves up some great cocktails (I swear I could live off of my Dole Whips I get there), but we also tried some salad, pizza, egg sandwiches (seen above), and we got a whole bucket of chicken tenders when we had our daybed rental.
Everything we ordered was fantastic and well-prepared. I'd be more than happy to spend another day at the pool and ordering breakfast and lunch from this restaurant.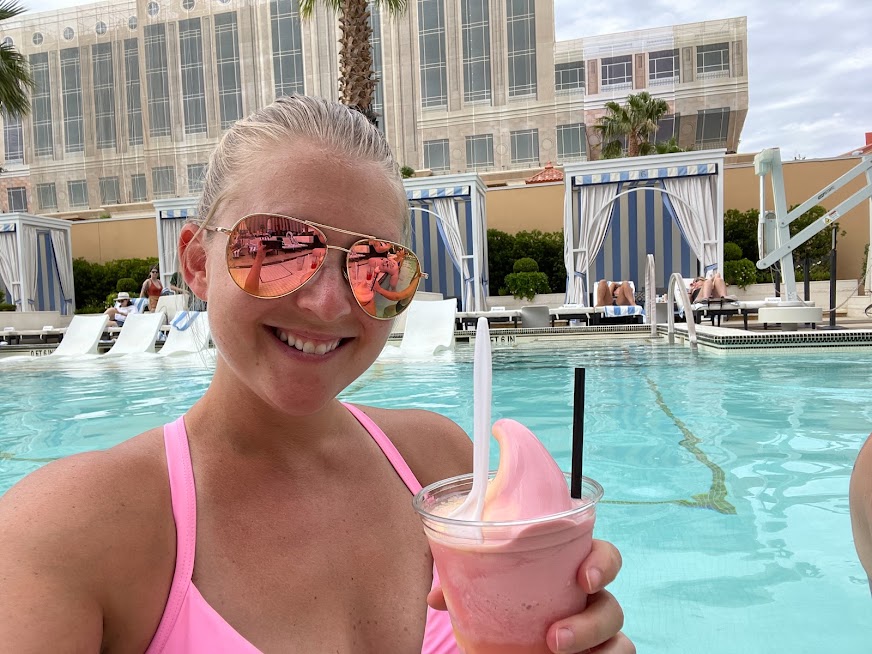 Check-in & customer service
Like I said earlier, check-in was extremely slow. I don't know what it is about Las Vegas or if the people checking in just have a billion questions but I always feel like check-in takes forever in Sin City. Unfortunately, The Venetian falls in line with that notion.
Other than that, every member of the staff we talked to was very polite and pleasant.
Housekeeping
Housekeeping is fantastic and really made sure our room was ready for us to collapse back into after a day out in the sun or after imbibing a few too many drinks.
Price
For my trip with the girls, my portion of the room charge was $472 for a two-night stay (Friday-Sunday).
Location
The Venetian is located at the north end of the strip, next to the Wynn and across from The Mirage. It's easy enough to walk wherever you need to go. One night, a friend and I walked back from Excalibur with no problem. And another we walked to the Flamingo for a show and minus getting lost inside the Flamingo looking for the theater, it wasn't a bad walk.
Have you stayed at The Venetian? Tell me about your experience at the Las Vegas hotel in the comments below!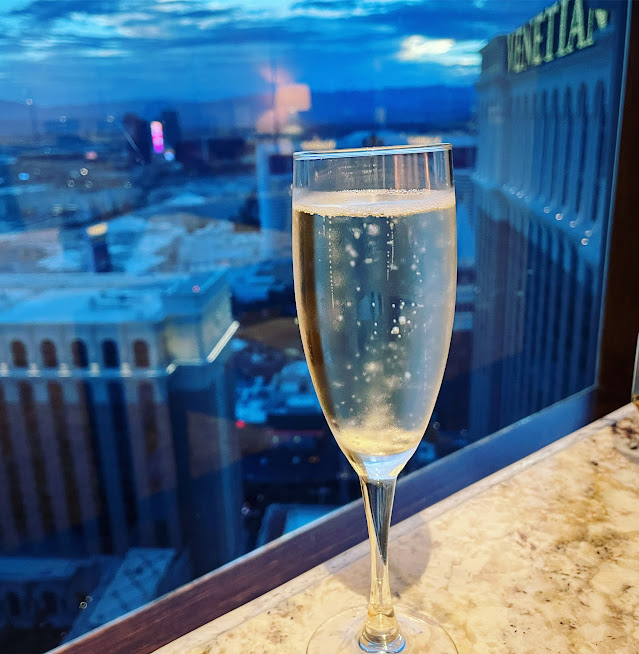 Like the post? Share it now!