Looking for a new piece of luggage for an upcoming trip or little getaway? Last Christmas, I asked for the Lo & Sons Catalina Deluxe weekender bag and Rick surprised me on Christmas morning with a midnight ash version of the bag! I've had my eye on this bag for a while now and after having used it for a few trips this summer, I thought I'd share my thoughts in my review of the Lo & Sons Catalina Deluxe!
Capacity
For a weekender bag, this can carry quite a lot! For our Europe trip I was able to pack three pairs of shoes, a travel towel, a pair of jeans, a pair of yoga pants, leggings, a blazer, four shirts, three dresses, workout clothes, socks, PJs, and my toiletries. And on the way home I was able to stuff some souvenirs, including a leather purse, in there as well!
It's a great option for quick getaways as it meets the size regulations for carry-ons with the airlines. The gate agents never even gave my bag a second look while boarding the flight, while I saw other passengers have to put their bag in the size bin to ensure it'll fit in overhead storage.
The design also makes it quite thin while it's set down, so I had no issues being able to put in the overhead bin on any of my flights.
Versatility
There are three ways to carry the bag: Using the handles, using the padded shoulder strap, or attaching it to your bigger, rolling luggage.
The bag has suitcase sleeves so you can slide your roller bag handle through it for easy transport in the airport. Which is good, since one con is that while it does carry a ton it also gets really heavy and puts a lot of strain on the shoulder straps. I used it for our big Europe trip this summer and expected it to be weighted down, but then I used it for my bachelorette party weekend and it was still quite heavy even though I had about half the items.
The storage is fantastic and you can get a lot in the bag, but expect it to be a bit uncomfortable when using the shoulder strap. The padding isn't that thick on the strap, so you definitely feel the weight in your shoulder. I would put the bag on top of Rick's suitcase while walking in the airport to help take the strain off my shoulders.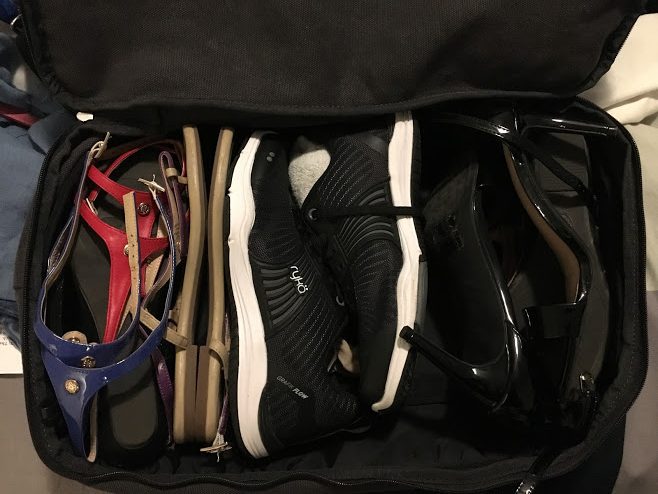 Quality of the Catalina Deluxe
The canvas is great quality and very sturdy. I haven't noticed any scratches or damages even after dragging it through a few airports. The top and side zippers work well and I haven't had any issues with them getting stuck or being difficult. The padded storage area is great and there are a variety of interior and exterior pockets. The only con with the padded storage area is that I've had the zipper slide open on me while I'm walking. When Rick and I were hustling to catch a train, the pocket opened and one of my sandals fell out. Luckily, a guy behind me called out and I got my shoe back. I'd just say watch how much you put in there and double check that it's closed every so often.
Price
The smaller version starts at $128 and the larger at $158. I wouldn't have paid that for the bag, but they do offer a variety of sales throughout the year and I believe Rick got my bag while it was closer to $100. I feel for the quality and use I've gotten out of the bag that that was a good deal.
Overall thoughts
Overall, I'm glad I got it and I'll definitely use it for upcoming trips, like a three-day cruise or ski weekend, but it will probably stay in the closet for longer trips, which makes sense as it's designed as a weekender bag. The quality is amazing and I just love the extra padded storage at the bottom of the bag for shoes or to keep my dirty clothes separate from my other items. For how much this thing can carry, it's worth it, just maybe don't plan any long walks while using the shoulder strap.
What's your go-to for luggage? Tell us in the comments below!
Like the post? Share it now!