Rick and I recently took a nice little trip down to Mexico aboard the Independence of the Seas on Royal Caribbean's 4 Night Western Caribbean Cruise.
It was a perfect weekend getaway that nicely coincided with Valentine's Day and the perfect time to get out of Denver's snowy weather and into the bright sunshine of the Caribbean!
We flew into Fort Lauderdale the night before to check out the area and make sure we'd make it onto the ship on time. This isn't our first cruising vacation and we've learned it's a lot less stressful to get there a day early just in case there are any flight delays.
Our last few cruises have been in the Caribbean but normally we visit the Bahamas and Royal Caribbean's island of Coco Cay and this time we wanted to try something different and see what cruising to Mexico is like.
If you're thinking of a quick cruise with Royal Caribbean to Mexico, read on to see our review of our recent experience!
Cruise itinerary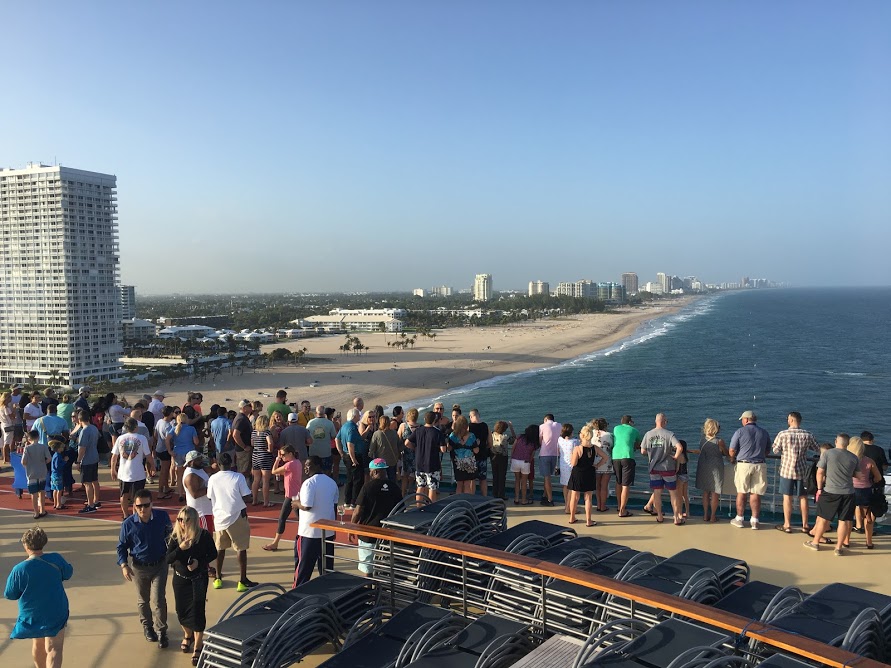 Our cruise departed from Fort Lauderdale at about 4:30 on Day 1, complete with a Let's Get Loud Sail Away Party.
Day 2 and 4 were both sailing days and packed full of entertainment, shows, and activities by the pool. Day 3 was our day docked in Cozumel, Mexico and it seemed a lot of people had booked shore excursions to get back to Mexico's mainland and go on a tour.
Day 5 was our return to Fort Lauderdale and we were docked in the port at about 7 a.m. and we could start departing at 7:45.
Check-in & check-out
Our last departure in Miami went so smoothly where we went through bag check and then right onto the ship. This time we went through bag check and then got put into smaller groups and waited for about 15 minutes before being let onto the ship.
Once aboard, we went and grabbed something to eat while waiting to go pick up our keys, which would be available around 1 p.m. Our bags made it to our room later, about 3:30/4 p.m. which was fine since we had packed all of our day-of things in my purse and Rick's backpack.
We always opt for self check-out so we can depart as early as we want – this was especially important since we had a 10 a.m. flight back to chilly Colorado (I'm still trying to hold onto my tans as best I can).
If you're comfortable carrying your own bags off the ship, I recommend this method as it's pretty straightforward, just make sure you have your seapass card in hand to be scanned and then your passport at the ready for going through security in the terminal. It took us about 45 minutes total to wait in line to be scanned off the ship and go through security.
The Independence of the Seas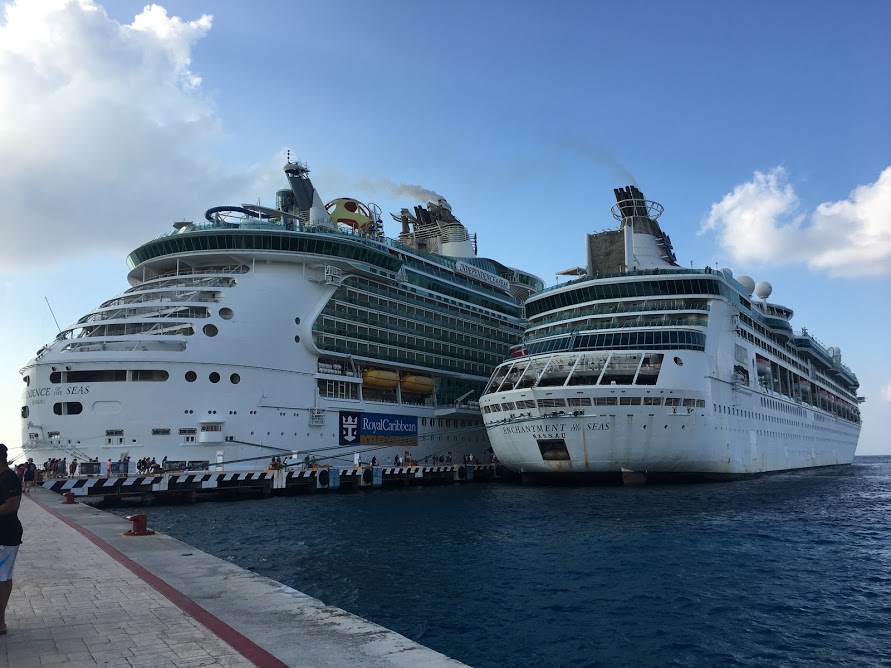 The Independence of the Seas was bigger than our last trip aboard the Mariner of the Seas though many of the bars, activities, and entertainment were similar. While everything was familiar, it was nicer that it was spacious and I felt we had faster bar service aboard this ship. I really enjoyed our time aboard the ship and would happily book another trip aboard this particular one.
Accommodations
Like last time we opted for a balcony room and this time we found ourselves on the 10th floor. Our balcony had a little table and two chairs, and our room was furnished with two Twin beds pushed together, a couch, a TV, desk/table area, bathroom, and a safe.
I will say that you shouldn't expect the most comfortable mattress and pillows in your room but they're not the worst I've ever experienced either.
The room was always well maintained and expertly cleaned up while we were out and about during the day. Our attendant even left us clean wine glasses next to our bottles so we didn't have to bring our own back from the bar, which was nice.
The best part of the room was definitely the balcony and having a great view of the ocean or being docked in Mexico.
Drink packages
Drink packages started at $82/day per person but on the first day they were offering a buy one, get one half off deluxe beverage package. If you pre-bought your drink package it was closer to $64/day per person.
This time Rick and I opted not to book drink packages as we brought our own two bottles of wine aboard, and we knew we'd have free drink tickets with our Diamond status so we felt it wouldn't be worth it to add a drink package on top.
We did come out ahead by skipping the drink package, I only spent $75 on drinks during our cruise and Rick was right above $100 (thank you, $2 mimosas in the casino!).
We knew we wouldn't drink enough this time around to make a package worth it, but if you do plan on drinking all day by the pool and then having a few with dinner and during the shows, you might want to price out if a beverage package is worth it.
Dining and bars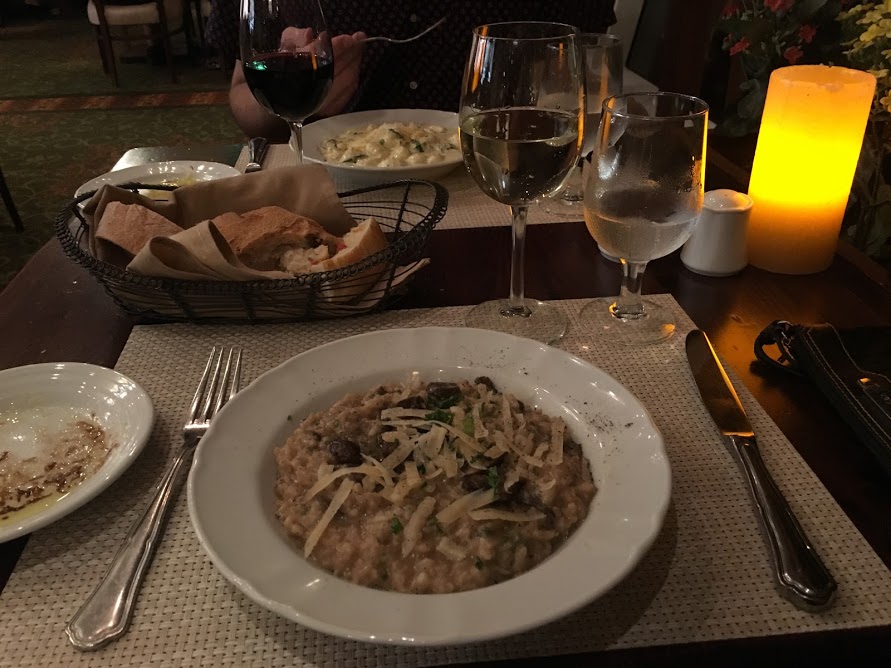 Our ship had eight bars and lounges, plus a few bars by the pools, so it was very easy to get a cocktail in your hand if you needed it. We both liked Schooner bar, where trivia was hosted, and we both liked Playmakers for their pool tables and arcade games, and I loved Boleros for the latin music and Salsa dancing. There seems to be a bar for every type of mood, if you want karaoke or if you want to leave the entertainment to the professional bands.
I wish we had gotten time to check out the Champagne Bar and Vintages, the wine bar, but we honestly got our fill of drinks elsewhere during the day.
I love that there's a daily drink of the day so we could try new, fun cocktails, like portside punch, margarita azul, and starboard madras.
For dining, honestly Rick and I enjoy the buffet restaurant, the Windjammer. The food is good, constantly replenished, and the restaurant staff courteous and always cleaning things away. It's really the other passengers that can make or break your buffet experience as there is no decorum in the dining room it seems, everyone just grabbing at tongs or butting in where they want.
The other included dining is found at Sorrento's Pizzeria and the Cafe Promenade, which serves up sandwiches and desserts. All the pizza we devoured was great and I loved the shrimp sandwich at the promenade as well as their desserts – especially when they were serving up the heart-shaped Valentine's Day cakes.
We did book a (late) Valentine's Day dinner at Giovanni's Table on our last night and while the food was very good I'm not sure it was worth the extra cost. We both sampled each other's dishes as it's a prix fixe menu and I got the octopus starter, risotto with truffle oil, and tiramisu, and Rick got the clams, gnocchi with gorgonzola sauce, and chocolate cake. The food was quite tasty but it did come at a cost and we had to make reservations.
I would be open to trying a specialty restaurant on a future cruise but we're also okay with just eating at the buffet as they have so many options and the food there is very good.
Diamond Lounge
Thanks to my parents I've had Diamond status and got to bring Rick into the fold so we can enjoy all the perks of being a Diamond member. Located on the 14th deck, this lounge has both indoor and outdoor seating, which overlooks the Sky Pad and back of the ship.
The lounge hosts a happy hour every day where members can get free drinks or can visit other bars from 4:30-8 p.m. and get up to three complimentary glasses of certain wines, beers, or spirits. They also serve hors d'oeuvres during the happy hour that includes little light bites like sushi, pigs in a blanket, meatballs, egg rolls, or wings.
Things to do on the Independence of the Seas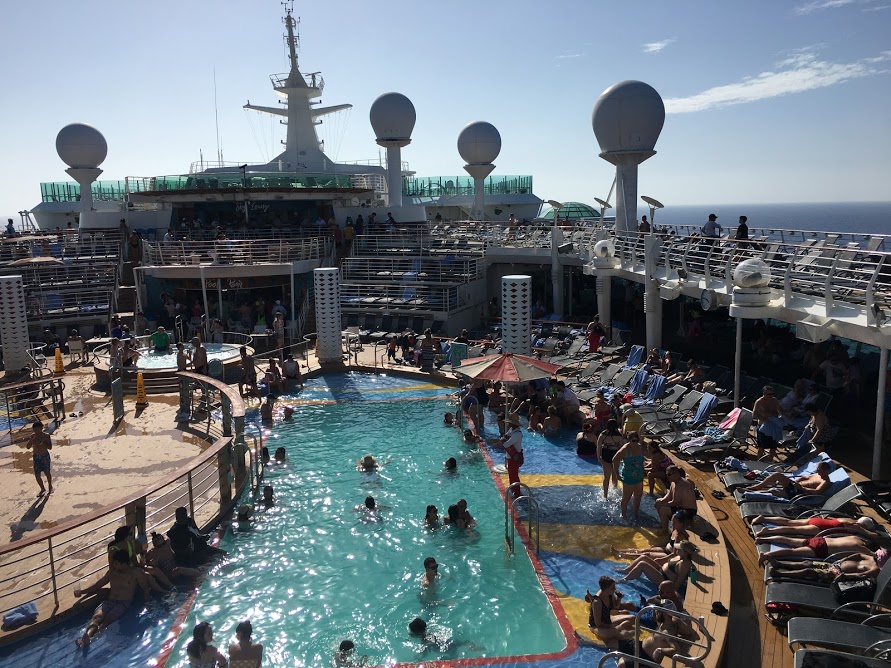 There's no shortage of things to do aboard a cruise – from hanging out by the pools, going down the waterslides, attending a class, playing in the casino, dancing to live music, to catching a show or live performance. Trust me, you cannot possibly be bored on a cruise ship or you really have to go out of your way to be bored.
On the first night Rick and I went to the Boleros bar for their Salsa dance class which was very fun! They also hosted other dance classes during our cruise but that was the only one we made it to as we took Salsa lessons early on in our relationship, so that was a cool trip down memory lane for us.
We also spent a lot of time at the Solarium pool as it's the adults-only pool – just get there early if you want a seat near the pool, both in or out of the sun. We did go over to the family/kids' section to take our turns on the two waterslides (tip: go in the late afternoon for shorter lines) as well as watch people wipe out on the Flowrider. Above the pools they also had a mini golf course and indoor arcade and teen hangout area for families.
One thing I did enjoy about our balcony room was the opportunity to escape the crowds if we wanted to but still enjoy a fantastic view of the sea. On our last sailing day, we were passing Cuba and had a nice view of it from our room while we read and sipped cheap mimosas.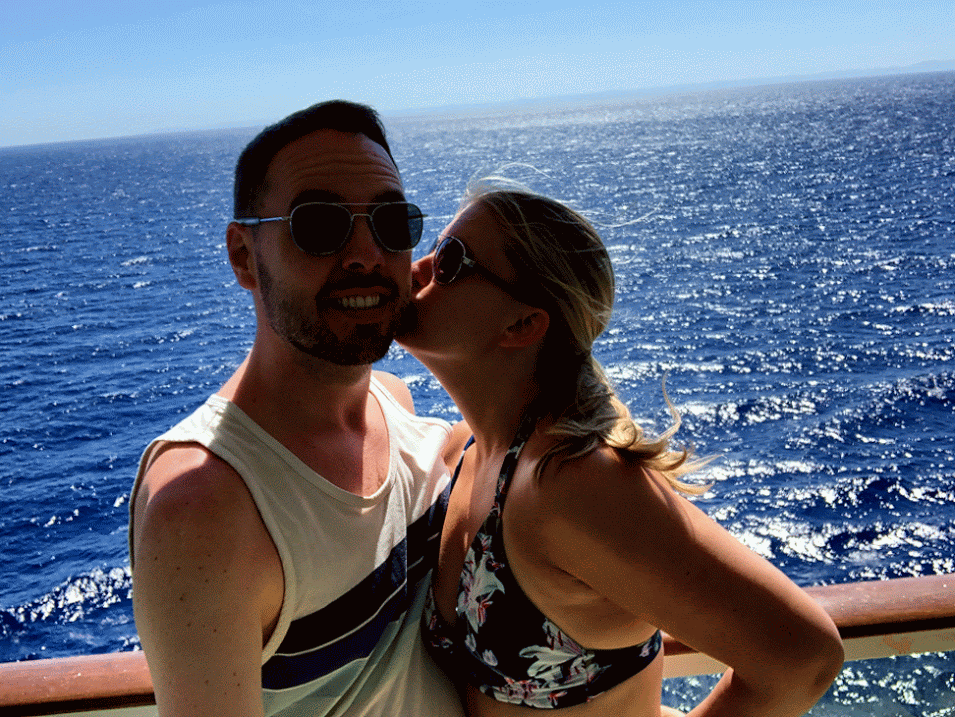 I loved the variety of bar trivia, like Friends, Big Bang Theory, and Harry Potter trivia, name that tune, and so on. There was always noise coming from one bar or another aboard the ship, luring people to come belt out a tune or sing along or shout out answers to trivia.
We also spent our fair share of time down in the casino trying to find some luck. The casino is well placed if you want to kill some time before the headliner and comedy shows!
Entertainment
Grease the Broadway Musical was the main live performance on the cruise and we didn't have time to catch it, but we did see some of the same performers in the final show, Invitation to Dance. I loved the ice skating performance, Freeze Frame, that had little skits from the 1940s to '70s.
The third night's headliner was David Lucas for his variety act show and he was fantastic. He could juggle, tell jokes, and pull off amazing feats of balance.
There were two comedians for the adult late night comedy, Louis Johnson and Kivi Rogers. Both were hilarious and made the standard cruising jokes about the buffet and ports of call, but also had their own captivating stories and jokes. That's one thing Rick and I always try to see, the comedy shows, as they're so funny and it's a great way to end your night or at least keep you smiling as you wait in a long line for the free midnight pizza at Sorrento's.
Spa services
We each booked ourselves a massage treatment before going aboard, Rick a 75-minute Swedish massage and a 60-minute hot stone for me. We've done massages on cruises before and this treatment was perfect. My therapist was right on time, very friendly, and wasn't pushy at the end with products. It was a heavenly experience and I'm so glad we saved our massages for our last day on the ship to end our trip on a relaxing note.
The prices are a bit higher than average but they do include gratuity already, although both Rick and I tipped an additional $15 on top for excellent service. I would highly recommend their spa services after a few days at sea!
Shore excursion in Cozumel

This cruise had two days at sea and one day docked in Cozumel. We had pre-booked a whole-day excursion for our time there with the Tulum & Beach Break trip. This eight-hour adventure took us from the port in Cozumel over to Playa del Carmen on a ferry and then we took a private bus to Tulum.
Fair warning, the ferry ride to Playa del Carmen was very rough. I was not the only person getting sick but the crew was very well prepared for this and was helping people overcome their sea sickness or handing out bags. The ride back to Cozumel wasn't as rough but still not the best for anyone who suffers motion sickness. I highly recommend extra precautions, like Bonine or Dramamine, and bringing some peppermints or cash to buy ginger ale.
Tulum was an awesome experience and so glad we got to go check out the preserved Mayan ruins along the coast. We had a tour guide, Jesus, who took us around and explained what we were looking at, the culture of the Mayans, and how they built everything there. It was neat hearing about the materials they used for their structures and what they valued as people, like cacao beans instead of gold.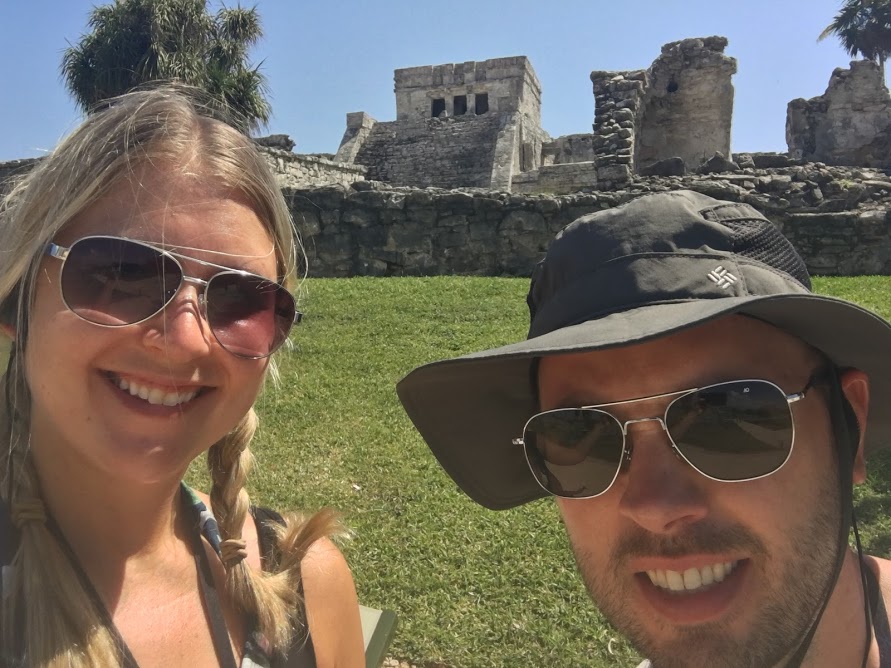 After our guided tour portion, Jesus told us we had about 30 minutes of free time to explore and then how to get back to our meeting point at the bus. I wish we had a bit more time so we could have explored the ruins on our own and still have time for shopping, but by the time I was done taking a look it was time to hustle back on the bus.
Next was the drive down to our beach location near Playa del Carmen for lunch and a cash bar experience. The beach was beyond gorgeous with beautiful turquoise waters lapping at the sand. Since I knew another ferry ride was right around the corner I opted to have just a bit of white rice at lunch, but there was fresh fruit, rice, tortilla chips, fish tacos, and fajita vegetables on the buffet line. We also got a free drink coupon, good for soda, water, or a beer.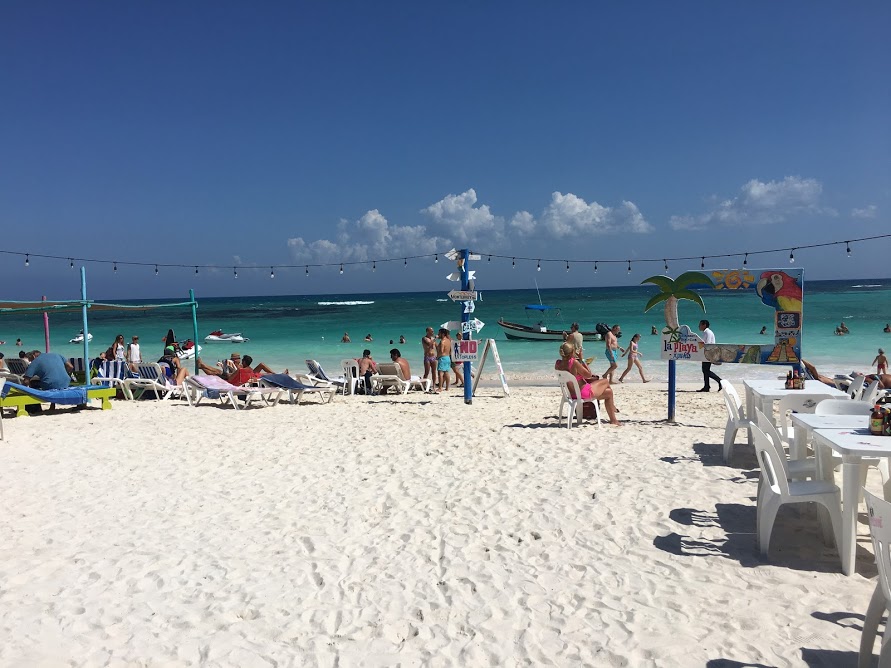 I also wished we had more time at the beach to play around and sunbathe but before I knew it it was time to go back on the ferry and back to Cozumel. Jesus gave out some advice to help quell people's fears and tips on how to make the ferry ride easier. His advice for sitting in the back and just going with the rocking motion of the boat, as well as watching whatever they played on the TV really did help. I don't think anyone got sick on the return trip!
Cruise staff & housekeeping
All of the staff we interacted with, from bartenders to restaurant attendants, were friendly and always said hello. The only issue we had was for our excursion, our printed tickets were not in our stateroom upon arrival and we needed printed tickets to sign in. Fortunately guest services weren't busy and they were able to print our passes quickly, but all other times we've had excursions our tickets were already in our stateroom, so double check your room to make sure you get everything you're supposed to get.
Our stateroom attendant was like a ninja, we never saw him but our room was always put back in perfect condition while we were out.
Crown & Anchor Society
If you do go on a cruise with Royal you'll definitely want to sign up for their Crown & Anchor Society so you can start accumulating cruise points and nights with the ship to earn rewards and discounts both on land and aboard each ship.
Benefits of being Diamond members include:
Three free drinks during happy hour, about 4:30-8 p.m., from a special menu
BOGO glasses of wine, beer, or soda
One free day of internet
One free photo
Shopping discounts
Spa discounts
Discounted room rates
Weather
The weather down in the Western Caribbean and Cozumel in February was very nice with temperatures averaging in the high 70s and low 80s and super sunny with barely a cloud in the sky. I loved, loved, loved the weather while Rick hid under his hat and in every shady spot he could find.
Sunrise ranged from 7-7:15 a.m. and sunsets were from 6:15-6:45 p.m. and each sunset was picture-perfect as the setting sun lit up the blue ocean with hints of yellow and orange.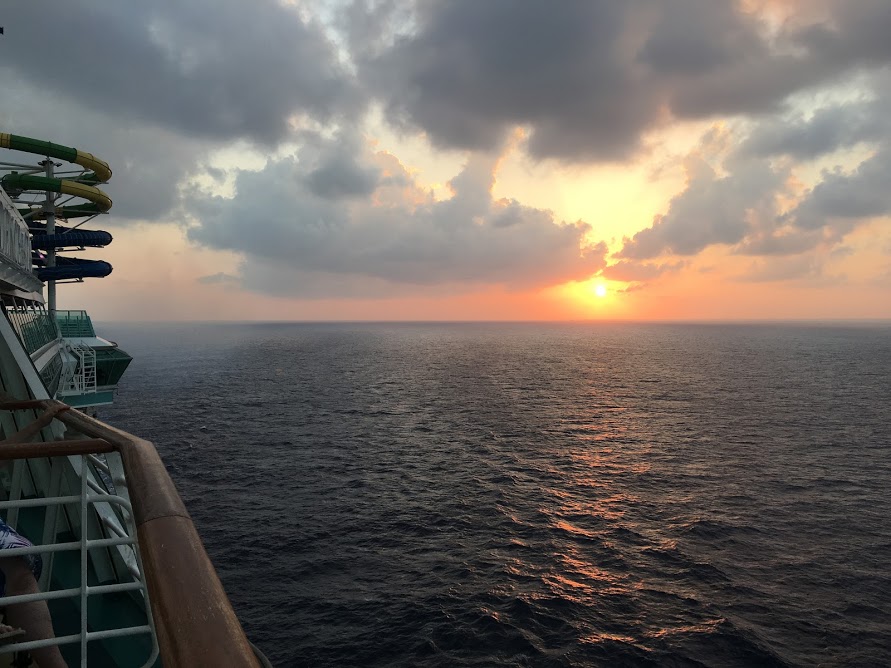 The Royal Caribbean mobile app
Before going on board I recommend downloading their app as it has deck maps, the daily itinerary, can link in your reservations for excursions or dining, and basic information on open/close times of restaurants and activities.
Overall this was a great experience aboard the Independence of the Seas and a fun trip down to Mexico. It was relaxing and we always had something to do or we could easily do nothing if we pleased. I think next time I'd like to check out a cruise that has at least another stop or visits several islands in the Caribbean but if it was on this same ship I'd be very happy.
Have you done a four-day cruise down to Mexico? Tell us what you thought of your adventure in the comments below or on Facebook!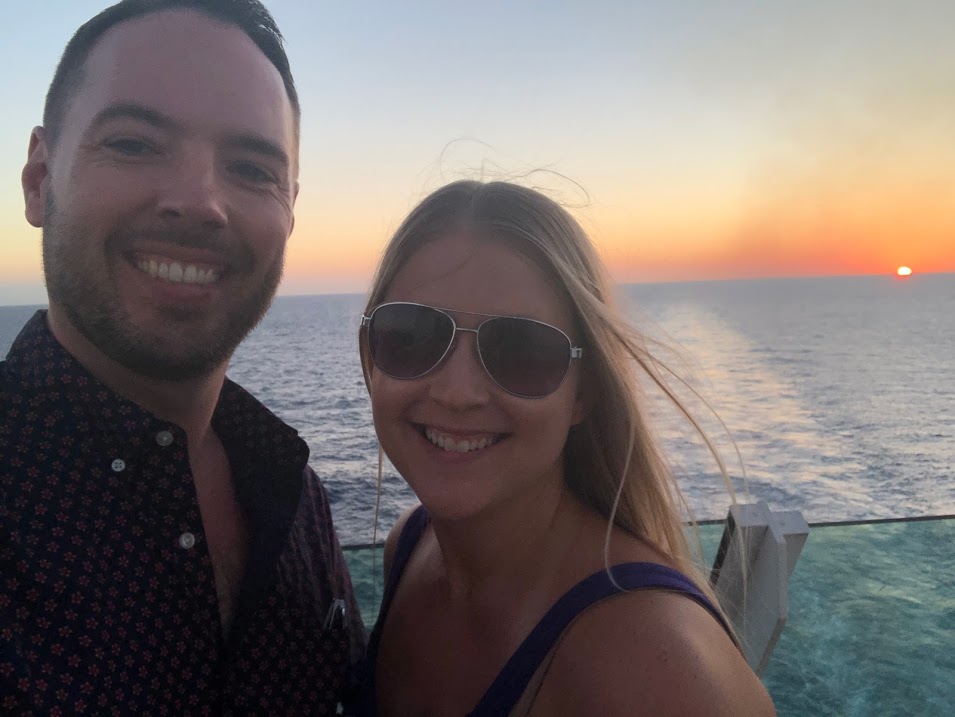 Like the post? Share it now!