Last April, Rick and I went to Jamaica for a great getaway and selected an all-inclusive Sandals Resort – Sandals South Coast (was called Whitehouse when we booked) for our trip. We picked it because we didn't want to deal with coordinating transportation, budgeting money for dining and drinks, and to enjoy a kid-free vacation resort.
We had a wonderful time at Sandals South Coast and it actually inspired us to choose Jamaica as our honeymoon destination, though we're looking at staying at Ochi for a change of pace but still enjoying that all-inclusive experience.
South Coast has a very relaxed vibe and at times it felt like we were the only people at the resort. The pools could get crowded by mid-morning but we spent most of our time down at the beach so we didn't really notice. Overall, it was a great choice for a relaxing tropical getaway.
Our review of staying at Sandals South Coast
Butler level service
We opted for butler level service on this Sandals vacation and it was the best decision! We had two butlers and they were both attentive, friendly, and took care of our every need. We were arriving to the resort a bit late so we asked if we could have some light snacks, a bottle of champagne, and a hot drawn bath upon arrival. We got it all.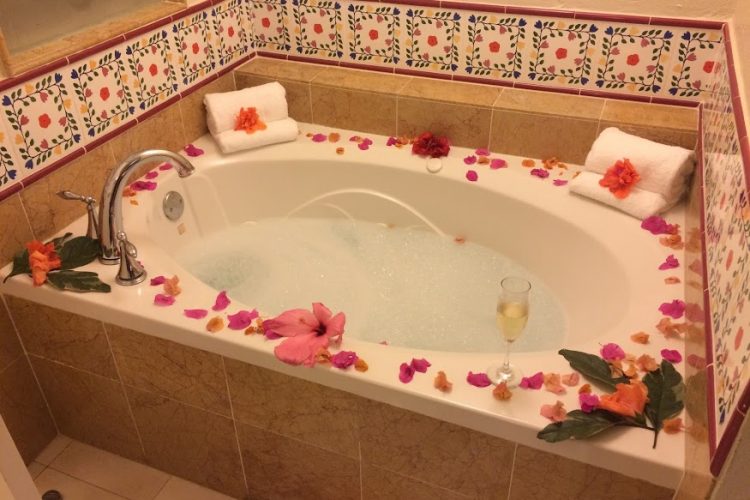 It was a great start to the vacation. Our first butler asked about our drink preferences so she could ensure the room was correctly stocked and that they could bring us our favorite drinks while lounging by the pool or out at the beach. She covered information about the resort and all the amenities and gave us a cell phone to reach our butlers while out and about.
They arranged all of our dinner reservations, put fresh flowers out on the table for us, and booked all of our activities and spa services. It was awesome. Butler level service also included two reserved loungers down on the beach with a giant shade covering and each morning a cooler was dropped off with beers and water and every so often one of the butlers would come around with a specialty cocktail or your favorite drink.
Our butlers also took note of our schedules or habits, like we requested some champagne around sunset one night and the next night it was delivered without even having to ask. We'd also come back to our room and find trays of little desserts or chef-crafted snacks in the main room, which was always a nice surprise. They also assisted us with check-out and let us know when we had to have our bags ready and took care of everything for us.
The only hiccup we had organizing our spa services and getting lunch delivered before we left, which didn't happen. It definitely didn't ruin the day but was a slight annoyance. Overall, I think anytime we do a Sandals getaway, we'll be paying a little extra for butler service.
General Sandals customer service
All of our interactions with other staff members and customer service reps were pleasant and easy. If we had any questions, their online chat reps were quick and answered all of our questions. Our driver to the resort was funny and personable and the staff members we met at check-in were very nice and immediately offered us cocktails and snacks. Our room service was top-notch and the friendly staff members that stocked our bar would give us a call if to see if we had any special requests or if we needed additional mixers.
Accommodations
Our room was on the top floor and had a wonderful view of the beach and ocean from our balcony and a great view of the lush greenery of the island from the front door.
Our room was nicely furnished with two sofas, a desk and chair, and a fully-stocked bar – with both white and red wine, mixers like Coke products, Appleton Estate Rum, Absolut Vodka, Tanqueray, and Johnnie Walker Black Label – in the main room though some of the furniture did seem to be dated, it definitely didn't bring the quality of the room. The bedroom had a huge King-sized bed, nicely sized closet, and an extra large bathroom with a jetted tub. The shower was separate from the tub and was a huge, tiled walk-in shower. We never felt cramped using the shower or sharing the vanity.
Sandals South Coast restaurants and food
I'm sure Rick is just exhausted of hearing me rave about the amazing sushi we had but I seriously cannot shut up about it, it was that good. In fact, all of the restaurants served great food and even the buffets were nice and didn't seem like the food was just sitting out for hours waiting to be eaten like we've seen at other resorts.
Some of our favorites include the seafood pizza from Giuseppe's, the shrimp kisses and potstickers from Jasmine's, the grilled Caribbean lobster tail from Schooners, and literally anything off the menu at Sushi on the Sand. The Cafe de Paris also had a great selection of desserts, crepes, and specialty coffees.
While the restaurants were open for breakfast, we honestly just had it delivered to our room to enjoy it on our private balcony overlooking the beach. You could order hot items off the room service menu, some flaky pastries, fresh fruit, and coffee and juice.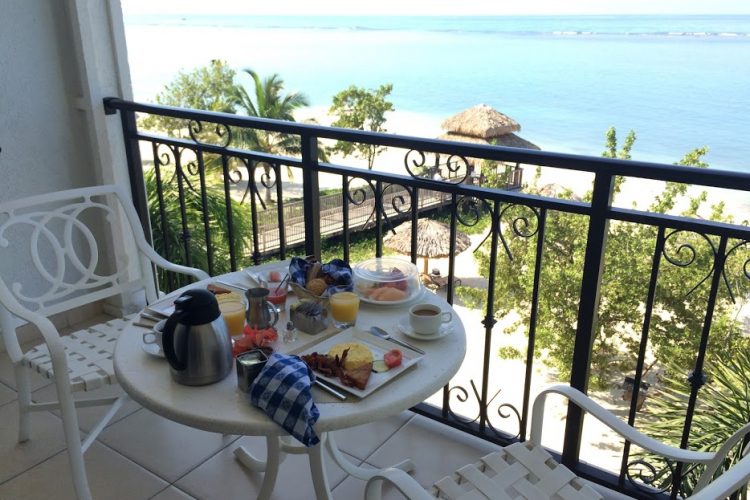 Bars and drinks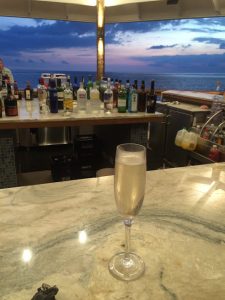 I probably downed like four of their hummingbird cocktails each day but they were worth it! One of the biggest perks of Sandals is the premium booze they serve at all the bars and kept stocked in our room. They have a variety of signature cocktails they can whip up for you or you can stick with Red Stripe beer or any of their Robert Mondavi Twin Oak wines (pinot grigio, sauvignon blanc, chardonnay, cabernet sauvignon, merlot, and shiraz).
The swim-up pool bars had decent service, sometimes it was a little bit of a wait, but between being served at the beach or if we felt like not being totally lazy we could just head back up to our room and mix our drink.
Jamaica activities
Sandals touts the do as much or as little as you want experience and there is a great variety of on-resort activities to enjoy. Some do need to be booked in advance and others are walk-up. We snorkeled a couple of mornings and made good use of their kayaks and stand up paddle boards (SUP).
They also had sailboats or what looked like mini catamarans, but I'm not much of a sailor so we didn't try those out. They do offer scuba diving as well but you either have to be certified or take their courses in order to dive with them.
Sandals South Coast also has four pools and four whirlpools (great for an evening in the water) and were great for a refreshing dip in the water without getting all sandy.
The on-site gym was pretty basic, a few treadmills, ellipticals, and weights but for a quick workout before drinking my weight in tropical cocktails, it got the job done. They also had tennis courts and a few mornings we saw the aqua aerobics classes taking place in the pool, which did look like fun!
Entertainment
We did see a couple of the live shows out on the beach and visited their theater for a dancing performance and talent show. The performers were fun, energetic, and great at getting people involved and out of their seats. The talent shows were awesome, we saw people balancing chairs and ladders on their faces, playing with fire, and doing some acrobatic flips around the beach. Next time, I think we'll schedule more time to catch the live entertainment or visit the bars for the nightlife activities.
Sandals South Coast Spa
We booked the Tropical Paradise spa treatment where we had a couples' massage on the beach. The massage therapists were great but it was getting a bit windy and wasn't as relaxing an experience as we were hoping for. After our massages, we got to relax in the shade with a glass of "chamberry." We'll give the spa another go next time we're at a Sandals, but maybe just stay indoors.
Add-ons
We decided to just relax and stay on the resort, so unfortunately we didn't do any of the off-site excursions. They did offer excursions and adventure tours like catamaran rides, a trip to Dunn's River Falls and YS Falls, dolphin encounters, and nature and wildlife tours.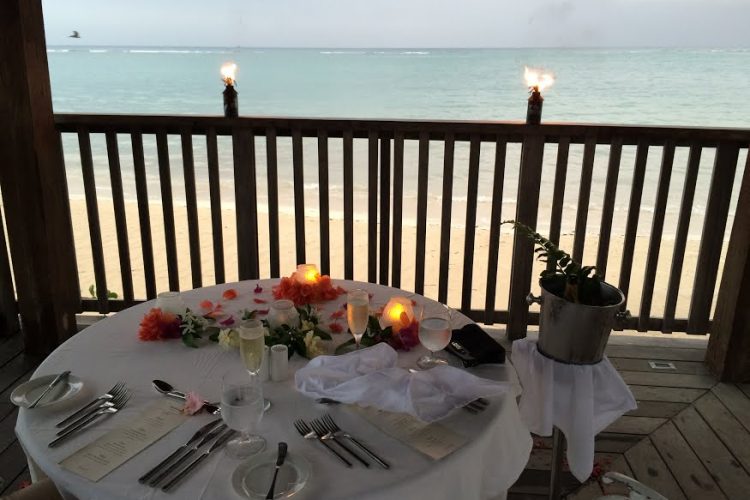 On our last night, we did a private candlelight dinner and that was nice experience, though not sure we'd do it again. Our waitress was great and on top of everything and we even had a little photo shoot before dinner – it's a shame it had just rained. The food was excellent and the ambiance was very romantic.
On our first night there, we had our butler schedule a sunset photo session. Rick and I had just gotten engaged in December and we decided to use this opportunity to have our engagement photos taken in a fantastic setting. It turned out to be an amazing choice as our photos were absolutely perfect. Our photographer, Ricardo, got beautiful shots of us and was great at telling us how to pose right for the photos. There were never any people in the background of our photos, the resort was a colorful backdrop for our photos, and we got lucky and had the best sunset of the entire trip as the ending to our photo session.
The cost wasn't bad either, but again we were treating this as our engagement photo session, but it was about $600 for all the photos on a CD as well as a hard cover book with all of our photos in. We also added a few other photos to our CD as photographers walk around the resort and snap photos of you on your vacation. Let's just say some of these candid shots are not the most flattering after the fourth or fifth cocktail and laying out in the sun all day.
Shops
We did pop into the shop to pick up some sunscreen, Advil, and souvenirs. Things were a bit on the spendy side but that's to be expected as an on-site shop. We were able to conveniently get everything we needed or anything we forgot as well as some cute gifts for family and friends.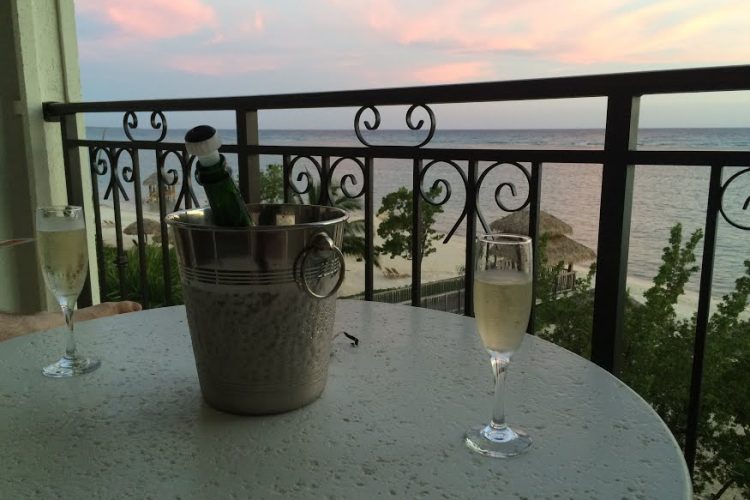 Weather at Sandals South Coast
We went to Jamaica in early April and enjoyed pretty decent weather on our trip – even starting off with some sunburns on the first day, oops! I'd say it was averaging in the mid- to high 70s each day. It did rain a few days of the week later in the afternoon, like 3 or 4 p.m. but only for half an hour or so. It would also start getting windy in the afternoon or early evening with some water activities unavailable due to the wind, so we just adjusted our schedule and made sure we were done with on-the-water activities earlier in the day. We did ask one of our butlers about the weather and she said it was typically windy this time of year in the area but I'll take a little wind to avoid an overcrowded resort.
Overall, we had a fantastic escape at Sandals South Coast and enjoyed butler service so much we recommended it to our friends when they were debating whether they should do it on their vacation. We're so excited to try another resort with Sandals for our honeymoon next year where we can relax and know everything is taken care of.
Like the post? Share it now!