Right before our January cruise, Rick and I spent a day in Miami Beach and had such a blast! This area of Miami is trendy, fun, and historic – the perfect ingredients for a fun Florida getaway. While visiting, we actually wished we had added another day to explore the area as there were so many exciting activities, tours, and restaurants to check out. If you're looking for the best things to do in Miami Beach, check out our top 10 recommendations!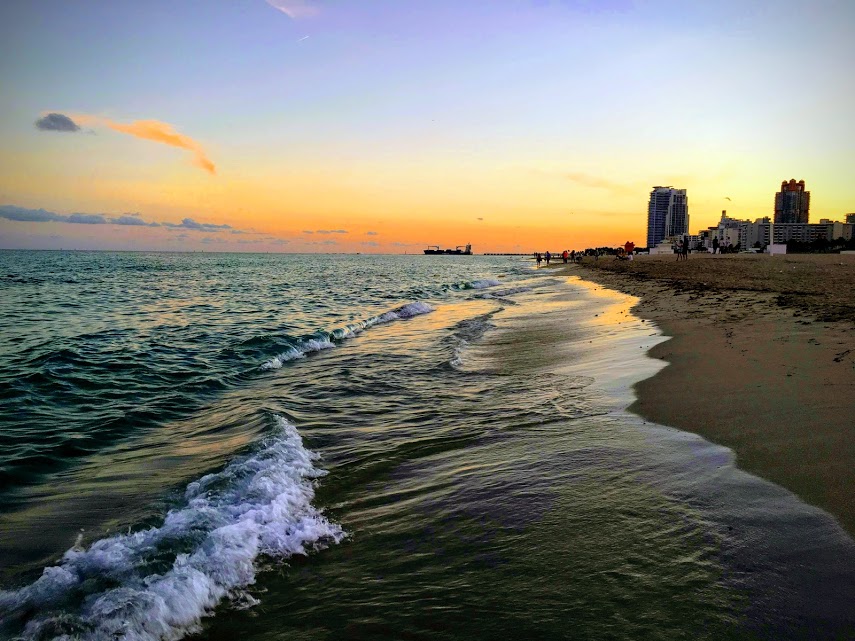 1. Watch the sunrise/sunset at the beach
Yeah, it's pretty simple, but it was one of my favorite things to do in Miami South Beach – and we did them both: Sunrise and sunset! The gorgeous purple, pink, and golden hues lighting up the sky, the non-crowded beach, and beautiful skyline really set the mood for a great trip. It was a bit chilly in the morning, but nothing that light sweater couldn't handle.
2. Book a bike ride
With a paved trail near the beach, it's the perfect location for a fun bike ride or if you want to feel like you popped out of your favorite '90s movie, rollerblading. Opt for your own self-guided exploration with a bike rental or find a guided tour to combine your Miami Beach sightseeing with some exercise – I mean, making room for all that delicious Cuban food!
3. Explore Miami on a duck
With these amphibious vehicles that are equipped for both land and water, you can explore more of Miami Beach without having to switch tour companies. On the Duck Tours South Beach's signature 90-minute ride, you pass by historic landmarks, hear entertaining commentary and fun facts, as well as take a dip into Biscayne Bay. Highlights include: South Beach, the Historic Art Deco District, Ocean Drive, Hibiscus and Palm Island, Millionaire's Row, and more.
4. Stroll the Historic Art Deco District
Did you know there are 800 protected historic buildings in this historic part of Miami South Beach? Most are dated from the 1920s – 1940s and include Art Deco hotels, restaurants, and clubs. Take a guided tour through this area that's on the National Register of Historic Places, or simply walk it on your own time and see the beautiful architecture.
This area is also a great destination for nightlife with fantastic bars and live music! You can't go two feet without hearing the pounding beat of Latin music in this lively area. Plus, this area is home to the film location for The Birdcage (The Carlyle, pictured above)! If you happen to be a Robin Williams, Nathan Lane, or Gene Hackman fan.
5. Let out your inner queen
If you're there over the weekend and in the mood for brunch, you can't miss the party at The Palace and its fun drag show brunch! They have two seatings, 11:30 a.m. and 2 p.m., on Saturdays and Sundays and brunch is $45 per person and includes your brunch menu item and bottomless mimosas – and of course, fabulous entertainment. If you can't time your visit over the weekend, they do have other fun daily specials like Monday's Beer, Burger, and Drag, Tacos & Tequila Tuesdays, and Way Back Wednesday.
6. Indulge in Cuban food
This area of Miami Beach celebrates its Cuban influence and heritage, meaning you have access to fantastic Cuban restaurants and clubs. Rick and I had dinner at Havana 1957 and shared a delicious pitcher of sangria, ate all the plantain chips they'd give us, and Rick got a traditional Cuban and I opted for the croqueta preparada. The sandwiches are gigantic, for real, we each took half back to the hotel with us.
7. Enjoy a fiesta and Flamenco in Miami
Another fantastic dining option is at Tapas y Tintos where you can treat yourself to authentic paella, tapas, and of course Spanish wine! The restaurant transports you from Miami to Spain with its decor, including Spanish Matador costumes, photos of Flamenco dancers and Spain's soccer teams, and if you time your dinner right, you can even enjoy some Spanish entertainment in the form of a Flamenco performance (Friday through Sunday at 8 p.m.).
8. Pull up a chair at Cabaret South Beach
Not sure what type of live entertainment you want to watch? Let the professionals at Cabaret South Beach take care of it for you! With a variety of performances, from ballet to jazz, this French-style cabaret is the place to go for a great show and delicious cocktail. Even the bartenders and servers provide entertainment as they're singers and dancers too! They also have a good menu of appetizers and small plates to accompany your drink.
9. See hot art
Part quirky and part kinky, you'll want to check out the World Erotic Art Museum. It makes for an interesting date night in Miami Beach with a selection of inappropriate pieces as well as "legitimate" art from across the word. Some of their popular collections include pin-up, Art Deco, comedy and glass, gay, Lady Godiva, African-Native American, and world culture. Take in the paintings, sculptures, and other unique works of art at this one-of-a-kind art museum.
10. Pick up some cool treats
In South Beach, treat yourself to a yummy dessert from Icebox Cafe! The cafe is open for all the major meals, but their dessert is to die for. With dessert items like the chocolate delight with dark chocolate, cheesecake brownie, and chocolate mousse filling, or the deep dish apple pie with a decadent butter crust filled with Granny Smith apples and streusel and cinnamon, or even the Florida favorite: Key lime pie, you can't go wrong with any of their tempting treats. Can't pick between the desserts? Get the Icebox Sampler, where you can three or five half portions to taste test a few.
Bonus Miami thing to do!
We didn't make it to the famous Haulover Beach, a clothing-optional Miami beach, but we have heard good things about it as it's rated as one of the best nude beaches in the world. It didn't make the cut as it's a bit out of the way from Miami Beach, but still seems like it should get some sort of mention.  If you want to erase some of those tan lines, be sure to add some time at this beach on your Miami itinerary.
Have you ever been to Miami Beach? Tell us about your favorite things to do there in the comments or on Facebook!
Like the post? Share it now!