With such an abundance of fresh seafood, exotic spices, and grillable veggies, Barcelona is a destination for any foodie. Rick and I ate very, very well while touring the Catalan city and we can't wait to get back there and indulge in more tapas, paella, and sangria! Barcelona's Spanish influence and own Catalan specialties make dining out in the city easy to do – the hard part is narrowing down what you want to order off of the menu.
To make that a bit easier, here are some recommendations on what to order when dining out in Barcelona!
What to drink in Barcelona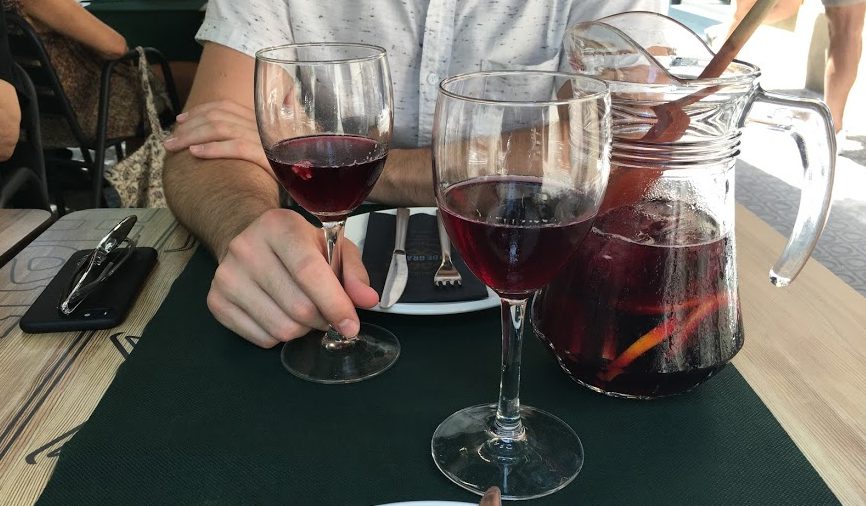 When it comes to drinking in Barcelona, especially pairing your beverage with tapas, there's no shortage of creative concoctions to enjoy. Most locals opt for something light and refreshing, so the flavors of the food aren't overtaken by the robust and bold flavors of your drink – so try to avoid a strong red wine, which is hard since Spain makes some delicious red wines! Save your tempranillo drinking for its own endeavor or pair it with some paella!
For drinks in Barcelona, order the:
Cava: This Spanish sparkling wine pairs excellently with a variety of dishes or simply on its own as a celebratory welcome to Barcelona!
Sangria: Whether red or white, sangria is a Spanish specialty and must-have drink in Barcelona. Red sangria is typically made with rioja wine, freshly diced fruit, and brandy. The white version is often made with cava and has strong flavors of apple and citrus.
Vermouth: A fortified wine flavored with herbs.
Basque cider: A hard apple cider from Basque Country.
Txakoli: A dry, slightly sparkling Spanish white wine.
What to eat in Barcelona: 17 must-haves
There are so many options and pairings to enjoy while in Barcelona, that I'm pretty sure we could stay for a month and still find new foods or tapas to try. Every tapas bar we went to had some classic recipes and then offered some new options or house specialties. While it's hard to order something bad there, there are definitely some traditional foods that you have to save room for.
When it comes to foods you simply have to eat in Barcelona, here are our top recommendations:
Pan con tomate (Pa amb tomaquet)
A simple dish of bread with tomato but it packs quite a flavorful punch. The freshly baked bread is rubbed with garlic and tomato before being drizzled with olive oil and salt to retain all the Mediterranean taste. The bread is melt in your mouth good and a must-try in Spain!
Patatas bravas
These potato cubes have the texture of breakfast potatoes or thick cut French fries and are served with a spicy tomato sauce and creamy garlic aioli. I'm not a fan of super spicy foods and even I enjoyed wolfing down patatas bravas with their yummy sauces.
Jamon Iberico
Take a quick lap around the Boqueria and you'll see many vendors offering deliciously thin strips of jamon Iberico. Whether you enjoy the ham on its own to savor every bit of its flavor or find it mixed with other ingredients and used as a bread topper, a slice of jamon is a must-have food when in Barcelona.
Pair your jamon with some manchego cheese for a tasty combination of Spanish flavors!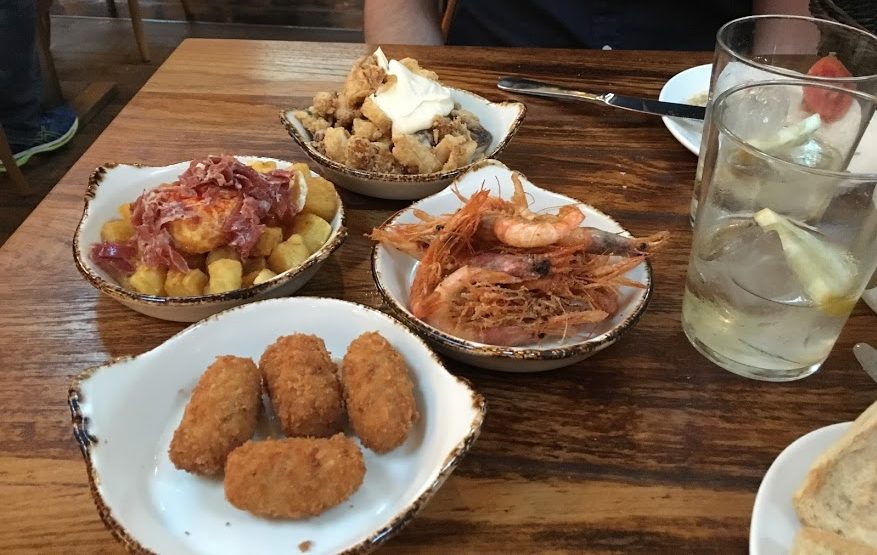 Croquetas de jamon
Croquetas can also be made with fish or chicken but our favorites were the ones made with jamon. These deep fried delights have a crispy breading on the outside and then a soft, delicious filling. Rick and I couldn't get enough of these and probably had them at every tapas bar we visited.
Calamari & chipirones
You can't forget to indulge in some seafood in Barcelona! Order the crispy calamari or the chipirones, deep fried baby squid. Many are served with a creamy aioli to balance out the varying textures of the breaded seafood. Another dish we simply couldn't order enough of!
Russian salad
Kind of like how we put marshmallows in a dish and call it salad, this salad isn't just a bowl of leafy greens. Similar to our potato salad, this dish includes potatoes, hard boiled eggs, peas, and some restaurants add additional vegetables to green it up a bit, and then a mayo-based sauce.
Gazpacho
Over here in America we have tomato soup and grilled cheese, and in Barcelona they have gazpacho, a chilled tomato soup, often served with pan con tomate. They really love their tomatoes! This dish is perfect for a hot summer day and as a lighter option for an afternoon snack or light lunch.
Calcot
During the late winter and into spring, you'll find calcot (a giant green onion) that's been barbecued and served with a tangy romesco sauce. They're crispy on the outside, soft on the inside, and impossible to eat without making a mess – hence why they're served with a bib!
Esqueixada
In the mood for a salty tapas dish? This salad-like recipe is comprised of salted cod with tomatoes, black olives, and onions. A great light option to balance out heavier tapas.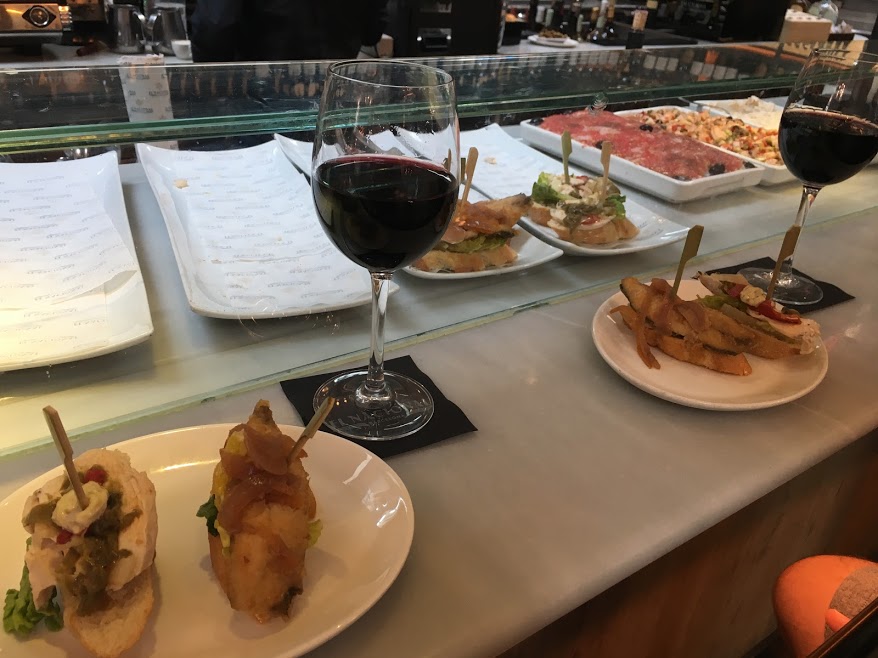 Escalivada
Vegetarians will love this tapa as it's grilled onions, eggplant, and peppers that are then preserved in olive oil. You can eat this as a side with fish or have it served on top of some bread for a tapa.
Bomba
Similar to croquetas, but potatoes mixed with ground pork and covered in breadcrumbs and then fried. They can be tennis ball-sized and are designed to look like grenade and go off with an explosion of flavor. The dish is served with two sauces: a spicy red and white garlic aioli to enhance the flavor bomb.
Chorizo
This spicy sausage is often found in paella but you can find it served on its own or with other ingredients in a tapas dish. We saw it as a breakfast meat at our Barcelona hotel and with its somewhat crumbly texture, it's a must-try while in Spain.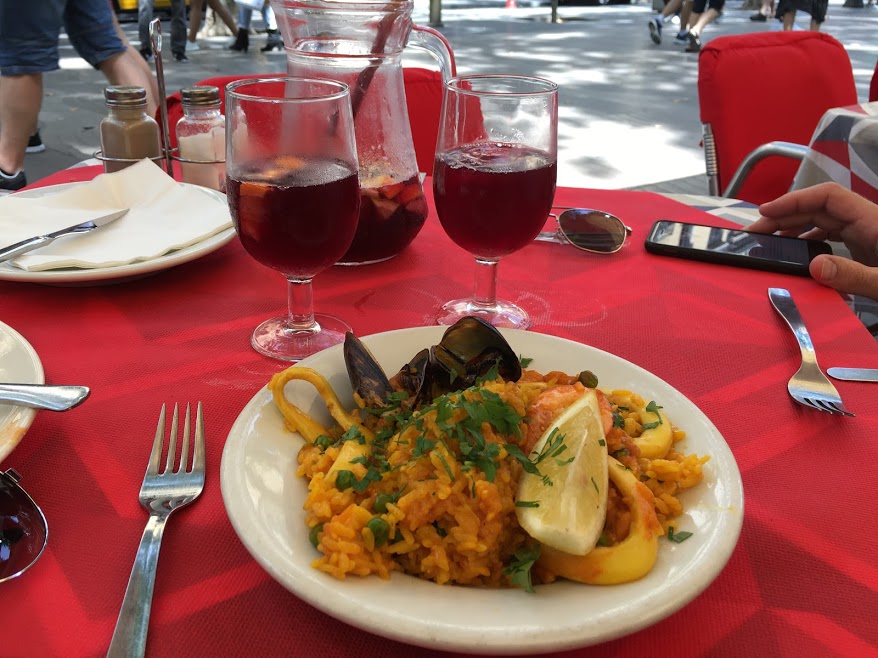 Paella
Though this famous dish originated in Valencia, it's easily found all over Spain and many restaurants in Barcelona offer their own varieties of paella and even have special offers for two with paella and sangria for a fixed price. The dish consists of rice, seafood and meat, peas, and the intoxicating flavor of saffron.
Fideua
This Catalan dish is the same concept as paella but uses a fideua noodle instead of rice. Most include prawns, calamari, chicken, and rabbit. If you love the idea of paella but want a bit more heft when it comes to your carbs, opt for this local specialty.
Cargols
Paired with an aioli and spicy sauce, you can find snails in Barcelona served a la llauna, with garlic, peppers, parsley, and wine vinegar, or la cargolada where the snails are cooked in their shells with salt, pepper, and a bit of lard.
Churros con chocolate
Whether you have them for breakfast, a snack, a dessert, a late night snack, what have you, you simply cannot visit Barcelona without treating yourself to this rich chocolate and sugary delight. Dip your churro in the thick, hot chocolate and prepare to die and go to heaven.
Crema Catalana
Want something a bit creamier and a touch lighter for your sweet treat in Barcelona? Opt for crema Catalana or creme brulee! The vanilla custard is creamy under its glassy, bruleed sugar crust.
Did we miss anything from our recommendations of what to eat in Barcelona? Tell us in the comments below or join the conversation on Twitter!
Like the post? Share it now!