Baby, it's cold outside, so warm up with a festive holiday drink! 
Family recipes and traditional food and drinks are important parts of the holidays and I love discovering the flavors of the festive season from around the world. In my family, we stick with wassail, sparkling wine, and a glass of ice-cold rum chata (paired with a sugar cookie for maximum goodness). 
If you want to try something new over the holiday season or you plan on traveling and want to try what the locals are imbibing, check out our list of traditional, international holiday beverages.
Perfect for the 12 days of Christmas, these 12 holiday cocktails from around the globe are sure to get you in the holiday spirit!
12 festive drinks for the holiday season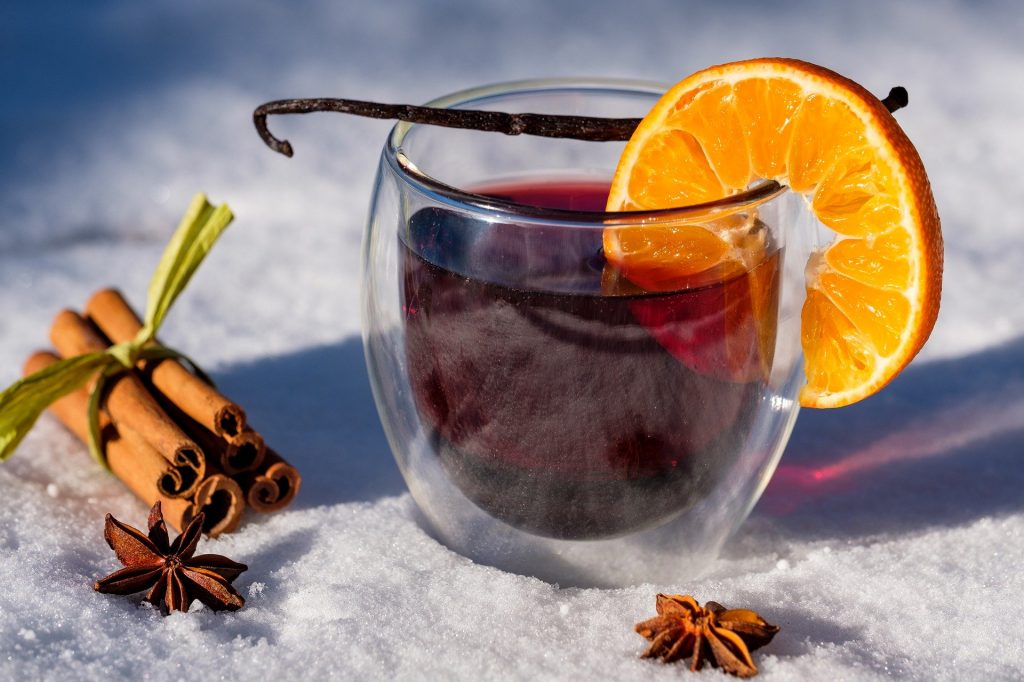 1. Eggnog, United States and Canada
We see it in pretty much every US-made Christmas movie or TV special, someone getting a nice cup of creamy eggnog on Christmas Eve and this is the go-to drink in North America when celebrating the holidays. Traditional eggnog is made with raw eggs, cream, milk, sugar, cinnamon, and a liquor of choice like rum, bourbon, or cognac. 
Want to add some island flavor to your eggnog? Try the Puerto Rican version, the Coquito! Instead of regular milk, swap in coconut milk and condensed milk for this fun concoction!
2. Ponche Navideño, Mexico
In the mood for something fruity? This Mexican punch is perfect for your Christmas festivities! It's a warm punch that features local fruits but is made special by featuring tejocotes. The punch can be served with or without alcohol as you add it at the end, so this is a great family-friendly option. 
3. Wassail, England
Here we come a-wassailing! It's not just a lyric, but a fun Christmas punch! This mulled wine is the drink of choice in England and you can toast your friends and family by giving them a hearty, "waes hail!"
4. Spumante, Italy
A little bubbly for your holiday gatherings? Add spumante, a sparkling white wine to bring some Italian flavor to your event. Spumante can both be served at Christmas and on New Year's Eve – and really, can you ever have too much sparkling wine?
5. Glogg, Sweden
Glogg, originally drunk as a medicinal remedy, is a mixture of red wine, sugar, and spices, like cinnamon, ginger, and clove. It was served hot and has been around since the Middle Ages – so there's something everyone seems to love about it. These days, you'll find it spiked with port, aquavit, or brandy for an extra dash of warmth on these chilly holiday evenings. 
6. Gluhwein, Germany
Another mulled, spiced wine makes the list! Gluhwein, a German take on glogg, features similar flavors with red wine, brandy, sugar, fresh oranges and lemons, cinnamon, and cloves. Gluhwein translates to "glow wine" and you'll feel warm from your head to your toes after sipping and savoring this holiday drink. 
7. Cava, Spain
Another bottle of bubbles can make it to your Christmas dinner table in the form of cava from Spain! Toast the end of the Christmas Eve feast and Christmas Day lunch with some of this sparkling white wine. 
8. Cola de Mono, Chile
It's like a mix of eggnog and a White Russian and translates to "tail of the monkey," so you know you're in for a good time with this cocktail. Enjoy a cold punch made from milk, coffee, sugar, cloves, and aguardiente. This festive drink is sure to add some spice to your holiday party!
9. Canelazo, Ecuador
The flavor of cinnamon dominates this holiday beverage but it's mixed with passionfruit juice, lemon, and water, with a splash of aguardiente on top. This spicy and sweet cocktail is perfect for those who are both naughty and nice on your list!
10. Sorrel Punch, Jamaica
Bring the flavors of the Caribbean to the bar with this Jamaican holiday cocktail! Sorrel is hibiscus so expect fun floral and herbal flavors with this Christmastime punch that also features tea, ginger, cinnamon, allspice, red wine, and, of course, Jamaican rum. It's colorful and served over ice – perfect if you're spending Christmas in the tropics!
11. Poppy seed milk, Lithuania
Unlike the majority of this list, cinnamon is not an ingredient of this beverage. This simple recipe has three ingredients: poppy seeds, water, and honey. The ingredient list is short but the time it takes to make this drink is not, as the poppy seeds need to soak overnight before they can be milked in boiling water. Most do add a splash of viryta, a honey liquor, before drinking this Lithuanian cocktail. 
12. Uzvar, Ukraine
Another option that can be served as a non-alcoholic beverage, uzvar is created by steeping dried fruit in water and honey, and then served on Christmas Eve. The fruit selection often includes apples, pears, and plums, and sometimes you'll find strawberries or raspberries in the mixture. Today, you'll find people adding cinnamon or nutmeg to their uzvar to add new flavors to the traditional drink. 
No matter what you're serving at Christmas this year, we're sure you'll find something to put everyone in the holiday spirit!
What's your favorite holiday cocktail? Tell us in the comments below or on Twitter!
Like the post? Share it now!