On Rick's and my Barcelona, Southern France, and the Italian Riviera trip with EF Go Ahead Tours, Barcelona was one of our favorite cities! The amazing architecture, open streets, and welcoming atmosphere were just some of the highlights of our visit to this fantastic travel destination; and we want you to have the same amazing experience which is why put together this Barcelona travel guide.
We're already planning a return visit to Barcelona, perhaps on Go Ahead's food and wine tour of Spain!, and we can't wait to get back to this amazing city and explore it more. If you're traveling to Gaudi's city for the first time, this guide to Barcelona should help you plan your trip a bit better and give you an idea of what to add to your Barcelona itinerary!
Barcelona travel guide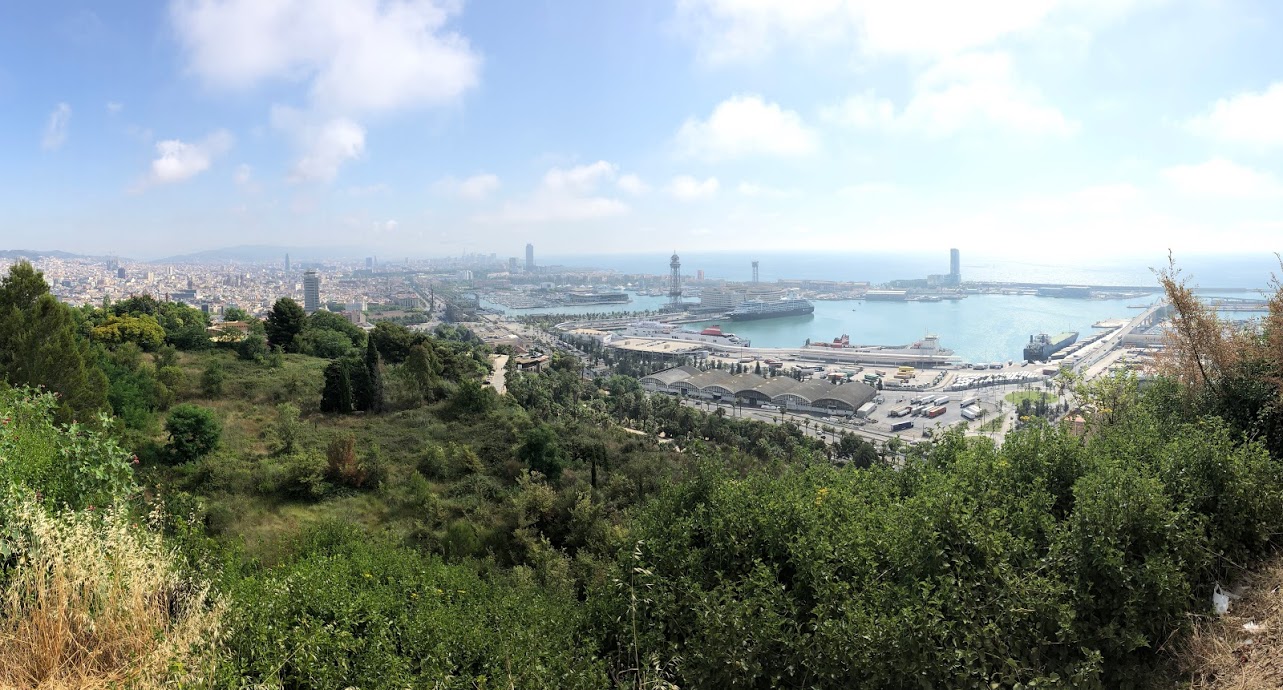 Where's Barcelona
Barcelona is on the northeastern side of Spain, in the Catalonia region. Barcelona is known for its architecture, mountain views, stunning stretch of beach, and an amazing food culture. Barcelona is about 390 miles from Madrid, 217 miles from Valencia, and about 112 miles from the French border.
Barcelona time
Barcelona follows the Central European Time (CET), and follows Daylight Savings Time with the changes in October and March. Barcelona is six hours ahead of New York City, eight hours ahead of Denver, and nine hours ahead of Los Angeles.
Language
Since Barcelona is located in Catalonia the locals speak Catalan as well as Spanish. The citizens of Catalonia have a lot of pride in their culture, history, and language, and it's very common to see both the Catalan and Spanish flags hanging from buildings. If you can, try to use Catalan phrases first but both languages are the official languages of Catalonia.
Common Catalan phrases for travelers
Hello | Hola (oh-la)
Good morning | Bon dia (bohn dee-uh)
Good night | Bona nit (boh-nuh neet)
Goodbye | Adéu (informal) or adéu-siau (formal) (uh-theh-oo or uh-theh-oo-syah-oo)
Please | Sisplau (sees-plow)
Thank you  | Gràcies/mercés (grah-syuhs/muhr-sehs)
Yes | Sí (see)
No | No (noh)
I don't understand | No ho entenc (noh oo uhn-tehng)
Do you speak English? | Parles anglès? (pahr-luhs uhn-glehs?)
How much is…? | Quant val…? (kwahnt buhl)
Where is…? | On és…? (ohn ehs)
Where is the bathroom? | On és el lavabo? (ohn ehs el lah-vah-voo)
May I have…? | Em pots…? (ehm pohts)
Entrance | Entrada (en-tra-dah)
Exit | Sortir (sor-tee)
Want to brush up on some Spanish before you go? Check out our Spanish for travelers post!

Barcelona weather
Barcelona may be in the northeastern part of Spain, but with its temperate climate and location by the beach, it's an ideal year-round destination. The temperatures do fall in the winter and early spring, but with so many things to do indoors in the city, the outside temperatures won't matter so much – and you can always warm up with a glass or two of red wine!
Average temperatures in Barcelona by season (Fahrenheit)
Spring: Lows in the high 40s and highs in the mid-60s.
Summer: Lows in the mid-60s to 70s with highs in the 80s
Fall: Lows in the 50s and highs in the high 70s
Winter: Lows in the 40s and highs in the mid-50s
Barcelona's hottest month is August, its coldest is January, and the month with the most rain is October.
Weather is reported in Celsius there, so a nice 20-degree day in June is about 70 degrees Fahrenheit. To calculate Celsius temperatures into Fahrenheit, take the temperature in C and multiply it by 9/5 and then add 32.
(Temperature (C) x 1.8) + 32 = Temperature (F)
Currency
As part of the EU you'll need to have Euro as your currency in Barcelona. At the time of this posting, if you had $10 USD you'll get €8.83.
Check the current exchange rate for USD to Euro at Oanda.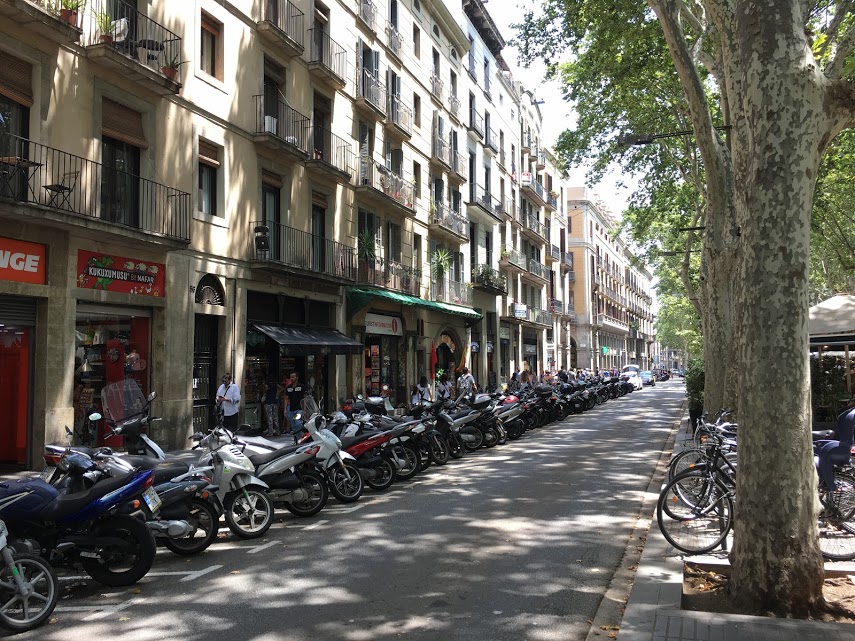 Transportation in Barcelona
Barcelona has a great network of public transportation that includes trains, a metro (underground), and busses. A single ticket is €2.20 or you can buy multi-day passes for unlimited journeys, with a two-day Hola Barcelona pass starting at €15.20. If you only have a day in the city, the T10 ticket will do (€10.20).
Metro
The metro has 11 lines running under the city with stops near the major attractions. During the week, the metro runs from 5 a.m. to midnight and from 5 a.m. to 2 a.m. the following day on Fridays and nights before public holidays.
Bus
Another option is to use the bus system, with more frequent stops along the route. Transports Metropolitans de Barcelona (TMB) has a great travel planner if you want to plan your travels using their bus system.
Taxis
Barcelona also has taxis (black and yellow with a sign on top) if you just want to zip across town on your own schedule. A 15-minute ride shouldn't be more than €10 and tips aren't required but you can leave a 5 – 10% tip if you wish.
Walking
Barcelona is surprisingly walkable, especially if you're staying in the city center. Rick and I preferred to walk to most places, excluding Park Guell and Montjuic, and it was a very pleasant and easy walk.

Barcelona neighborhoods
With more than 20 distinctive neighborhoods in the artistic city, there's no shortage of options of places to stay and explore. Chances are you'll pass through several of them as you visit the top-rated attractions and go on your sightseeing tours of Barcelona. If you're trying to figure out where to stay in the city, here are our top picks for neighborhoods.
Most popular neighborhoods in Barcelona
Dreta de l'Eixample: Historic, lively, central, touristy
Barri Gotic: Touristy, foodie, historic, heart of Barcelona
El Born: Trendy, vibrant, foodie, culture
Sants-Montjuic: Quiet, historic, great views
Gracia: Hip, Bohemian, shopping, Park Guell
La Barceloneta: Promenade, beach, foodie
El Raval: Multicultural, vibrant, central
El Poblenou: Nightlife, beach, industrial
El Poble-sec: Bohemian, local, fashionable
Sant Pere/Santa Caterina: Foodies, Bohemian, multicultural, boutique shopping
Accommodations in Barcelona
Whether you want to stay at a hotel or feel like a local by renting an apartment, there are a variety of accommodations in Barcelona. Stay near the beach, stay in the historic center, or find a quiet home in a residential area – you can easily find the right type of accommodation for your getaway. Airbnb has a great collection of rooms and apartments in some of the top neighborhoods.
Best hotels in Barcelona
Hotel Rec Barcelona (adults only)
Barcelo Raval
Hotel Colon Barcelona
Hotel Arts Barcelona
H10 Casa Mimosa
Vincci Gala
Hotel Espana
Leonardo Boutique Hotel Barcelona Sagrada Familia
TWO Hotel Barcelona by Axel
The One Barcelona GL
Dining and tipping in Barcelona
One of our favorite things about Barcelona is the wonderful food scene of going bar to bar and indulging in a variety of tapas, of course paired with sangria or rioja. Like other European cities, servers earn a living wage and do not rely on tips like they do here in the US. Most locals tip less than 5% on their bill, but you can round up to 10% if the service was exceptional. Tipping is not required or expected when dining out or taking a taxi.
When you are out dining in Barcelona, be sure to try some of their traditional dishes! Again, we love, love, love going to tapas bars and trying a variety of foods instead of just ordering one main course – of course paella is a different story!
10 best foods to eat in Barcelona
Churros con chocolate
Jamon Iberico
Croquetas de jamon
Calcot
Patatas bravas
Bomba
Pan con tomate
Paella
Fideua
Crema Catalana
5 best wines to drink in Barcelona
Cava: A Spanish sparkling wine
Txakoli: A slightly fizzy white wine
Sangria: A blend of rioja wine, diced fruit, and brandy
Rioja/tempranillo: Don't want the bits of fruit in your glass? Go classic with a glass of straight rioja or tempranillo
Vermouth: You can't visit Barcelona without sampling this fortified wine
Check out more ideas for what to eat in Barcelona as well as discover our favorite wine bars!

Top 10 things to do in Barcelona
There's always something incredible to see or do in Barcelona! From sightseeing tours to relaxing on the beach, you won't be bored here. Our picks for the best things to do in Barcelona include:
Tour Sagrada Familia
See the Barcelona Cathedral
Explore Parc Guell
Enjoy the greenery at Parc de la Ciutadella
Visit Casa Mila (La Pedrera) and Casa Batllo
Step inside La Boqueria for a treat and stroll La Rambla
Go on a tapas tour
Watch a Flamenco performance
Relax on the beach
Ride the cable car and enjoy a panoramic view from Montjuic Mountain
Catalan and Spanish culture & etiquette
Dress appropriately: When entering churches, be sure to have your legs and shoulders covered or you'll get the lovely scarf rental to cover up with. Be respectful with your attire and dress for the occasion. If you're at the beach, a swimsuit and cover up are fine, but it's actually illegal in Barcelona to leave the beach area and go wandering through the city wearing only a swimsuit!
Siesta: Expect a mid-afternoon break, from about 2 – 5 p.m., when shopkeepers close up and go home for lunch and a nap.
Paseo: Before dinner, join the locals in a paseo or evening stroll – often including stops for a drink or quick bite. This is quality time with friends, family, and loved ones as you enjoy a leisurely walk through the city.
Dinner time: Plan to eat late during the day in Spain! Most dinners don't start until after 9 p.m. or even 10 p.m. on the weekends. You can always treat yourself to tapas to hold you over until dinner, kind of like our version of happy hour.
Political debates: The idea of Catalonia's independence from Spain is a delicate subject and one that is best avoided.
Bullfighting: Don't go looking for it in Barcelona as Catalonia banned bullfighting in 2011.
Can't get enough travel advice? Check out our Barcelona travel itinerary!
What'd we miss from our guide to Barcelona? Tell us in the comments below or on Twitter!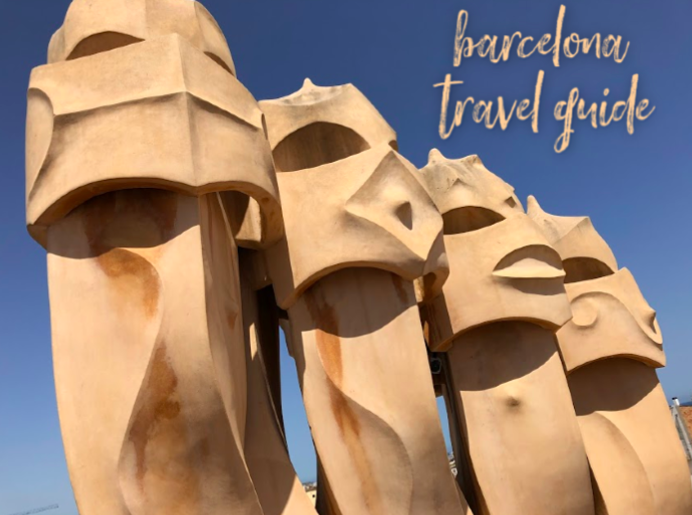 Like the post? Share it now!