There's nothing quite as perfect as strolling the streets of Rome with a gelato in hand and while there are many, many, many gelaterias to buy a cone or a cup from, why not just go right for the good stuff?
With so many gelato options in Rome, it can be hard to narrow down what's an authentic gelateria and what shops are using non-authentic methods or even artificial ingredients. Our list includes respected gelaterias, many of which use organic and Italian-grown ingredients to create their smooth, creamy concoctions.
Always remember that it's more than OK to order two flavors when creating your perfect ice cream cone – you pay by the cup/cone size anyway!
Here are the top 9 gelaterie to visit in Rome for the best gelato!
Neve di Latte
Literally called "snow of milk," this gelateria uses all natural ingredients, nothing artificial and they put their ingredients on display at the shop. They sell creamy and dreamy-looking gelato with a wonderful consistency and flavor. Order the pistachio or hazelnut for a delightful tasty treat in Rome. They're also known for their seasonal options with fresh fruit.
The gelateria is located at via Luigi Poletti, 6, near Piazza del Popolo and the Maxxi art museum. Another location is at via Federico Cesi, 1.
Come il Latte
It means "like milk" and uses fresh cream for an exquisite, natural taste. While their main ingredient is traditional, some of the flavors are more innovative and creative. Many of their recipes utilize seasonal ingredients or you can add additional flavors into your gelato selection or get your cone dipped in chocolate, even white chocolate. This Rome gelateria also offers milk-free choices too.
Their best location is at Via Silvio Spaventa, 24
Gelateria Gracchi
The gelateria has four locations in Rome, but one of the most popular ones is near the Vatican in the Prati neighborhood. They offer both classic flavors or unique creations like tangerine or apple, or gelato made with wine or rum spiked chocolate. It's a popular spot so lines might get long, but it's worth the wait.
They have another location, at via di Ripetta, 261, near the Spanish steps that is just as good!
Fatamorgana
Fatamorgana is another popular gelateria in Rome (they have nine locations in the city) and has even opened a location in Los Angeles. They're known for their organic ingredients and distinctive flavors – hello, mint and goat cheese. Seriously, people go just to sample the wildest flavor creations they have, so feel free to try something non-traditional! They even have specialty gelato made without dairy or sugar and have gluten-free cones.
Fiordiluna
If visiting the foodie haven neighborhood of Trastevere, you'll most likely end up at Fiordiluna when it comes to dessert. Here, you should go all out with a traditional order and get the chocolate gelato – as they're also known for their homemade chocolate bars! This Roman gelateria honors traditions in making their ice cream treats and uses organic ingredients.
They're located at Via della Lungaretta, 96.
Gelateria San Crispino
If you want authentic and traditional gelato, this is your spot. Here, you'll need to get it in a cone as to not comprise the flavor (and please the makers who prefer to not dish up their gelato in cones). Get a scoop or two from this excellent gelateria and then make your way to the Trevi Fountain to enjoy a decadent experience for all of your senses. Opt for the pistachio or try something new with their whiskey-flavored gelato!
The Trevi Fountain location can be found at Via della Panetteria, 42, and there's a location near the Pantheon at Piazza della Maddalena, 3.
Gelateria del Teatro
With a location near Piazza Navona, this gelateria specializes in gelato with quality ingredients – many grown right in Italy. Go classic with fragola (strawberry) or try something fun like dark chocolate and red wine. The creators here take their ingredients and flavors seriously and it shows in every creamy scoop they serve you.
They have two locations in Rome: Via dei Coronari, 65 and Lungotevere dei Vallati, 25
La Romana
Since 1947, this family run gelateria has grown and opened new locations in Italy, but all follow strict production rules and use all natural ingredients, which they list on their site. Enjoy traditional artisan gelato made fresh in the lab each day using natural flavors. Sample the biscotto della nonna (grandma's cookie) or the crema di nocciola al cacao (hazelnut cream with chocolate)!
They have three locations in Rome: Via Ostiense, 48, via Cola di Rienzo, 2, via Venti Settembre, 60
Giolitti
Another option near the Trevi and Pantheon is Giolitti and since the early 1900s, this has been a go-to spot in Rome for amazing gelato. If you've already run through this list, you might be interested in their chocolates and cakes, or even the ice cream cakes if you just can't resist. This is a family run establishment and due to its dedication to using high-quality ingredients, you should be ready to expect a line.
They're located at Via degli Uffici del Vicario, 40.
Where do you go for the best gelato in Rome? Tell us in the comments!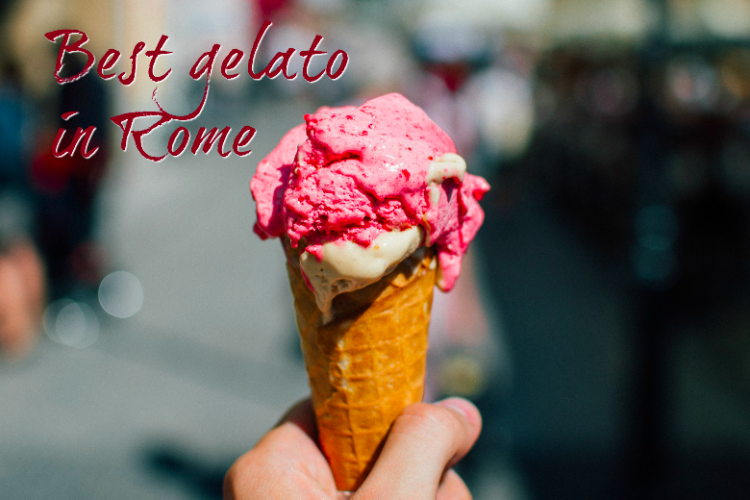 Like the post? Share it now!