Recently a friend came to visit us and while she's seen a bit of Colorado over the years coming out to visit us, there is one National Park in our great state that she hadn't been to yet: The Great Sand Dunes in Colorado.
The Sand Dunes are quite a sight as it looks like someone was granted a wish by a genie and asked for a bit of the Sahara desert to exist in Colorado. It's even labeled as the magnificent coincidence that it exists at all.
It's just miles of sand dunes, the tallest dunes in the United States, surrounded by gorgeous Colorado mountains. It's definitely worth visiting if you haven't been yet!
Since our friend was only in town a short while, we opted to do just an overnight down at the dunes. Check out what we did in 24 hours at the Great Sand Dunes.
Friday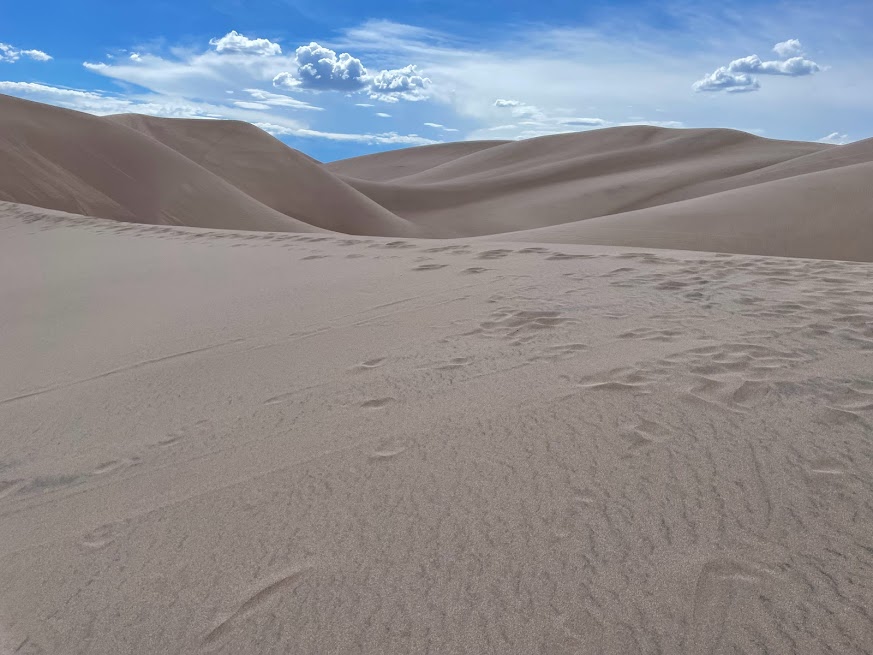 Drive to the Sand Dunes
The Great Sand Dunes are about four hours from the Greater Denver area so we hit the road mid-morning to arrive just in time for check-in.
Check in at the lodge
We opted to stay at the Great Sand Dunes Lodge as Rick and I own no camping equipment and I prefer to sleep in a bed. Plus, the lodge included breakfast and that sounded great to me! The room was a basic motel-style room where we had two beds, a bath, and a mini fridge. The lodge also gives you a great view from your back patio overlooking the majestic dunes.
The lodge is also literally a five-minute drive from the entrance to the park so it's location was more than ideal.
Arrival at the park + hike
After dropping off our bags and reapplying sunscreen we were off to the park! Since we got there later in the day the parking lots had emptied quite a bit so parking wasn't a challenge.
What proved to be a challenge was the late afternoon thunderstorms and rain that rolled in. Keep a close eye on the weather when visiting the dunes in the summer as the storm rolled in quick and really whipped up the sand around us. I'm 99% sure I've still got sand stuck in my hair to this day from our hiking adventure.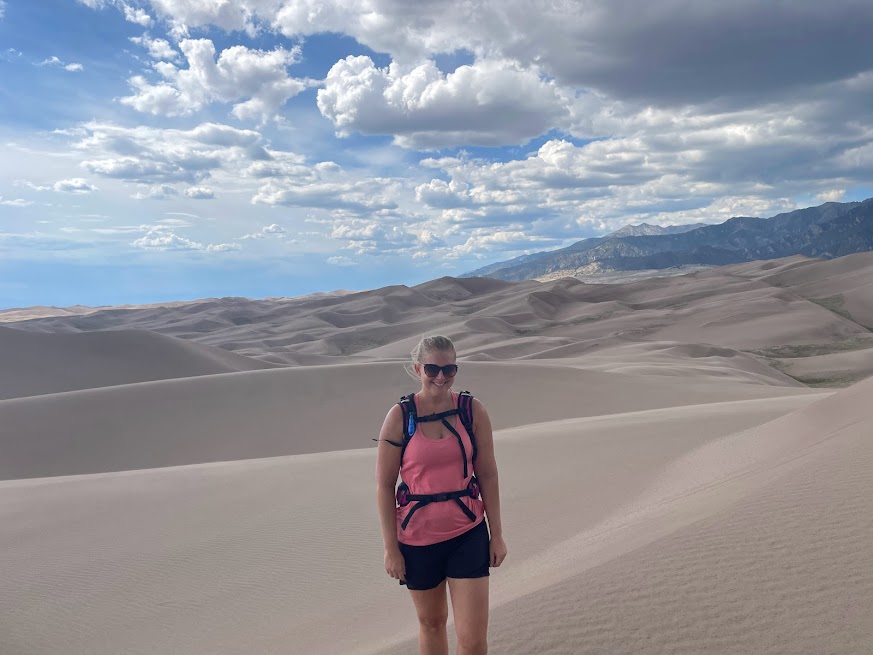 Dinner
There's a restaurant, Oasis Restaurant, near the lodge and Sand Dunes entrance that serves up pizzas and American pub fare with a bit of a Southwest influence. We went there after getting cleaned up from our attack by Mother Nature and had some beers and shared a plate of green chili fries that I'm sure we only made it halfway through.
If you're staying near the dunes, there's not much nearby for groceries nor restaurants. Either plan to visit the restaurant near the lodge or bring in your own grilling supplies and food.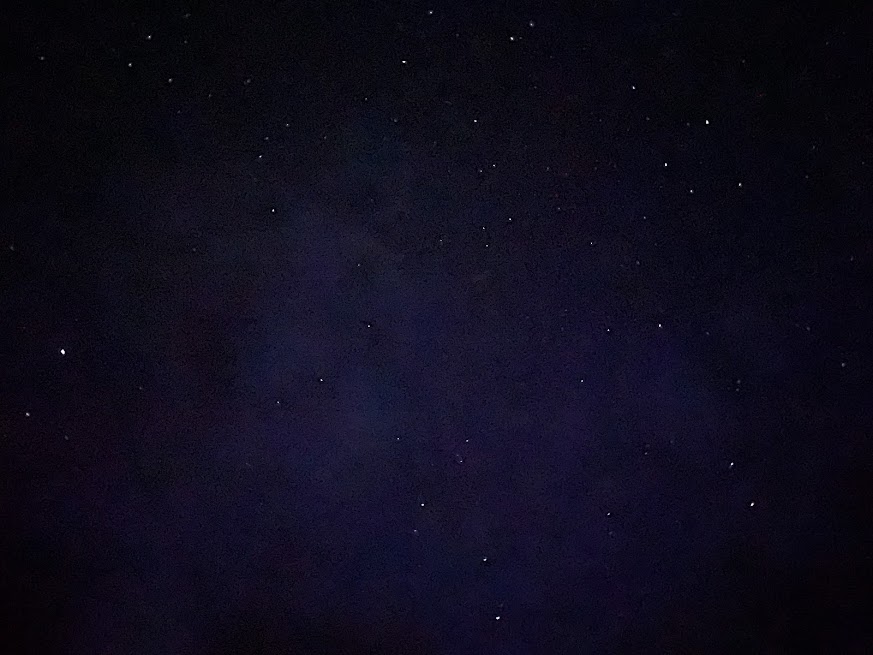 Stargazing
Due to the dunes' high elevation and distance from metropolitan areas, the stargazing here is incredible! We stayed up late to watch the stars brighten the night sky, but unfortunately when we got up at 3 a.m. to check the sky again some clouds had rolled in and the moon was up. But before we went to bed we did enjoy some stellar stargazing!
Saturday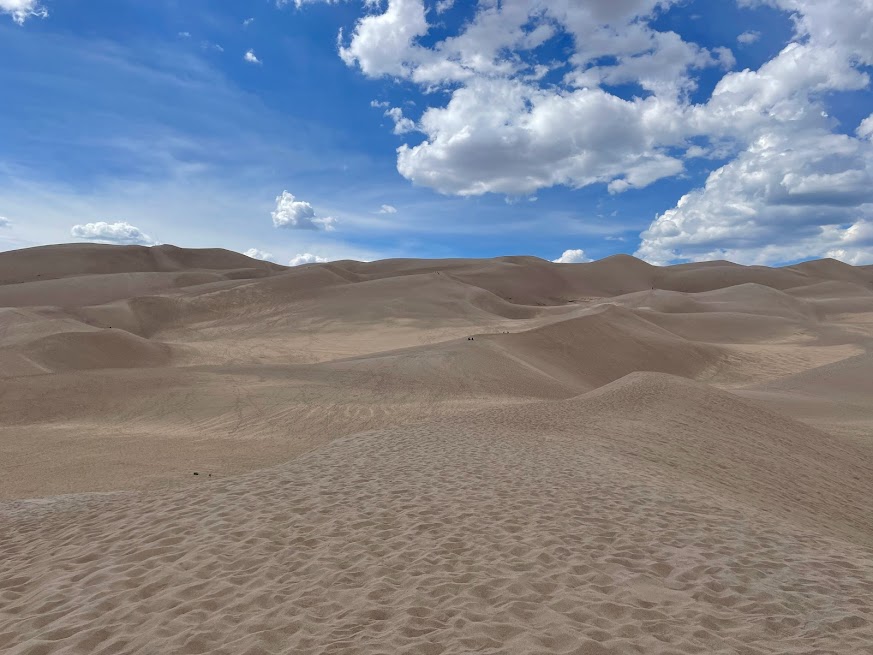 Hiking + sledding
After fueling up on the lodge's breakfast (which included mini waffles!), we packed up the car and drove back to the park. We got there around 9:30ish and the parking lot was definitely filling up fast. We were able to snag a spot but when we went back to the car to drop off the sand sled, people were circling the lot like vultures.
Yes, I did say sand sled.
At the restaurant we went to the night before they also have a shop and sand sled rentals. You can also get sandboards if you're skilled at snowboarding but I didn't want to take any chances eating a bunch of sand as soon as I fell over. The rental was about $25 for the day which isn't bad.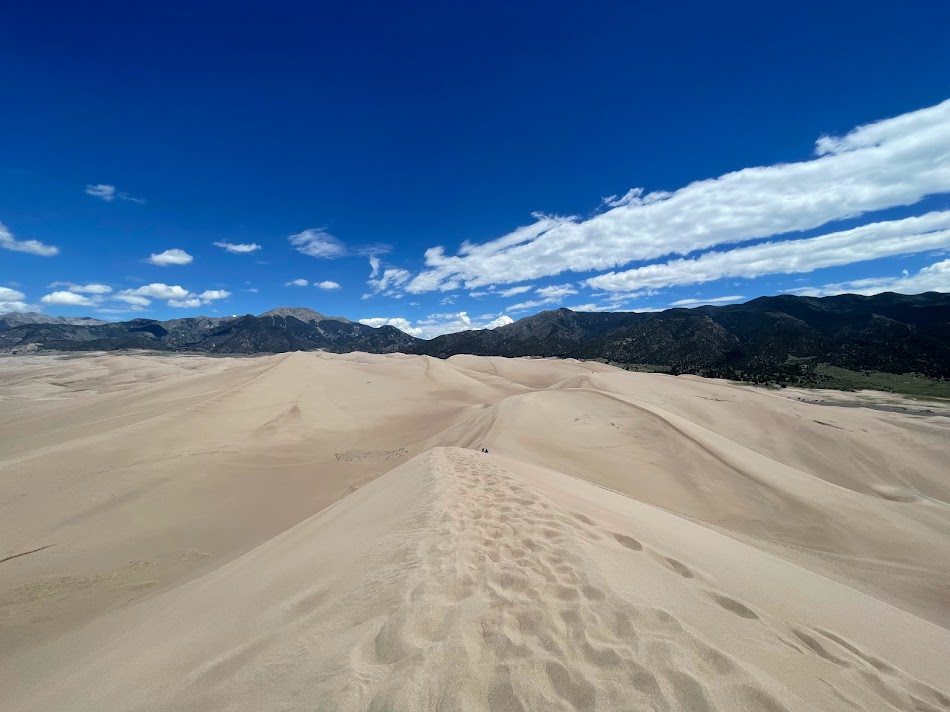 We did some sledding for a bit as it took some getting used to. I grew up in Minnesota, I know how to sled but sledding down snow and ice is very different than sledding down grainy sand! We got the hang of it and sledded for a bit and then hiked up toward the tallest dune to enjoy the epic views.
We then made a quick stop at the visitor center to get some souvenirs for our hubbies, fill up our water bottles, and then hit the road to go relax at the hot springs.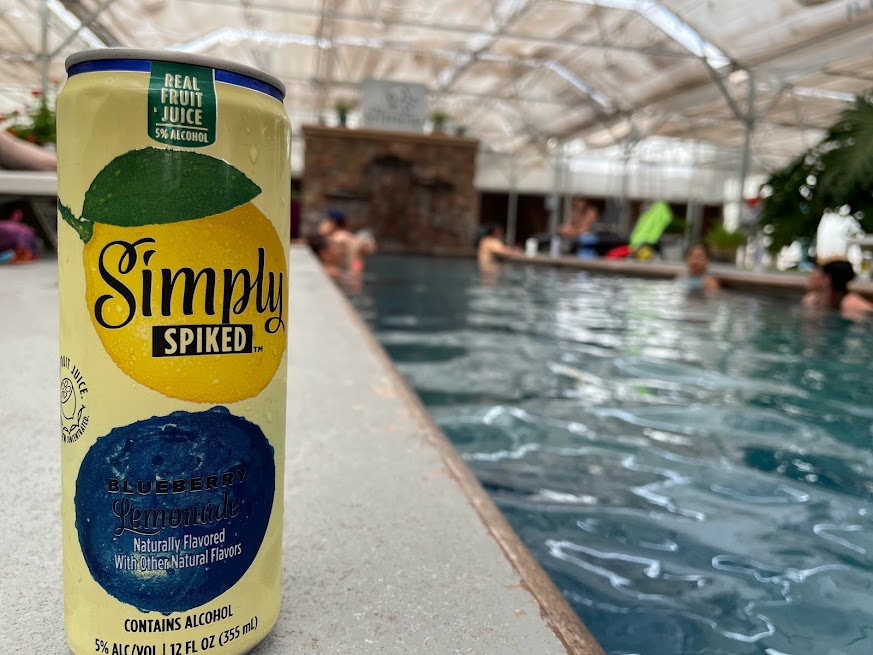 Sand Dunes Hot Springs
After all that hiking it was time to soothe our muscles in the natural hot springs and luckily there's one that's about an hour-drive from the national park!
The Sand Dunes Recreation Pool was a fantastic find for our Colorado adventure. And, even better? They have an adults-only (21+) section of the hot springs, the Greenhouse. You bet that's where we went as it's only an extra $5 on top of admission and it's a nice, quiet oasis.
The greenhouse name is fitting as the four pools are surrounded by beautiful greenery including trees, shrubs, and flowers. The main pool is about 98 degrees and some of the smaller hot tub-looking pools were 110 when we got in them! The Greenhouse also has a bar serving beer, wine, and seltzers, and serves food – we opted for one of their pizzas and spinach and artichoke dip!
We were only planning on spending two hours there but ended up clocking in closer to four as it was such a relaxing way to unwind after our sandy exploration of the park. It was well worth the $20 ($15 admission and $5 for the adults-only section) to get in!
Have you been to the Great Sand Dunes National Park? What would you recommend other travelers do there? Sound off in the comments below!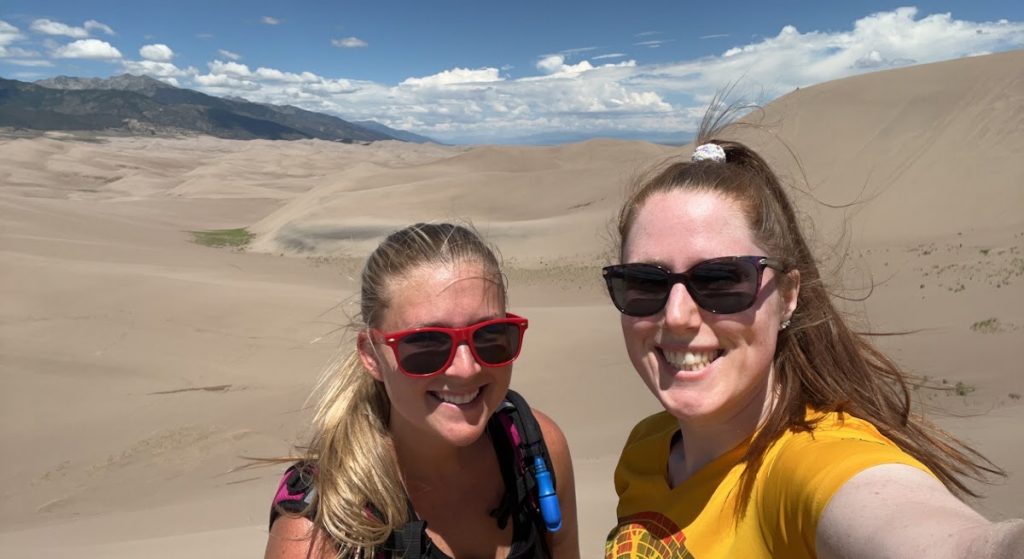 Like the post? Share it now!