I'm going to be honest, on my first trip to Amsterdam I wasn't that excited. Everyone else in our tour group was excited for special cakes and sex shops and I was kind of feeling meh about it.
But once I got there and got to explore and experience the city, I loved it!
I've enjoyed every trip back there since, and I know I still have a lot of things to see and do in Amsterdam. It's a cool, welcoming city with fun activities, neat museums, and lots of culture. The locals have always been friendly and quick to speak to us in English and welcome us to the city.
There are more than enough things to do in Amsterdam and it's a great travel destination and worth the stop, even if you only have a day to explore it.
You can check off many of the must-dos in Amsterdam in 24 hours and discover things you want to add to your travel itinerary for when you come back again.
A one-day Amsterdam travel itinerary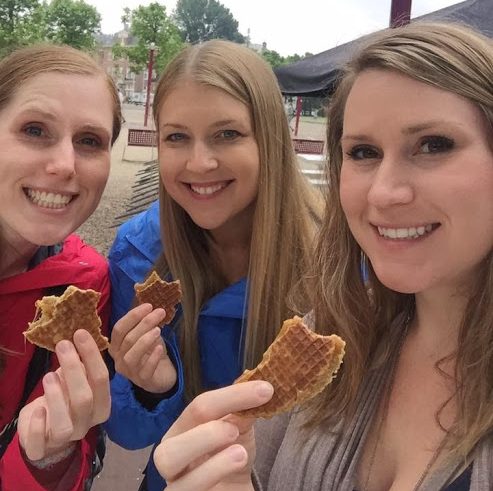 Breakfast
Start your day with coffee and stroopwafel – maybe five, they're so delicious! You'll want the caffeine kick from some espresso to fuel your Amsterdam adventure.
Tour the Anne Frank House
You'll need to buy your tickets online and in advance to get a good time slot and ensure you can visit this iconic museum during your visit to Amsterdam. It's very moving and has a subdued atmosphere as you learn how Anne and her family had to live while hiding from the Nazis.
Enter the museum through the hidden entrance behind the hinged bookcase, walk through the rooms that acted as a secure hiding place until 1944, and see artifacts from the families, including the original diary Anne received from her father, Otto.
A tour of the Anne Frank House is a must-do in Amsterdam.
Tickets are 10,50€ per adult and the museum opens at 9 a.m. and closes at 7 p.m., though peak tourist seasons keep the museum open until 10 p.m. There is a gift shop and cafe on the premises.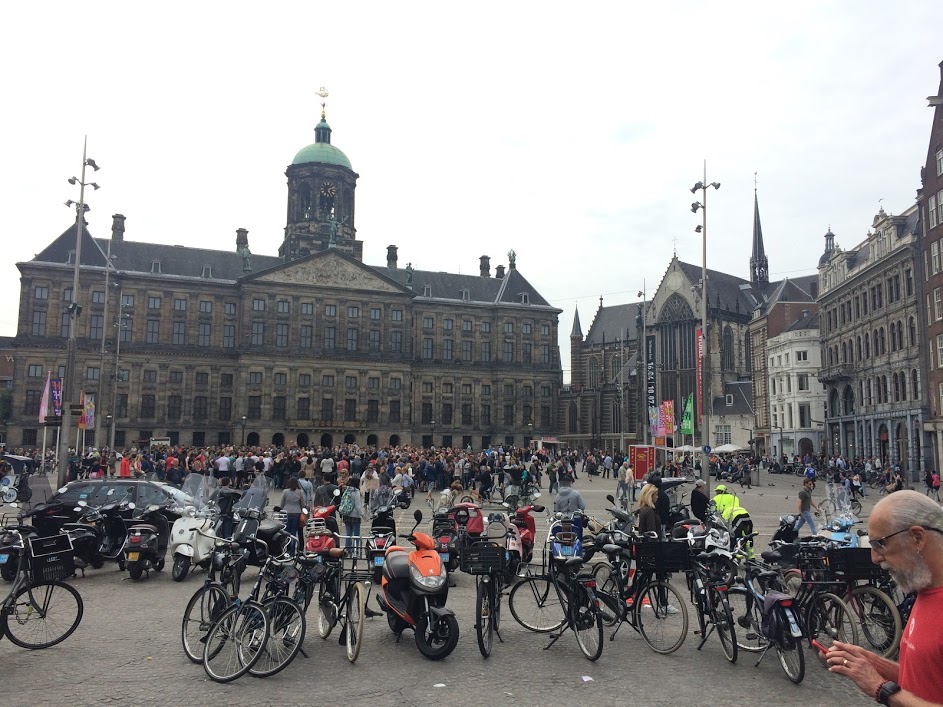 Free walking tour of Amsterdam
After learning more about the Frank and Van Pels families and Fritz Pfeffer who hid in the annex for two years, and the Holocaust and its horrifying consequences, it's time to go back outside and into the present. OK, we're not totally leaving the past behind as you'll be hearing about Amsterdam's history and Dutch culture on a free walking tour of Amsterdam!
This two-hour walking tour covers the highlights and acts as a great introduction to the city. Learn about the royal family, trade history, customs, food, and even see the Red Light District in a different light, the daylight. Tips are appreciated if you enjoyed your tour and learned something new, making it an affordable thing to add to your Amsterdam itinerary.
Offered at 10:30 a.m., 1:30, and 4 p.m., this free adventure meets in Dam Square. The 1:30 tour is their Alternative Amsterdam tour if you have more focused interests instead of just the main tourist and historic sites.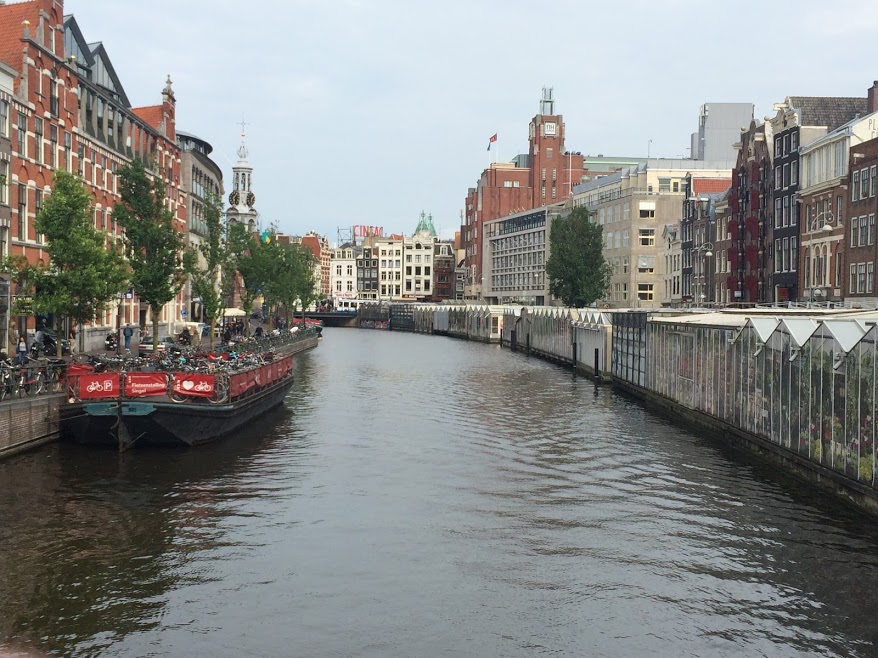 See the tulips and unique souvenirs at Bloemenmarkt
On your way to your next destination, stop and smell the roses – or tulips – at Bloemenmarkt, the flower market. It's often a staple in pictures of Amsterdam, and lets you enjoy the beautiful bounty of tulips the Netherlands produces without having to leave the city center.
Stroll the canals
Take a stroll along the canals and over the bridges to snap some Instagram-worthy pics and simply explore the city. Between the narrow buildings, bridges, bikes, and houseboats, there's plenty to photograph on your walk by the canals onto your next destination.
Fun fact: The canal system is a UNESCO World Heritage Site. The canals are more than 400 years old and criss-cross throughout the city.
Iamsterdam sign photos
Keep that camera out! It's time to get the standard destination sign pictures in front of the Iamsterdam sign. Luckily, this sign is nearby some fantastic Amsterdam attractions in Museumplein, so it's an easy stop to add to your one-day itinerary.
Explore the Van Gogh Museum
Revel in the artistry and wonderful collection at the Van Gogh Museum. You can see some famous works of art like The Potato Eaters, Self-Portrait with Straw Hat, and Irises. Learn about the man behind the paintbrush, learn about his family, and his unique style he applied to his art.
The museum is open from 9 a.m. to 5 p.m. daily, and open until 9 p.m. on Fridays. An adult ticket is 18€.
Discover Rijksmuseum
Another option in lieu of the Van Gogh Museum is Rijkmuseum, which has a bigger collection from many other artists, like Rembrandt, Van Leyden, and even Van Gogh! Compared to the Louvre, this museum is vast but worth the visit if you want to take in some art but not spend your one day in Amsterdam in museums. You can easily pop in, see the highlights, and get back out.
The museum is open from 9 a.m. to 5 p.m. every day and a ticket is 17,50€.
Want to know what other museums to add to to the list when you make a return trip to Amsterdam? Check out our post: 5 Amsterdam museums to add to your travel itinerary.
Get lost in Vondelpark
Stretch your legs, get some fresh air, and take a walk through Vondelpark. You could even plan a picnic in the park by getting takeout from a nearby cafe and perhaps buying a bottle of local beer to go with your food. Not only are beers from the Netherlands great, but with their neighbors in Belgium and Germany, they're definitely importing some quality lagers and ales.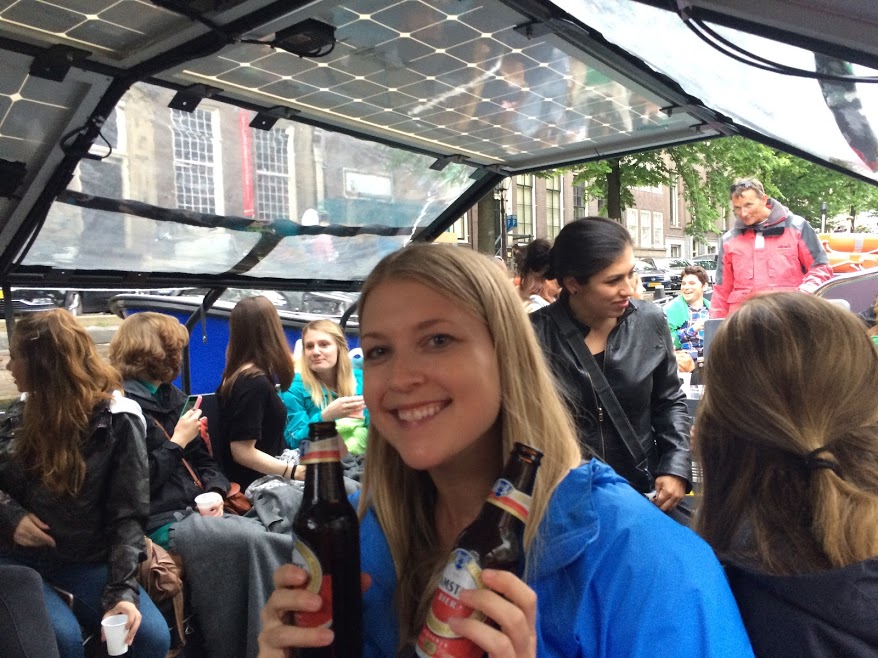 Try a canal cruise
After your bite to eat, hop on a boat for another sightseeing tour of Amsterdam, but from a whole new perspective. I've loved all the canal cruises I've done in Amsterdam as it's a relaxed way to see the city and you get some incredible shots.
Blue Boat offers daily canal cruises in Amsterdam, on the hour from 10 a.m. to 6 p.m., with easy pick up next to the Hard Rock Cafe. This tour of the city lasts 75 minutes and you can download the free guide app to listen to the commentary. The commentary is broadcasted through their PA system too.
Do the Heineken Experience
After exploring the city, it's time to take your taste buds on tour at the Heineken Experience! This self-guided tour (that includes two tastings) is only 18€ and you can book your time slot in advance. Learn about the brewing process and its heritage in the Netherlands on this popular brewery tour in Amsterdam.
If you want the VIP experience, it's 55€ but includes a two and a half hour tour, a Heineken Connoisseur guide, five beers paired with Dutch cheeses, and a souvenir bottle.
Buy your ticket online to save 3€!
The brewery is open daily, Monday – Thursday 10:30 a.m. to 7:30 p.m. (last admission at 5:30), and Friday to Sunday 10:30 a.m. to 9 p.m. (last admission at 7).
Wander the Red Light District
Now that you're liquored up, it's time to go back to the Red Light District when it's its most active – at night! You don't have to stop by the windows, but seeing the neighborhood at night is quite interesting and really adds to your Amsterdam getaway.
See the crowds of people on the prowl, hopping into bars, clubs, sex shops, or even live sex shows. If you want just a taste, you can try out a peepshow and put in a few coins for a little glimpse of the Red Light District nightlife.
Do not take photos of the women in their windows. Not only is that rude but the rule is strictly enforced.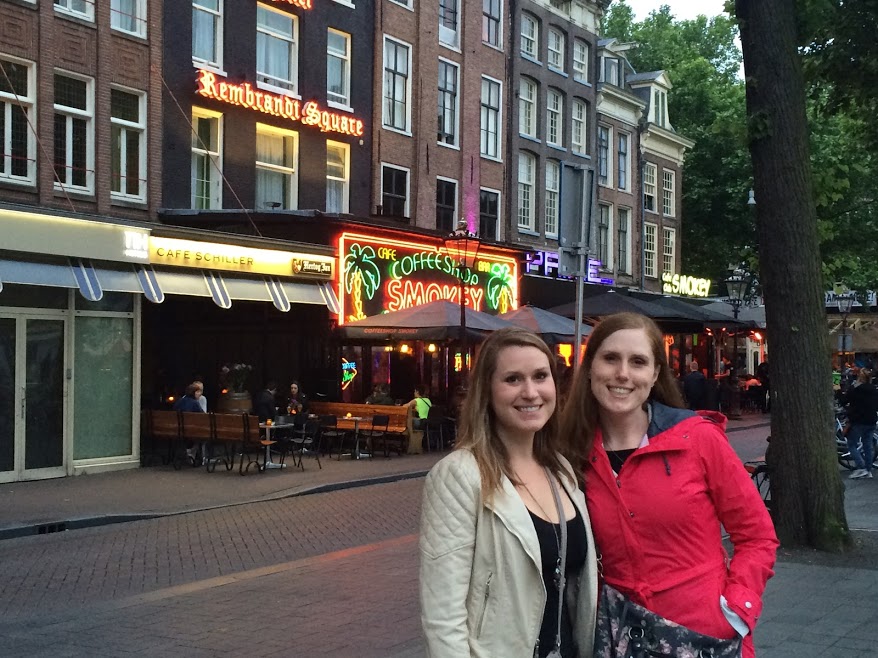 End the night in a coffeeshop
This time you're not here for a caffeine kick, this is where you're going to hang out with Mary Jane. There are about 250 shops in Amsterdam, so you're sure to find somewhere intriguing to check out. Coffeeshops are social spots, so expect to be near other tables and maybe make a friend or two as you smoke or try a spacecake – I recommend the latter.
Do note that you need to have an ID (read: passport) with you – you also need to be at least 18 or even 21 in some shops – when you buy from a coffeeshop and you're allowed 5 grams per day. Also, coffeeshops are not allowed to sell alcohol, so you won't be able to wash the taste away with a cocktail.
After one day in Amsterdam, I'm sure you'll be figuring out when you can return again to visit this amazing city. If I missed anything from this one-day Amsterdam travel itinerary, please let me know in the comments below or on Twitter!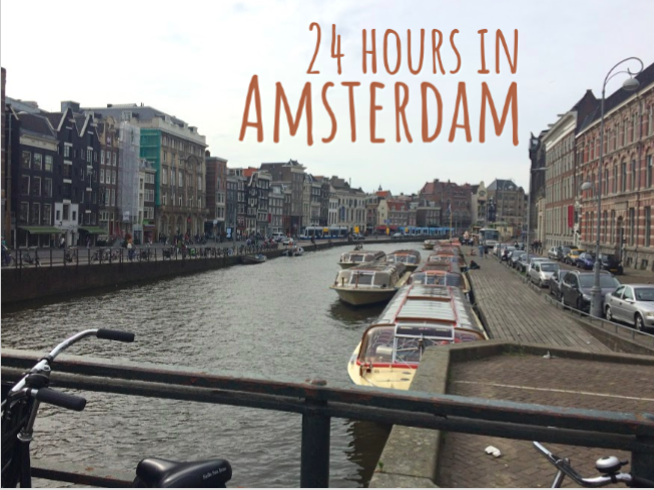 Like the post? Share it now!