Italy is one of my favorite European countries and maybe it's the food, the views, the history, the wine, the people, the language, the architecture, or a mix of everything that keeps me wanting to explore more of this stunningly beautiful country.
If you're looking to escape the crowds in Rome, Florence, Venice, and Milan, you might want to check out the coastal towns of the Cinque Terre.
Meaning "five lands," Cinque Terre is made up of Vernazza, Manarola, Riomaggiore, Monterosso al Mare, and Corniglia. Each has its own character and feeling and each is meant to be explored. If you only have a day in Cinque Terre, here are some must-dos while there.
Best things to do in Cinque Terre
Hike between the villages
While it would take you almost a full working day to hike from one end to the other, you can take the hiking trail to explore each village and get a damn good workout in (hey, more room for wine and pizza!). I do recommend at least exploring the hiking trail a bit for amazing coastal views of Italy.
If you want to visit all of them in a day, I recommend taking the train or a scenic boat ride for faster transportation between the towns so you can spend more time enjoying the towns.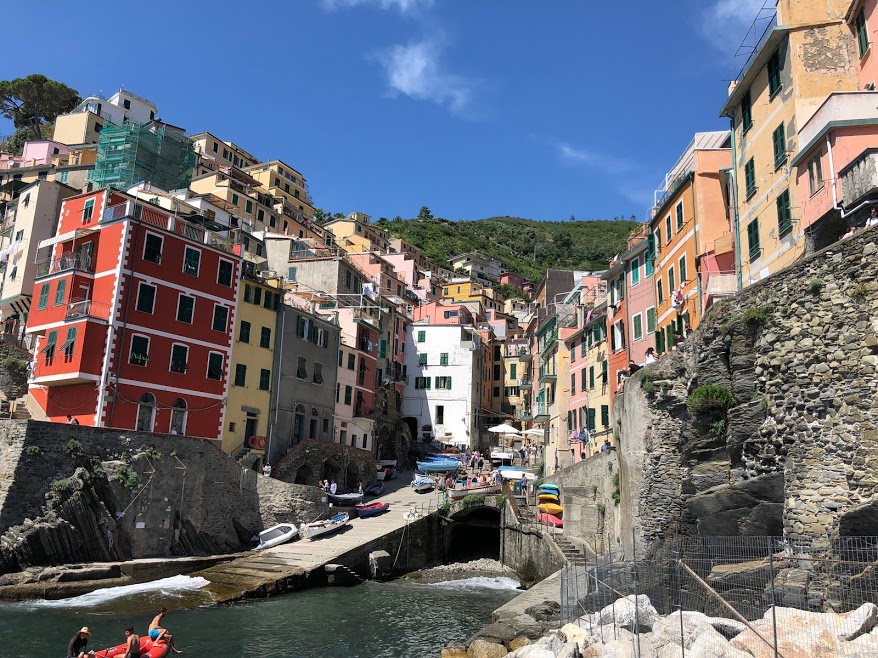 Snap those iconic photos
Each vibrant village has amazing photo opportunities around every corner and from every angle. Stop in Riomaggiore for a view looking up into the town or visit Manarola for the iconic view looking down on the village from a restaurant or bar, a famous Instagram shot. Vernazza has a great secluded cove, providing a contrast of the bright ocean blue agains the pastel houses on the cliffs.
Sample traditional Italian fare
Treat yourself and order fresh seafood, a pesto-based dish, or some delicious pizza (perhaps with seafood). This region is also known for its amazing focaccia creations, if you want something fluffy and portable. Pair your food with some refreshing and crisp white wine or rose, especially on a hot summer's day.
Indulge in a gelato
Cool off with a sweet treat and get a locally made gelato. Go with a classic gelato flavor like nocciola or hazelnut or stracciatella. Tiramisu is another great option if you want the sweet flavors of the traditional dessert but in a cone!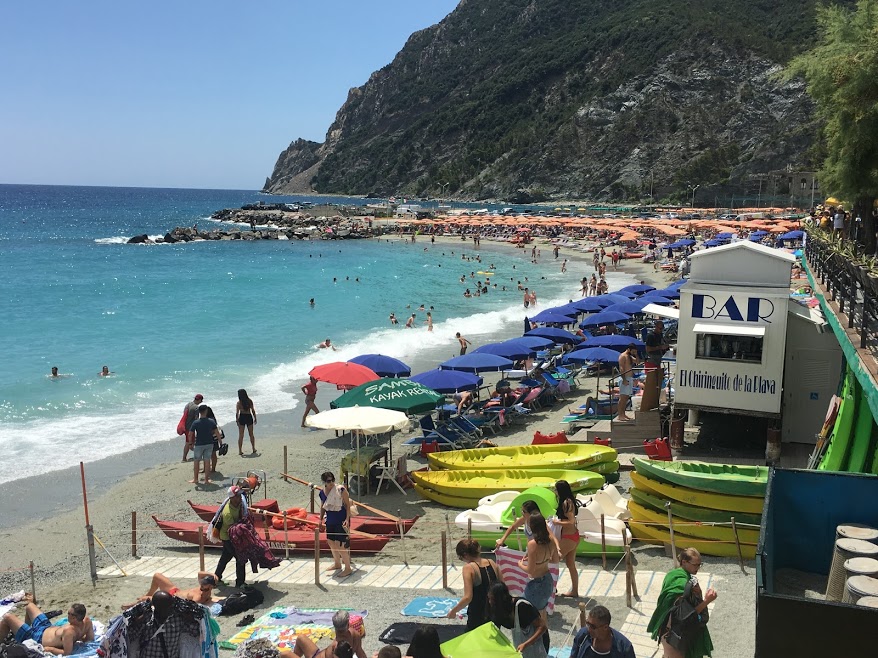 Take a dip
Relax on the beach and soak up some sun after a refreshing dip in the Mediterranean Sea. Pack a swimsuit, cover up, towel, and flip-flops for your afternoon at the beach. There's nothing better after your Cinque Terre hike than jumping into the refreshing waves rolling onto the beach.
Enjoy an aperitivo
Have a happy hour with an unbelievable view and refreshing aperol spritz! No judgements here if you want to skip right to the wine, but if you want to experience Italy like the locals order an aperol spritz for your happy hour outing. You might want to order up some bruschetta if you want something to nibble on as you enjoy your Italian cocktail.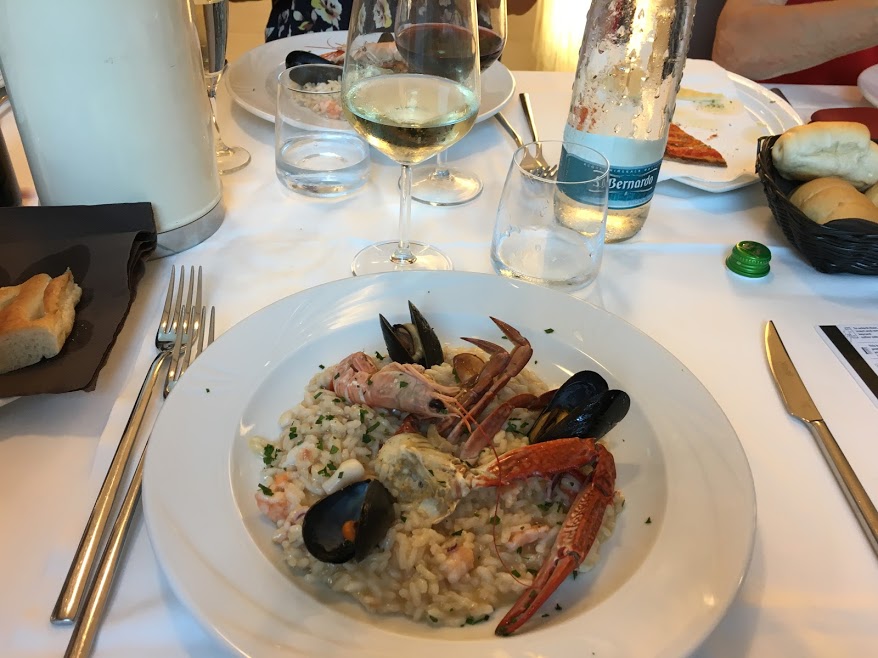 Romantic dinner on the coast
Find a restaurant with a fabulous view, excellent wine list, and traditional Italian dishes for a decadent wine and dine experience in Cinque Terre.
Some of the best restaurants in the Cinque Terre include:
Belforte (Vernazza)
Il Pirata (Vernazza)
Ristorante Miky (Monterosso al Mare)
Nessun Dorma (Manarola)
Trattoria dal Billy (Manarola)
Enoteca Dau Cila (Riomaggiore)
Sample Sciacchetra
Sciacchetra is a fortified wine that's made in the Liguria region – so it's begging to be sampled as you spend time in Cinque Terre. Get a biscotto and dip it into the sweet wine for an extra boost of flavor.
What would you do with a day in Cinque Terre? Tell us in the comments below!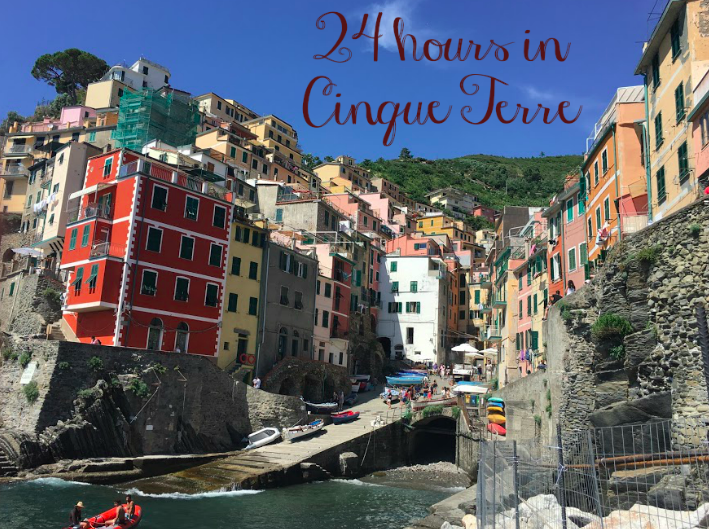 Like the post? Share it now!