February is here so many of us are starting to think of romantic things to do this month – and while I didn't do this particular activity with Rick I definitely would be interested in doing it next time we find ourselves in Seattle!
Today I'm talking about my experience reserving a hot tub boat in Seattle from Lake Union Hot Tub Boats! Whether hitting the water with your grand amour or spending time with friends, this is a fantastic activity to add to your Seattle travel itinerary.
I booked this Seattle sightseeing activity with three of my best friends from high school and we had such a blast that I'd highly recommend it to anyone.
Curious what the Lake Union Hot Tub Boats experience is like? Read on to check out my review!
My review of Lake Union Hot Tub Boats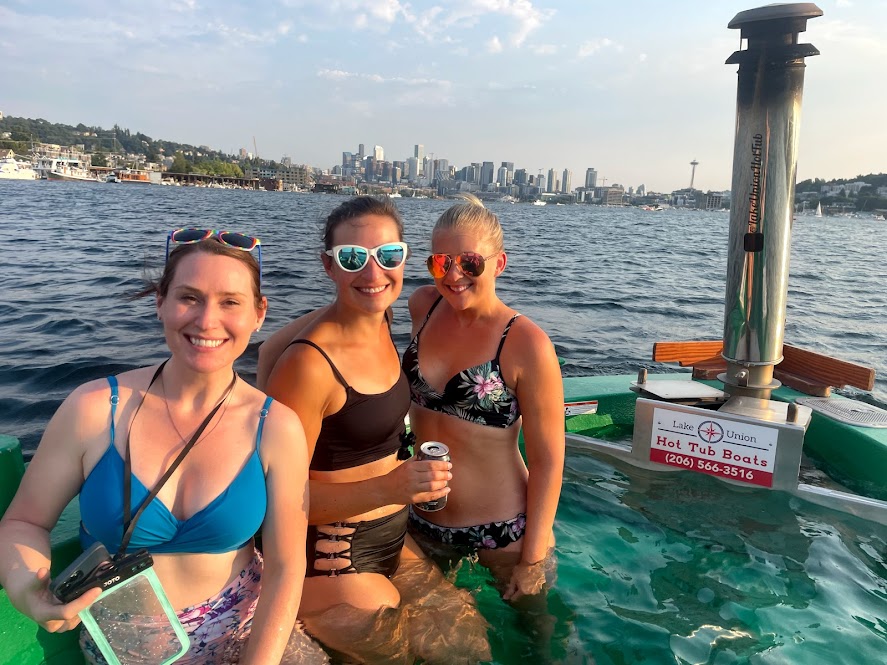 Highlights of our hot tub boat rental:
You're in a hot tub on a lake: I mean do I really need to say more?
Seattle skyline views: The Seattle skyline is iconic and gorgeous and this activity gives you a really unique view of it.
Just the right temperature: The hot tubs are heated to about 104 degrees but with the lake water splashing in it can get cooler or you can make sure to turn up the heat with your stove. If you need to cool off, just jump right into the lake!
This was quite a unique experience and one of the highlights of our trip to Seattle. We packed some drinks and pretty much turned it into happy hour out on the lake. The steering was very simple and they gave us a demonstration and plenty of tips before letting us set sail. You set the speed of the boat with a dial and steer with a handle. If I could do it and not crash us into another boat I have complete confidence anyone can do it.
We had a two-hour time slot and we timed ours so we'd watch the sun setting on the water. We also saw others out and about in their hot tub boats and this thing doesn't have a high speed so it's a very relaxing way to spend a few hours out on the lake.
Just keep in mind given the nature of the experience that everything will get wet. If a bigger boat passes you, lake water is coming in. They did provide a waterproof speaker so we were able to feel young again and blast our '90s hits as we cruised along and there were times we didn't bother with steering and just bobbed in the same spot for a while.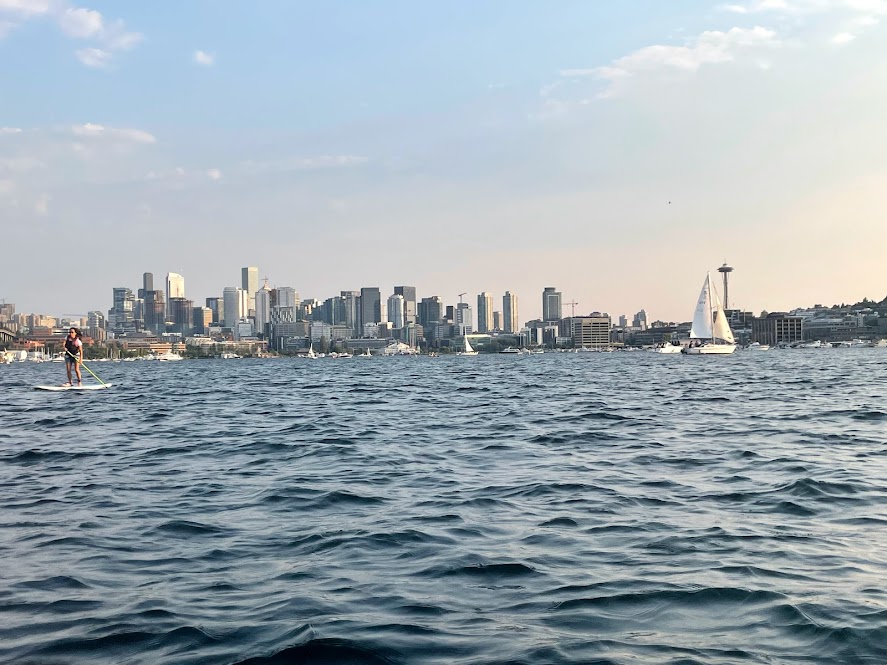 Booking information
Duration: 2 hours (add $100 for every 15 minutes you go over your reservation's time slot)
Days offered: Wednesday – Sunday (but check site for most up-to-date availability)
Times: Most rentals start at 9 a.m. or go as late as a 7:30 p.m. start time
Price: $350 (+tax) weekday mornings, $400 on weekday afternoons, and $450 on weekends
Parking: Parking is first-come, first-served street parking across from the office. We found a spot but it was packed. I'd recommend either going earlier or using a ride share to be dropped off for your activity.
Reservations: Book your hot tub boat online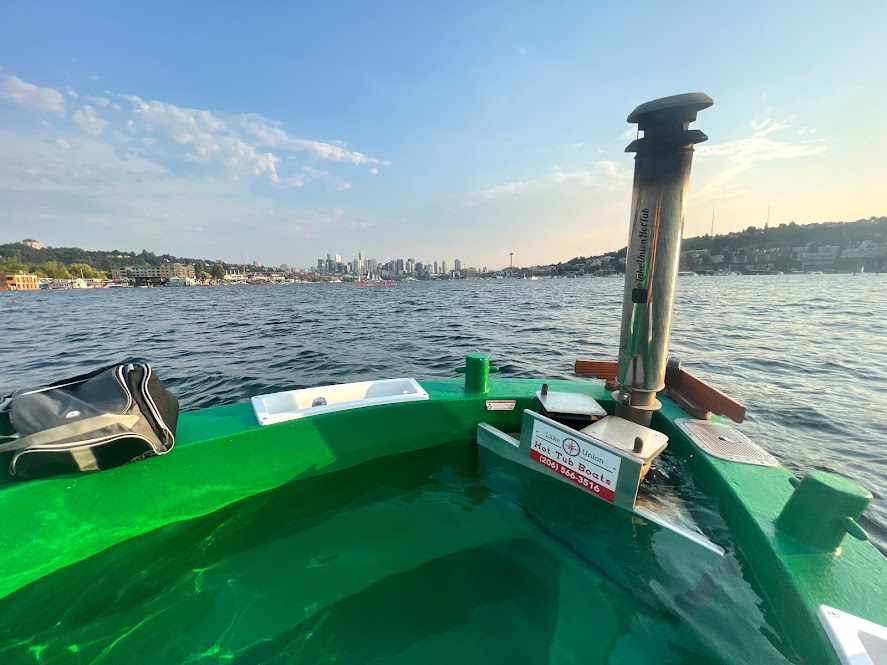 Tips for your Seattle hot tub boat experience
Get a group together: We had four people in our hot tub boat but they do seat up to six which does help with the cost of renting the hot tub boat.
Sign your waiver ahead of time: You will get a waiver the day before your reservation confirming you understand the activity and inherent risks. Go ahead and sign the mobile version so you don't have to arrive extra early to fill out your paperwork and can skip ahead to the fun part!
Bring a waterproof phone case: We all brought waterproof phone cases so we could take photos, listen to music (they also provide a waterproof speaker to connect your phone to), and make all our friends supremely jealous. Just slightly kidding on that last one. We could also put car keys and credit cards in there as you should really only take things you're fine getting wet as again, you're in a hot tub on a boat – things are going to get wet. The company does offer dry storage back on-site so be comfortable leaving things behind if you want to keep them dry, like a change of clothes and extra towels. If you forget your own waterproof case the company can provide you with one.
BYOB: We packed a cooler of local Seattle brews as both alcoholic and non-alcoholic beverages are allowed on board. They do also provide bottled water. Pack some cold drinks to go with your hot tub, just make sure it's not in a glass container.
Use the restroom before changing: There are public restrooms available on-site and they also offer private changing rooms if you drive over in regular clothes.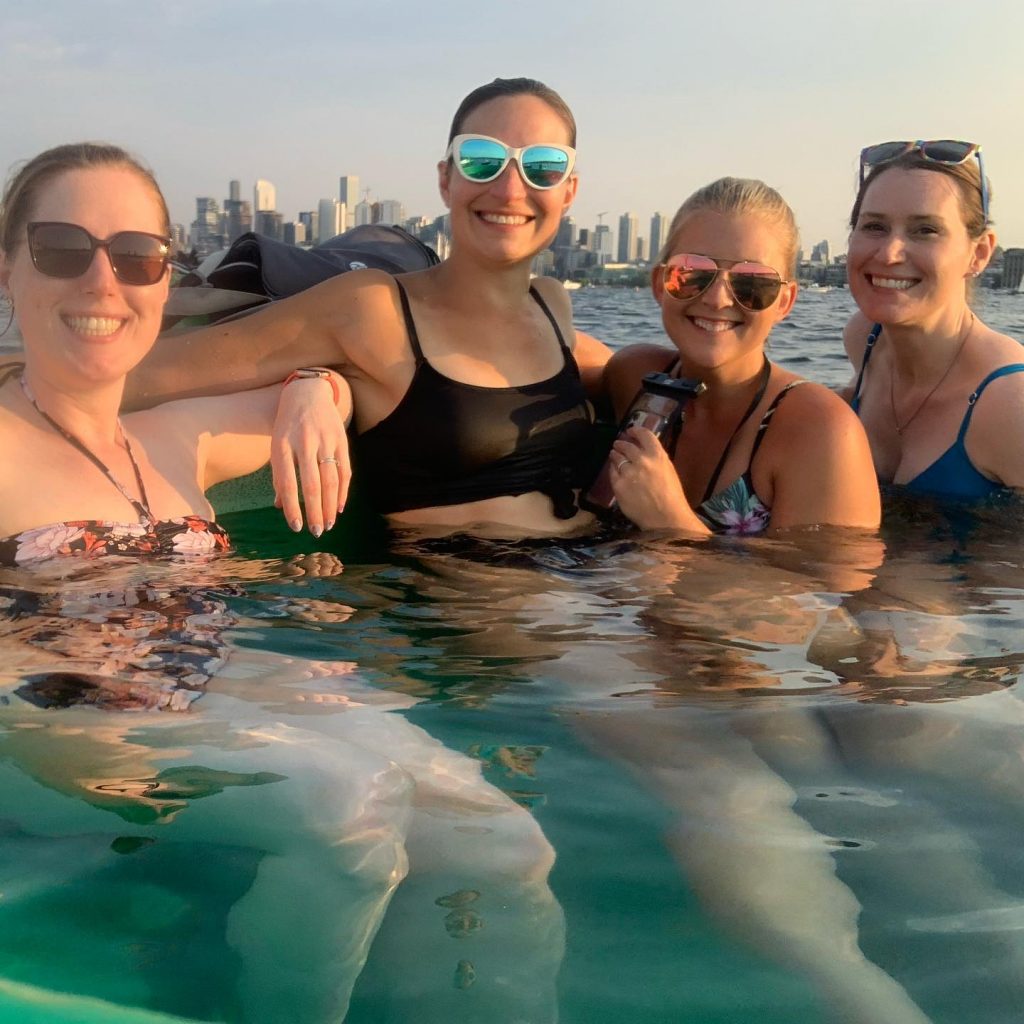 Have you rented a hot tub boat before? Tell me what your experience was like in the comments below!
Like the post? Share it now!