I've already done a post on why I love my Ipsy subscription as a traveler and how I can better pack for vacations with travel-sized makeup, moisturizer, and primers that I get each month. 
Another thing I love about Ipsy is that it introduced me to Wander Beauty products, a makeup line that's designed for women on the go and frequent fliers. Of course after buying some full-sized items I started getting ads on social media for other travel-friendly makeup brands and found treStiQue.
I liked their premise of making applying makeup quick and easy with a limited number of products and ordered a few things from their shop to see how they compare with my other trusted travel makeup brand.
Let's dive right into the pros and cons and overall thoughts on these makeup lines.
Makeup for travel comparison: Wander Beauty and treStiQue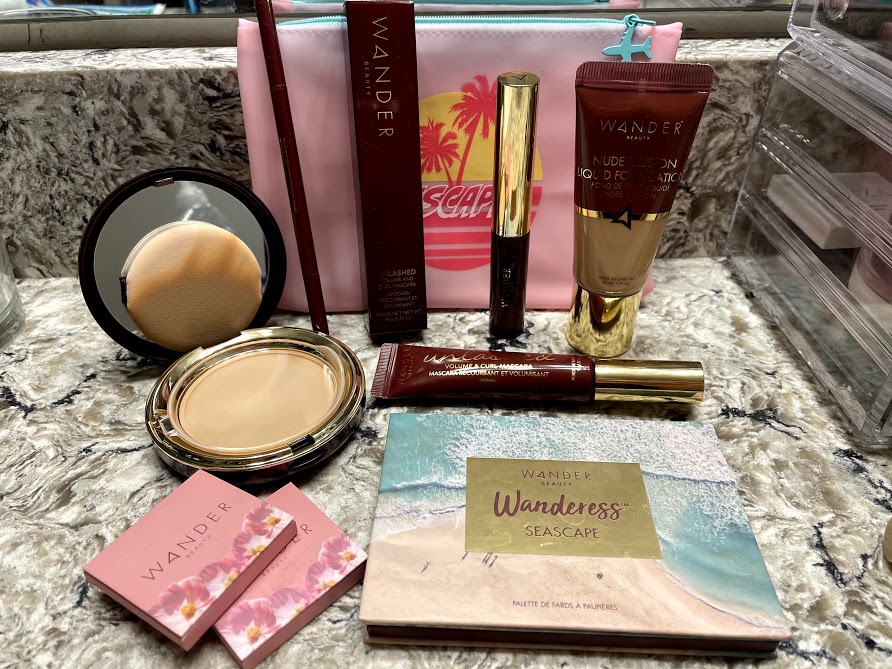 Wander Beauty
I had heard of Wander Beauty and had seen their ads on Facebook but hadn't pulled the trigger since I'm honestly terrible at color-matching myself and didn't want to spend $40 to get a foundation that did not look right. So I was excited when they had a foundation that looked like my shade as an add-on for Ipsy and added it to my cart – and then I kept on shopping their brand as I liked it so much.
Overall, my experience with Wander Beauty has been good and I've liked the quality of the products I get, especially the foundation and mascara.
Wander Beauty pros:
Good coverage: A little goes a long way with the Nude Illusion Liquid Foundation and once set it lasts all day
Good range of shades: There are 12 shades to pick from, ranging from fair to deep
Fun eyeshadow palettes: I love the color combinations of their eyeshadow palettes and how they're destination-themed
Non-clumpy mascara: Their Unlashed mascara is my new favorite go-to as it actually adds volume to my sad little lashes, doesn't clump, and lasts all day
Compact packaging: All my Wander Beauty products easily fit into my makeup bag without me worrying I'll run out on my trip
Wander Beauty cons:
Some products won't travel well: I have had issues with their brow pencils where the color won't retract and looks like it'll break the next time I open it
You will need to pack extra tools: If you use a beauty blender or brush for your foundation, that will have to be packed alongside your makeup instead of being built in
More expensive: The quality is good but I honestly won't buy unless I'm getting a deal through Ipsy or Wander Beauty is running a sale
Bottom line: If you're okay with a higher price point and packing your own brushes and blenders, the quality you get from these products is outstanding. Coverage lasts all day, even in the midst of a pandemic and a mask rubbing all over it, and the finish is a wonderful matte look.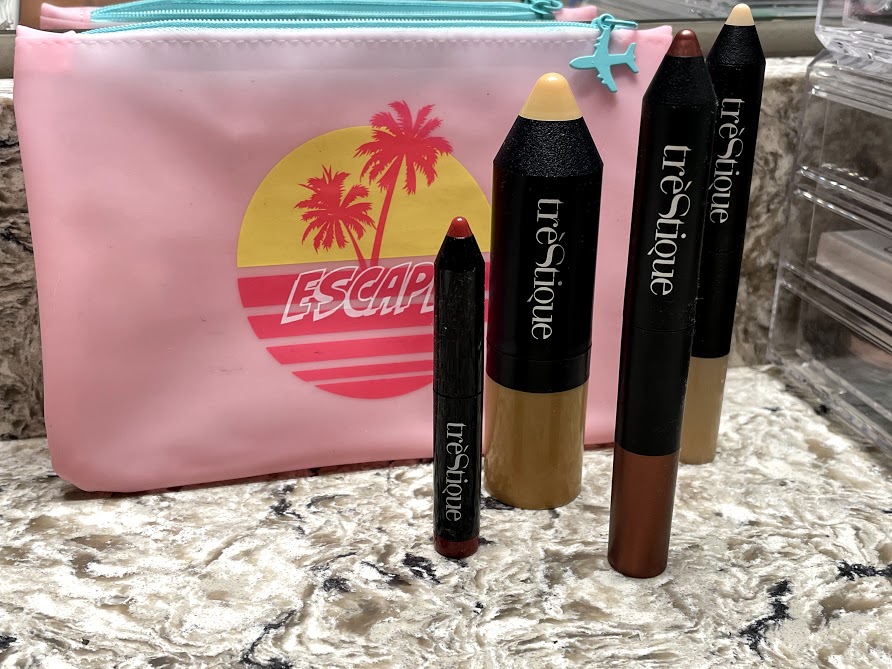 treStiQue
Like I said earlier, I started getting served their ads after buying stuff from Wander Beauty and decided to give them a try to see how they compare – especially since their branding is all about simplifying the makeup process and packaging needed. They operate under the principle that you can use their eight essential products in under 5 minutes – great if you're anxious to get out and explore your travel destination.
Overall, I can see the benefits of buying treStiQue for travel or if you want an easy morning routine that covers all the bases without too much fuss or mess.
treStiQue pros:
Blending tools built right in: The foundation stick has a blender attached to the other end and the eyeshadow stick also has a brush built right in, so two less makeup tools and brushes to pack
Compact in size: The sticks are small and perfect for travel
Good pigmentation for eyes and lips: The eyeshadow pen and lip color I got were bright and the color lasted all day
Magnetic closure: I love that the cover for my lip color snaps back into place with a magnet so I don't have to worry about the cap falling off and coloring the inside of my makeup bag or getting smeared on my other products
More affordable: the treStiQue price point is lower than Wander Beauty
treStiQue cons:
Limited shade options: for the foundation stick there are only six shade options so color-matching can be a bit harder and the color might not be exactly what you're looking for
Light coverage: now this could be a pro if you're looking for a lightweight formula but I like medium to full coverage so this makes the foundation stick a con for me. I've found I really have to lay on the foundation to get it to even out and cover up all the areas I want to cover on my face
No palettes: I do love the eyeshadow crayon but you are limited to one color per crayon, so either plan on a neutral look or using the same color each day of your vacation or plan to pack two or three different crayons to create new looks or match different outfits
Bottom line: If you're looking for makeup that won't take up much room in your bag, have a consistent everyday look, and want makeup that includes blenders and tools built in, go with treStiQue.
At the end of the day, I would trust both brands with my makeup needs while traveling and for now I plan to mix and match products, like treStiQue's eyeshadow crayons with my Wander Beauty mascara, to find my perfect look.
Do you use either of these makeup brands when you travel? Let me know what you think by sharing your thoughts in the comments below!
Like the post? Share it now!