Rick and I are pretty lucky to live in such a beautiful state with access to amazing hiking trails, world-class skiing, and more breweries than we could visit in our lifetimes. This also means we have fun staycations just a few hours from our front door.
One of my favorite weekend getaways from Denver has always been Glenwood Springs. It's gorgeous, relaxing, and there's always something to do!
It's pretty easy getting from Denver to Glenwood Springs as you follow I-70 west, and the drive itself is breathtaking as you pass the ski resorts and mountains before feeling like you're in a new state as the canyon and red rocks rise around you.
Check out our recommendations for a weekend getaway in Glenwood Springs!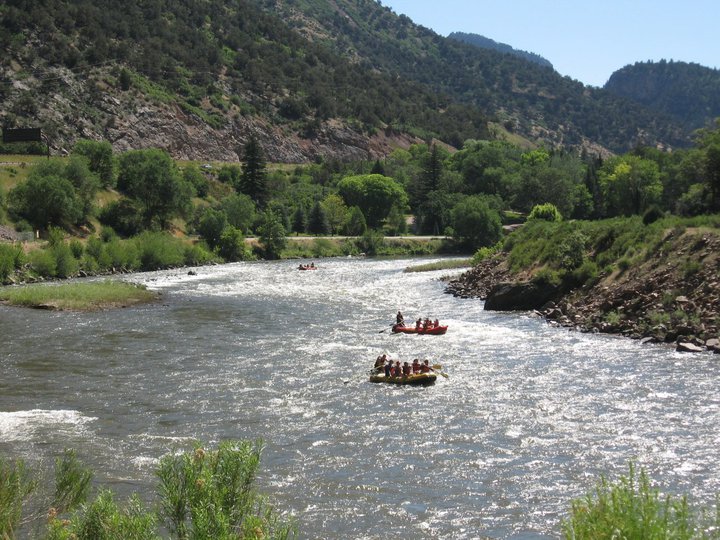 Friday
Start your long weekend away from Denver by hitting the road for the scenic three-hour drive up into the canyon.
First up on your Glenwood Springs itinerary is whitewater rafting! Most trips are around three to four hours for a half-day adventure with departure times throughout the day (based on season). You'll be given a wetsuit or paddle jackets and pants and a life jacket for your rip-roaring adventure, but you'll want to bring along a strap for your sunglasses and either wear old tennis shoes or plan to rent Neoprene booties.
I've been rafting in Glenwood Springs a few times and spring and early to mid-summer offer great waves as you ride the rapids – though the water is always cold, so be prepared to get a bit chilled on your adventure.
After all that paddling, head over to the Glenwood Canyon Brewpub to sample some craft beer and American bar food. Their wild mac n' cheese is to die for, the fish and chips are also excellent, and you can never go wrong with a burger from a brewpub.
That evening, go for a soak in the hot springs! Even though it's touristy, I highly recommend staying right at the Glenwood Hot Springs Resort so you can easily access the pools during their open hours.
The Glenwood Hot Springs are served by the Yampah spring, with temperatures reaching 122 degrees and 3.5 million gallons of water produced each day. Don't worry, I'm not telling you to boil yourself alive, there are two pools at the resort, one kept at 104 degrees and one that's about 90 degrees.
Watching the purples and inky blues take over the sky while you relax in the hot springs is quite the ending to your first night in town!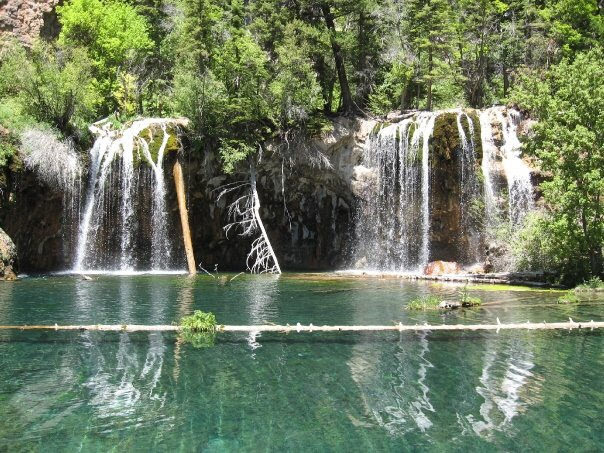 Saturday
You'll start Saturday with a great hike up to Hanging Lake! Since the waterfalls and lake at the end of the trail are so popular, you will need to get a permit for your hike and take a shuttle from the Hanging Lake Welcome Center to the trailhead. Permits ($12) are required for hiking May 1 through October 31 and you cannot park your own vehicle at the trailhead.
Honestly, it is a bit of an odd system and adds an extra step to your trip, but I promise the hike is worth it – it's one of my favorites in Colorado!
If you're not up for the hike, biking the canyon's paved trails along the Colorado and Roaring Forks Rivers is another fun option to see the area. Canyon Bikes offers bike rentals and drops you off 14 miles outside of town so you can bike at your own pace.
After your morning of athletic activity, go back to the hotel and relax by enjoying a massage or spa treatment. Rick and I did a couples massage at the resort a few years back and it was a wonderful experience.
After all your muscles are worked over, hit the pools for a lovely afternoon in the hot springs. There are concessions available and I highly recommend treating yourself to an ice cream cone – perfect to balance out the heat from the springs.
Either head back to the Brewpub to sample more Colorado beers or head up the street to the gorgeous Hotel Colorado and snag a table at their Restaurant & Bar – try to get a table on their outdoor patio if possible. You might recognize the name of this hotel from our post on the best haunted hotels in Colorado and if you don't believe, their great spirits from the bar might put you in the mood to check out the hotel lobby and see if anything strange is going on.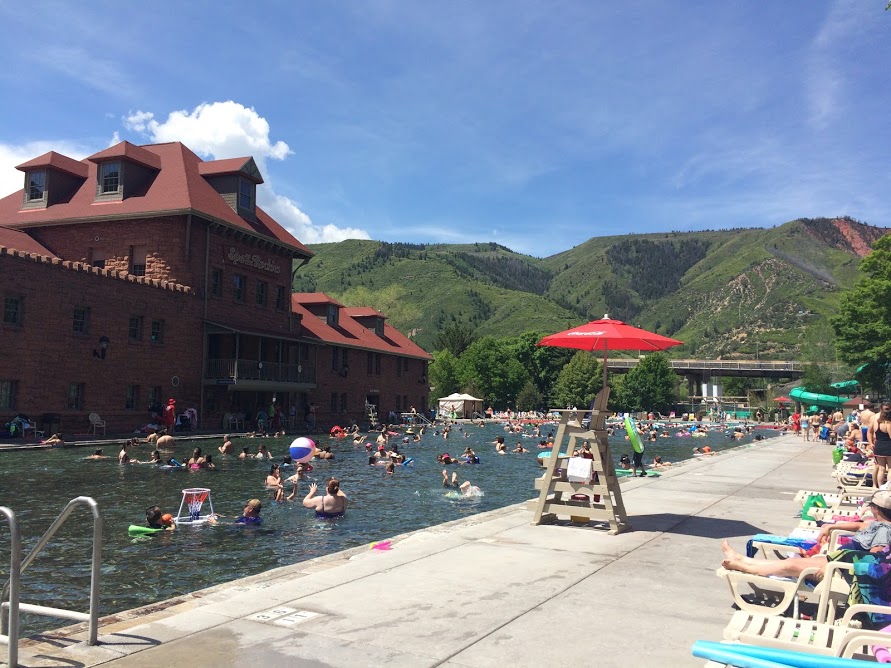 Sunday
Start your morning off with one last soothing dip in the pools before checking out of the hotel.
Before you leave town, head on over to the Glenwood Caverns Adventure Park. Take the 40-minute tour of the cavern and see all the stalactites and stalagmites and other amazing rock formations below ground. Then, get a breath of fresh air by taking the Glenwood Gondola to the summit and take a ride on the alpine coaster or feel like a daredevil as you soar 1,300 feet out over the canyon and river on the giant canyon swing.
If you're heading back to Denver, there are plenty of cool cities to check out along I-70 and stop for lunch, like any of the ski resorts or grab a famous slice of pizza from Beau Jo's down in Idaho Springs!
Have you been to Glenwood Springs? Tell us what your favorite activity was in the comments below or on Twitter!
Like the post? Share it now!