We're anxiously counting down to our next big Europe trip that's happening this summer, where we'll be checking out England, Scotland, and Ireland and I'm thrilled we'll be able to cross two countries off of our travel bucket list!
While we went to London just back in 2018, I'm super excited to see more of England as we make our way up to Scotland and then back through England on our way to Ireland. We've already mapped out a few things to do on our Ireland bucket list, so I thought it was time to start planning our adventure in Scotland and create a travel bucket list for that destination as well.
While our time in Scotland is limited, I know this trip will just give us a taste for the place and we'll be wanting to plan a return visit sometime in the future. So, between this trip and the one we'll book in the future, here are the top 10 things to do on our Scotland bucket list!
Scotland bucket list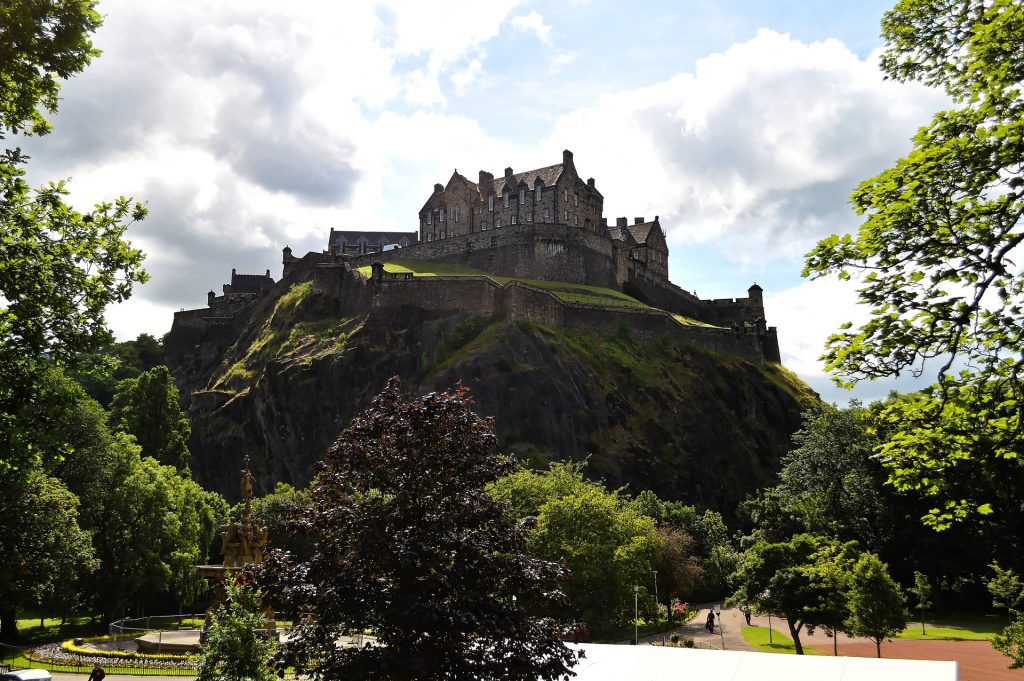 1. Discover Edinburgh
I'm looking forward to exploring Edinburgh and seeing all the historic and important sights, like:
Edinburgh Castle
The Royal Mile
St Giles' Cathedral
Greyfriars' Kirkyard
Sir Walter Scott Monument
The Writers' Museum
Arthur's Seat
Calton Hill
Palace of Holyroodhouse
Beyond the Edinburgh must-dos, I've heard there are some fun ghost tours, the Scotch Whisky Experience, and plenty of fun streets to get great photographs from. I can't wait to just roam around and get lost in the city between seeing the essentials. 
2. Ride across the Glenfinnan Viaduct
I have serious doubts we'll see a flying Ford Anglia on its way to Hogwarts (but one can dream!), but we'll definitely need to take a trip over the iconic railway viaduct and pretend we're  on our way to learn magic. I'll make sure my phone is charged up for the impressive views from the Jacobite steam train. 
3. Find Harry Potter sites
Yup, I can't wait to see all the places that inspired J.K. Rowling to write the Harry Potter series while in Scotland. Most famously on that list is The Elephant House, the cafe that claims to be "The Birthplace of Harry Potter." I might have to pop in and order a coffee and see if my muse is there and she can help me finish my work in progress! Apparently, Edinburgh Castle was the inspiration for Hogwarts, and the nearby cemetery provided some names for the characters. 
Beyond stopping by the cafe, there are some fun options for Harry Potter walking tours in Edinburgh! Stops on these tours include the cafe, the shopping street which became Diagon Alley, and the burial site of Lord Voldemort and Tom Riddle in Greyfriar's Cemetery. 
4. Visit Loch Ness
While I won't be catching a glimpse of Nessie, I would like to go check out the famous loch or lake in the Scottish Highlands. There are plenty of guided tours to the area as well as cruise options if we want a real close encounter with the Loch Ness Monster. 
I've also heard great things about another loch, Loch Awe, and its name definitely has me intrigued about its beauty! It's also up in the Scottish Highlands and is near the Kilchurn Castle, dating back to the 1400s. 
5. Try traditional food and drinks
Even though I'm not much for whiskey, I'll make an exception while we tour Scotland and have a few tasters of the famous beverage – who knows, maybe I'll develop a taste for it after all! After trying shark and horse in Iceland, I feel I can't back down from trying haggis in Scotland, which is normally served with potatoes ("tatties") and turnips ("neeps").  
Other foods I'm curious to sample in Scotland include:
Scotch eggs
Scottish salmon
Black pudding
Cullen skink
Grouse
Dundee Cake
Shortbread
Deep fried Mars Bar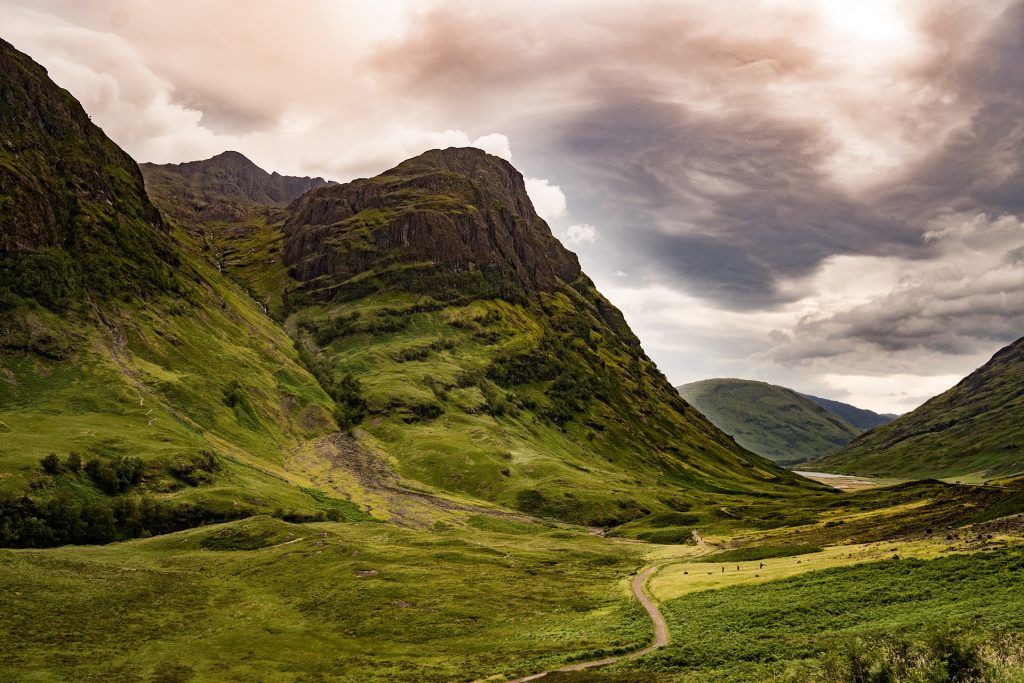 6. Hike across the lands
Between the Highlands and the Lowlands, there is plenty of terrain to cover in Scotland. I've heard wonderful things about the hiking opportunities there with dramatic views of rugged mountains and beautiful beaches. We'll have to check out the Lost Valley hike in Glencoe, Puck's Glen, which is said to be utterly magical as you walk through a rainforest
7. Drive the North Coast 500
We'll give our legs a break by driving the North Coast 500 and making a few stops along the way to check out the popular stops and sights. It looks incredible with amazing ocean views, hidden beaches, and small towns to explore along the route. 
The route spans 516 miles and circles the northern coast of Scotland. It's great as the tour starts and ends in Inverness so we can complete the whole circle. The photos of the coastal highway look magical and at times tropical with the stretches of sand and bursts of color. 
Some North Coast 500 stops we'll have to check out include:
Achmelvich Beach
Dornoch Beach
Dunrobin Castle
Duncasby Lighthouse and Stacks
Smoo Cave
Kylesku Bridge
Falls of Measach
Ceannabeine Village Trail
8. See the castles
Maybe it's because I'm American but I love seeing and touring castles when we're in Europe! I can act out my Disney princess dreams as we see all the richly-decorated rooms and learn what life was like for the families that built these stately residences. 
Some castles I've researched for our time in Scotland include:
Craigievar Castle: Dating back to the 17th Century, this pink castle is still furnished for occupants as the last occupant left everything behind when he walked away from the home that'd been in his family for more than 350 years.
Doune: Often used as a film site, this castle in Scotland was once a royal retreat and hunting lodge but now hosts tours (narrated by Monty Python's Terry Jones!) and details the castle's medieval history.
Eilean Donan: Near the bridge to the Isle of Skye, we can visit the restored Eilean Donan castle, which sits on its own little isle surrounded by lochs.
Slains Castle: Finally, we'll check out the ruins of Slains Castle, which is said to have been part of the inspiration of Bram Stoker's Dracula. It seems not many tourists bother with Slains but I think it sounds like a neat place to visit in Scotland!
9. Go to the Isle of Skye
Known for stunning scenery, amazing architecture, and the colorful buildings facing the water in the Portree harbor, we'd love the chance to visit the lovely island of the Isle of Skye. While there, I think it'd be neat to check out the Fairy Glen and Fairy Pools, as well as hike the Quiraing. 
10. Golf at St. Andrews
Fortunately I don't think we'd secure a tee time as they book out a year in advance and Rick would die laughing at my attempts to tee off (I don't blame him, I look ridiculous at Top Golf and that's in a super controlled environment), but seeing the Old Course at St. Andrews would still be fun for this non-golfer. Since Scotland is the birthplace of the sport and has the oldest course, it's definitely a must-do on our Scotland bucket list. 
What'd we miss from our bucket list for Scotland? Tell us in the comments below or on Twitter!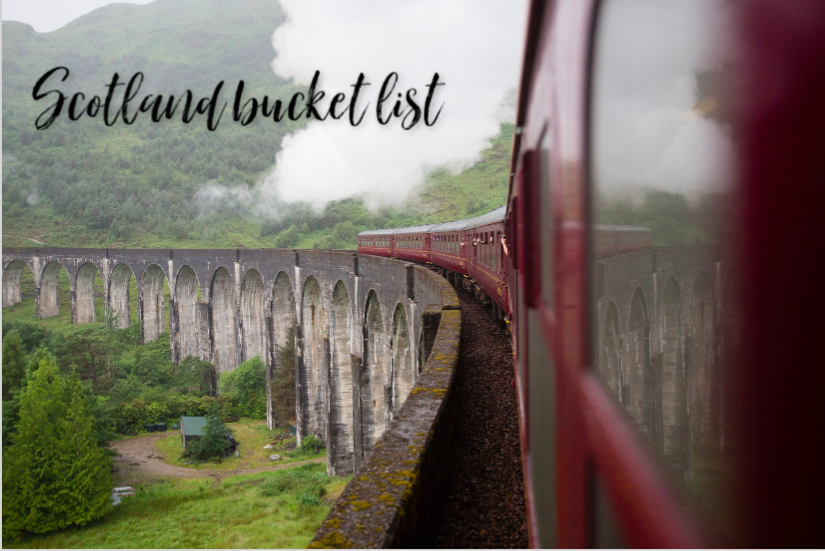 Like the post? Share it now!