It seems impossible to imagine strolling the streets of Florence without a gelato in hand! Especially after a delicious meal of bistecca fiorentina paired with a lovely chianti. While Florence is home to classic art, a Renaissance culture, and stunning architecture, it's also home to some wonderful gelaterie as well.
It's possible I've tried every Florence gelateria's pistachio option and you'll see it pop up on the list as a favorite flavor because it's just soooo good. Rick is ambivalent about pistachios but I still did my best to get him to try a bite of mine every time I ordered it. Next time you find yourself in the Italian city, be sure to visit these top five shops for the best gelato in Florence.
5 best stops for gelato in Florence
Gelateria La Carraia
This gelato shop wins first place because of the diverse flavors available, the great portion sizes, and creamy and fresh flavors of every scoop. Not only can you find classic flavors on the menu, but they also have some fun house specialties – like the delicious delizia Caraia – as well as custom creations like green apple or ricotta cheese and pear. Thankfully, La Carraia has two locations in Florence so you can easily treat yourself to a cone or cup of their divine gelato.
Favorite flavors at Gelateria La Carraia:
White chocolate with pistachio (delizia Carraia)
Chocolate and hazelnut (bacio)
Cookies
Nocciola
Gelateria dei Neri
This favorite gelateria is known for sticking to traditional methods for making their gelato but stepping it up a level by offering lactose-free options as well as other cool treats like Italian ice. They're also well-known for having some unique flavors available, like rose and gorgonzola, along with more typical gelato flavors. Expect crowds on hot days or late in the afternoon, but know that the wait is worth it.
Favorite flavors at Gelateria dei Neri:
Pistachio
Salted caramel
Strawberry cheesecake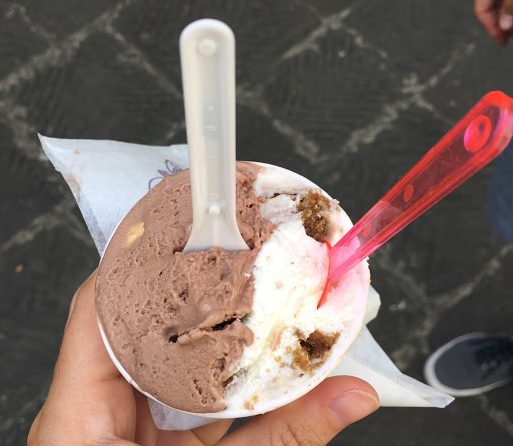 Vivoli
Tucked away from the busy streets near Basilica di Santa Croce di Firenze is Vivoli and it's worth getting a bit lost for. Since we got ours before lunch (don't judge) we shared a cup with a scoop of hazelnut and tiramisu. The hazelnut was creamy and the flavor just right and the tiramisu was downright heavenly. It was almost like eating flavored whip cream and it just melted in your mouth.
If we didn't have so many other places to try, we probably would have gone back again to try some of their other flavors. You can bet they know what they're doing since they were founded back in 1929! Fair warning to those who love getting gelato in cones, they only serve theirs in cones.
Favorite gelato flavors at Vivoli:
Perche no!
Why not? That's a great question to ask yourself when it comes to asking if it's time for another gelato. They also apply that philosophy to the flavors they create and are a favorite gelato shop in Florence for their distinctive flavor options, like lime with mint, curry with mango, and English trifle. They have a daily special so you can literally go back every single day you're in Florence and try something new and fun. They use all natural ingredients for their creamy creations, much like they've been doing since they opened in 1939.
Favorite flavors at Perche no!:
Pistachio
Fior di latte
Nicciolosa
Coffee crunch
Rivareno Gelato
With a great menu of creamy gelato and fruity sorbet, you can't go wrong when ordering at Rivareno. If you're lactose-intolerant, you can get a yummy pistachio gelato here that doesn't have milk! Calling themselves an Italian gelato lab, they have a great array of traditional flavors as well as some exceptional combo flavors and some different combos like sesame saffron and ricotta with fig. Another reason this shop is popular is due to its extended hours, sometimes open until midnight or 1 a.m. You know, in case you have a midnight craving for gelato!
Favorite flavors at Rivareno Gelato:
Crunchy caramel
Gianduia (chocolate and hazelnut)
Contessa (almonds, macaroons, and hazelnut)
Did we miss any of the best gelato shops in Florence? Tell us where we need to go back to on our Facebook Page!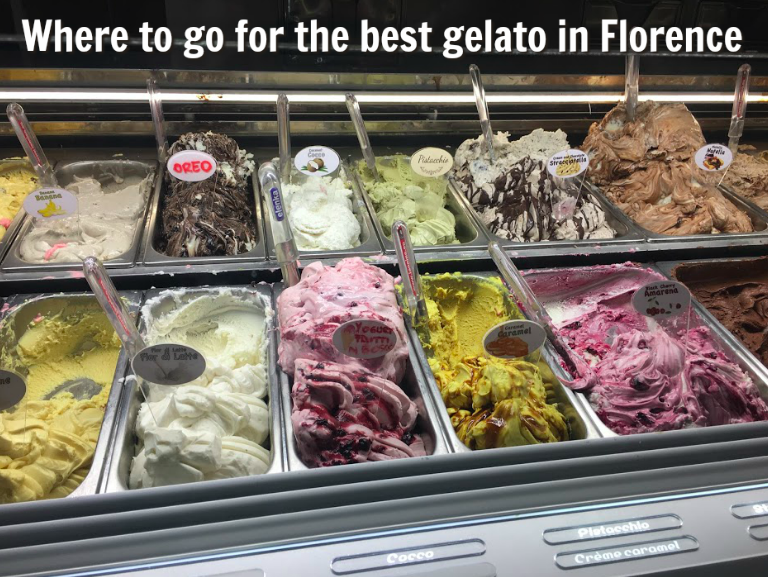 Like the post? Share it now!