Amsterdam is a photographer's dream with its beautiful architecture, many bridges, its canals and ability to catch neat reflections on the water's surface, the flower shops, and tons and tons of bikes to use in the foreground of your photos. If you're on the hunt for the best photography locations in Amsterdam, you've come to the right place!
We're rounding up the top 10 places in Amsterdam to stop at to get amazing travel pics and the ideal photography locations to visit if you want to make your friends jealous on Instagram.
Top 10 Instagrammable locations in Amsterdam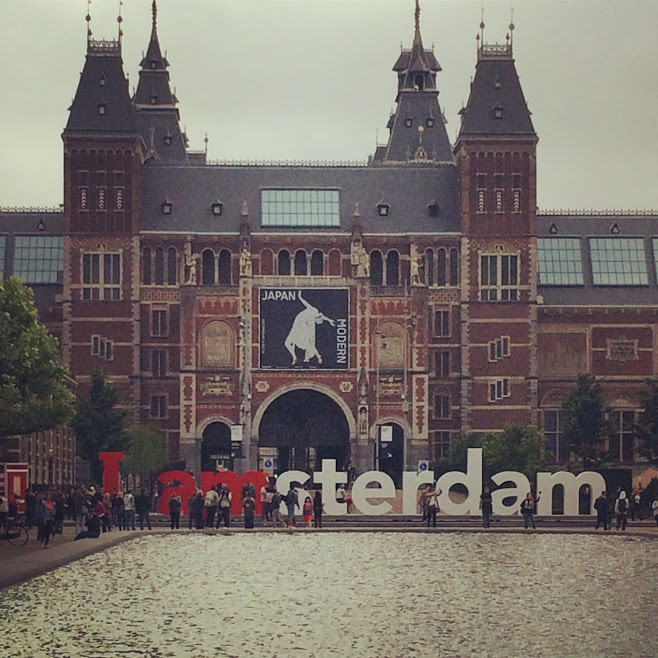 1. I Amsterdam sign at Rijksmuseum
You'll spot the crowds of tourists trying to get their picture taken by this famous landmark in Amsterdam and once you've gotten your pic, step back and take in the area as a whole or walk away from the sign and get photos of the Rijksmuseum and water feature or ice skating rink in winter.
2. Damrak
Snap photos of the Dancing Houses on Damrak, one of the most popular photography locations in Amsterdam! These crooked houses make for a great subject of your travel photography adventure in the canaled city and are easy to get to as they're on a main avenue between Amsterdam Central Station and Dam Square.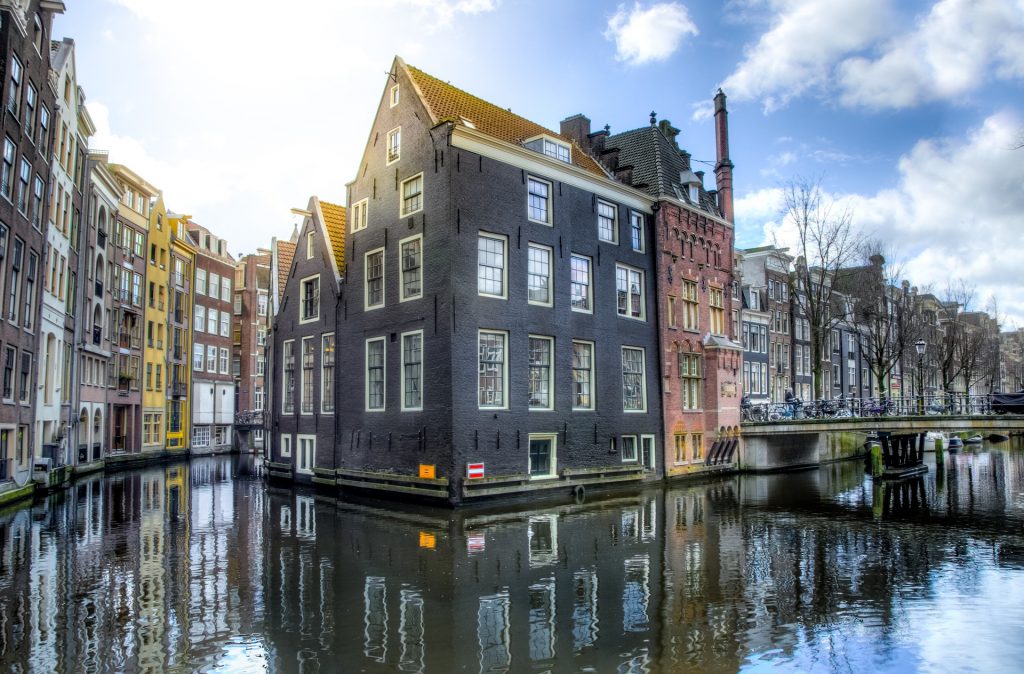 3. Armbrug and Sint Olofssteeg
Not far from Damrak's Dancing Houses is the great view of Amsterdam's architecture and canal system at the corner of Sint Olofssteeg. You'll be able to get the houses directly by the water as the buildings don't have sidewalks around them. You might want to grab a coffee at a nearby cafe so you can have extra time snapping the perfect picture of this popular Instagrammable location in Amsterdam.
4. Red Light District
Be sure to return at night to photograph the Red Light District, with its colorful lights bouncing off the canals – but *do not* take photographs of the people working in the windows. It is illegal and security is watching, plus it's just disrespectful. But, it is definitely legal to take photographs of the water and other buildings in the area.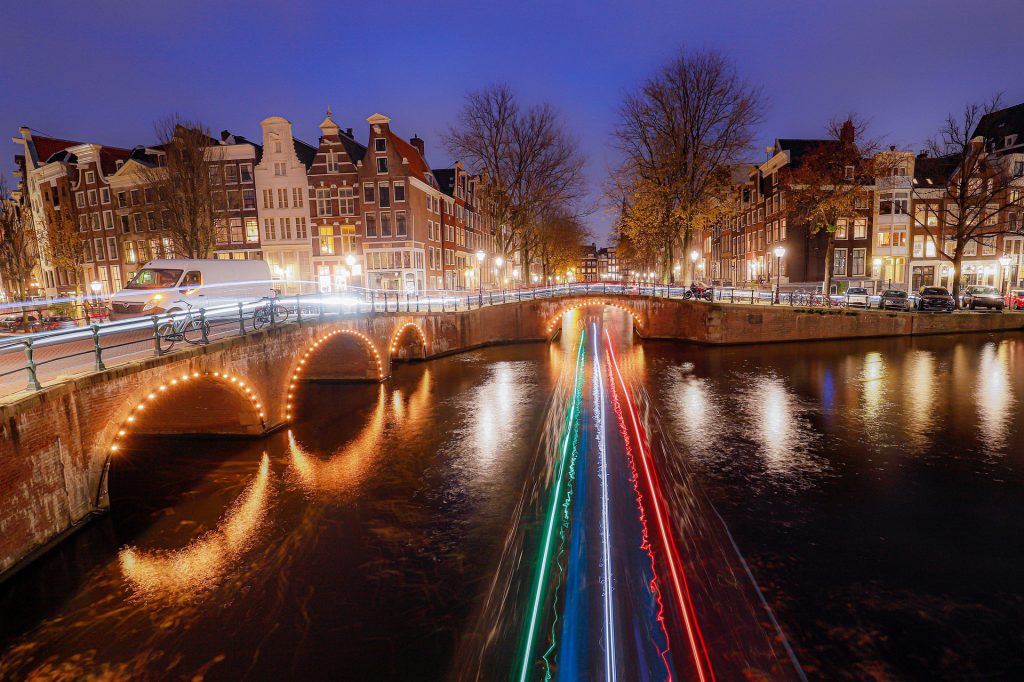 5. The bridges at Leidsegracht and Keizersgracht
Another spot you should visit at night is where the bridges of Leidsegracht and Keizersgracht meet as the bridges are lit up and with the boats passing underneath, you can often get light trails if you're patient enough. It's a popular photography location in Amsterdam and it's easy to see why as the views at night are postcard-worthy and definitely warrant a visit.
6. Binnenkant bridge
Snap pics on top of the canal to capture Amsterdam's architecture, boathouses, and canal cruise boats. This point of view has a nice curve to it too, adding a little something extra to your photograph – and if you go when it's clear out, you can probably get some cool reflections off the water.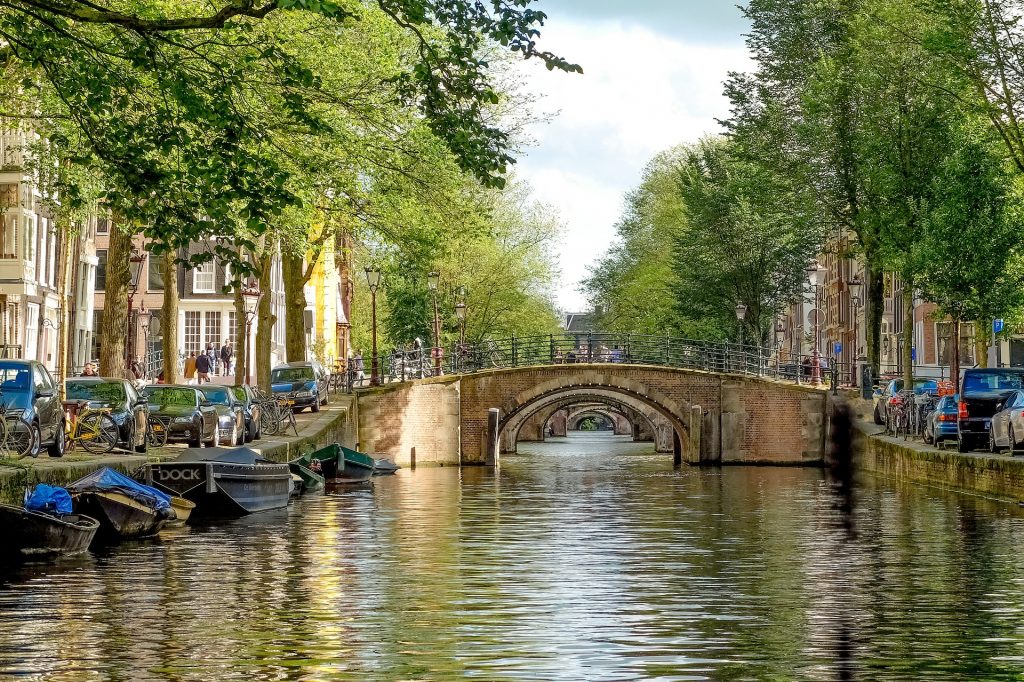 7. Seven bridges
Can't get enough of Amsterdam's bridges and canal views? Go on a canal cruise and you'll pass the point where you can see seven bridges in a row, and with the right angle you can capture all of them and add some serious depth to your travel photos of Amsterdam. You can also get a good view of this photography location at Thorbeckeplein but you'll have to get your camera on the ground to capture the seven bridges. 
8. The Bloemenmarkt
You don't have to leave the city to get pictures of the gorgeous shades of tulips that the Netherlands is famous for – you just have to visit the Flower Market! The market also makes for a cool subject of your photos from afar, seeing the floating shops on the canal and is worth a stop to find some cool souvenirs or get a little snack or two.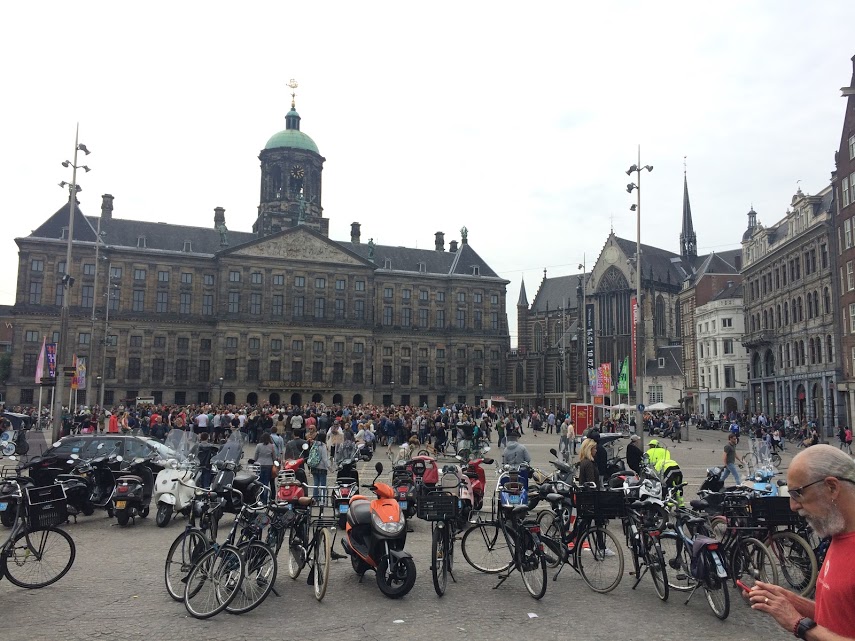 9. The Royal Palace and Dam Square
Discover where the Dutch Royal family hosts special events and galas by visiting the Royal Palace in Dam Square. Not only is the building beautiful and a great landmark to photograph, but I love how busy and lively the square gets – and opportunities to photograph the city's clusters of bikes. If you want to have the place all to yourself, just visit later in the day when the tourist crowds have died down.
10. A'Dam Lookout
Finally, head off to the A'Dam Lookout for an amazing panoramic view of the city. The place also has a fun bar if you want a cocktail to pair with your view or you can visit the top floor for an unobstructed view of Amsterdam. This photography location does come with an entrance fee of about €12.50, but worth it if you want an aerial view of Amsterdam.
Where are your favorite photography locations in Amsterdam? Tell us in the comments below or give us a shout on Twitter!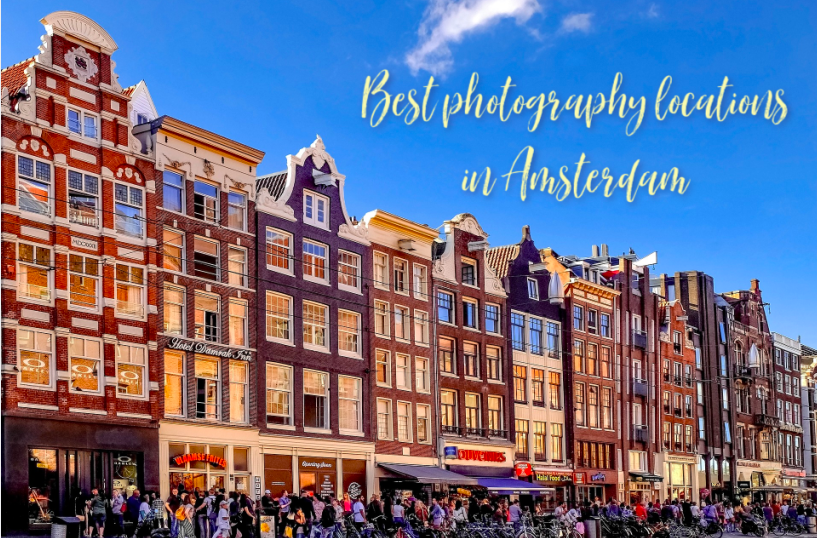 Like the post? Share it now!