Capture the best of Lucerne by visiting our favorite photography locations in this fun, historic city in Switzerland!
Whether you're getting pics for Instagram or your own travel scrapbook, there are some truly great photo spots in Lucerne you'll want to check out during your time there. 
Lucerne is known for its medieval architecture, historic landmarks and sights, and is surrounded by some truly beautiful scenery, like the lake and mountain ranges. Being such a walkable city, it won't be hard to visit these eight photography locations in Lucerne – even if you only have a day there!
Be ready to leave the land of cheese, chocolate, and decadence with spellbinding photos. 
8 most Instagrammable destinations in Lucerne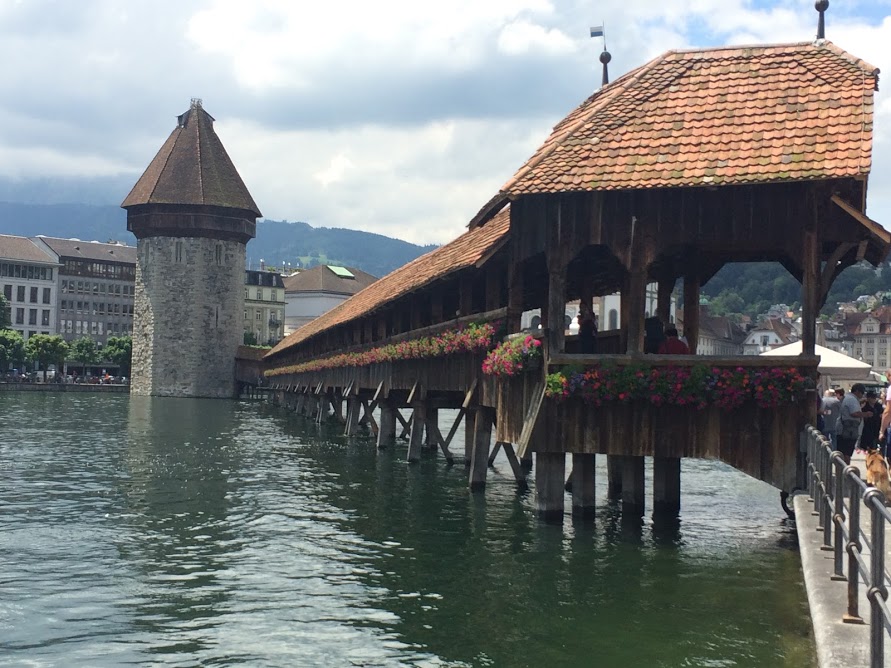 1. Kapellbrucke Bridge (Chapel Bridge)
This unique, historic bridge crosses the River Reuss and provides not only a great viewpoint to photograph Lucerne, but also a great subject! From the colorful flower displays decorating the bridge to the snow white swans lazily floating by, it's the perfect spot to snap pics of Lucerne.
As you walk the bridge to get fun angles of the river and the city's architecture, be sure to look up and see the paintings on the ceiling. The chapel was built in the 14th century and  the paintings were added in the 17th. There was a fire in 1993, but fortunately much of the bridge was restored – though be on the lookout for leftover scorch marks. 
2. Lion Monument
It's a classic and a must-see in Lucerne. The despairing lion is in tribute to Swiss Guards who died during the French Revolution and is a moving monument. With the green pool of water in front, you're guaranteed to get good, people-free shots of the monument and can enjoy a moment of silence for the fallen soldiers.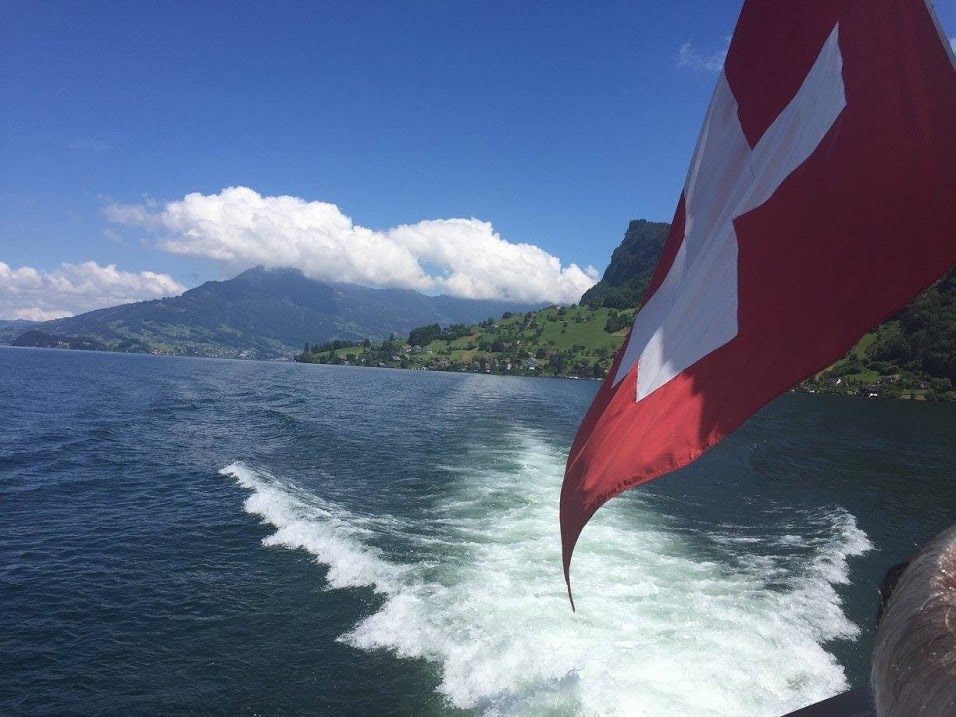 3. Lake Lucerne
Go for a cruise across Lake  Lucerne and see the city disappear behind you and the green mountains rise in front of you. The mountains actually reminded me of Kauai's Napali Coast in a way as they were so vibrant and looming and the boat ride is very steady and leisurely. I normally don't do well on boat rides and this one was smooth going, so no Dramamine needed!
4. Jesuit Church
Step inside this ornate and old church  and get picture-perfect snaps of the stunningly white interior and colorful accents of copper, brown, pink, and gold. If you catch the right light, the church looks absolutely heavenly. 
This Baroque-style church dates to 1667 and has a great facade for exterior architecture shots.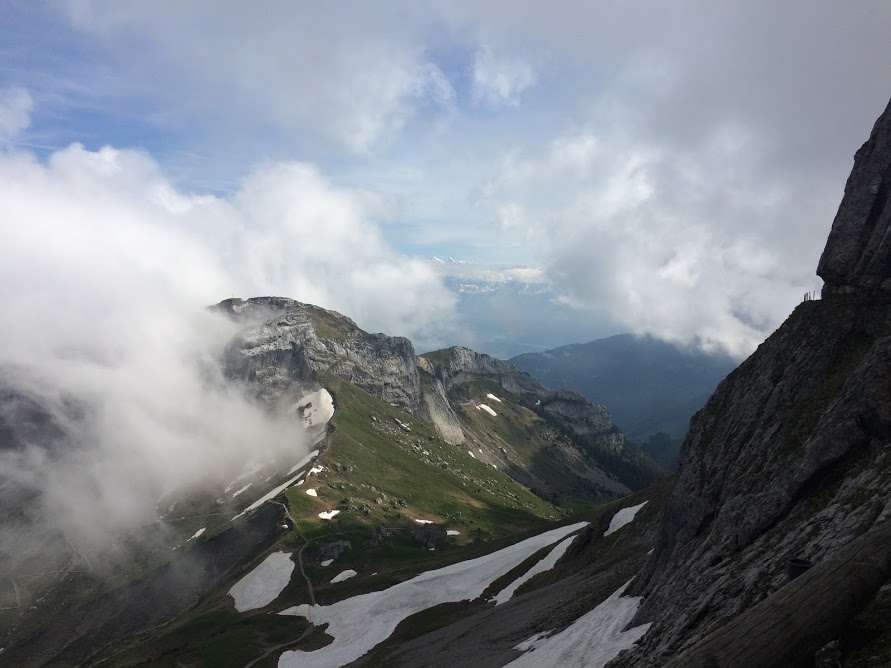 5. Mt. Pilatus
After a fun ride across Lake Lucerne, alternatively you can take the bus but the boat rides gives you a two-for-one opportunity as you visit the most Instagrammable places in Lucerne, you can take the cogwheel up to the top of Mt. Pilatus for unbelievable mountain views in Switzerland. 
It was foggy when we first got to the top after lunch, but did clear up pretty quickly, so don't worry if it's not ideal photography conditions when you get to the top. Plus, there are so many hiking trails to explore and informational placards to read, that there's enough to occupy your time while you wait for good photography conditions. 
The gondola ride on the way back down also provides an opportunity for awesome aerial shots, and leads you to an alpine slide if you want to add some extra fun to your Mt. Pilatus excursion. 
6. Musegg Wall
See Lucerne from above and get your perfect panoramic shots of this charming city at Musegg Wall. This wall is part of the historic fortification around the city, built in the 13th century, and gives you a fantastic bird's-eye view of the city sprawling out below you, the river snaking through the city, and the gorgeous mountains in the distance.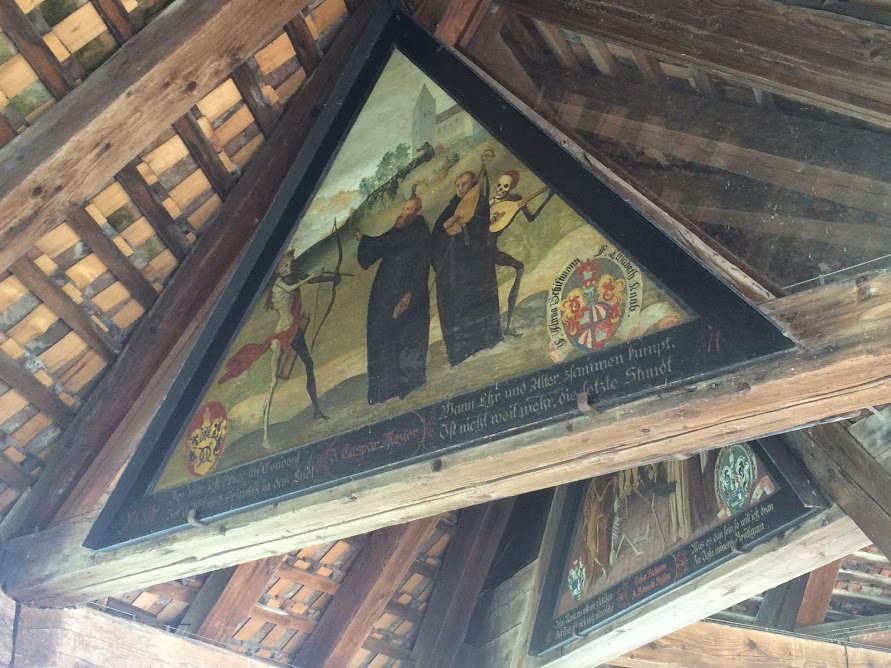 7. Spreuer Bridge
Similar to Chapel Bridge, this Old Town bridge also has artistic panels and gives you a great view of the city and Chapel Bridge! It's also not as popular as its big brother, meaning fewer crowds and a better chance of people-free shots. 
8. Chateau Gütsch
Another great option to see Lucerne from above is at Chateau Gütsch or Hotel Gütsch. Take the funicular up to the 19th-century castle – though the Gütsch Tower, a fire tower to warn the citizens of danger, was built in 1590 and burned down in 1888. The chateau, which drew inspiration from the Bavarian Neuschwanstein, affords impressive views of Lucerne as it sits perched above.  
Even if you don't stay at the hotel, it's worth the ride up and you can always stop for lunch on the terrace, complete with a mesmerizing view of the lake, the historic center, and surrounding mountains. 
Where's your favorite photography spot in Lucerne? Tell us in the comments below or over on Twitter!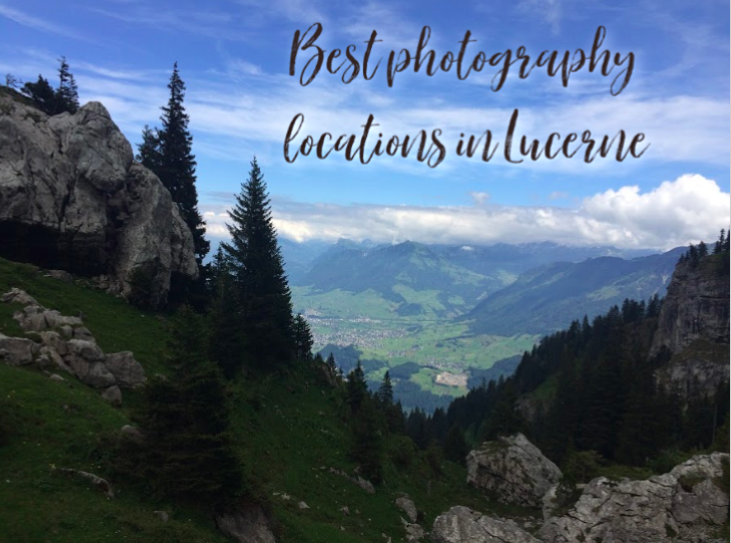 Like the post? Share it now!