Until about two years ago I had never paid an annual fee for a credit card but then Rick talked up the benefits of the Chase Sapphire Reserve card and I had to admit it was worth the fee for all the travel perks it comes with.  
But not all travel credit cards are made equal and not every traveler is looking for the same thing out of their card. Some want to rack up miles to cover flight costs and some want comfort and convenience out of travel by getting access to airline lounges or credited back for a faster experience with TSA.
Most of the best travel credit cards on the market do have fees attached – which scared me at first – but when you take into account all the benefits and perks you get out of your card, it can easily pay for itself in a year, especially if you're planning a lot of travel.
If you're starting to research what travel credit card might be the best for you, check out our reviews of the best options on the market right now.
Top 6 travel credit cards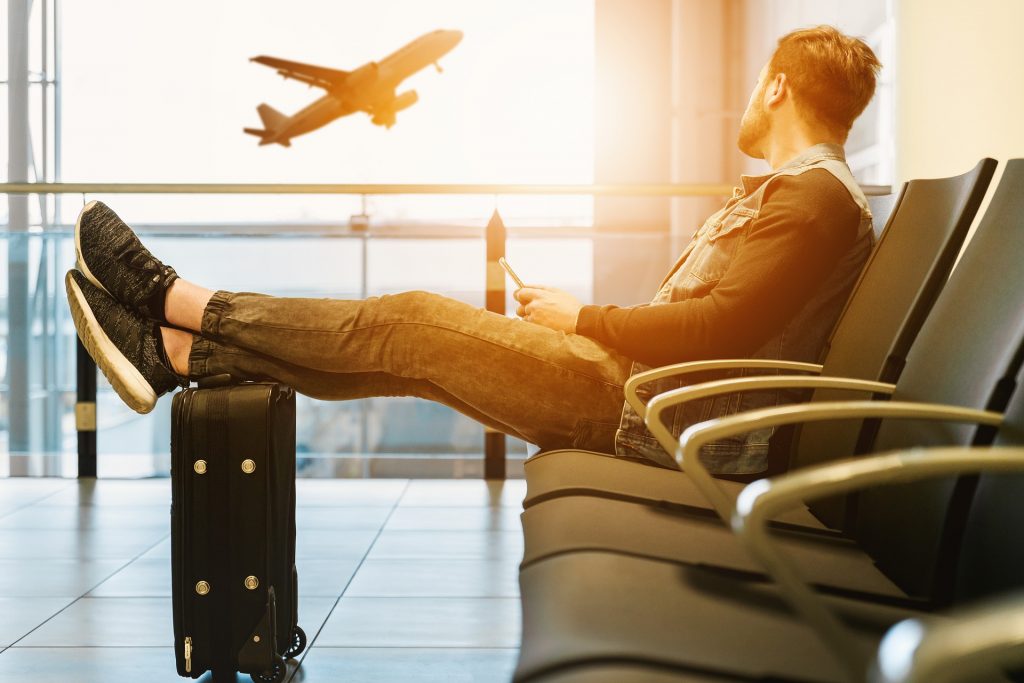 1. Chase Sapphire Reserve
I love my Chase Sapphire Reserve card and since Rick and I are good about using ours when we travel or when we're dining out, we've been able to transfer points and enjoy free hotel stays, or immediately pay off flights with our points.
Benefits:
3x points on travel and dining, 1 point all other purchases
No foreign transaction fees
$300 annual travel credit
Get 50% more on points when booking travel through Chase
Priority Pass Select membership
$100 credit for Global Entry or TSA PreCheck application
50,000 bonus points (when you spend $4,000 in first three months)
A major downside is the $450 annual fee, but when you take into account the $300 travel credit, it really works down to $150 as long as you're going places throughout the year. 
Their Ultimate Rewards site has tons of travel partners and we've enjoyed all of our stays at the hotels they work with, as well as enjoyed that our points go further when we book through them. We'll actually be saving points for our Europe trip so we can get our hotel in London fully comped.
I also enjoy that we get a complimentary membership with Priority Pass and can relax while having long layovers.
Their customer service is top-notch and I never have to wait more than a few minutes to be connected to a representative.
2. Chase Sapphire Preferred
Not ready for that steep of a fee? Try the Preferred card that only has a $95 annual fee and still comes with excellent benefits and travel perks. Rick had this card before he upgraded to Reserve.
Benefits:
Earn 2x points for every dollar on travel and dining purchases
Earn 25% more on travel booked through Chase (1 point equals 1.25)
No foreign transaction fees
Earn 60,000 bonus points (after spending $4,000 in the first three months)
It's a great card if you're not ready for a giant fee but still want to earn points as quickly as possible and get more when you redeem your points. The bonus points alone are worth the first year's annual fee if you've got some exciting travel planned in the next 12 months.
3. Capital One Venture
I have a Capital One credit card and find their system user-friendly and their cards are accepted worldwide. This card does have a $95 annual fee, though it is waived the first year.
Benefits:
50,000 bonus miles (when you spend $3,00 in the first three months)
$100 credit for Global Entry or TSA PreCheck application
2x miles for every purchase
No foreign transaction fees
Rewards never expire
Points can be used however you want and I like that you get 2x miles for every purchase, not just in a specific category, and that the rewards never expire.
There is also the Capital One VentureOne card that has less perks (like 20,000 bonus points and only 1.25x miles for every purchase), but has no annual fee. So if you're looking for a good starter miles or travel credit card, this could be a good option. 
4. Discover it Miles
I really like Discover as a credit card company as their customer service is outstanding and they make sure to provide plenty of perks and benefits to their cardholders, like access to FICO scores. 
Benefits:
No annual fee
1.5 points for all purchases
First year match of your miles
No foreign transaction fee
Miles never expire
This credit card only does miles which is great if you're a frequent flyer but won't extend to hotels or other areas of travel. You can fly any airline at any time with no blackout dates as well.
The no annual fee is a huge bonus of this card if you want an easy entrance to travel credit cards, as well as the ability to rack up points on all purchases regardless of category.
5. American Express Platinum
The annual fee for this card is steep, at $550, but if you're a frequent traveler it could very well be worth it with how fast you can rack up points. 
Benefits:
Earn 5x points on airfare (booked directly with the airline or through Amex Travel) as well as hotels booked through Amex Travel
Earn 60,000 bonus points (when you spend $5,000 in the first three months)
$200 annual airline rebate for incidental fees
$100 credit for Global Entry or TSA PreCheck application
Up to $200 credits for Uber annually
Centurion Lounge access or Delta Sky Club access when flying Delta
Priority Pass lounge membership
Again, this credit card can be worth the annual fee if you travel frequently enough to make use of the Uber credits, airline credits, and fantastic points system. 
The access to airport lounges are also great benefits if you need to get work done or want to relax in a more comforting environment than hanging out at your gate.
6. American Express Gold Card
Another option from American Express is the Gold Card, that comes with a $250 annual fee.
Benefits:
Earn 4x points at restaurants and U.S. supermarkets (capped at $25,000 per year)
Earn 3x points on flights booked with the airline or through Amex Travel
Earn 35,000 bonus miles (when you spend $4,000 in the first three months)
Up to $100 airline fee credit per year
Up to $120 in statement credits when dining at participating restaurants
This card is great as you can earn points quickly on purchases outside of just travel but still redeem points for travel if you wish. The statement credits for airlines and restaurants are also fantastic benefits and help offset that annual fee.
When choosing a travel credit card, make a list of expenses you put on cards to see if you need a card that rewards your for general purchases or if you dine out enough that 3-4x points will go a long way. Also look at how you plan to redeem your points. Is a 1:1 point to dollar transfer good enough? Do you just want a card for flying or travel in general?
Knowing what rewards you want can help you find the right credit card for your travel lifestyle.
Tell me what you think! Do you have a favorite travel credit card? Share in the comments below or on Twitter. 
Like the post? Share it now!