While Rick and I are no strangers to cruising to Caribbean destinations, one we haven't done that Rick is dying to do is an Alaskan cruise.
Alaska is definitely a bucket list-worthy travel destination that I would like to check off our list sometime. We can have so many adventures in Alaska, from viewing the glaciers to exploring its many national parks. Alaska's call of the wild and exciting adventures are definitely catching our attention and we might just need to book a getaway there as soon as we can.
Whether we want to check out the cities of Anchorage, Fairbanks, Juneau, or Seward or we just want to get lost in the forests and or cruise the coastline, I think we'll have plenty of activities to check off our Alaska bucket list when we finally make it there. 
While we've got nothing in the works yet, that doesn't mean I can't dream about and plan for our future Alaskan getaway, so here's our top 10 things to do on our Alaska bucket list!
Alaska bucket list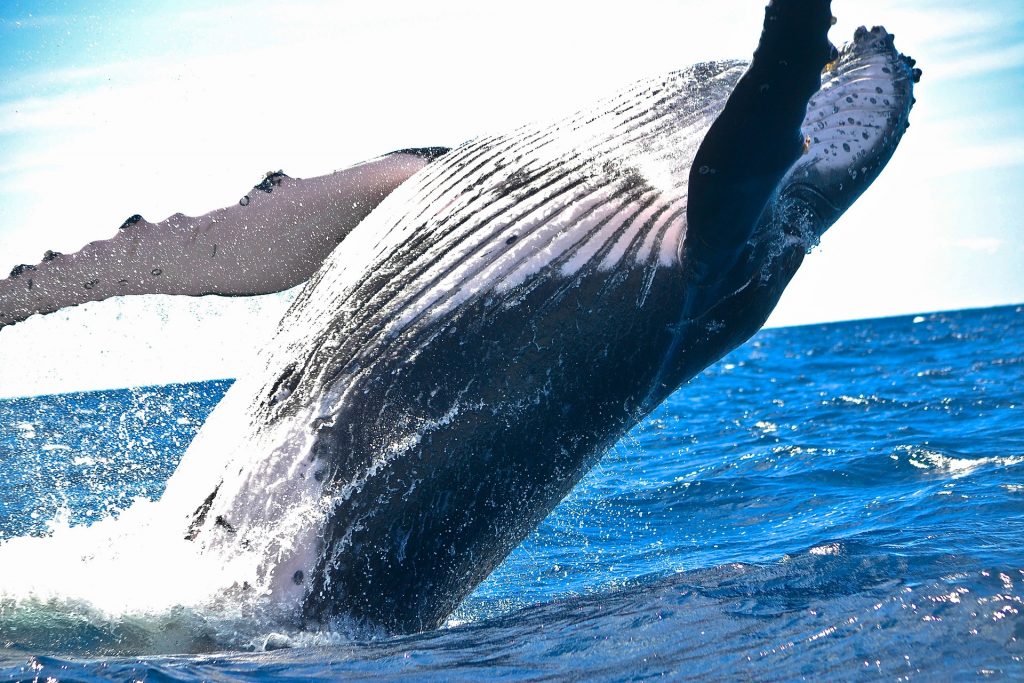 1. Whale watching in Kenai Fjords National Park
Kenai Fjords sounds like it offers amazing whale watching tours where we can catch glimpses of the giants in their natural habitat as they heave themselves out of the water. It seems like the glaciers in the background are a great backdrop for some excellent wildlife photography. 
Another adventure we should add for our exploration of Kenai Fjords National Park would be a sea kayaking experience to see the glaciers up-close – there are more than 40 of them in the park! And perhaps spot some sea otters, seals, and even see some more whales or orcas breaching from our kayak. 
2. Explore Denali National Park
Denali National Park is home to North America's tallest peak, clocking in at 20,310 ft. above sea level. The wildlife sightings are supposed to be phenomenal here as the park is home to wolves, caribou, moose, bears, sheep, and birds. We can explore this vast wilderness with some world-class hiking and hopefully we'll have a chance to learn about the culture and history of the native people here.
Though the name was only changed a few years ago, back in 2015, Denali (the mountain) was formerly named Mount McKinley. The debate over the name lasted more than 100 years but has been rightfully restored.
3. Discover Glacier Bay National Park
I expect we'll be looking up at the glaciers of Glacier Bay National Park in awe, but I'm also excited to check this park out as it's known to be a hotspot for baby harbor seals, sea otters, sea lions, brown bears, mountain goats, and bald eagles. This park spans 3.3 million acres and is not only home to glaciers as its name implies, but it also has fjords, mountains, and a temperate rainforest too!
As part of the Inside Passage, this World Heritage Site has enough to keep us busy for days – so hopefully if we do visit Alaska on a cruise we plan our time at this stop well, though the National Park Service notes most cruises plan for 10 hours at this stop.
4. View the Hubbard Glacier
Nicknamed the "Galloping Glacier," Hubbard Glacier spans more than 75 miles, is 1,200 ft. deep, and has a 400-ft.-tall face. It sounds like quite the sight to behold! While ships do have to keep their distance in Disenchantment Bay, as the glacier calves off icebergs as tall as a ten-story building, I still think it would a cool item for our Alaska bucket list.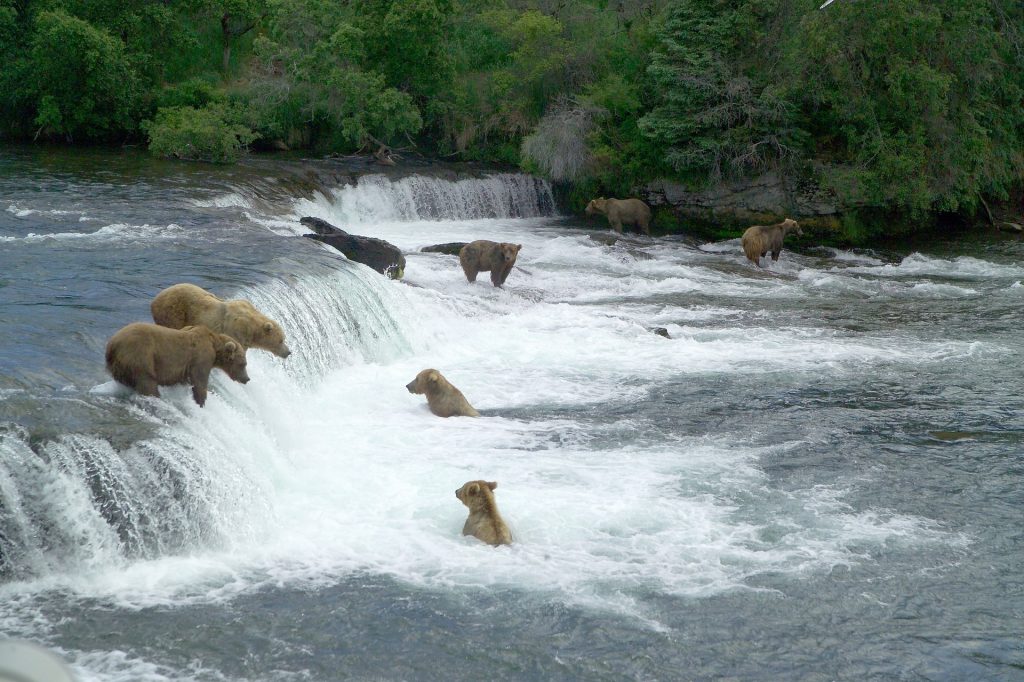 5. Katmai National Park
Katmai National Park has great walking and hiking trails we can explore, or we could opt for a guided tour if we want to go off the beaten path a bit. I'm most excited for the chance to spot some brown bears in their natural habitat. Some estimate more than 2,000 bears come to the park from mid-May to mid-September to hunt the rivers overflowing with salmon.
6. Ride the Tony Knowles Coastal Trail
Touted as one of the most beautiful coastal trails in the United States, this trail spans 11 miles along Anchorage's coast. I'd love to rent some bikes and ride along the trail enjoying the gorgeous views, including that of Denali, the Chugach Mountains, Mount Susitna, Fire Island, and even the possible moose sighting!
This coastal trail in Anchorage is named after Alaska's former Governor Tony Knowles, who served his state from 1981 to 1987.
7. Learn about the Gold Rush
Over in Skagway, we can learn all about the Klondike Gold Rush and enjoy an awesome ride on the White Pass & Yukon Route Railroad! Not only can we learn about how gold prospectors came to the area to find their fortune, we can also see the beautiful landscapes of northern Alaska as we ride off into Canada. We just must remember our passports! 
The railroad was built back in 1898 and is said to be a marvel of engineering, and the photos and videos prove it! Going through tunnels and climbing almost 3,000 feet in elevation in just 20 miles, this scenic route, complete with views of mountains, waterfalls, glaciers, and gorges, looks like something we just have to check off our Alaska bucket list.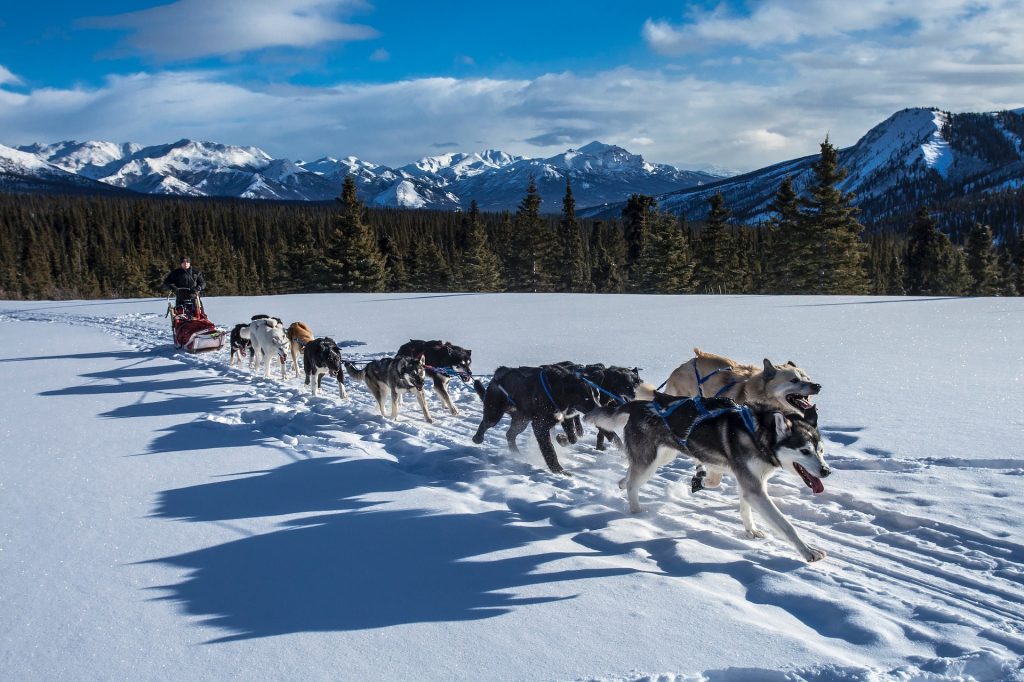 8. Go dog sledding
Also in Skagway, we might be able to book a dog sled tour! I'd love to mush for a bit and feel like a real Alaskan explorer, but let's be honest, I also just really want to get to know the friendly sled dogs and play with them. 
9. Enjoy a helicopter tour
I'll need to pack my Bonine for this one, but a little motion sickness will be worth it for the indescribable views of Alaska from above! Juneau seems to be a popular departure point for helicopter tours of Alaska, though I have to imagine the state would be beautiful from above no matter where we left from. 
10. Ride the Alyeska Aerial Tram
Another aerial adventure we might have to check off our Alaska bucket list in the Alyeska Aerial Tram! Though it's a short ride, only topping out at seven minutes, the views are supposed to be incredible as we climb 2,300 feet.
From this viewpoint we should be able to see the seven "hanging" glaciers, the Turnagain Arm, and the peaks of the Chugach Mountain range. We might even spot some moose or bears on our trip to the top of Mt. Alyeska. At the top, there's also an observation deck so we can take in more stable panoramic views!
What else should we add to our Alaska bucket list? Tell us in the comments below or let us know on Twitter!
Like the post? Share it now!