Denver LoDo (Lower Downtown) is the Mile High City's oldest neighborhood but is going through a time of renovation and revival. This area is popular with locals and tourists alike with plenty of things to do and tons of fabulous restaurants and bars.
LoDo is one of my favorite parts of Denver as it's walkable, there's always something new, there are timeless favorites, and I simply love walking past all the old buildings the city has still preserved – it really brings to life the Denver of the Old West.
Where to stay
As such a popular Denver neighborhood, hotel room rates can get pretty pricey. But, if being close to everything is important for your getaway then it's definitely worth the cost to stay downtown. Some of the best hotels in Denver's LoDo include:
The Crawford Hotel
An upscale option in the heart of downtown as your room is inside Union Station! With fantastic restaurants, bars, and shops right downstairs, this hotel is right in the center of the hustle and bustle of the train station. The rooms are expertly furnished with a modern aesthetic but still honoring the building's history. The Crawford even has pet-friendly rooms if you're bringing your best friend to Denver.
The Oxford Hotel
This elegant hotel is listed on the National Register of Historic Places – and it's also supposedly haunted! Which makes sense as it was the first hotel in Downtown Denver, opened in 1891. The bar is a must-see and the rooms are comfortable and modern. If you really want to experience historic Denver, then stay at the Oxford. Be sure to check their extensive list of packages and special offers to pair your stay with a fun Denver experience.
NATIV
Looking for something a bit more trendy and new? Stay at NATIV! It's a fun, hip hotel and at night has a fantastic bar scene at their Stereo Lounge. They also have a great on-site restaurant and coffee bar if you're after a foodie experience in Denver. This is your best bet if you want modern and the Denver of today.
With so many apartments going up in the area, when Rick and I moved to LoDo there were no buildings around us and now we have about six new apartment buildings as neighbors, there are options for Airbnbs as well if you want to experience apartment living in downtown.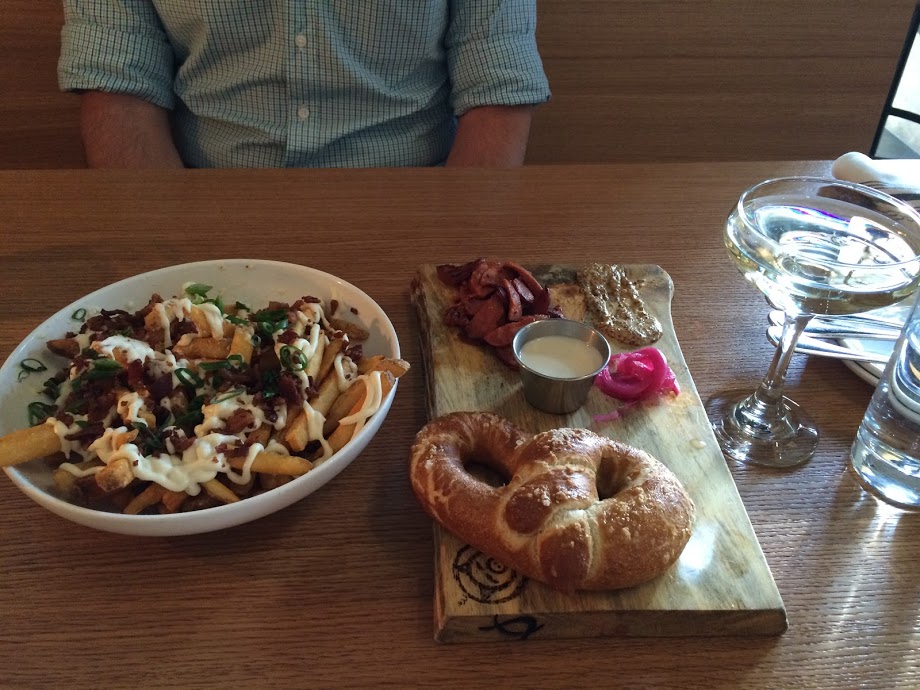 Where to eat and drink
LoDo spans about 20-some city blocks and has about 100 restaurants and bars within its boundaries. Here are some of our favorite restaurants in LoDo and recommendations of where to dine in Denver:
Snooze
This is a classic so be prepared for a wait unless you're a very early riser. They have yummy benedicts, burritos, and you simply have to try a pancake – I always go for the pancake flight and it never disappoints. They specialize in fresh, local food and it shows in everything they plate up. It's only open for breakfast and early lunch, so get there early!
Wynkoop Brewing Company
Sample some fantastic Colorado craft beer at this LoDo hot spot. They've got a big bar and dining area downstairs (typical bar fare) and upstairs they have more seating and pool tables. The brewery is located in an 1800s warehouse and makes for a cool setting for your beer tasting adventure. Their beers span a few varieties, like IPAs, kolsch, sours, wheats, and their unique specialty: the Rocky Mountain Oyster Stout.
Lodo's
Before and after baseball games, Lodo's is going to be packed – especially on nights with fireworks games as Lodo's has a fantastic open-air rooftop bar with prime viewing of the stadium. It attracts a younger crowd with affordable cocktails, good happy hour specials, and lots of seating. They've got a good menu of bar food if you're looking for some snacky or all-American fare.
Rio Grande Mexican Restaurant
Go for the margaritas (they're made with everclear!) and the queso! Another fun spot for happy hour or late night cocktails, Rio is always hopping and the service is always good. We especially love going in the summer so we can enjoy the outdoor patio.
Front Porch
Want to win free drinks? Go to Front Porch on Wednesday night for flip night. Go up to the bar, order your drinks and the bartender flips a coin. If they win, you pay, if you win, your drink is free. They also have a calendar, available on their Facebook Page, where they list about four to five people who get to drink for free each night, excluding Wednesdays. Both Rick and I have gone a few times when our names come up – it's first names only. Your name must match what's on your driver's license, so if you're Bill but your legal name is William, you drink for free on nights that say William. Even if you don't get free drinks, the bar is cute, inviting, and the staff are always fantastic every time we've been in.
Mario's Double Daughters
This eclectic and uniquely decorated bar is something you just have to experience for yourself. With huge red booths, trees covered in lights, disco balls, and birds hanging above you, Mario's Double Daughters has its own vibe so expect the unexpected. Just beware of their signature cocktail (you can't miss it – it's in a giant tube behind the bar) or you might not remember your visit the next morning. They're also connected to Mario's pizza – perfect for soaking up all the delicious drinks you had at the bar.
Tupelo Honey
This Southern kitchen has a giant menu and really cool cocktails – try their frose, a frozen sangria – and is a great place for brunch on the weekend. Every time we do brunch we go with the bottomless mimosas and place an order for their amazing biscuits – they're so crumbly yet dense and perfectly served with butter, blueberry jam, and honey and are the perfect appetizer before their delicious sweet potato pancakes and breakfast sandwiches.
The Pig & the Sprout
Need food that satisfies a variety of palettes?  Head to The Pig & The Sprout which has a meat side of the menu and a vegetarian and pescatarian side and has the best French fries around! Seriously, they stay crispy even when smothered in their delicious poutine. They have a great wine list, an extensive cocktail menu, and fun, flavorful dishes. They've got good deals at happy hour and a yummy brunch menu.
Rhein Haus Denver
I've written about Rhein Haus before as it brings amazing international cuisine to Denver's food scene. If you want quality German food and beers, go here. It reminds me of a real German beer hall with the long tables and picnic table-style seating, large steins, and giant pretzels. They have bocce ball areas and the atmosphere is always fun and lively – could be all the liters of beer everyone's happily consuming.
Thirsty Lion
Thirsty Lion is one of our go-tos for happy hour and late night dining. The menu is gigantic so everyone is bound to find something they'll like and they have such a varied menu so you'll find delicious burgers and pizzas with perfect crusts next to pad Thai and bacon-wrapped shrimp. The interior is dark and cozy and is also a fun spot for an intimate date night.
Public School 303
Public School 303 has fun, school-themed decor and a good menu with quality ingredients – they also refresh the menu on a regular basis with new items like their wagyu corn dogs as well as bringing back old favorites like their chorizo mac and cheese. Rick and I love going there for happy hour as they have cheap drinks, and they also have a good brunch menu with bottomless mimosas and beermosas.
Mellow Mushroom
Rick goes crazy over Mellow Mushroom's crust and with a location on the 16th Street Mall, it's easy to get your pizza fix while touring Denver. Their pizzas have good topping combinations and the bar has a decent menu that pairs well with their pies.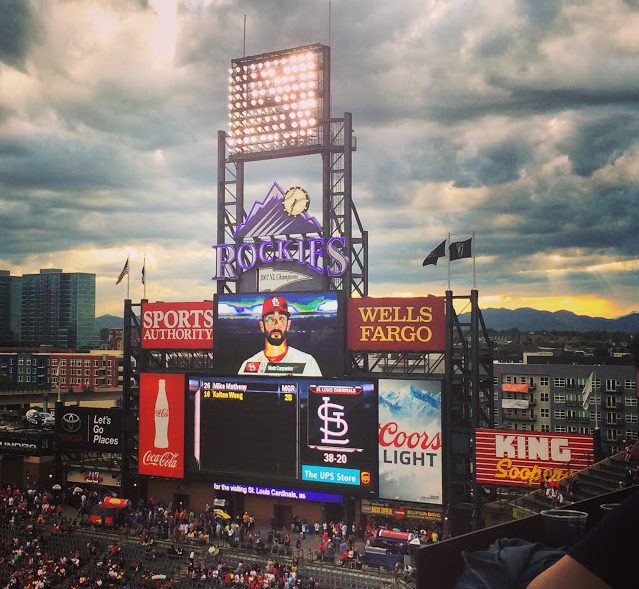 What to do in LoDo
Though LoDo is a smaller neighborhood, it's definitely not missing anything when it comes to cool landmarks to see or fun Denver things to do. While exploring LoDo, here are some of the best activities to enjoy while there:
Check out Union Station
During the summer, Union Station plays host to a variety of live entertainment, performances, and even a farmers' market. Inside, find restaurants and shops, as well as the Terminal Bar which is always serving up fun, hand-crafted cocktails.
Visit Larimer Square
For shopping and quality dining, head over to the charming Larimer Square. This street is lined with historic Victorian-style buildings and is always a fun street to walk and pop into some fun shops or stop for a cocktail and appetizer as you check out the great restaurants lining Larimer St.
See a game at Coors Field
Tour the 76-acre home of the Rockies and cheer them on when you visit Coors Field! Rock your best purple and silver and head on up to the Rooftop for beers and snacks. The Rooftop is a popular seating choice among locals if you just go for the atmosphere and drinks, though you can take a seat in the stands to actually watch the game.
Fun fact: Dinger, the Rockies mascot, is a dinosaur as when they were excavating the site for Coors Field, they found dinosaur bones there!
Book a pedal bar outing
During the summer you can't go a weekend without seeing a pedal bar or pedal hopper going down the streets in LoDo, and it's a must-do when visiting this area. With so many cool bars in close proximity, a pedal bar makes for a fun way to explore our different bars and burn off a few of the calories from your adventure.
Museum of Contemporary Art
Looking for something cultural in the city? Head to the Museum of Contemporary Art in Downtown Denver. With changing exhibits and unique collections, this art museum is a fun way to spend a morning or afternoon before heading back out into the historic part of the city.
Take a Denver food tour
Taste of Denver Food Tours offers fun walking food tours of LoDo as well as a Boozy Bites Happy Hour tour! Try fresh, Colorado-inspired fare and discover some restaurants you may want to return to later in your trip – as well as get some information about our city's history and culture on these Denver walking tours.
Nightly Spirits
I've covered Nightly Spirits tours in Denver before, but I just love them! As Denver's such a historic city, it's no surprise we have so many haunted buildings – especially right here in LoDo! A Denver ghost tour is a great way to learn more about our city's history and about some of those who've been in the city for quite some time. See some of the most famously haunted buildings in downtown and enjoy a spirit as you hear about the spirits of Denver.
See what's happening at Skyline Park
Right now, Skyline Park is home to an ice skating rink, but during the summer, the park is home to a beer garden, mini golf course, and live entertainment. Some nights, you can catch movies in the park for free. Check with Visit Denver to see what's going on at Skyline Park and plan a little stop for some free fun.
Shop 16th Street
The 16th Street Mall is a public, pedestrian mall that spans 16th Street in Downtown Denver. It has a great variety of shops, from quirky Colorado souvenir shops to your everyday Target, and has awesome restaurants and bars. It's fun to walk or if you need to get to the other end quickly, just hop on the free mall rides that go from Union Station to the Civic Center.
Take a tuk-tuk tour
Prefer to leave the driving to the professionals? Hop in a tuk-tuk and get a fun ride through the city combined with a cool cocktail or brewery tour! eTuk Ride offers electric tuk-tuk rides through Denver where you can simply book a city tour or go on a bar crawl to really appreciate the city and its offerings.
Buy a book at Tattered Cover
Tattered Cover is a Denver institution and if you're a bibliophile you just have to pop in and look at the great selection of books available at this store.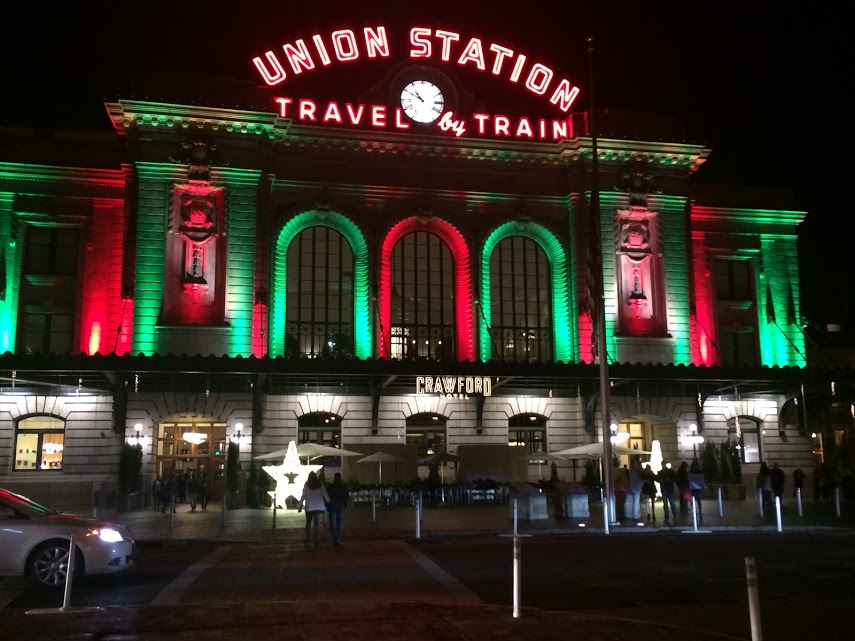 How to get around
LoDo is the end of the line for our RTD light rail for most lines and Union Station is the end/start point for the A Line to Denver International Airport. RTD also operates the free 16th Street Mall Ride and 17th and 18th street buses. LoDo is so walkable though if the busses are a bit crowded or you want to get a better view of our historic buildings in Denver.
There are plenty of parking lots and some street parking in downtown, but be ready to spend a few dollars – especially if it's a Rockies game day. Unless you have a lot picked out or know a secret spot that always has open spaces, it's best just to take public transportation into downtown.
Other options include Lyft and Uber, and Denver also has a great bikeshare program with a pick-up/drop-off point right near Union Station. Bikers do ride in the road and follow traffic laws, but Denver has been really good the last few years in adding dedicated bike lanes in downtown and making it safer for both cyclists and drivers. And, there's always about 10 scooters at the station if you want to zip around on one of those. Just be forewarned that scooters are not allowed on the sidewalk on the 16th Street Mall.
The LoDo neighborhood should not be missed on a trip to Denver! Let us know if you've explored LoDo and what your favorite things were in the comments below!
Like the post? Share it now!