Rick and I reminisce about Barcelona a lot. And then we make a big paella dinner and a giant pitcher of sangria and start looking up flights and hotels.
Barcelona was one of our favorite cities on our 2018 Europe trip as it seemed so magical. The bright colors, interesting architecture, amazing food, and walkable streets had us wanting to plan a return trip before we even left!
Even though we only had a few days here, we made sure to make the most of it and checked off the most popular things to do in Barcelona from our travel bucket list. From getting lost in the Gothic Quarter to having our breath taken away inside Sagrada Familia, there's enough activities and attractions in Barcelona to keep you busy for days. Not to mention finding the time to treat yourself to tapas and good Spanish wine and sangria!
If you're planning a trip to Spain and are creating your itinerary and need ideas for the best things to do in Barcelona, look no further! Check out our picks for the top 10.
Best things to do in Barcelona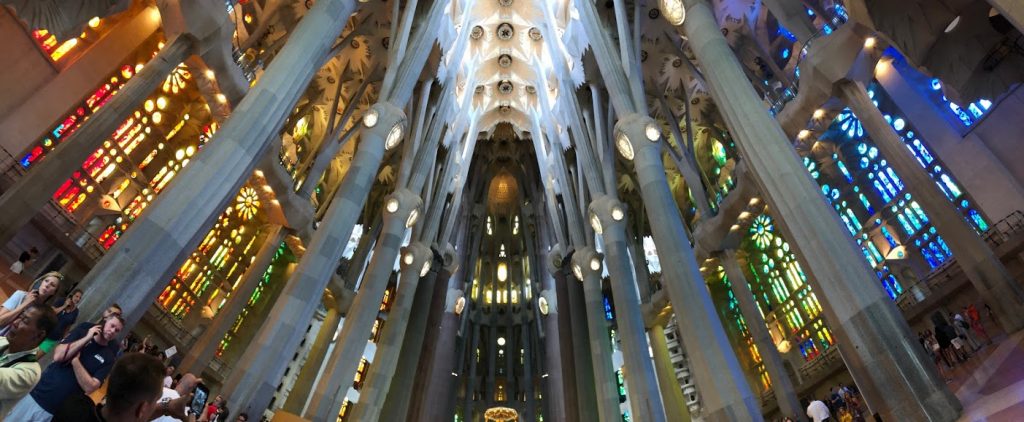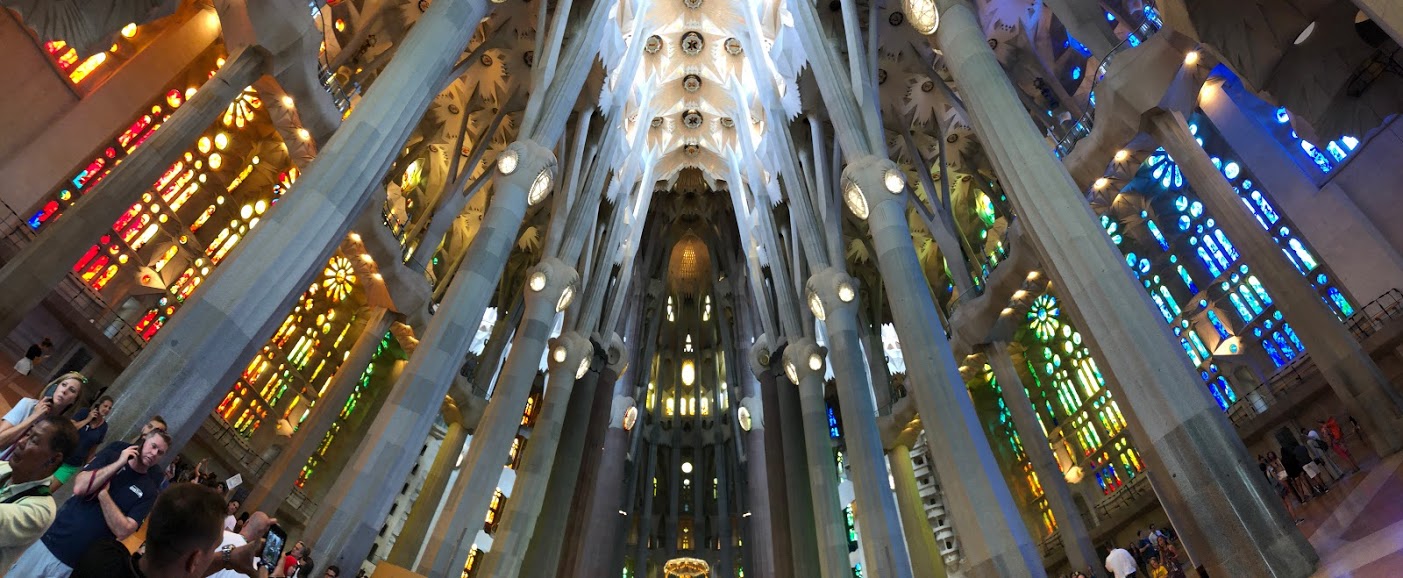 1. Sagrada Familia
Seeing the exterior of the impressive Sagrada Familia is already an experience in and of itself but stepping inside takes it to a whole new level. Marvel at the blue, green, yellow, orange, and red-hued light streaming in through the Glory Facade and Passion Facade, notice the intricate details and the attention paid to every design element, and feel like you've left everything else behind as you explore Gaudi's famous work of art.
Though the building's construction started in 1882, Antoni Gaudi didn't take over the project until the next year and construction isn't anticipated to be complete until 2026 – 100 years after Gaudi's death. Gaudi was only 31 when he took over the project and spent the rest of his life working on it, though at the time of his death, only 25% of the construction was complete – that's just how detailed the work is.
Tickets start at €20 if you just want to see the church, but if you want to enjoy the aerial view of Barcelona from the towers, that'll be €33 online, or €39 at the ticket office. Generally the Basilica is open from 9 a.m. to 6 p.m., but extended to 7 p.m. in March and October, and open until 8 p.m. April through September.
2. Park Guell
Another Gaudi work of art that blends nature into its design is waiting for you at Park Guell! It was originally developed in 1900 to be a residential area with housing, but unfortunately it didn't take and the city of Barcelona turned it into a park. See the iconic tiled and wavy benches, that are seriously comfortable and ergonomic, wander through the Hall of 100 Columns (nevermind that there are only 86), and enjoy the great views over the city.
If you have time, you might pop into the Gaudi House Museum if you're interested in learning more about the man and his artistic contributions to Barcelona.
Tickets start at €10 and are done on a time slot basis, though you do have a 30-minute buffer after your timed entry to get in. Once inside the restricted areas of the park, you can stay as long as you like, but you are not permitted to re-enter if you leave.
3. Casa Batllo
Take a guess at who made this popular attraction in Barcelona! Casa Batllo has a fun exterior and dragon-shaped roof that also serves the city as a museum. The facade of the building is a true work of art and can easily be seen as you stroll along the Passeig de Gracia. To go inside, tickets start at €25.
4. Casa Mila (La Pedrera)
Casa Mila, another museum, is another artistic building that showcases historic apartments, artifacts from Gaudi's time, and has a neat rooftop terrace (the one with the columns that look like storm troopers from Star Wars) with a gorgeous view of Barcelona (be sure to spot Sagrada Familia from here). Casa Mila was one of Gaudi's last civic architectural projects and makes the list as a UNESCO World Heritage Site. Tickets start at €24.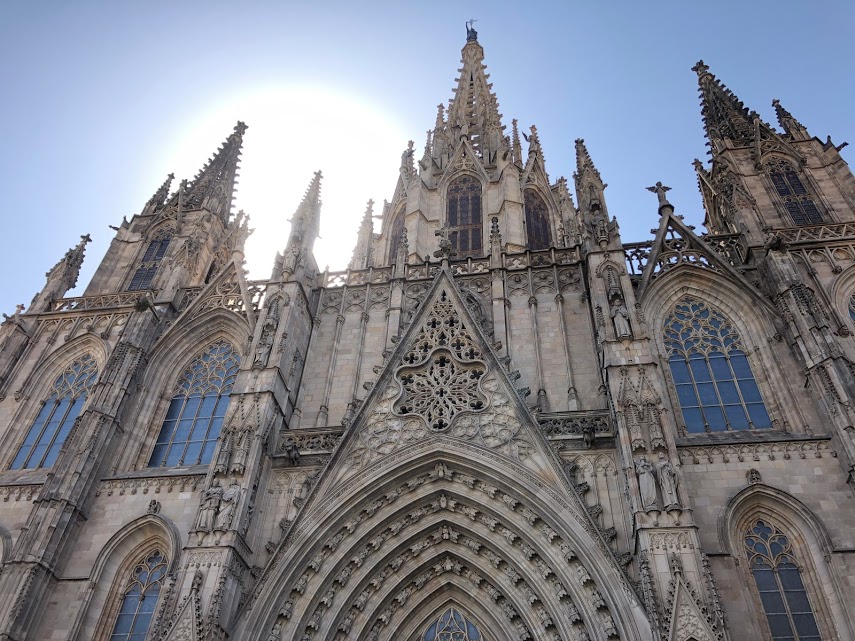 5. Barcelona Cathedral & the Gothic Quarter
You'll definitely want to check out the Gothic Quarter in Barcelona to dive into the city's history by visiting the Barcelona Cathedral, the Jewish Quarter, the Barcelona History Museum, and the Picasso Museum. If you're into Picasso, head over to Els Quatre Gats, a popular hangout for him and his friends back in the day.
The Barcelona Cathedral offers free entry in the morning, so plan to arrive before noon and be dressed appropriately. While this church has a different aesthetic compared to Sagrada Familia, it's still a beautiful church with a neat courtyard (lookout for the geese!), gorgeous stained glass windows, and religious art accented with gold hues.
6. La Rambla & La Boqueria
La Rambla is the main pedestrian boulevard that ends at the waterfront with a 200-ft. tall statue of Christopher Columbus. He's been looking out over the sea since his installation in 1888 and for a small fee, you can ride the elevator to the top for a cool view of Barcelona and the beach. La Rambla is home to souvenir stands, shops, and restaurants, as well as the famous La Boqueria!
La Boqueria, or the market, is filled with tons of food stalls and bar-service restaurants. Pick up some fresh fish, fresh fruit, jamon, cheese, or some bottled wine, or sit down for hot tapas and sangria. Even if you're not hungry, you must pay the colorful market a visit – except on Sundays when it's closed!
7. Barcelona beach
Catch some sun and enjoy a relaxing day on the sand at the beach! Barceloneta is the most popular beach destination as it's at the end of La Rambla and is home to some excellent seafood restaurants, with a pretty good view.
If you need to cool off, Barcelona Beach is home to an icebar, Icebarcelona, if you want to experience some fun below zero degrees!
8. Palace of Catalan Music
The Palau de la Musica is a stunning concert hall that was built between 1905 and 1908. This UNESCO World Heritage Site is done in the modernista style that's easily found around Barcelona that puts an emphasis on organic shapes, floral designs, and lots of curves but is still designed with function in mind as a concert venue. You can take a 55-minute guided tour, for €20, or for an extra €5, hear a live piano recital during your visit.
9. Montjuic Mountain cable car
Enjoy a ride on the cable car up Montjuic Mountain to visit Montjuic Castle, a 1640 fortress with a panoramic view of the city. Parc Montjuic is also home to the Museu Nacional d'Art de Catalunya (MNAC) if you want to check out the art galleries and exhibits while in Barcelona.
Back down in the city, visit the Magic Fountain of Montjuic! While best seen at night when it lights up to have dancing jets of water synchronized with music, you can visit the fountain whenever you wish.
10. Dinner and a show
Flamenco isn't as popular in Barcelona as it is in other major cities in Spain, it does still have quite the presence with flamenco shows, most including dinner and wine! You'll be moved by the music, the passion emanating from the dancers, and enjoying your nice sparkling wine while engaged in the show.
Top flamenco shows in Barcelona:
What's your favorite thing to do in Barcelona? Tell us in the comments below or on Twitter!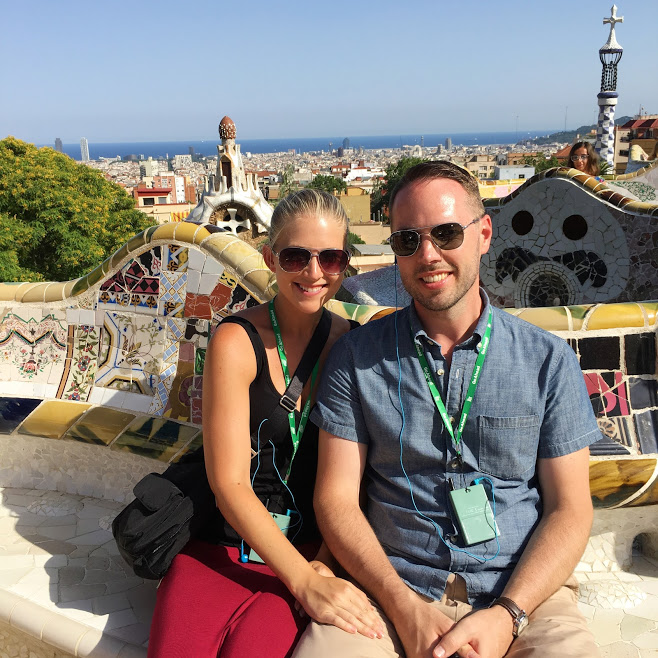 Like the post? Share it now!