Packing for a vacation can be daunting as you don't want to overpack, but you want to bring the clothes that make you feel most comfortable and you want to be prepared for a variety of situations or outings. It can be a fine line to walk, especially if you're trying to fit everything into one single carry-on.
If you're starting to think about what to pack for a London getaway, here's a roundup of our best advice and packing tips! With London's unpredictable (or is it predictable because you know it's going to rain?) weather that can change faster than you can say, "God save the Queen," it's important to be prepared for a variety of weather types while trying your best to blend in with Londoners.
London is known for its conservative, modern, and sophisticated style but also embraces edgy and quirky – maybe don't bust out the gigantic platforms the Spice Girls were wearing in the '90s, but do bring some cute and colorful accessories that showcase your personal style and tastes.
What to pack for a London getaway
Rainwear
No matter what time of year you visit, it can always be cloudy and rainy in London and having proper rain gear is very important.
Jacket or trench coat
I opted for an all-purpose raincoat when I went to London and didn't feel out of place as I mostly wanted to feel dry and warm. If you want to go more stylish, you could go with a trench coat to look more like a local, but you might need to buy one made of thinner material for it to pack well.
Umbrella
A travel umbrella is a life saver in London. I think there was only day I didn't bust open my umbrella.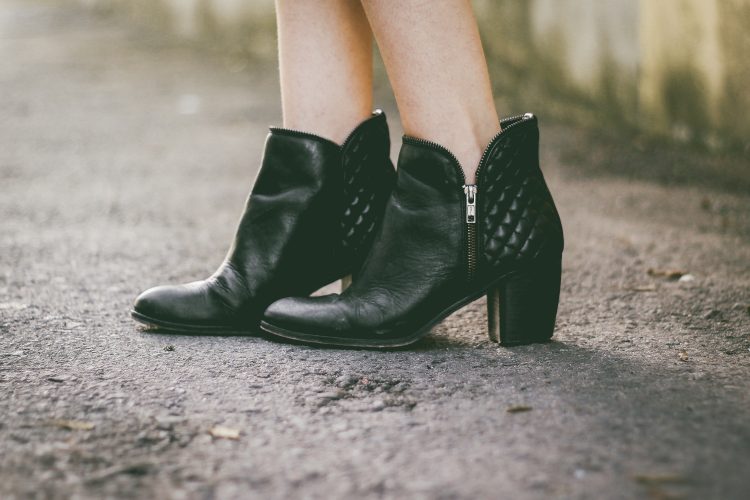 Clothing and shoes
For clothing, decide if you want to be more dressy and chic or if you want to go with the edgy, rocker vibe in London. Like other major metropolitan areas in Europe, it's best to opt for dressier clothes than too casual when in London.
Pants
Keep your legs warm by packing a good pair or two of pants. If you live in your jeans, bring a dark pair that are slim or skinny fit, or at least fit well and aren't super baggy. Another option is to go with a tailored look but pick fun colors like purple, pink, or green.
Skirts
You won't want to pack your mini skirt, but a nice pencil skirt is always a fashionable choice in London. While we tend to think of hosiery as something our grandparents wore, tights are still very much in fashion in London. Stick with classic black or add some creative flair with patterned tights.
Tops
Like Paris, basic black is a good go-to for a color for your top, and again, you'll want to stick to simple fabrics with clean lines. Another great way to go is to bring a button down shirt or casual work shirt or office wear to add a touch of sophistication to your look without trying too hard.
Men will want to go with simple designs and colors and go with a fitted look for shirts, sweater, or blazers.
Cardigan or sweater
After dodging the rain and warming up in a pub, put on your sweater or cardigan. This could be a basic black or you could spice up your outfit with a bold color or print.
Fancy dress
Planning on going out to a nice dinner or dressing up for afternoon tea? Pack a cute knee-length skirt, dressy top, or a nice dress, like something you'd wear to church. Throw in a pair of heels to complete the look and be sure to take the Tube to reduce the amount of walking you'll do in them!
Accessories
Add a pop of color with your accessories, like necklaces, rings, purses, or a fun scarf. Scarves are also great for London as you can stay warm when the wind starts blowing or quickly cover your head if you can't get your umbrella out fast enough.
Shoes
As you make your way from one historic site or museum to the next (or maybe from one pub to the next), you'll want comfortable walking shoes, but you'll also want to blend in and shoes can be a dead giveaway as to who's a tourist.
For shoes in London, opt for cute ankle boots or booties, stylish canvas sneakers, or ballet flats for walking in the city. If you want to pop on some sandals, make sure they have straps and aren't designed for the beach.
Essentials
Toiletries
With the changing weather, you'll want to pay extra attention to your skin and your skin care routine. Bring plenty of moisturizer and frizz-free shampoo and conditioner. Don't forget your toothbrush, toothpaste, mouthwash, body soap, or deodorant, either!
Chargers and converters
Be sure to bring the right adapter for your electronics, and a converter if you need to change up the voltage. All iPhones are designed to take both American and European voltage, so you just need an adapter.
A travel card
Did you know you can order your Oyster card before you arrive in London? Make sure you can easily get around London without wearing out your boots or going over your vacation budget by calling a cab for everything by having a pre-loaded Oyster card.
Overall, you should pack for your London vacation with the expectation of some rain or drizzle, a nice pair of trousers or tailored pants, some basic colors that you can enhance with accessories, and a good pair of boots or sneakers.
Want some more packing tips and tricks? Check out our post: How I packed for a two-week Europe trip in a carry-on.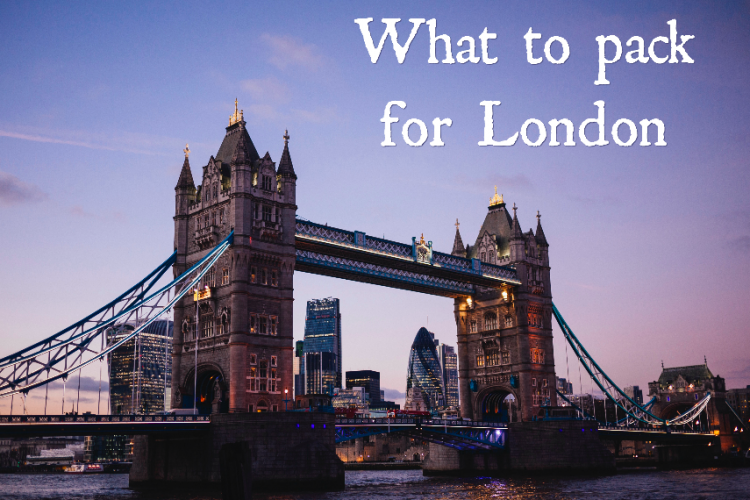 Like the post? Share it now!